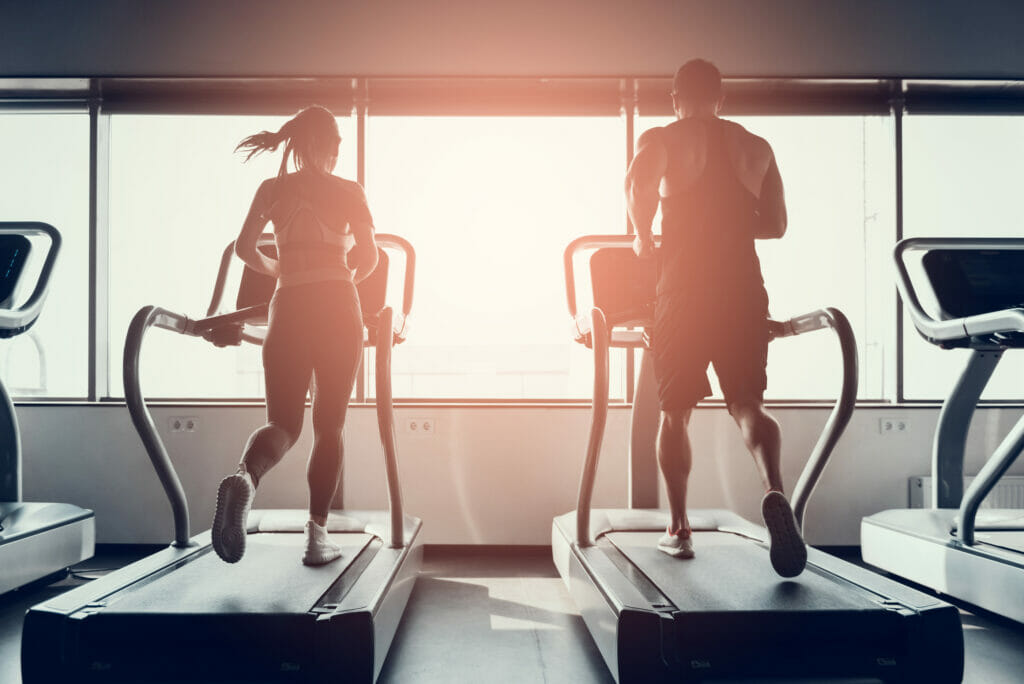 When it comes to moderately priced home treadmills, few brands have more to offer than Horizon Fitness and NoricTrack.
Both brands have been around for a long time, gaining loads of loyal, happy customers and both brands regularly find their treadmills in the year's "best of" lists.
Choosing between 2 such evenly matched brands can be challenging, but don't get too stressed out – there are no wrong answers here.
It just depends on what you're looking for.
Regardless, if you're stuck choosing between a NordicTrack or Horizon treadmill, you've come to the right place.
In this article, I'll go over everything you can expect from these two elite brands and their treadmills. I'll also provide my 2 cents regarding which brand I prefer.
After reading, you'll be well-equipped to choose the right option for your home gym.
Alright, let's do this.
Horizon vs NordicTrack Treadmills
Full disclosure – I currently have Horizon's 7.8 AT Treadmill in my home and I love it.
Personally, I think it's one of the best home treadmills around, but I'm getting a little ahead of myself.
Let's take a step back and discuss how we're going to compare these two brands and their treadmills in the first place.
Everyone might be looking for something a little different from a new treadmill, so I think it'll be helpful to compare these 2 brands based on the same criteria to see how they really stand up to each other.
I'm more interested in the performance side of things, so I'm going to start by looking at the key performance specs for each brand's treadmill lineup.
These include the size of the running surfaces, the motor strengths, the roller sizes, and assembled weights/weight capacities.
But I realize features are really important too, so after we discuss the performance stuff we'll switch over and go over the key features each brand is known for.
Each brand has a pretty generous selection of treadmills to choose from, so I'm going to try and concentrate on current lineups – you know, in an attempt to keep this article as focused as possible.
Let's start by taking a look at Horizon's treadmill lineup.
Horizon Treadmills – Performance
At the time of writing this, Horizon is offering 6 different treadmills directly and they all fall in the budget-friendly to moderate price range.
The T101 is their entry-level treadmill, costing somewhere around $650, and as entry-level machines go, it has a lot going for it.
With a 20″ x 55″ running surface, a 2.5 HP motor, and an assembled weight of 180 lb, it's about as large and strong as we can expect from a treadmill in this price range.
It comes with smaller rollers (1.8″), but this is pretty normal for machines in this price range.
Folks looking for a little more size and muscle might want to opt for their T202 Treadmill, which comes with a larger, 20″ x 60″ running surface and a stronger, 2.75 HP motor.
The T202 also reaches a faster top speed and a higher incline level than the T101 and is still quite affordable at roughly $750.
Rounding out Horizon's "Go" lineup is the T303, which comes with a 20″ x 60″ running surface, a 3.0 HP motor, and a heavier-duty frame that can hold folks weighing up to 325 lb.
And at roughly $1k, the T303 won't break the budget either.
The "Go" series is Horizon's more affordable lineup, but they also have a higher-end lineup, known as their "Studio" series.
The "Studio" series starts with the 7.0 AT, which is very similar to the T303, but when you look at the fine details you'll see that the 7.0 AT is much heavier-duty (assembled weight of 253 lb).
The 7.0 AT also comes with larger rollers (2.36″), which is always a good thing.
Moving up the lineup, next in line is the 7.4 AT, which comes with a few key upgrades, including a larger, 22″ x 60″ running surface and a stronger, 3.5 HP motor.
Finally, there's the 7.8 AT, Horizon's biggest, strongest treadmill to date.
The 7.8 AT comes with a 22″ x 60″ running surface, a 4.0 HP motor, an assembled weight of 330 lb, and a weight limit of 375 lb.
Basically, this treadmill has all the specs necessary to compete with any treadmill under $2k.
So, to summarize: Horizon treadmills are separated into 2 series, the "Go" and "Studio" series.
The "Go" lineup is their entry-level series and contains the T101, the T202, and the T303. The "Studio" series contains their higher-end models, consisting of the 7.0 AT, the 7.4 AT, and the highest-end 7.8 AT.
Horizon Treadmill Features
Horizon treadmills score highly when it comes to the performance specs they come with for their respective price ranges, but let's take a look at what features they include.
One of the most notable features all of the "Studio" treadmills come with is their dial speed and incline controls.
These little dials are surprisingly convenient because they allow you to rapidly increase/decrease both the speed and incline during workouts.
I've fallen in love with this feature and I have to say, it would be hard to go back to pushing little arrows up and down.
I know, it's a really small thing, but the small things make all the difference right?
Anyway, the dial controls are awesome, but Horizon treadmills have plenty of other nice features too.
All Horizon treadmills, even the affordable "Go" models, come with bluetooth speakers, audio jacks, tablet holders, and built-in cooling fans.
And the "Studio" series treadmills come with extra features like USB charing ports, quick-touch speed/incline buttons, telemetry heart rate monitoring, and custom interval buttons that allow you to set your own speed/incline settings (great for custom interval workouts).
All of Horizon's treadmills fold and come with their 3 zone variable response cushioning system too, which means the deck gives more in the front (where your foot hits hardest with each landing) and gives less in the rear (where you want a firmer surface to push off).
You'll notice that no Horizon treadmills come with built-in, HD touchscreen consoles and that Horizon doesn't require a monthly membership fee to access instructor-led workouts.
No, in fact Horizon is one of the last brands to offer classic, easy-to-use treadmills that don't require signing up for monthly streaming services.
So if that's something you're looking for, Horizon might make a lot of sense.
Of course, if you're looking for streaming workouts and HD consoles, Horizon isn't your best bet.
NordicTrack Treadmills – Performance
Ok, let's switch it up and take a look at NordicTrack's current lineup.
NordicTrack offers a few more treadmills to choose from and there's even more if you count some of the older models still available through sites like Amazon.
But for the sake of simplicity, let's keep it to just the treadmills currently being offered directly through NordicTrack.
NordicTrack's most popular series is probably their "Commercial" series, so let's start there.
These are some of NordicTrack's nicest machines, combining more impressive performance specs and larger console screens.
The Commercial 1750 for instance, comes with a 22″ x 60″ running surface, a 3.5 HP motor, and 2.5″ rollers. And with a 340 lb in-box weight, it's pretty heavy-duty too.
And unlike many treadmills, the 1750 can reach a decline of -3%, allowing folks to train downhill if the mood strikes.
There's also the Commercial 2450, which is very similar to the 1750, but is a little heavier, comes with a 3.6 HP motor, and a much larger console (more on that in a minute).
NordicTrack also has a popular lineup of incline trainers (the X22i and X32i) that are capable of reaching some astounding incline angles (-6% to 40%).
The X32i is a little longer and a little stronger (4.25 HP vs 3.6 HP), but the biggest difference is really the size of the console screen.
NordicTrack also has a newer, more affordable lineup that goes by the name of the "EXP" series.
This lineup consists of the the EXP 7i, the Elite 1000, and the EXP 14i (in order of price and features).
The EXP7i is the most affordable model, going for around $1k and the EXP 14i is higher-end, costing around $1900.
These treadmills are a little smaller and little weaker (motors in the 3 – 3.5 HP range) and come with much smaller touchscreen consoles.
And like I mentioned, there are a few other NordicTrack treadmills still circulating out there (like their popular T 6.5S) that are still doing quite well.
Overall though, the "Commercial" series contains their highest-end standard treadmills, the "EXP" series is their more affordable models, and the "Incline Trainers" are in a class of their own with their ridiculous inclines.
As a whole, NordicTrack offers a wide range of treadmills to choose from, but generally speaking, they tend to be a little more expensive than Horizon's.
NordicTrack Treadmill Features
NordicTrack is owned by the same company that owns the streaming giant iFit, so naturally all NordicTrack machines are compatible with this service.
And not only are they all compatible, but NordicTrack pushes iFit on all their customers pretty aggressively.
This is why all of their newer models come with touchscreen consoles compatible with iFit.
The size of that touchscreen varies greatly depending on the model – the EXP 7i comes with a 7″ screen and the X32i is packing a 32″ screen (I used to own a television smaller than that).
And there are a lot of sizes in between as well, so it really depends on your needs and price range.
NordicTrack treadmills also usually come with bluetooth compatibility, telemetry heart rate monitor compatibility, built-in speakers, built-in fans, and one-touch speed/incline controls.
But again, the real star of the show for these treadmills is the HD touchscreen console most of 'em are sportin'.
Most come with a free month of so of iFit, which gives you access to unlimited instructor-led workouts, scenic runs, custom workouts, and metric tracking.
Most of these treadmills also come with Automatic Trainer Control, which allows the speed/incline to change automatically based on the instructors' instructions (this feature only available through iFit).
Overall, NordicTrack treadmills tend to be a bit more feature-rich than Horizon's, as they are designed specifically with streaming in mind.
Which is a good thing if this is what you're looking for, but it might be more of a nuisance than anything else if you just want a simple, straightforward treadmill.
Warranties
I almost forgot to talk about Horizon's and NordicTrack's warranties- which is funny because I always stress the importance of comparing warranties.
Anyway, generally speaking, Horizon tends to offer better warranties than NordicTrack, especially on their higher-end treadmills.
That said, Horizon's warranties vary depending on the model.
Horizon offers lifetime frame and motor warranties on all their "Studio" treadmills, 5 years on parts for the 7.4 AT and 7.8 AT, and 2 years on labor for these 2 elite models.
The 7.0 AT comes with a 3 year parts warranty and 1 year labor guarantee.
Horizon's "Go" series treadmills also all come with a lifetime frame and motor warranty and they all come with 1 year on labor.
The T101 and T201 come with 1 year parts warranties, while the T303 comes with 3 years on parts.
NordicTrack makes things a little simpler and offers the same warranty on all of their treadmills:
10 year frame
2 year parts
1 year labor
This 2 year parts warranty beats out Horizon's T101 and T201 parts warranties, but that's the only area where NordicTrack wins when it comes to warranties.
Considering the price NordicTrack asks for their higher-end models, I certainly think they should come with longer warranties.
Overall, Horizon easily wins the warranty category, offering lifetime frame and motor warranties on all their models.
You also aren't going to find many brands offering longer than 5 years on parts and 2 years on labor on their higher-end models.
Final Thoughts
Ok, I realize I briefly mentioned a lot of treadmills in this article (and I hope it wasn't too confusing), so I want to boil everything down to a few final points here.
Generally speaking, the following are true when comparing Horizon and NordicTrack treadmills:
Horizon treadmills tend to be more affordable
NordicTrack treadmills tend to be more expensive
NordicTrack offers more treadmills to choose from
Horizon and NordicTrack treadmills are comparable in terms of performance, although Horizon's 7.8 AT is more powerful than any of NordicTrack's standard treadmills
NordicTrack treadmills are designed for streaming workouts
Horizon treadmills aren't designed for streaming workouts
NordicTrack treadmills come with fancier consoles with touchscreen displays
Horizon's consoles are simpler
Horizon's warranties are much better
Ok, I hope that helps boil things down a little.
Overall, I think both brands offer great treadmills, although I do think NordicTrack pushes their iFit service too much- every treadmill doesn't need to be designed for streaming.
Personally, I prefer Horizon because I think their treadmills are better priced and I appreciate the extended warranties.
I also appreciate how easy they are to use and that you don't have to sign up for a monthly membership to use 'em.
But when choosing between these 2 brands, I think it really comes down to whether you want to use iFit or not – if streaming's your thing, go with NordicTrack.
But if you just want a no-BS treadmill that works great, I'd go with Horizon (I think their 7.8 AT is easily one of the best treadmills of the year).