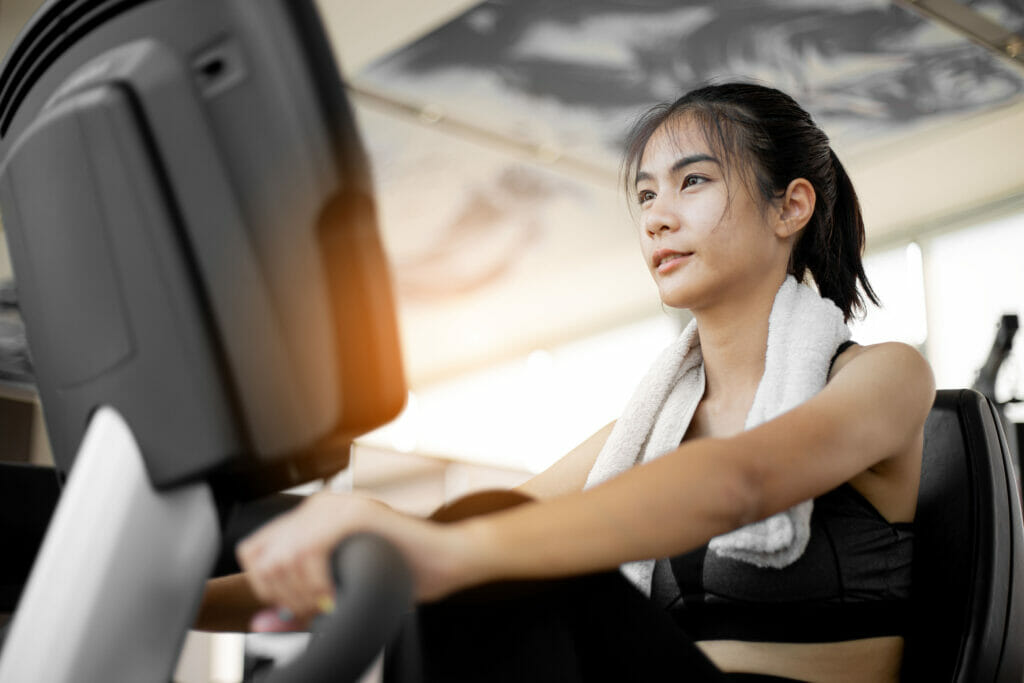 Recumbent exercise bikes are great because they offer a gentle, lower-impact way to get your cardio on, but there are a ton of options out there.
The best way to find the best recumbent bike for your home is to arm yourself by knowing all the ins and outs of what these bikes can and should offer.
To do this, you could spend hours online reading about and comparing dozens of bikes until one of two things happens: 1) either your brain breaks and you fall gently into a catatonic state; or 2) they all start to sound the same, and for the sake of your sanity, you decide to purchase the next bike on the list, regardless of what it is.
Both of these options sound pretty awful to me, although I will admit option 2 is pretty mild compared to the first one.
Luckily, I think I can help.
In this guide, I'll be going over what I consider to be the best recumbent bikes 2023 has to offer.
Not only am I going to present them to you in an orderly fashion, but I'm also going to show you what to look for just in case you don't wanna take my word for it.
And you really shouldn't take my word for it – opinions are subjective and everyone has different tastes.
That's why it's important to learn what makes a good recumbent bike- that way you can check the stats and see for yourself why each one of these bikes made the list.
After reading this comprehensive guide, you'll know everything you need to in order to find the perfect recumbent bike for your home.
Let's roll.
Resistance
Frame
Warranty
Highlights
Price
#1 Spirit XBR95
30 lb flywheel
40 resistance levels
350 lb weight limit
147 lb assembled weight
Lifetime frame/brake
10 year parts
1 year labor
Self-generating power
Bluetooth
Chest strap included
$$$
#2 Sole LCR
30 lb flywheel
40 resistance levels
350 lb weight limit
145 lb assembled weight
Lifetime frame
5 year parts
2 year labor
10" console
Bluetooth speakers
USB charging
$$
#3 NordicTrack Commercial R35
25 lb flywheel
26 resistance levels
350 lb weight limit
10 year frame
2 year parts
1 year labor
14" HD touchscreen
iFit compatible
Bluetooth speakers
$$
#4 Sole R92
20 lb flywheel
20 resistance levels
300 lb weight limit
134 lb assembled weight
Lifetime frame
3 year parts
1 year labor
9" console
Bluetooth speakers
USB charging
$
#5 3G Cardio Elite RB
19 lb flywheel
16 resistance levels
350 lb weight limit
115 lb assembled weight
Lifetime frame
7 year parts
1 year labor
12 workout programs
Adjustable backrest
4 user profiles
$$$
#6 Diamondback 910Sr
32 lb flywheel
32 levels of resistance
325 lb weight limit
130 lb assembled weight
5 year frame
3 year parts
1 year labor
32 workout programs
Speakers
Cooling fan
$
#7 Nautilus R618
13 lb flywheel
25 resistance levels
325 lb weight limit
107 lb assembled weight
15 year frame
3 year parts
1 year labor
29 workout programs
Bluetooth
Reclining back rest
$
#8 Nautilus R616
13 lb flywheel
25 resistance levels
300 lb weight limit
92 lb assembled weight
10 year frame
3 year parts
1 year labor
29 workout programs
Bluetooth
USB charging
$
#9 Schwinn 270
13 lb flywheel
25 resistance levels
300 lb weight limit
87 lb assembled weight
10 year frame
2 year parts
90 day labor
29 workout programs
Bluetooth
Chest strap compatible
$
#10 Schwinn 230
13 lb flywheel
16 resistance levels
300 lb weight limit
80 lb assembled weight
10 year frame
2 year parts
90 day labor
13 workout programs
Bluetooth
USB charging
$
How To Choose A Recumbent Exercise Bike
Comparing recumbent exercise bikes isn't really that different from comparing upright bikes or indoor cycles.
Regardless of the type of bike, there are a few features that are essential to compare if you want to get the best product.
Knowing a few key points to concentrate on can help you navigate through all the jargon and focus on the stuff that really matters.
When looking at recumbents, always make sure you consider:
Flywheel Weight
If you're simply looking for a comfortable recumbent bike to use for gentle range of motion exercise, you might not care much about the weight of the flywheel.
But if you're looking for a smooth operating recumbent that can provide a more strenuous workout experience, it's a good idea to check out how heavy the bike's flywheel is.
The flywheel is the metal disc that spins as you pedal.
These flywheels are perimeter weighted and the general consensus is that the heavier the flywheel is, the better.
This is because the extra weight builds more momentum as the flywheel spins, which reduces lag between pedal strokes and makes for a smoother feel as you pedal.
Heavier flywheels usually make for more overall resistance as well, although this will depend on the magnetic resistance system to.
When it comes to recumbents, I'd say anything over 20 lb is pretty heavy, but these days, there are bikes out there with 30 lb + flywheels.
If I was stuck between 2 bikes, all other things equal, I'd go with the model with the heavier flywheel.
Weight Capacity
Weight capacity is always one of the first things I look at for all fitness equipment.
It's an objective measurement of how sturdy the machine (recumbent bike in this case) is.
The manufacturer is basically saying, "hey, this is how strong our bike is, enjoy".
When it comes to weight limits, higher is always better because it means the bike is more durable.
A bike that can handle a 300 lb person is obviously more heavy duty than a bike that can only handle a 220 lb person.
First and foremost, you have to ensure the bike you are considering can safely accommodate your weight (and anybody else in your family who might be using it).
After that, try to find the one with the highest limit. Personally, I always shoot for at least a 300 lb weight capacity.
All of the bikes on this list have at least a 300 lb weight limit; commercial grade bikes can have weight capacities as high as 400 lb.
I think it's a good idea to look at the bike's assembled weight as well – after all, this literally tells you how heavy-duty the bike is.
And a heavier bike is going to feel more stable than a lighter one.
When looking at assembled weights, I like to see at least 100 lb.
Warranty
Warranty is another crucial aspect to consider when looking at bikes.
The warranty is your insurance policy. Regardless of how much research you do on a bike, you never really know how the product you receive is going to hold up.
The warranty is the only thing you have protecting your purchase.
Higher quality products tend to have longer warranties while budget bikes usually have much shorter warranties, but this rule isn't written in stone.
Warranties vary greatly depending on the price range.
A quality home recumbent bike should have at least a 5 year warranty on the frame and at least 2 years on parts.
High quality home bikes and commercial grade bikes will often offer lifetime warranties on frame and up to 5-10 years on parts.
Warranties shouldn't be the end all decision making features, but they should definitely be in the conversion.
After all, it doesn't exactly bode confidence when the manufacturer isn't willing to put a decent warranty on their product.
It's basically them saying: "Buy our bike, it might last, but we're not betting on it".
Seat
Recumbent bikes are often sought out because they have the most comfortable seats of all the stationary bike varieties.
Indoor cycle seats are known for being kinda uncomfortable and traditional uprights aren't much better.
Recumbents, on the other hand, are nice and big with oversized backrests.
I like to think of them as the "lazy boys" of the exercise bike world- for their comfort only, I'm not trying to insinuate anything about your work ethic here…
When comparing bikes, check out the seat and make sure that it is at least height adjustable.
On a recumbent, that means that the seat can slide horizontally on the frame.
Some higher end bikes let you adjust the recline position of the back as well for added customization.
Speaking of seat backs, a lot of the nicer bikes have mesh backs to increase air flow and reduce overheating during your workouts.
Some bikes will let you adjust the actual height of the backrest too.
Features
How much importance you give to the tech features of the bike is up to you.
Some folks might want a lot of fancy high-tech features while others couldn't care less as long as the bike functions properly.
Regardless of which side of the spectrum you're on, it's important to know what features are available.
Streaming- these days, we're seeing more and more bikes with streaming options, allowing you to connect to fitness apps to follow instructor-led workouts, as well as track metrics, etc. These bikes may or may not come with large, HD touchscreen consoles.
Workout programs- all quality bikes offer pre-programmed workouts these days. The number of programs varies greatly though. Some may offer 12 while others offer 35. Something to consider when making your choices.
User profiles- bikes with saved user profiles allows you to save your settings (things like age, weight, goals, etc) for quicker set-ups. They come in handy for data tracking too. Bikes usually offer 2-4 saved profiles for multiple users.
Heart rate monitoring- pretty much all bikes these days come with grip heart rate monitoring, but the quality bikes should also come with telemetry or wireless monitoring capabilities. Some will even include a chest strap.
Integrated speakers- a lot of recumbent bikes come with built-in speakers for listening to your music through an mp3 player or smart phone. Others don't. Personally, this isn't a big deal to me, but something to consider I guess.
Bluetooth connectivity- some bikes use bluetooth to connect to fitness apps for data tracking. If you enjoy using fitness apps, look for a bike that is compatible.
Water bottle holders, magazine racks, and fans- yup, these are other bonus features you may see included. I doubt these features are game changers for you, but if having a great magazine rack is the most important thing you are looking for in an exercise bike, then, there ya go.
Price
Last, but certainly not least, is price.
In the real world, price is probably the first thing we consider when looking for a new piece of fitness equipment.
So, it's good to know what you should expect at different price points.
When it comes to recumbent bikes, anything under $1000 should be considered a budget bike.
While budget bikes vary greatly in terms of quality and features, they tend to have a few things in common.
Generally speaking, they have lower weight capacities, shorter warranties, and offer a less comfortable exercise experience.
Bikes between $1000 and $1500 make up the mid-range category and a lot of great bikes can be found here.
Honestly, this is the price range most of us should probably be shopping in.
Frames are a lot sturdier, warranties and weight capacities are more impressive, and the overall "feel" of the bike is better. Most of the top recumbent bikes fall in this category.
Bikes that cost $1500 and above make up the high-end range. Home recumbent bikes can easily range up to $2000 and commercial grade bikes can cost as much as $5000.
High-end bikes should have great warranties and feel like the recumbent bikes you find at your local gym.
These bikes are for people who want an experience that mimics being at a commercial gym or for families with multiple users.
Ok, so that's the gist of it.
Let's get to my top picks of the year based on the above specs…
The 10 Best Recumbent Exercise Bikes of 2023
#1 The Spirit Fitness XBR95
I'm not sure what kind of brand recognition Spirit enjoys, but they probably aren't as well know as they should be.
As a brand, they remind me a lot of Sole Fitness – and I mean that in the best way possible.
Speaking of Sole, this is the first year I've selected a brand other than Sole for my top spot- it wasn't easy choosing a new brand, but when you see the warranty Spirit offers on this bike, it had to be done.
The XBR95 is Spirit's highest-end residential recumbent model to date, although it's rated for light-commercial use as well.
From top to bottom, this bike is loaded with remarkable specs.
With a 30 lb flywheel and 40 levels of magnetic resistance at your disposal, the XBR95 is well-equipped to provide as intense a workout as you're looking for.
And with a heavy-duty frame that can hold users weighing up to 350 lb, it's also capable of accommodating the larger users safely.
These stats are great, but like I mentioned, it's the warranty that sets this bike a step ahead of the rest.
Spirit backs this bike with a lifetime frame/brake warranty, as well as a 10 year guarantee on parts and a year on labor.
This parts warranty is 2x as long as the parts guarantee on the LCR below (which is also pretty great by the way).
Spirit also offers a pretty generous commercial warranty on this model too.
Other nice features of the XBR95 include: 12 built-in workout programs, an included wireless heart rate monitor, and a self-generating power source.
Put all this together and you have, in my humble opinion, the best overall recumbent bike of the year (I also think it's priced pretty fairly at roughly $2k).
If you're looking for a rock solid recumbent with an amazing warranty, the XBR95 is a safe bet. See full review.

#2 The Sole LCR 
Sole is a very popular home fitness equipment brand and for good reason.
They're well known for producing some of the highest quality treadmills and ellipticals and pricing them competitively.
You often see these displayed at Dick's Sporting Goods or other similar stores.
They're usually their best sellers too.
Sole's LCR Exercise Bike is marketed for "light commercial use"- this means apartment complex gyms or physical therapy clinics.
I think it would make a great home gym exercise bike because it's still priced well within what we should expect for a high-quality recumbent bike.
Comfort and durability are the first things that come to mind about the LCR and since it's designed for light commercial use, the frame is made out of heavy duty steel.
This is evident because this bike weighs about 145 lb when fully assembled- roughly 50 lb more than most of the other bikes on this list.
This added bulk makes the bike strong enough to hold users up to 350 lb, making it a great choice for the big and tall crowd.
It's also built to withstand use from multiple users.
Everything from the seat to pedals is oversized for added comfort during use. This also contributes to the LCR's "feel" of a commercial grade bike.
And in case something does go wrong, SOLE has backed the LCR up with a lifetime frame warranty, a 5 year parts/electronics warranty, and a 2 year labor warranty. Very solid indeed.
Here are a few more features I think you'll appreciate:
40 levels of resistance- enough variety to fine-tune your workout to any intensity you want
10 workout programs, including custom and heart rate workouts
Telemetry heart rate monitoring compatible as well as grip monitors
Bluetooth compatible to easily sync with your favorite fitness apps
Built-in speakers and fan to keep you entertained and comfortable during your workouts
Adjustable seat makes it easy to get the right fit
Large, brightly lit LCD console makes it easy to track your metrics during use
Overall, the Sole LCR is a well-built recumbent bike that could easily find itself in a rehab clinic or fire station.
It's built to feel like a commercial grade bike and it has the specs and warranty to back it up.
Easily one of the best recumbent bikes in the world. See full review.

#3 The NordicTrack Commercial R35
If you're looking for a recumbent bike with a little technology under its sleeve, NordicTrack's Commercial R35 might be the perfect fit.
Like pretty much all of NordicTrack's machines these days, the R35 comes with an HD touchscreen (14″) designed to pair seamlessly with iFit, their streaming service.
Through iFit, you get access to unlimited, instructor-led workouts, as well as scenic rides, metric tracking, automatic trainer control, and all that stuff.
This is great if you're looking for a streaming bike, but the R35 has plenty else going for it even if that's not what you're into.
This powerful recumbent comes with a 25 lb flywheel, 26 resistance levels, and an impressive 350 lb weight limit.
It also comes with bluetooth speakers, quick-touch resistance buttons, and a large, comfortable seat.
And to make things even better, NordicTrack backs their R35 with a legit warranty: 10 year frame, 2 year parts, and 1 year labor.
NordicTrack obviously designed this bike to pair with iFit, but with all these impressive specs and features, it has a lot to offer whether you sign up for the app or not.
All things considered, a great recumbent bike. See full review.

#4 The Sole R92
Sole only offers 2 recumbent bikes and they both landed spots on this list – enough said.
I've been a fan of Sole since I tried out one of their treadmills at the local sporting goods store years ago and my love for their work is still going strong today.
The R92 is a smaller, more affordable version of their impressive LCR that you saw earlier on this list.
As a budget model, it's sometimes priced right under $1000, which is great for what you get.
This bike comes with a sturdy, heavy-duty frame and a surprisingly heavy, 20 lb flywheel.
There aren't many bikes on this list packing a heavier flywheel than the R92 and this is evident when you feel how smooth the operation is.
This extra weight is also evident when you look at the overall weight of this machine- roughly 130 lb.
This makes for a solid bike that is going to feel more like the commercial grade machines we've all used at the local gyms.
Sole didn't add a lot of fancy features on the R92 because, well, that's not really their thing.
But they did give the R92's console a built-in USB charging port and bluetooth speakers- both of which will come in handy during you're longer rides.
Other notable features include: 20 levels of magnetic resistance, an oversized seat, and an included chest strap heart rate monitor.
The Sole R92 also comes with a great warranty (especially for the price): lifetime frame, 3 year parts and electronics, and 1 year labor.
If you're looking for a bike with a fancy touchscreen display and a ton of built-in workout programs, the R92 isn't the right choice for ya.
But if you're looking for an affordable, dependable bike that is easy to use and comes with a great warranty, Sole's R92 is a great choice. See full review.

#5 The 3G Cardio Elite RB
You may not be familiar with the 3G Cardio Elite brand, but if you're looking for a club quality exercise bike, you should get to know them.
I first became aware of them when I found their Runner Treadmill, which made it to the top of my home treadmill list.
Long story short: they build home fitness equipment that can compete with commercial grade machines.
And their recumbent bike is no exception.
Let's talk specifics though.
3G Cardio doesn't specify the weight of the flywheel on this bike, but with a little digging I was able to find that it weighs in at 19 lb.
This recumbent pairs that solid flywheel with 16 levels of resistance and 12 preset workouts (3 of which are heart rate guided).
And not only is this bike compatible with chest strap monitors, one is included.
The RB isn't bluetooth compatible either, so if you're looking for data tracking on fitness apps, this probably isn't the bike for you.
But one cool feature you should know about: this bike is only 49″ long.
This makes it great for smaller exercise spaces. And even though it's fairly compact in size, it can comfortably fit folks up to 6'4″.
This bike is also built like a tank with a weight capacity of 350 lb.
This limit can rival any commercial grade exercise bike and is high enough to accommodate the larger users.
3G also backs up their recumbent bike with an incredible warranty: lifetime frame, 7 year parts, 1 year labor.
I almost forgot about the seat – the seat is fully adjustable (even has different reclining settings) and has a mesh back to help with air circulation.
Overall, the 3G Cardio Elite RB Recumbent Bike is a commercial grade machine designed for home use.
If you're looking for a bike that operates and feels like something you would see in your local gym, this is a smart bet; and it even has the warranty to back it up if something should go wrong. See full review.

#6 The Diamondback 910sr
Diamondback has made a name for themselves over the last several years by offering some of the best home exercise bikes around.
They offer a couple of ellipticals that are gaining a lot of praise too.
When it comes to recumbents, the 910sr is their most advanced model to date and it's got a lot going for it.
One of the most impressive features (and one that really sets this bike apart) is its heavy flywheel.
This model comes with a massive 32 lb flywheel.
Considering most home recumbent bikes come with a flywheel in the 13 – 20 lb range, this bikes flywheel is huge.
And a heavier flywheel means more resistance and smoother operation.
This heavy flywheel, when combined with the 32 levels of magnetic resistance and 32 workout programs, gives the 910sr the ability to keep up with even the most advanced cyclists out there.
Other notable features include the heavy-duty frame with a 325 lb weight capacity and a backrest that can be adjusted vertically.
The 910sr, like pretty much all Diamondback bikes, is lacking in the tech department.
Although it is compatible with chest strap heart rate monitors.
You won't find any fancy touchscreen displays or bluetooth compatibility with fitness apps here. No, this bike is designed purely for function.
And function it does
My biggest complaint with this bike is the warranty- Diamondback only guarantees the frame for 5 years.
I'd expect a lifetime guarantee on a bike of this caliber, although the rest of the warranty is pretty decent (3 years parts and 1 year labor).
Overall, if you're looking for a recumbent with enough muscle to handle even the most intense workouts, the Diamondback 910sr is a great choice (oh, and it's very well-priced). See full review.
#7 The Nautilus R618
You don't hear too much about Nautilus these days, but the famous brand is still going strong – and with bikes like the R618, I don't think they'll be going anywhere too soon.
With an asking price well under $1k, this affordable recumbent is full of awesome features.
With a 13 lb flywheel, it's not packing as much heat as the bikes above, but for the price range it's still quite respectable.
Nautilus pairs this flywheel with 25 magnetic resistance levels though, giving you a lot of control over the intensity of each workout.
This bike also comes with 29 built-in workout programs, so getting bored shouldn't be an issue.
One of the nicest features on the R618 though, is the reclining backrest – a feature few recumbent bikes can offer (and even fewer in this price range).
Additions highlights include bluetooth, USB charging, a gel covered seat, speakers, and a cooling fan.
The pedals and crank system have also been upgraded on this model- the pedals are weighted, which theoretically makes for smoother operation.
Nautilus also doesn't mess around when it comes to the warranty: 15 year frame, 3 year parts and electronics, 1 year labor.
Overall, the R618 is one of the best recumbent bikes in its price range and has the specs and features to hang with plenty of bikes costing a lot more. See full review.

#8 The Nautilus R616
You may not be aware of this, but Nautilus Inc. actually owns the Schwinn brand. They actually also own Bowflex and couple of less known brands as well.
This easily makes Nautilus one of the most influential names in home fitness equipment.
Anyway, the R616 is the smaller brother to the R618 above and it made my list because it has the perfect combination of features, quality, and price.
This bike is painfully similar to the Schwinn 270, which usually comes in at the top of peoples "best recumbent bikes" list.
So much so, that when I was researching I seriously thought it was literally the same bike with a different name painted on it.
I had to compare the dimensions and product weights to convince myself they were truly different products.
Like the Schwinn 270, the R616 comes with 25 resistances levels and 29 different workout programs.
These 2 bikes even have the identical workouts: 12 profile, 9 heart rate, 4 custom, 2 fitness tests, 1 recovery test, and a quick start option.
This bike also has all of the same features offered on the 270: bluetooth syncing with fitness apps, media shelf, USB charging port, telemetry monitoring, and a 3-speed adjustable fan.
I want to mention here that this bike only costs about $500- a lot of these features aren't found on bikes that cost twice this much.
The seat is noticeably different on the R616.
On this bike, Nautilus decided to put a full mesh back rest.
The seat on the 270 is vented, but the holes are larger and more noticeable on this bike. This seat is also contoured and easily adjusted.
The R616 has a 300 lb weight capacity as well, which is very respectable for this price range. Oh, by the way, this bike is priced exactly the same as the 270.
These bikes are identical twins except for the different seat backs and when it comes to the warranty.
The warranty on the R616, surprisingly, is a little better than the one offered on the 270.
This bike has the following warranty (which is good for this price range): 10 year frame, 3 year parts, 3 year electronics, 1 year labor.
Overall, the Nautilus R616 has it all and it's priced very well.
The Schwinn 270 is usually considered the best recumbent bike for the money (and rightfully so)- but this bike is identical in every way AND offers a better warranty AND is produced by the same high-quality company.
I'll let you be the judge. See full review.

#9 The Schwinn 270 
The Schwinn 270 easily makes the list for the best recumbent bikes because it offers a great ratio of features to price. It has a lot to offer in all the areas that count.
Not to mention it's lucky enough to be produced by one of the most reputable fitness companies in the world.
Like I mentioned above, the Schwinn 270 is basically identical to the R616.
It comes with 25 resistance levels and 29 different workout programs, including a convenient "quick start" option.
With all of these workout options and resistance settings, it's almost impossible to outgrow this exercise bike.
Regardless of your fitness level, the 270 can accommodate.
When it comes to features, the 270 pretty much has it all.
It's bluetooth compatible, giving you the option of connecting with the free Schwinn Trainer app as well as MyFitnessPal for all your data tracking needs.
You can also connect to the free RideSocial app to mimic the feel of riding through various trails around the world (requires your smart phone or tablet to see the nice scenery).
The 270 comes with a generous 300 lb weight capacity that should be enough to handle most users.
It's also backed by Schwinn's awesome warranty: 10 year frame, 2 year mechanical, 1 year electrical, and 90 day labor.
By the way, the warranty is the only reason the R616 beats out the 270 in my book.
To keep you comfortable while you ride, this bike has a contoured seat and vented back rest with built-in lumbar support. The seat is easily adjusted and slid along the rail by pulling a lever.
All of this should make your workouts more comfortable, which means you can exercise longer.
If this wasn't enough, the 270 also comes with:
Dual backlit display screens
Grip heart rate monitor conveniently placed in handlebars by the seat
Telemetry heart rate monitor compatible (great feature for a bike in this price range)
Media shelf for holding a magazine or tablet
3 speed fan to keep you cool during workouts
Built-in speakers
USB charging port for keeping your smart devices fully charged
Overall, the Schwinn 270 is a great recumbent bike for the price.
The only reason I can see to pick this one over the R616 is if you prefer the look of this seat. Otherwise, the bikes are almost identical. See full review.

#10 The Schwinn 230 
Schwinn finds it's way back on the list with their 230 Recumbent Bike.
The 230 is kind of like a watered-down version of the 270. All the major components are the same, but the 230 isn't quite as potent.
Honestly though, the 230 still has it everywhere it counts. If you want the 270 (or Nautilus R616), but the price is a little too high, the 230 might be just what the doctor ordered.
The 230 comes with 20 levels of resistance and 22 loaded workout programs.
This is one of the most obvious differences from the 270, which comes with 25 and 29 respectively.
That said, 22 workout programs is still a boat load of workout variety and 20 resistance levels is still impressive.
Another big difference is that the 230 isn't compatible with telemetry heart rate monitors. And realistically speaking, most bikes in this price range aren't either.
If you're planning on using a chest strap, this isn't the bike for you.
The seat on this bike is a little thinner, less cushioned (no cushioned actually), and a little less comfortable than the one found on the 270.
That said, most users still find the seat comfortable to use. The backrest is still vented for improved airflow during your workouts.
The console on the 230 is very similar to the 270- it still has the dual LCD screens. One notable difference is that the 230 isn't bluetooth compatible with fitness apps.
It does offer an mp3 hookup and a USB charging port as well as a fan and built-in speakers.
This bike also has a max weight capacity of 300 lb- an impressive feat for a bike in this price range (under $500).
It also comes with the same warranty as the 270: 10 year frame, 2 year mechanical, 1 year electrical, 90 day labor.
Overall, the Schwinn 230 offers more than enough to justify it's place on this list. It's very comparable to the popular 270, minus a few higher-tech features.
If you're looking for a great bike and aren't worried about bluetooth or telemetry monitoring, this is a smart choice. See full review.

FAQ's
I hope this section helps if you have any unanswered questions regarding these bikes.
When researching a bike and you can't find the answer to a question, don't hesitate to contact the manufacturer directly.
It's their job to answer your questions. And remember, there are no dumb questions.
If you have a question and can't find the answer here, feel free to leave a comment below and I'll find the answer for you.
Who would benefit from using a recumbent bike?
Pretty much anyone really. Even though recumbent bikes tend to be thought of as "easier" than other exercise bike styles, the truth is that with the right recumbent, you can get one heck of a workout.
As long as there is enough resistance to make it difficult enough for you, you can get as much (or as little) workout as you want. It all depends on you.
Because recumbents bikes are, well, recumbent, they naturally put less stress through the hip and knee joints. This makes them a great choice for people suffering from arthritis or stiff, achy joints.
The larger seats and backrests make them more comfortable to sit on for prolonged periods. So, if you have back problems, a recumbent bike might be a good option because they are more comfortable to use.
Recumbent bikes are always a great option for seniors because they are gentle on the joints, easy to get off and on, and are comfortable to sit on.
Can a recumbent bike burn as many calories as an upright bike?
Tough one -theoretically, yes.
If you are using a heart rate monitor, you can directly measure how intensely you are exercising on a recumbent bike.
If you are exercising to a point where your heart rate is elevated to the same point where it would be on an upright bike or spin bike, then sure, you should be burning more or less the same amount of calories.
That said- on a recumbent bike your back is supported. On a traditional upright or spin bike, it isn't.
To me, this means your body (core primarily) is going to have to work a little harder to stabilize yourself on these bikes than it would on a recumbent bike.
Spin bikes and fan bikes are usually considered the highest calorie burners in the bike world.
They are designed for intense workouts and the people using them are usually going for higher intensity routines.
But as long as you put the same amount of effort in, you should be able to burn as many calories on a recumbent bike.
How big is a recumbent bike?
All bikes are different, so it's crucial to check the actual dimensions of your chosen bike before purchase- you know, to make sure that it actually fits in your home.
Your average recumbent bike is roughly 70 inches long and 28 inches wide, give or take.
Machine weight also varies greatly from machine to machine. The higher quality, commercial grade bikes are going to weight more. And weighing more is a good thing in my book because it means the machine isn't going to move or jostle during use.
Most quality home recumbent bikes weight between 90 – 200 lb.
Just keep in mind that the heavier the bike is, the more difficult it is to move. Most bikes have built-in transport wheels to make moving a little easier though.
What kind of power does a recumbent bike need?
All bikes are a little different, but they all require power…if they have a monitor. The power to work the monitor can come from 3 sources:
Batteries
AC adaptor
Self-powered
Cheaper bikes will have a monitor that takes a few AA batteries.
Nicer bikes will have an AC adaptor that hooks up into an outlet to power the bike. The higher-end bikes are often self-powered- this means you have to keep pedaling to make sure the console is working.
Self-powered bikes are great because you can put them anywhere (don't have to worry about plugging them into an outlet) and you don't have to replace batteries.
Some users complain, though, because you have to keep pedaling while making your workout selections and putting in your data.
What heights can a recumbent bike accommodate?
This answer will vary a little from model to model.
Usually the smaller the bike is, the more difficulty it has accommodating taller users. Of course, the longer bikes can have the opposite problem and be uncomfortable for shorter individuals.
It's a good idea to always contact the company directly or find a sporting goods store that has a demo bike you can try if you are uncertain about the fit.
Most recumbent bikes can fit users between 5'2″ and 6'4″ fairly comfortably.
Are recumbent bikes quiet?
Yes, most recumbent bikes are nearly silent during use.
Assuming you are using a bike with magnetic resistance (all of the bikes on this list are), there will be very little noise during use.
This is mostly due to the fact that with magnetic resistance, there is no friction need to provide resistance.
Magnets are moved closer or farther away from the metal on the flywheel to increase or decrease the resistance. This is a great system- it's quiet and smooth to use.
It's also basically found on all exercise bikes these days, unless you are going for a really budget machine that still uses a friction resistance system.
Recumbent bikes are a lot quieter than fan bikes- that make a lot more noise due to the wind they produce.
Will all heart rate monitors work with my recumbent bike?
No. Probably not. Most wireless heart rate monitors use either bluetooth or ANT+ to communicate with the recumbent bike.
Most recumbent bikes tend to use bluetooth technology, so you need to make sure whatever heart rate monitor you are using uses bluetooth.
Some bikes may use ANT+, in that case you need to make sure your monitor does too.
Some machines might actually use both technologies- if that's the case, you're probably good to go.
Just make sure you know what type of technology your monitor uses, that way you can check before purchasing to see if the recumbent bike will be compatible.
If my bike has bluetooth, can I listen to my music through it?
Yes, probably- but most likely not wirelessly.
When a recumbent bike advertises bluetooth capabilities, it's normally referring to the heart rate monitors.
Most (not all) bikes have an mp3 port to connect your phone or mp3 player to so you can listen to music through the speakers.
Surprisingly, few exercise bikes allow you to listen to music through the bluetooth connection. Although this year more and more models are starting to include bluetooth speakers.
Most recumbents do have small speakers built-in, but not all.
Final Thoughts
Recumbent bikes can make a great addition to your home gym.
They've become popular because they are more comfortable to use and they put less stress through the knees and hips.
This comes in really handy if you are dealing with physical limitations that make other modes of exercise difficult.
When searching for a recumbent bike, it's important to keep a few key features in mind:
Flywheel- heavier is usually better
Warranty- longer is always better
Weight capacity- higher is always better, shoot for one with at least a 300 lb limit
Seat- should be padded, contoured, and adjustable
Technology- this varies on your preferences
Then of course there's price.
The price range for these bikes varies greatly. I hope this list is proof that you don't have to spend thousands to get a quality bike.
Many of the models on this list are under $1000.
This isn't bad in the home fitness world where ellipticals and treadmills can easily cost $2000.
Well, I hope this list helps narrow your search. There are a TON of options out there and it can get exhausting comparing model after model.
Now that you are armed with this information, I hope you feel more confident in your decision making.
These are my selections for the best recumbent bikes on the market this year, but if you know of a bike that you feel should've made the list and didn't, I want to know about it!
Leave a comment below and I'll get right back to you.