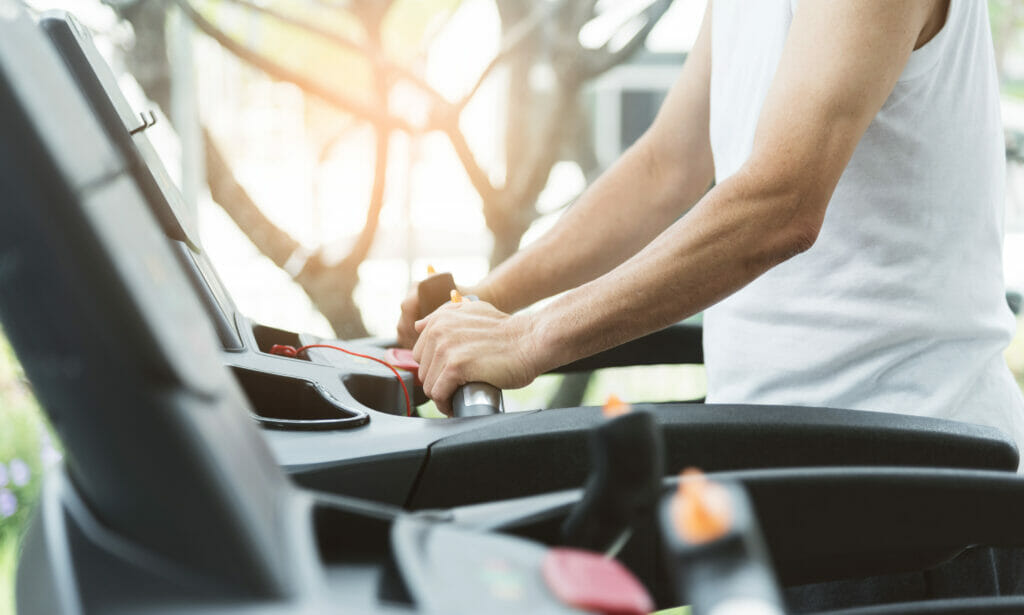 If you're looking for a relatively affordable way to join the world of fitness streaming, NordicTrack's Commercial 1750 might just be the treadmill you've been looking for.
With a 14″ HD touchscreen display, the 1750 is designed to pair seamlessly with iFit, NordicTrack's streaming fitness app, which gives you access to unlimited live and on-demand workouts to choose from.
But tech features aside, this treadmill also comes with some pretty impressive performance specs too.
Like a 22″ x 60″ running surface, a 3.5 HP motor, and 2.5″ rollers.
It can even reach a decline setting of -3% to mimic running downhill- something most treadmills in this price range can't offer.
Overall, if you're looking for a treadmill with an HD screen, the 1750 is probably the best option in this price range (there aren't that many to begin with).
But is it the right treadmill for you?
Well, that's what I'm here to help you decide.
In this review, I'll go over everything this treadmill does and doesn't have going for it- we're talking specs, features, warranty, and everything else in between.
After reading, you'll know whether or not the Commercial 1750 is the right treadmill for your home gym.
The NordicTrack Commercial 1750 Treadmill
NordicTrack is one of the top fitness brands in the world and their treadmills find their way onto most bloggers' "best of" lists year in and year out (myself included).
There's really no secret to why either- they produce some of the best home treadmills out there.
I don't think they're THE best treadmill brand, but definitely in the top 5… but that's a discussion for another day.
But if you're interested in joining the whole fitness streaming craze that's been heating up over the last few years, NordicTrack probably is the best brand to check out because they've invested heavily into their iFit app.
Pretty much all of NordicTrack's cardio machines are designed to pair with iFit now, so if you already have an iFit account, it makes a lot of sense to go with one of their treadmills.
And when it comes to streaming treadmills, they also offer more affordable options, like the Commercial 1750 we're here to discuss now.
And when I say "affordable", I speaking in relative terms – the 1750 costs just under $2000, which is affordable when it comes to treadmills packing HD touchscreen displays.
Their Commercial series also consists of the 2450 and the 2950, each of which comes with a larger HD screen and a slightly more powerful motor.
Pros
22″ x 60″ running surface
3.5 HP motor
2.5″ rollers
Heavy-duty frame
14″ HD touchscreen console
50 built-in workouts
Bluetooth compatible (headphones and heart rate monitors)
iFit compatible
Automatic trainer controlled speed/incline (with iFit)
OneTouch speed/incline settings
Large storage tray
Cons
Weight limit could be higher
Warranty could be longer
Running Surface
A treadmill's running surface describes the physical dimensions of the belt. This spec basically tells you how much real estate you have at your disposal during your workouts.
Having a larger running surface is always a good thing- at least I haven't heard anyone as of yet complaining that their treadmill "feels too spacious".
And if the running surface is too small, you could feel cramped, or worse yet, even have to shorten your stride to make sure you don't step off the belt.
The 1750 comes with a running surface that measures 22″ x 60″, which is very good for a home treadmill.
This is the same running surface pretty much all of the highest-end models are offering (although there are a few out there that are a bit longer than 60″).
And at this size, you shouldn't have to worry about running out of room when sprinting at higher speeds.
The deck on this treadmill can also fold vertically for storage after workouts and with NordicTrack's hydraulic EasyLift Assist, it's easy to lift and lower the deck solo.
I also want to point out that the 1750 comes with an in-box weight of 340 lb.
I'm not sure how this equates to an assembled weight, but after removing all the packing and whatnot, I'm guessing you've got a treadmill that weighs damn near 300 lb assembled.
True, this makes moving this beast around more challenging, but trust me- that extra weight is a good thing in the long run because it's going to make for a more stable base.
With a treadmill this bulky, you won't have to worry about it feel wobbly or flimsy during workouts.
Finally, the 1750 comes with a 300 lb weight limit, which is high enough to fit most users, but I'm a little surprised it isn't any higher.
You know, given the size and weight of this machine.
Many competitors in this price range come with 350 – 400 lb weight limits, so I'd like to see the 1750's limit a little higher, but it's certainly not a deal breaker.
Unless of course you need the higher limit.
Overall, the 1750 scores highly in this department. It comes with a spacious running surface, an easy folding feature, and a very heavy-duty frame.
Motor
The whole "bigger is better" idea applies to treadmill motors too.
And that's because regardless of whether you'll be walking or running, the stronger your treadmill motor is, the less it's going to have to work.
If you look at the top speeds on treadmills, most max out at 12 mph, regardless of what kind of horsepower (HP) they're packing under the hood.
So, having a stronger motor doesn't usually mean faster speeds, but it does mean a smoother feel while reaching those speeds.
Most home treadmills come with motors somewhere in the 2 – 4 HP range.
If you plan on running regularly, it's a good idea to go with a treadmill with at least a 3 HP motor to ensure smooth operation.
With all of this in mind, consider that the 1750 comes with a 3.5 HP motor.
This is near the top of our expected range and definitely strong enough to keep up with running on the reg.
The 1750 comes with a top speed of 12 mph, which is standard, but it also comes with a top incline of 15% for added challenge.
Unlike most treadmills, this one can also reach a decline angle of -3%, allowing you to mimic the feel of walking or running downhill- something that could come in handy when preparing for road races.
The motor on this model is impressive, but something else I like is that it comes with large rollers.
The rollers are the parts that the belt glides over during operation and having larger ones is beneficial because it puts less stress on the belt, the rollers themselves, and even the motor to a certain degree.
Larger rollers also tend to hold up better and provide smoother belt action.
The 1750 comes with 2.5″ rollers, which is pretty large considering home treadmills usually come with rollers ranging between 1.8″ to 3″.
Overall, the 1750 scores very highly when it comes to the motor. Its strong motor is paired with large rollers, which is a great combination when it comes to performance.
Features
The NordicTrack Commercial 1750 comes with the following features:
14″ HD touchscreen display- the console is the real star of the show here and probably why many of you would be interested in this treadmill to begin with. At 14″, the HD touchscreen isn't huge (especially considering how large some of NordicTrack's other consoles are), but it's very generous given the price. It's designed to pair with the iFit streaming app, in which case you could watch and follow the instructors directly from the screen on your treadmill.
50 workout programs- but in case you don't want to join iFit, that's ok. This treadmill still comes with 50 built-in workouts to choose from, giving you a ton of options when it comes to workout routines.
Bluetooth compatible- this treadmill is bluetooth compatible with heart rate monitors and headphones (there are built-in speakers too, so you don't have to use headphones if you don't want to).
iFit compatible- ok, so iFit is NordicTrack's streaming fitness app and they push it reallllly aggressively with all their fitness equipment. Through iFit, you get access to instructor led workouts of all kinds, metric tracking, and even scenic rides/runs. NordicTrack includes a free month with purchase and then it's $39/month. But again, it's completely optional. If you're having a hard time getting past the iFit sign in screen, just push and hold the "bluetooth" button for like 20 sec and it'll let you move on without signing up.
Automatic trainer control- if you do use iFit, you can take advantage of the automatic trainer control feature that lets the instructors control the speed and incline settings of your treadmill throughout the workout.
One Touch controls- these convenient buttons let you instantly set the speed and/or incline.
AutoBreeze fan- there's a built-in fan to help keep ya comfortable during those more strenuous workouts.
Storage tray- there's a tray under the console, giving you room to store phones, remotes, keys, wallets, or really anything else you might want to store while exercising (cold beer?)
Assembly
Putting the 1750 together shouldn't be that challenging of a task, although keep in mind how heavy this thing is to begin with, so if you do purchase and decide to assemble yourself, do yourself a favor and have a few friends around to help.
The deck comes pre-assembled, so the majority of what needs to be done involves attaching the uprights, the media tray, and the console.
There are several covers that need to be attached as well.
The assembly manual is pretty easy to follow, but if you prefer, you can also find the assembly instructions through the free BILT app.
Overall, the sheer size and weight of this machine is the most challenging consideration to get around.
You'll definitely want another person around when it comes time to attach the console, so they can hold it while you connect the cables.
But I think most handy folks will be able to assemble themselves.
Warranty
NordicTrack backs their Commercial 1750 with the following residential warranty:
10 year frame
2 year parts
1 year labor
This guarantee isn't awful, but it's a bit shorter than what the other top treadmills are offering.
For the sake of comparison, Sole's F85 comes with a lifetime frame and 5 year parts warranty – just sayin'.
Ten years on the frame isn't bad and honestly, it's unlikely the frame would break down anyway, but it would still be nice to see a lifetime warranty.
Two years on parts is ok and a year on labor is pretty standard.
Overall, not an awful warranty, but definitely room for improvement.
Ha, oh- you might notice there is no commercial warranty for the "Commercial" 1750… The 1750 is by no means a commercial treadmill, but hey, you can't blame NordicTrack for tryin'.
Final Thoughts
Ok, I think it's about time to wrap things up here.
I like the Commercial 1750 and I think it has a lot to offer in both the performance and features departments.
I like that it comes with a large running surface, strong motor, and large rollers. I also like how heavy-duty the frame is.
But I think it's the HD touchscreen console that really makes this treadmill.
In this price range, there are plenty of treadmills that come with comparable (or better) performance specs and significantly better warranties.
But there aren't many that offer HD consoles and direct workout streaming.
So, if that's what you're looking for, I think the Commercial 1750 is a smart buy indeed.