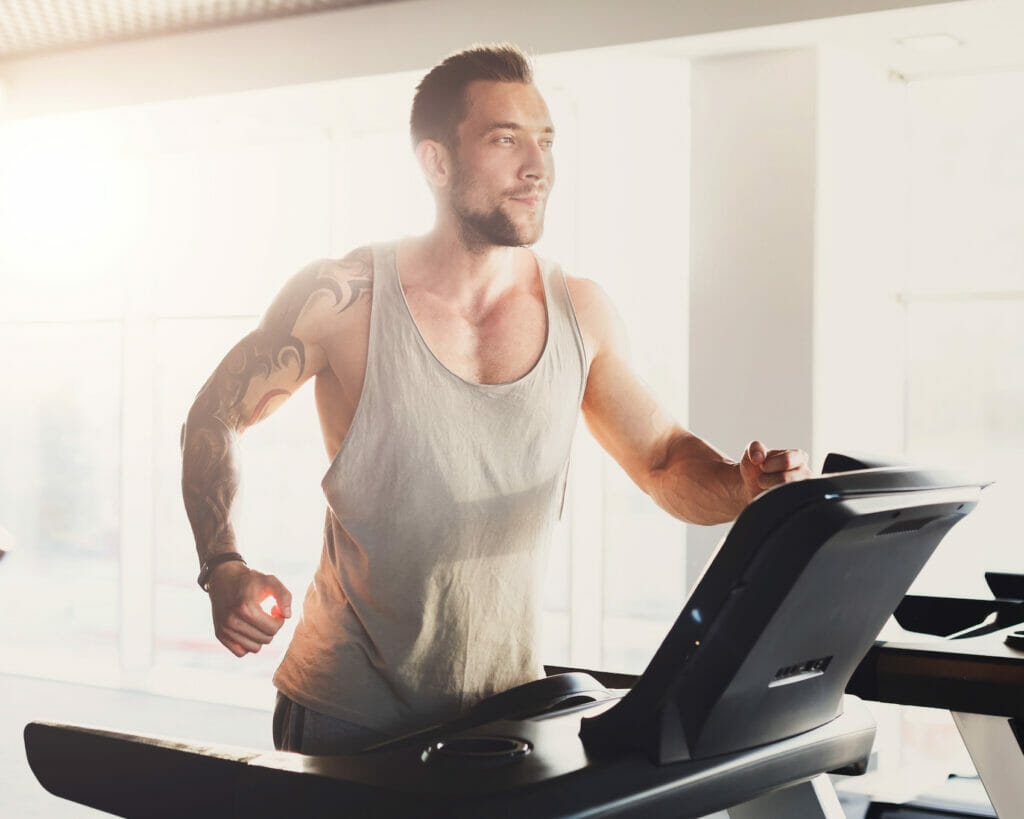 The 2450 is the mid-range model in NordicTrack's popular Commercial Treadmill series and you know what I always say- the middle is where you often find the best deals.
I don't say that because I'm a middle child myself (although that could have something to do with it), no it's because this is where you often see the best combination of features and price.
Regardless, the 2450 has a lot to offer from a performance standpoint.
Highlights include a 3.6 CHP motor, a 22″ x 60″ running surface, and a deck that can go from a -3% decline to a 15% incline.
It also comes with a 22″ HD touchscreen console that gives you access to unlimited instructor-led workouts through iFit (as well as plenty of other cool features like Automatic Trainer Control).
Throw in a heavy-duty frame and a solid warranty and you've got the makings for a great treadmill.
Long-story-short, I think the NordicTrack Commercial 2450 is an impressive specimen.
If you're interested in the longer story, you'll have to keep reading.
The NordicTrack Commercial 2450 Treadmill
I don't want to waste a lot of time with a lengthy intro to NordicTrack because they're one of the most popular fitness brands in the world and I'm pretty sure we've all heard of them before.
And generally speaking, their products are well-built and well-reviewed.
It's true, their customer service has a reputation for being kinda sucky, but to be fair a lot of brands have bad customer service (especially the bigger companies).
Even with their customer service, NordicTrack is still easily one of the best options when it comes to home treadmills.
Speaking of which, NordicTrack currently has 7 different options to choose from, organized into 3 lineups: Commercial Series, Commercial Incline Series, and the EXP Series.
The 2450 is part of the Commercial Series, which includes some of NordicTrack's most popular treadmills (like the 1750 and 2950).
At the time of writing this, the 2450 goes for around $2500.
Pros
22″ x 60″ running surface
3.6 CHP motor
2.5″ rollers
22″ HD touchscreen console
Heavy-duty frame
300 lb weight capacity
Folds for easy storage
Adjustable shock absorption system
-3% – 15% incline
Access to iFit
Unlimited instructor-led workouts (iFit)
Automatic trainer control (iFit)
Tons of built-in workouts
Bluetooth compatible
One touch controls
Cons
Warranty could be longer
NordicTrack's customer service has a bad reputation
Running Surface
I always start my treadmill reviews with the running surface because I think it's one of the most important specs to examine before purchasing.
And that's because if the running surface is too small, your workouts could suffer.
This spec is more important for runners than walkers, but more room is always a good thing regardless of how fast you're moving.
Luckily, the 2450 scores highly in this department.
With a running surface of 22″ x 60″, folks of all heights will be able to walk, jog, or sprint as fast as they want without having to shorten their stride.
The deck on this treadmill is spacious, but it also allows you to customize the feel of your workouts.
You can adjust the shock absorbing system on the 2450 to flex more for a softer feel, putting less stress on your joints, or make it firmer to more closely resemble the feel of running outside.
This is a cool feature, especially for homes where there might be multiple users with different needs.
Like most home treadmills these days, the 2450 folds up for storage after workouts. It comes with a hydraulic EasyAssist lift system that takes most of the work out of getting the deck up and down.
I mentioned earlier that the 2450 is "heavy-duty" and I know that this term doesn't mean a lot.
However, when I use it, I try to be as literal as possible.
The 2450 comes with an in box weight of 353 lb.
I'm not sure exactly how much the packaging weighs, but I'd estimate the treadmill itself still probably weighs close to 300 lb out of the box.
This is heavy for a home treadmill and being heavy is a good thing because it makes for a more stable base for you to workout on.
With a machine this heavy, you aren't going to have to worry about it feeling wobbly or rickety (although it'll certainly make it more difficult to move once assembled).
It also comes with a 300 lb weight capacity, which is actually pretty average for home treadmills. Given the size and weight of this model, I'd expect maybe a 350 lb capacity.
But either way, the 2450 will be able to safely hold most folks that want to use it.
Overall, I like that this treadmill comes with a big running surface and an adjustable shock absorption system. I also think the bulkiness of it is a good thing.
Motor
Motor strength is another crucial performance spec to consider when comparing treadmills.
That's because the motor is responsible for powering your workouts- and if the motor has a hard time keeping up, you're gonna notice.
Stronger motors don't have to work as hard as weaker motors do to provide the same output.
This means that stronger motors will feel smoother than weaker ones will and often they'll operate more quietly too.
Most home treadmills come with motors in the 2 – 4 CHP range, although there are some that are stronger.
With this in mind, consider that the 2450 is near the top of that range with a 3.6 CHP motor.
This is easily strong enough to power walking and running at top speeds smoothly.
Speaking of speeds, this treadmill can reach a top speed of 12 mph, which is pretty standard for a home model.
Unlike most home models though, the 2450 can reach a decline of -3%, allowing you to train downhill, something that could come in handy when preparing for a road race (or if you just want to switch things up a bit).
It can also reach a top incline of 15%.
The motor and incline options are great, but I also want to mention that the 2450 comes with 2.5″ rollers.
The rollers on a treadmill are the parts that the belt glides over as the belt is propelled along the deck.
Having larger rollers is a good thing because they're generally more durable, but also because they make more contact with the belt, which creates a smoother feel.
At 2.5″, the rollers on the 2450 are where you'd expect them to be for a high-end home model (although some, like Sole's TT8, are packing 3″ rollers).
Overall though, the 2450 scores very highly with its strong motor, larger rollers, and the ability to reach a decline setting.
Features
The NordicTrack Commercial 2450 comes with the following features:
22″ HD touchscreen console- the touchscreen display is the star of the show when it comes to features. At 22″, it's large enough to see clearly and it makes choosing workouts simple. It also pairs nicely with the instructor led workouts on iFit. You can also adjust the angle of the console for easy viewing regardless of whether you're on or off the treadmill.
iFit compatible- iFit is NordicTrack's fitness streaming app and pretty much all of their machines are compatible with it. Through iFit, you get access to unlimited workouts, scenic runs, Google maps, and metric tracking. It's an optional service and a 30 day trial is included with purchase. After that, I think it's $39/month.
Automatic trainer control- if you do opt for iFit, you'll be able to enjoy the automatic trainer control feature that allows the instructors to control the speed and incline settings during your workouts. This means you don't have to worry about changing this stuff during workouts, you simply try to keep up. Don't worry, you can always manually adjust settings too.
Ton of workouts- even if you don't decide to join iFit, you'll still have access to like 50 built-in workout programs on the 2450, which is more than enough to keep your workouts fresh.
Bluetooth- this treadmill is compatible with bluetooth headphones, so if you don't want to listen to iFit through the built-in speakers you don't have to.
One touch controls- you can instantly set the speed and incline settings on the 2450 with a push of the one touch buttons on the sides of the touchscreen.
AutoBreeze fans- 2 built-in fans will help keep you comfortable during those tougher workouts.
Storage tray- there's also a handy storage tray built-in under the console. This is a great place to put anything that might need storing during a workout- phones, keys, remotes, legos.
Assembly
If you decide to purchase and assemble yourself, the best advice I can give is to have a second person available. This is a large, heavy treadmill, so please don't try to move this thing around solo.
Plus, there are a few steps that will be a lot easier with another person around, especially when it comes time to attach the console.
That said, the assembly process for the 2450 should be pretty straightforward.
The main deck is mostly pre-assembled, you're basically just attaching the uprights, the crossbar, the console, a few trays, and a few covers.
There are a few extra steps necessary on this treadmill to attach the hydraulic lift mechanism under the deck, but that shouldn't be too difficult.
NordicTrack's assembly manual is easy to follow too- the images are helpful and the written instructions make sense.
And all necessary hardware and tools are included.
Overall, I think most fairly handy folks will be able to assemble with little issues. Expect to spend an hour or so getting the job done.
Warranty
NordicTrack backs their Commercial 2450 Treadmill with the following residential warranty:
10 year frame
2 year parts
1 year labor
Ok, so this warranty isn't awful, but based on the comps, it's got plenty of room for improvement.
Ten years on the frame is pretty solid, but a lot of the other treadmills in this price range are offering lifetime frame guarantees.
And 2 years on parts is also a lot shorter than the 5 years Sole and Horizon offer on parts.
By the way, you'll notice there's no motor warranty mentioned here- this is because NordicTrack includes the motor under the 'parts' guarantee.
So they only cover the motor for 2 years, which is crazy short compared to the lifetime motor warranty offered by the same 2 brands mentioned a second ago.
A year on labor is standard, no complaints there.
Overall, the lackluster warranty on this treadmill is probably it's biggest flaw, but this is the same guarantee they offer on all their machines and users are generally happy with how NordicTrack products hold up.
Final Thoughts
Well, that about does it for the Commercial 2450.
All things considered, I think this treadmill is pretty awesome- it's definitely got a lot going on in both the performance and features departments.
I tend to focus more on the performance side, so I'm impressed with the large running surface, strong motor, and large rollers.
But if you're looking to join iFit, that large HD touchscreen console will definitely come in handy.
And if not, with 50 built-in programs, you won't be wanting for workout options.
Again, my biggest complaint is that I wish it came with a longer warranty, but otherwise I think this is a great home treadmill.
Overall, if you're looking for a streaming treadmill in this price range, I think the 2450 is a very smart buy.