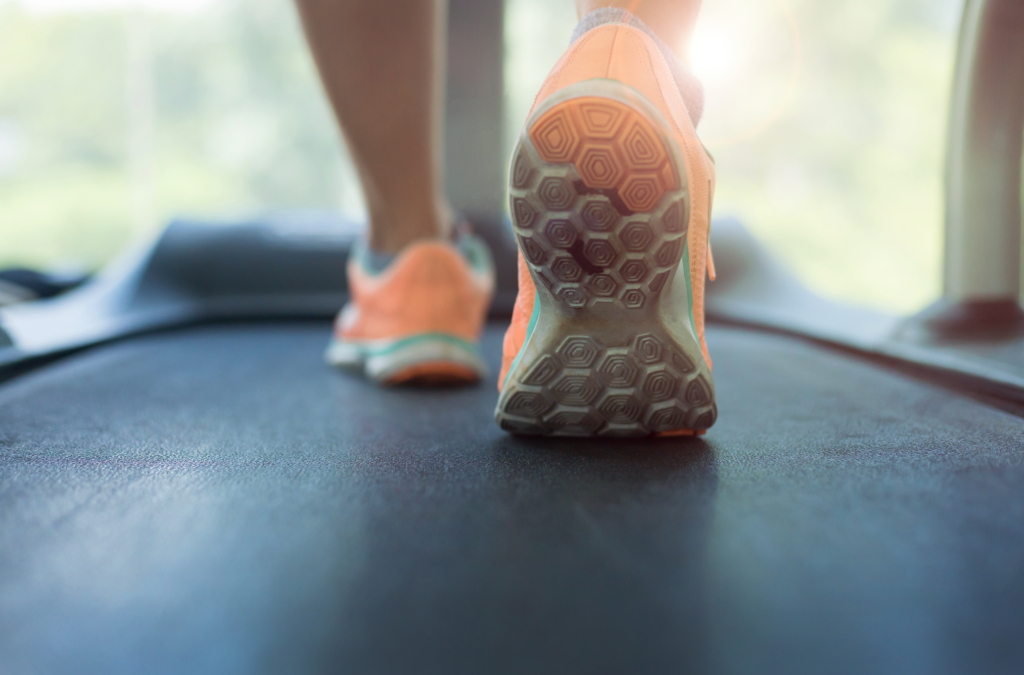 Horizon Fitness's 7.0 AT Treadmill is designed with one thing in mind: performance. What it lacks in hi-tech, superfluous features, it makes up for in muscle and durability.
Although it does have a few surprising features you don't normally see on a treadmill under $1000.
Long-story-short: this is a great treadmill for this price range.
But you really shouldn't take my word for it.
The Horizon 7.0 AT can speak for itself- well, not literally, that would be kinda creepy in an "AI taking over the world" kind of way.
What I mean is, this treadmill's specs speak for themselves. Because if you ask me, the only smart way to buy a treadmill is to do your research- this means examining the specs, features, and qualities of each machine and finding the best combo for your price range.
To help you on your journey, this review will walk you through all the key features that make this treadmill what it is- one of the best budget treadmills on the market.
Before we get ahead of ourselves, I think we should start with a quick recap on the 3 most important specs to consider when searching for a treadmill.
How To Buy A Treadmill
There are a lot of things to consider when looking for a new treadmill and I know price is the first consideration for 99% of us.
But, no matter what price range you're looking in, there are some specs that are just more important than the rest. Well, assuming you want to find a treadmill that performs well and will last.
Here are the most important things to consider when looking for a quality treadmill (regardless of price range):
Running Surface
The first thing I look at when I start examining a treadmill is its running surface. This measurement refers to the literal size of the usable belt surface during your workout.
Measured in inches, these dimensions describe the width and length of the belt.
When it comes to running surface, larger is always better. Especially if you or a family member are tall. If the running surface is too short, you might have to shorten your stride when running, which isn't a very comfortable way to run.
Although not as important as length, the width plays an important role in comfort too. If the belt width is too narrow, you're going to feel cramped while you walk or run.
You might even feel like you're walking on a tightrope (ok, that's a bit of an exaggeration, but you get what I'm saying here).
One of the easiest ways to spot a subpar treadmill is to look at the running surface- if it's smaller than 20″ x 55″, I'd keep looking. And unfortunately, a lot of budget treadmills skimp on the size of the running surface.
The gold standard for home treadmills is 20″ x 60″. This running surface can comfortably fit most folks running at top speed.
 Motor Strength
The next spec you should examine is the motor strength. Although not quite as important as the running surface, it's close. Having a strong motor will ensure your treadmill runs smoothly regardless of your running speed.
Most home treadmills come with motors in the 2.0 – 4.0 CHP range. Cheaper treadmills usually come with weaker motors.
If you plan on running, I'd look for a treadmill with at least a 3.0 CHP motor. This should ensure the treadmill is powerful enough to handle the stress of running without killing the motor.
Stronger motors also don't have to work as hard as weaker ones to maintain the same speed. This means they should, theoretically, last longer.
Warranty
The warranty is another crucial aspect to consider before buying any treadmill. This might sound like a given, but you'd be surprised at how many people buy fitness equipment without having a clue as to what kind of warranty it comes with.
Treadmill warranties usually come in 4 parts: frame, motor, parts, and labor.
Frame warranties are usually the longest of the bunch. Quality treadmills should offer lifetime on the frame. A good motor warranty should be lifetime as well.
Parts warranties vary greatly. Quality treadmills usually offer 3-5 years on parts. Labor is always the shortest of the bunch and is usually only 1-2 years.
When stuck between 2 similar models, always go with the better warranty. Better to be safe than sorry.
The Horizon 7.0 AT Treadmill
Horizon is part of the Johnson Health family, which also owns the Matrix Fitness and Vision Fitness brands. Horizon is known for producing high-quality, budget friendly home treadmills.
The 7.0 AT definitely fits into both of these categories.
The "AT" stands for "Advanced Training" and the name is pretty accurate- this treadmill has the goods to handle running at high speeds and steep inclines.
Pros
Large, 20″ x 60″ running surface
Powerful, 3.0 CHP motor
Convenient QuickDial controls
Great warranty
Max speed of 12 mph
Top incline of 15%
Max weight capacity of 325 lb
Variable response cushioning system
Folds for storage
Compatible with chest strap heart rate monitors
Bluetooth speakers
Quick touch buttons for speed and incline
Cons
Limited built-in workout programs
Running Surface
Right off the bat, I like that this treadmill comes with a large, 20″ x 60″ running surface. Like I mentioned above, this is the gold standard for home treadmills, but many budget machines come with smaller dimensions.
The 7.0 AT is large enough for taller users to run comfortably without having to shorten their stride. You should be able to sprint comfortably on this machine, something that can't be said for all models in this price range.
Horizon includes their 3 zone variable response cushioning system on all their treadmills, even the more affordable ones. This shock absorbing system is designed with gait kinematics in mind, providing the most cushioning where your foot initially lands and less in the back where you push-off (and don't want a soft surface).
Like most home treadmills these days, the 7.0 AT can fold for storage. With the hydraulic lift, you can easily fold the deck up vertically when not in use.
This features saves you about 3 feet of floor space when you're not using it- which can be a game changer for small workout areas or shared spaces.
The frame itself is heavy-duty, constructed out of steel. This is evident when you look at the total weight of the treadmill: 253 lb. Having a heavy machine is a good thing, because it means the treadmill isn't going to move or rock during use.
Another indicator of this treadmill's build quality is the fact that it has a max weight capacity of 325 lb. This is good news for the larger folks out there looking for an affordable home treadmill because a lot of cheaper options max out in the 250 – 300 lb range.
Overall, the 7.0 AT scores highly with its large running surface, durable frame, and high weight capacity.
Motor
This treadmill comes standard with a 3.0 CHP motor. If you recall from my intro above, it's a good idea to have at least 3 CHP to ensure comfortable running. This treadmill won't have any problems propelling you to higher speeds with this powerful motor.
Speaking of speed, this machine can reach a top speed of 12 mph (5 min/mile pace). It can also reach a max incline of 15%.
These are both impressive numbers for a treadmill in this price range. Many budget machines top out at 10 mph and 10% incline.
I also want to point out that the 7.0 AT uses 60mm/46 mm tapered rollers. Converted to inches, that's roughly 2.3″/1.8″ respectively.
The rollers are the part that actually propel the belt along the deck and having a larger diameter usually equates to a smoother feel and less stress on the motor.
High-quality home treadmills usually have 2.5″ rollers with more affordable machines usually using 1.8″-1.9″ rollers. This treadmill has a combination of the larger and smaller rollers, which should help take a little stress off the motor.
Most users agree this treadmill runs smoothly with this motor/roller combo.
Overall, this treadmill has a powerful motor capable of reaching high speeds and high inclines. It's perfect for runners or folks doing HIIT workouts.
Features
The 7.0 AT treadmill comes with the following features:
7 built-in workout programs- this isn't a huge number, but it gives you a little bit of everything you need. Workouts include: 5k, calorie, distance, fat burn, manual, and max heart rate
Bluetooth speakers- this is a surprising feature to find on a budget treadmill. You can sync your tablet or phone to listen to your music or hear your movies through the treadmill's twin speakers.
Quick-touch speed/incline buttons- a very handy feature, these buttons allow you to instantly set your speed or incline without having to manually select up and down with the arrows. These buttons come in really handy for interval training.
QuickDial controls- if you notice the 2 blue little dial thingies on the handles, these are the QuickDials. You use these to set your speed and incline settings during your workout. They are super convenient because you can rapidly set your values without having to keep pushing buttons.
Rapid charge USB port- you can charge your tablet or phone while you workout. Nice feature, makes sure you don't kill your phone while you're jamming out.
Built-in device holder- the device holder makes it convenient to hold your tablet if you want to watch Netflix while you run. Also handy if you want to use the free app to control your workout
Free app- download Horizon's free app (AFG Pro Fitness) to manage your workouts and track workout data, as well as connect to other fitness apps like FitBit.
Built-in fan- nothing fancy here, but it'll help keep you cool and comfortable during your workouts.
Hand-grip heart rate monitor- the grip monitor will help you keep track of your heart rate during use if you prefer. It's also compatible with bluetooth chest strap monitors, which are a lot more convenient to use while running.
Assembly
Putting the 7.0 AT together is pretty straightforward- no advanced mechanical engineering degrees necessary to get the job done. The assembly instructions are clearly written with large, easy to follow illustrations matching each step.
I like how Horizon clearly defines what hardware will be used each step along the way. They even give you images of what each bolt and washer looks like, which I find very helpful.
I hate it when instructions tell you to use "bolt #7" and you have to refer to another page of the instructions to identify which bolt that is.
Most users shouldn't have any trouble putting this treadmill together themselves. It's a durable, well-built machine, which means it's heavy (~250 lb fully assembled)- so it might be a good idea to have a second pair of hands available when putting this together.
Warranty
Horizon backs the this treadmill up with the following warranties:
Lifetime frame
Lifetime motor
3 year parts (including cushioning)
1 year labor
I think this is a great warranty on this treadmill and it's very comparable to the warranties we see on some of the other top contenders in this price range.
The ProForm 905 CST, which is another great budget treadmill, comes with the exact same warranty.
Lifetime guarantees on both the frame and motor should be expected these days (well, for quality treadmills anyway). It's rare to see longer than 3 years on parts on treadmills under $1000 and 1 year for labor is par for the course.
Overall, a great warranty offered by Horizon on this model.
Final Thoughts
When it comes to the 3 most important treadmill specs, the Horizon 7.0 AT Treadmill scores highly across the board. With a large, 20″ x 60″ running surface and powerful, 3.0 CHP motor, this treadmill has everything it takes to provide a comfortable and smooth experience.
It's also backed by a great warranty for the trifecta.
I like this treadmill because it was obviously designed with maximizing performance as the primary goal.
Personally, I don't care much about having an HD touchscreen on my treadmill or being able to choose from 40 different workout programs. I would rather have a machine that's built to last and is easy to use.
And I love the QuickDial controls that are found on this treadmill (my 7.8 AT has the same dial controls and they make selecting your settings so much easier).
If you're looking for a treadmill with tons of workout programs and a fancy console, the 7.0 AT probably isn't the right choice for ya.
But if you're looking for a rock solid machine with impressive numbers where it really counts, the Horizon 7.0 AT is a great choice.
Definitely one of the best budget treadmills around, highly recommended.