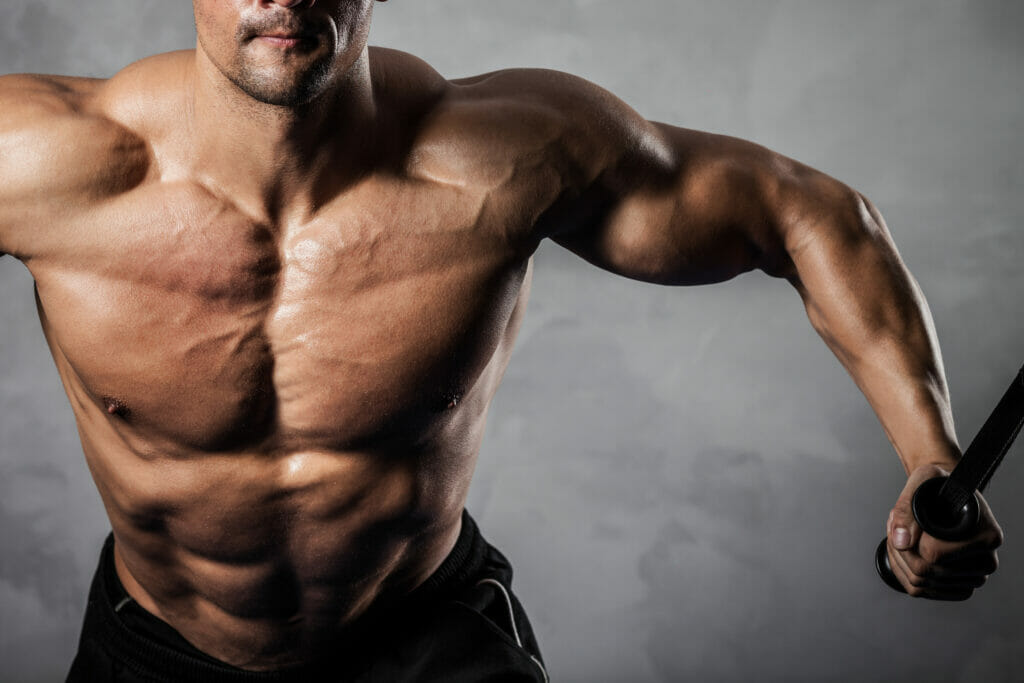 At its core, Force USA's X15 Pro Multi Trainer is essentially a squat stand that's been combined with a dual-stack functional trainer.
This may sound like a pretty simple piece of equipment, but there's nothing basic about what the X15 Pro can do.
With 3″ x 3″, 11-gauge steel uprights and a weight capacity of 992 lb, the X15 can hold its own with the top half racks out there.
And with dual, 289 lb weight stacks and 2 fully adjustable pulleys, this is one functional trainer that can handle any workout you throw at it.
Toss in a landmine station, a low row plate, and about a dozen or so additional attachments and you've got the makings for one of the hottest new gym systems around.
But before you start pulling out credit cards and measuring floor spaces, you've gotta know exactly what you're getting yourself into.
And that's where I can help.
In this review, I'll go over all the specs and features the X15 Pro has to offer, as well as where it falls a bit short.
After reading, you'll know whether or not this is the right home gym for your home gym.
Off we go.
The Force USA X15 Pro Multi Trainer
The X15 Pro is one of 2 new multi trainers recently added to Force USA's lineup, the other being the X20 Pro, which offers a full power rack.
Force USA has made a name for themselves with their all-in-one trainers, which combine a power rack, Smith machine, and functional trainer all into a single piece of equipment.
I guess Force realized not everyone wants/needs a Smith machine, so they decided to offer trainers lacking this feature.
Enter the X15 and X20 Pro.
As a brand, Force USA has a pretty good reputation for providing high-end lifting gear.
As I mentioned, their all-in-one trainers are the stars of their lineup, but they've got a nice modular power rack system (the MyRack) that allows you to pick and choose your features too.
The X15 Pro is one of their newest products to date and it's also one of their most expensive – at the time of writing this, this bad boy is going for around $5k.
Pros
Combines half rack with functional trainer
3″ x 3″, 11-gauge steel uprights
992 lb weight capacity
Dual 289 lb weight stacks
Fully adjustable pulleys
Westside spacing in bench zone
Landmine station
2 chin up bars included
Anchor for suspension trainers
Low row plate included
Ton of attachments
Good warranty
Cons
Takes up a lot of floor space
3″ hole spacing on the upper rack
Expensive
Frame
Before we dive into the different stations this gym has to offer, I want to briefly discuss this gym system as a whole.
Even though the X15 Pro is a half rack system, it's still a large gym that takes up a generous hunk of floor space.
To be more specific, this gym takes up a footprint of 70″ W x 57″ D (it's also 92″ tall, so you better have at least 8′ ceilings to even consider purchasing).
That's damn near 6′ x 5′ worth of floor space for the rack itself, not to mention the additional space you'll need to access the weights and actually use it.
Before you go any farther, I encourage you to confirm that you have enough space in your garage or home gym to fit the X15 because you don't want to fall in love with it only to realize it's not meant to be.
On a positive note- yes, it does take up a lot of space, but it's also likely the only piece of strength training equipment you'll ever need.
Ok, now that I got that public service announcement out of my system, let's move on.
The X15 is a combination unit, combining the main functions of a half rack and a functional trainer, so let's look at each piece separately.
Half Rack
The biggest difference between the X20 and the X15 is that the X20 is a full power rack, while the X15 is a half rack.
With a half rack system, you don't get the interior cage space to use for lifts because there aren't any safety bars going through the interior of the cage.
Which in my mind makes a half rack the same thing as a squat rack, although I know some purists out there might want to differentiate them as well.
Semantics aside, the X15 Pro is a half rack, so you don't get the added safety of the built-in spotter system inside the rack.
But as half racks go, it's still quite impressive.
The X15 comes with 3″ x 3″, 11-gauge steel uprights, which are about as large and heavy-duty as you can expect to find on any residential unit.
And considering it's the uprights that are responsible for bearing the majority of the weight you'll be loading on it, having larger, thicker uprights is always a good thing in my book.
These uprights are heavy-duty enough to allow the X15 to hold up to 992 lb, which should be enough weight to handle the workouts even the most gifted lifters will be throwing at it.
Some racks out there come with 1,000 and even 2,000 lb ratings, but realistically speaking, who is actually putting that kind of weight on 'em?
I know I certainly wouldn't be.
Each upright comes with 42 adjustment positions with 1.5″ hole spacing throughout the bench zone and 3″ hole spacing above.
Force refers to this as Westside spacing along the bench zone, but technically speaking, Westside spacing usually refers to 1″ spacing.
The holes themselves are 1″ in diameter, which is large, so I'm guessing that made it a little more difficult to get the true Westside spacing in.
Either way, you get a lot of play on bar placement with this rack (although I'd rather see 2″ hole spacing for the upper rack than 3″).
Something else worth noting- even though you can't really use the interior cage space for lifting on the X15, there's still a fair amount of interior room inside this rack.
With ~43″ of depth, you'll still have plenty of usable space in there that could come in handy for gymnastic style pull ups and whatnot.
Overall, the X15 Pro scores highly in the rack department with its heavy-duty uprights and impressive weight capacity.
Functional Trainer
A "functional trainer" is just what us in the biz call a dual pulley system.
Functional trainers can be stand alone units or combined with other stations, as in the case of the X15 here.
They can also use weight stacks or be loaded manually with weight plates, depending on the trainer.
The functional trainer on the X15 comes with two 289 lb stacks that are built-into the frame of the rack, making for a convenient and sleek design.
Keep in mind these weight stacks are only used with the pulleys – they have nothing to do with the half rack, which is to be used with a barbell (sold separately).
Each weight stack is connected to a pulley that comes with 34 different adjustment positions along the front uprights.
Each pulley has a knurled handle and a locking pin for easy adjusting as well.
These pulleys move along the same uprights that are used with the half rack station, so every once and awhile you might find yourself having to move the pulleys or J-cups out of the way, but that won't be a big deal.
The functional trainer on the X15 comes with a 2:1 pulley ratio, meaning it feels like you're lifting half the weight you rack on each stack.
So, for example – if you rack 100 lb on each stack, it'll feel like you're lifting 50 lb in each hand.
Pulley ratios vary between functional trainers, but a 2:1 ratio is the most common because it offers a wide range of movement for the handles without having to lift the stack as high.
It also helps improve the smoothness of action.
Force uses a 1:1 pulley ratio with the functional trainer on their G12 All-In-One Trainer, meaning you feel every pound you rack (and considering it comes with 2x 200 lb stacks, you get access to a lot of resistance).
But even with a 2:1 ratio, you still get roughly 145 lb worth of resistance in each pulley, which is still an incredible amount of resistance to work with.
With 2 fully adjustable pulleys and access to that much resistance, there isn't much you can't do with this gym, but Force also provides a lot of attachments for even more workout options.
Attachments
Force USA includes the following attachments with the X15 Pro Multi Trainer:
Single chin up bar
Multi-grip chin up bar
Landmine station
Low row plate
Lat pulldown bar
Straight bar
Triangle handle
2x plastic handles
Tricep rope
Tricep V bar
Short bar
2x J-cups
2x safety bars
That about does it for the handles and attachments, but they also include 7x carabiners, 8x plate holders, and 8x clamps for the barbells.
Basically, Force includes everything you need to get your X15 up and running, minus the barbell and plates themselves.
Oh, they don't include a bench either.
I think Force is pretty generous with their included attachments, but they also offer an upgrade package that comes with even more attachments.
These include:
Pair of jammer arms
An upgraded lat pulldown bar
A lat pulldown seat
Dip (matador) handles
A pair of metal handles
A landmine handle
4x storage shelves
The upgrade kit goes for around $800 and I agree it comes with some awesome attachments, but given the price of the X15 to begin with, I think some of these attachments should just be included with the base price.
Specifically, the lat pulldown seat, the dip handles, and the pair of metal handles.
I mean, this is a $5k gym and we have to pay extra for a pair of standard metal handles?
Come on.
Otherwise, I don't have much to complain about here. Force offers a ton of compatible attachments for this gym that significantly increase the amount of moves you can perform.
Warranty
Force USA offers the following residential warranty on the X15 Pro Multi Trainer:
Lifetime frame
2 year cables/pulleys
90 day accessories
It's great to see the lifetime frame warranty because this is what we should expect from any self-respecting power rack (full or half).
Two years on the cables/pulleys is pretty average compared to what other brands offer, but given the quality of the cables to begin with, you shouldn't really have to worry about them breaking down in the first place.
Some brands will go as far as to offer lifetime parts warranties too, but I wouldn't say that's particularly common.
And 90 days on wear and tear accessories (handles, etc) is pretty short, but your handles and whatnot should last a lot longer than that anyway.
Overall, I think Force's warranty here is pretty good.
Final Thoughts
That about does it.
I think it was brilliant of Force to come up with some gyms that don't include a Smith machine because not everyone needs one (and I have to admit, their all-in-one trainers look a bit busy).
When it comes to the X15, I don't have much to complain about.
I love that the half rack comes with 3″ x 3″, 11-gauge steel uprights and is capable of holding such heavy weights safely.
I also love that the functional trainer utilizes 2x 289 lb weight stacks that are built seamlessly into the rack's frame.
The warranty and included attachments are also quite generous.
The only real complaint I have is that I think this unit is a bit expensive – and for the price, I think most of the attachments in the upgrade kit should be included as is.
But if you've got the budget (and floorspace) for the X15 Pro, I don't think you'll be disappointed. Recommended.