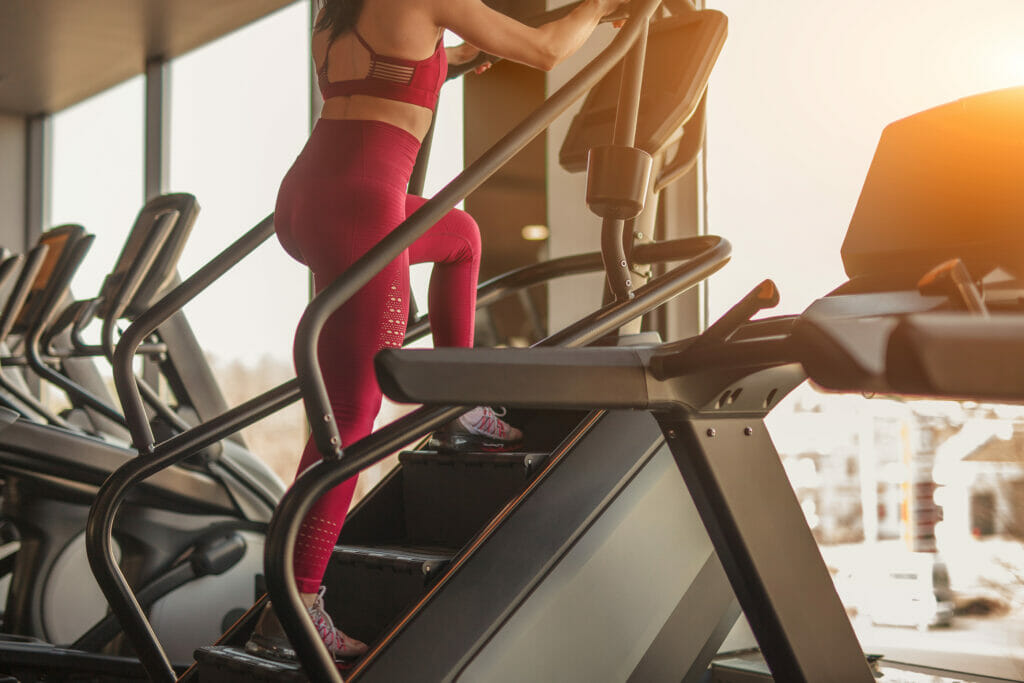 If you're looking to instantly boost your home gym game, investing in a stair climber machine is a great way to do just that.
Stair climbers provide some of the best cardiovascular/lower body strengthening workouts you can get from a fitness machine and there's really no denying it.
And with more and more brands offering home models, there are plenty of options to choose from for your home gym.
Having a lot of options can be a good thing, because it gives you variety to choose from, but it can also be a burden when it comes time to narrowing the field down to the best choice.
Luckily, I'm here to help.
In this guide, I'll go over some of the top specs and features you should consider when looking for the right stair climbing machine to meet your needs.
I'll also present my top picks, based on the criteria we discuss.
After reading, you'll know everything you need to in order to find the right fit for your home gym (or maybe you'll discover that a stair climber machine isn't what you want after all).
Either way, I hope you find this guide helpful.
Off we go.
Style
Features
Warranty
#1 The STEPR+
Revolving stair
27" HD touchscreen
Instructor-led workouts
Entertainment apps
5.2" stairs
10 year frame
2 year parts
1 year labor
#2 ProForm Pro HIIT H14
Stepper (HIIT Trainer)
14" HD touchscreen
30 lb flywheel
26 resistance levels

10 year frame
2 year parts
1 year labor
#3 StairMaster 4G StepMill
Revolving stair
20 speeds
Up to 162 steps/min
7" steps
10 year frame
3 year parts
3 year labor
#4 StairMaster 8 Series FreeClimber
Stepper
10 built-in workouts
1-14" step height
Bluetooth
10 year frame
10 year parts
3 year labor
#5 Spirit XS895
Stepper
Adjustable stride
23 lb flywheel
Bluetooth
Lifetime frame
10 year parts
2 year labor
#6 Jacobs Ladder The Stairway GTL
Revolving stair
Self-powered
Up to 160 steps/min
4 year parts
1 year labor
#7 Spirit CS800
Stepper
9 built-in workouts
Bluetooth
USB charging
Lifetime frame
10 year parts
2 year labor
#8 Bowflex Max Total 16
Stepper (HIIT Trainer)
20 resistance levels
16" HD touchscreen
Built-in entertainment apps
3 year frame
3 year parts
90 day labor
#9 StairMaster 8Gx
Revolving stair
Large steps
25 speeds
Bluetooth
10 year frame
3 year parts
1 year labor
The 9 Best Stair Climber Machines For Home Use
#1 The STEPR+
The STEPR+ is a new streaming stair climber and I have a feeling it's going to take the world of home fitness by storm.
I had the pleasure of being able to test this little beauty out and I'll tell ya, it's pretty amazing.
This revolving stair climber comes with a compact footprint (29″ x 50″), allowing it to fit in rooms of all sizes (something most stair climbers can't say).
And with smooth, quiet stair action, you won't have to worry about disturbing family members while you work out.
Another great feature is that the STEPR+ uses shorter, stadium style steps – at only 5.2″ high, these steps are lower impact and easier to access than most.
But don't let this fool ya, with a max stepping rate of 137 spm, this stepper will be able to challenge the best of 'em.
This is all great, but what really sets the STEPR+ apart from any home stair climber I've seen is the 27″ rotating HD touchscreen console.
That jumbo console is there because the STEPR+ is designed to pair with its own streaming platform, giving you access to instructor-led workouts, metric tracking, and built-in entertainment apps.
And better yet, you don't have to pay a membership fee to access the apps.
This means you can watch Netflix, YouTube, and more while stepping away in the comfort of your home.
This machine can also accommodate folks between 95 – 375 lb and only requires an 8′ ceiling.
It's warranty could be a little longer, but it's not bad: 10 year frame, 2 year parts, 1 year labor.
Overall, I could see the STEPR" being a great choice for folks looking for a compact stair climber with tons of entertainment and workout features. See full review.

#2 ProFrom Pro HIIT H14
It's not always easy to name a top spot for these "best of" lists, but ProFrom's H14 offers a great combination of features and is priced perfectly for home use, so I stand by my decision here.
The H14 is the latest addition to ProForm's HIIT Trainer Series and with it comes a few nice upgrades.
First and foremost, I should mention that the H14 is of the stepper variety, but unlike some, it also comes with moving handles so you can get your upper body involved too.
Combining the upper body and lower body movements certainly makes it easier to get a full body workout in, allowing you to elevate that heart rate even higher and burn more calories.
The movement pattern on this trainer is mostly vertical, but it does have a little front/back movement as well.
More specifically, each step is 10″ vertically and 5″ horizontally, so it'll offer a little bit of an oval shaped pattern, which might actually be more comfortable for folks dealing with achy knees.
Anyway, the H14 scores pretty highly in the performance department, coming with a 30 lb flywheel, 26 magnetic resistance levels, multi-grip handlebars, and a 325 lb weight limit.
But it also scores highly when it comes to the console features.
With a 14″ HD touchscreen console, the H14 is designed to pair perfectly with the iFit streaming platform, giving you access to instructor-led workouts, scenic routes, and metric tracking.
And with the interactive training feature, you can even let the instructors control your resistance automatically for ya.
It also comes with a built-in cooling fan, bluetooth speakers, and stationary handles for when you want to focus on your legs.
The H14 is also backed by a solid home warranty: 10 year frame, 2 year parts, 1 year labor.
Overall, if you're looking for an affordable home stepper with some serious streaming capabilities, ProForm's Pro HIIT H14 is a great option. See full review.

#3 StairMaster 4G StepMill
You shouldn't be too surprised to see a StairMaster on this list – I mean come on, these guys started the game and they still specialize in creating killer workout equipment.
Plus, you have to give 'em kudos for the brand name, it says it all.
There's no denying that StairMaster and their stair climbing machines are legendary, but they've historically been found only in commercial gyms.
Their size and cost just hasn't made them a good choice for most home gyms.
Well, that's changing now that they offer models like the 4G StepMill that are designed specifically for home gyms.
The 4G is a smaller, significantly more affordable model designed specifically for home use.
And taking up a floorspace of only 54″ L x 29″ W, the 4G is one of the more compact revolving stair climbers on the market.
This stair climber comes with 7″ high steps that are 10″ deep and 18″ wide, giving you plenty of room for comfortable foot placement during workouts.
These are a little lower than most steps you'd find in your home, making them more comfortable for folks with achy knees too.
The 4G comes with a powder coated steel frame that can handle users weighing up to 350 lb, allowing folks of all sizes the ability to safely use it.
The machine weighs about 348 lb assembled, so you rest assured it'll feel stable during use, but you might want to make sure you know exactly where you want it before assembly.
Features include the option to choose between 3 different consoles, 20 speed levels,  a max step rate of 162 steps/min, and a USB charging port.
StairMaster also backs this model with a very solid warranty: 10 year frame, 3-10 year parts, and 3 year labor.
The biggest downside is the cost – at over $5k, this cardio machine isn't cheap.
But if you're looking for one of the best home revolving stair climber machines around, the 4G is it.

#4 StairMaster 8 Series FreeClimber
Yup, another StairMaster landed a top spot on this list- hey, I told ya, they're still the number one name in the stair climbing game.
Unlike the 4G though, the 8 Series FreeClimber is of the stepper variety.
So, if you like the idea of going with StairMaster, but would prefer a stepper, the FreeClimber might be a good fit.
The FreeClimber is a little more compact than the 4G, taking up a footprint of only 43″ x 27″ (L x W), making it a good option for smaller workout areas.
This machine comes with StairMaster's patented pedal technology that keeps the pedals level and smooth acting with each step.
And being a stepper with independent pedals, you can choose your step height anywhere between 1 – 14″.
The power coated steel frame can hold users weighing up to 350 lb, allowing the FreeClimber to accommodate most folks safely.
Additional features include 10 built-in workout programs, telemetry heart rate monitoring, bluetooth, and USB charging.
It also comes with a really high max step rate of 174 steps/min, which sounds crazy fast to me, but the older I get, the slower I go.
The residential warranty on the FreeClimber is quite generous as well: 10 year frame, 10 year parts, and 3 year labor.
Overall, if you're looking a commercial grade stepper that can fit comfortably in most home gyms, the 8 Series FreeClimber is a smart choice.

#5 Spirit XS895 Adjustable Incline Stepper
Ok, let's take a break from StairMaster for a minute and take a look at a great stepper from one of my favorite home fitness brands.
I love Spirit in general because they provide heavy-duty products and then back them with amazing warranties (they're also priced very well too, which never hurts).
Their XS895 is a little different from the straight up stepper we just saw above – this one is more like what you'd get if a stepper and an elliptical got it on.
The stepping pattern on this machine is still mostly vertical, although you can adjust the incline angle anywhere between 43° and 60° to change the step height between 10″ and 14″.
The XS895 also gives you the option of using your arms, much like an elliptical and the HIIT Trainer mentioned earlier.
This stepper comes with a 23 lb flywheel that can provide a smooth, yet intense, full body workout.
It also comes with 20 levels of resistance, giving you a lot of control over how difficult your workouts are.
And its commercial grade steel frame comes with a weight limit of 400 lb, allowing folks of all sizes to use it safely, which is always nice.
Additional features include a 7.5″ backlit display, multi-grip handles, bluetooth, and telemetry heart rate monitoring compatibility.
And this being Spirit, the XS895 is backed by an amazing warranty: lifetime frame, 10 year parts, 1 year labor.
Overall, there isn't anything too fancy going on here, but this stepper is well-built and reasonably-priced, two qualities that never go out of style in my book. See full review.

#6 Jacobs Ladder The Stairway GTL
The Jacobs Ladder brand is known for their ladder climbing systems (go figure), but with The Stairway GTL, they've entered the realm of good ol' fashioned stair climbing.
The Stairway GTL is another revolving stair system, mimicking the feel of going up a real flight of stairs.
The stairs on the GTL are 8″ high and 9″ deep, closely resembling the stairs you'd see in your own home and the frame is heavy-duty, powder coated steel (as are the steps), which allow this machine to hold folks weighing up to 350 lb.
Unlike the original Stairway by Jacobs Ladder that used a waist belt and your position on the stairs to adjust your speed automatically, the GTL can be controlled by you from the console using up/down buttons.
I like this system better- something about having to wear a little belt while stepping seems a little off to me.
Anyway, this stair climber has a max speed of 160 steps/min, which will be more than enough for most of us.
And with only an 11″ step-up height to the first stair, it's a little easier to access than some other revolving stair models.
The console on this climber is very simple, so if you're looking for bluetooth and other higher-tech features, this isn't the right option for you.
The GTL is basically only packing a water bottle holder.
But, unlike most stair climbers, the GTL is self-powered, meaning you don't have to worry about locating it near an outlet.
I think Jacobs Ladder could do a better job when it comes to the warranty, but they still back this climber with a 4 year parts and 1 year labor guarantee.
Overall, if you're looking for a commercial grade stair climber that doesn't have to be plugged in, the Jacobs Ladder GTL is worth checking out.

#7 Spirit CS800
Spirit's CS800 is more of a traditional stepper- no adjustable incline angles or moving handles like those found on the XS895, just stepping.
But the CS800 uses the same 23 lb flywheel found on the XS895 to provide smooth stair climbing operation.
As a stepper, you get to choose your step height during operation and on this model, the max step height is 16″, giving you the option to mimic ascending stairs 2 at a time if ya like.
The CS800 also comes with 20 levels of resistance, allowing it to challenge users of all fitness levels.
The powder coated steel frame comes with a 450 lb weight capacity, which is even more impressive considering this machine only weighs about 175 lb assembled.
Additional features include 9 built-in workout programs, bluetooth, USB charging port, and a cooling fan.
And of course it's backed by Spirit's very generous warranty: lifetime frame, 10 year parts, 2 years labor.
This stepper is really just high-end from top to bottom, not a lot to complain about here.
Overall, the CS800 has a lot going for it and it's very reasonably priced. One could easily make the argument that this is one of the best deals in its class with an asking price right around under $2000.

#8 Bowflex Max Total 16
Where ProForm has the "Pro HIIT's", Bowflex has the "Max Total's", meaning this is Bowflex's interpretation of what a HIIT Trainer should be.
The Max Total 16 is very similar to the H14 in many ways, although it's a little more expensive and backed by a much shorter warranty.
Actually, if Bowflex would offer a better warranty on this machine, it would probably have landed quite a bit higher on this list.
Regardless, I think this HIIT trainer still has a lot to offer, depending on what you're looking for.
In terms of performance, the Max Trainer 16 comes with 20 magnetic resistance levels, large, multi-grip handles, and a dual-rail design for added stability.
And like the H14, this stepper is also designed for streaming.
It's 16″ HD touchscreen makes it easy to select and view workouts through Bowflex's JRNY app (membership required), which gives you access to all the normal streaming goodies, plus the ability to access entertainment apps directly through the console.
That said, the JRNY app has had its issues over the years, with more than a few users complaining about it being a little less than user friendly.
Regardless, it operates smoothly and does come with some nice features, like bluetooth speakers, an included heart rate band, and a built-in media shelf.
As I mentioned, the biggest downer is the lackluster warranty Bowflex offers – 3 year frame/parts, 1 year electronics, 90 day labor.
Otherwise, if you like the idea of being able to watch Netflix from your stepper's built-in HD console, the Max Total 16 is worth checking out. See full review.

#9 StairMaster 8Gx
I wasn't sure if I wanted to include the 8Gx or not.
Don't get me wrong, this StairMaster is a beast and more than worthy to be on this list (it could easily be in the top spot), but it's really more of a straight up commercial model.
But, what the hell, I figure I might as well mention it, just in case anyone is really looking for a commercial stair climber that can handle anything you can throw at it.
As the name implies, the 8Gx is a serious machine.
This thing is bigger and heavier than every other model on this list, but with the extra size comes strength and durability.
You also get larger steps on this model: 8″ high, 10″ deep.
The 8Gx can handle users up to 350 lb, making it accessible to smaller and larger individuals alike.
Additional features include 25 speeds, bluetooth, USB charging, and a cooling fan (the LCD console comes standard, but you can also upgrade to a touchscreen display with a lot more available features).
This stair climber also comes with a great warranty: 10 year frame, 10 year parts, and 3 year labor.
Overall, if you have the room and the budget, the StairMaster 8Gx is truly a commercial grade stair climber (that said, this model is probably a lot more machine than most of us need in our home gyms).

Finding The Right Stair Climber Machine
When looking for a step or stair climber, there are a few specs/features you should consider.
Doing this will not only help you decide what you're looking for, but it'll also help you compare one machine to another.
You know, apples to apples and all that.
If nothing else, I recommend you at least think about the following when looking for your first or a new stair climber:
Style
I don't think this is written in stone anywhere, but I like to group stair climbers based on the style of the machine.
And the way I see it, there are 2 main styles: those with revolving stairs and those without (let's call these "steppers").
Well, I guess technically we could consider the "HIIT Trainers" a separate category, but they're really just steppers with moving arms.
So, I'm going to go ahead and include them in the mix here because they tend to be more affordable and they can fit nicely into a lot of home gyms.
Anyway, one style isn't necessarily better than the other and both styles can provide awesome workouts, but each has it's own advantages and disadvantages.
Stair climbers that use actual revolving stairs (like the ones you see at the gym) are the closest thing you can get to mimic the feel of climbing a flight of stairs because that's what you're literally doing.
A lot of these machines use 8″ stairs, which are roughly the same height as most American steps.
So, if you're looking to train on real stairs, these machines are the way to go.
On the downside, these machines are usually a little bigger and a little more expensive than the stepper variety.
Stepper machines don't use revolving stairs, instead they mimic the feel of going up steps through the use of 2 pedals.
The pedals operate in a vertical motion, mimicking the motor pattern of ascending a flight of stairs.
You can a great workout on these machines too, but without the fear of falling off.
Steppers are usually a little smaller and more affordable when compared to the revolving stair style and they can be a little lower impact as well.
When deciding about which style to go for, the amount of floor space you have available will likely be a key consideration.
That, plus cost and safety- the steppers are safer for people who feel they could be prone to losing their balance on the rotating stairs.
I've used both styles back in the days when I was still going to a commercial gym and they both work great, but if I had the room and budget, I'd go with the revolving stair style because I find them a little more challenging.
Budget
I'm a realist and I understand that budget is going to play a huge role in the decision making process for most of us when it comes to buying any kind of fitness equipment.
And when it comes these cardio machines, the prices can vary greatly.
As I mentioned above, the compact steppers tend be quite a bit more affordable than the full size, revolving stair machines.
More specifically, you get one of these machines (think ProForm or Bowflex) for under $2k.
This isn't nothing, but compared to the $5k+ you can expect to dish out on a revolving stair machine, it's not bad.
But remember, you tend to get what you pay for  – so going in for a more expensive machine can sometimes save you cash in the long run.
Features
It's always a smart idea to consider the features any exercise machine comes with and stair climbers are no different.
And since there aren't really as many performance specs to consider on these machines (like running surfaces, flywheel weights, etc), it might be the features that really set one model apart from another.
Common features to look for include:
Workout programs
Wireless heart rate monitoring
Bluetooth
Fans
USB charging ports
If stuck between similar models, I'd suggest comparing the above features and see which model has the most to offer.
With steppers, you might also want to see how many levels of resistance they offer and even take a look at the max and min step heights- most are about the same, but not a bad idea to consider these specs as well.
And with revolving stair machines, you can compare max stair climbing speeds- most are in the 160-170 steps/min range (which is way too fast for me).
Oh, one last thing with rotating stair machines- they will likely come with a minimum user weight as well as the max weight limits we're used to.
I guess it takes a certain amount of weight for the machine to know there's a person using it.
Most will come with minimum weights in the 100-125 lb range, so if you're under that you won't be able to use it safely.
This also helps ensure young children can't get on 'em and accidentally hurt themselves when adults aren't around.
And now, with the release of the STEPR, we can even opt for streaming stair climber classes  (it was just a matter of time until the streaming world reached stair climbers… jokes aside, this thing does look awesome).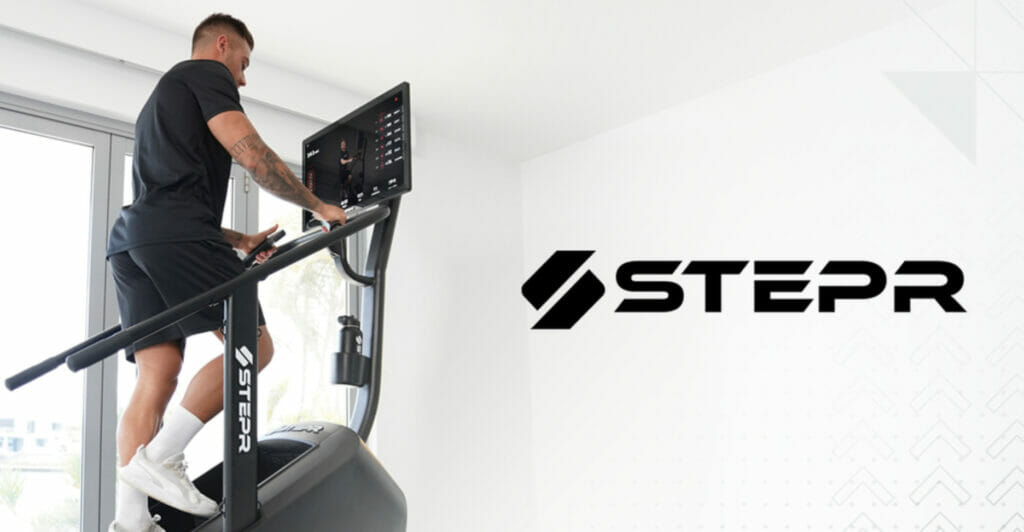 Warranty
It's always a good idea to compare warranties when shopping for fitness equipment and ss you'd expect, longer warranties are always preferred.
Seeing a generous warranty not only gives you a little more peace of mind about your investment, but it's also a good indicator of the quality of the product.
After all, manufacturers don't provide extended warranties on products they don't think are gonna last.
Stair climber warranties are often include the following guarantees: frame, parts, and labor.
The frame warranty should be the longest and quality machines will usually offer somewhere between 10 years to lifetime.
The parts warranty will often be anywhere from a few years to 10 years.
Labor guarantees are always the shortest, expect a year or 2 even for the commercial grade machines.
Speaking of commercial grade, a lot of the top stair climbing machines will come with both residential and commercial warranties (if you're purchasing for home use, make sure you're looking at the residential guarantee when deciding).
You'll also wanna look at stuff like machine footprint and ceiling height to ensure you have enough physical space in your home to accommodate one of these machines.
When it comes to ceiling heights, each manufacturer will have their own protocols, but in general, take the height of the tallest user and add 18″ to be safe.
Final Thoughts
Stair climbers, whether they're revolving or of the stepper variety, can make great additions to a home gym.
These devices have earned a reputation for providing some of the hardest workouts you can get from a cardio machine and I'd have to agree with that sentiment.
I used to hop on the stair climber at my YMCA when I was looking for a solid cardio workout- 100 or so flights later and I'd have a serious case of jelly legs.
My wife used to make fun of me, but I truly was "master of the step"…
Anyway, I hope this list shows that there are some awesome home models to choose from.
When deciding, first and foremost you have to think about your space and your budget.
Then, I'd consider whether you want a revolving stair or stepper style.
From there, it's all about comparing features and warranties and finding the best fit for your budget.
Well, that about does it for stair climbers.
If you have any questions or comments, feel free to leave 'em below and I'll get back to ya soon.
Happy climbing.