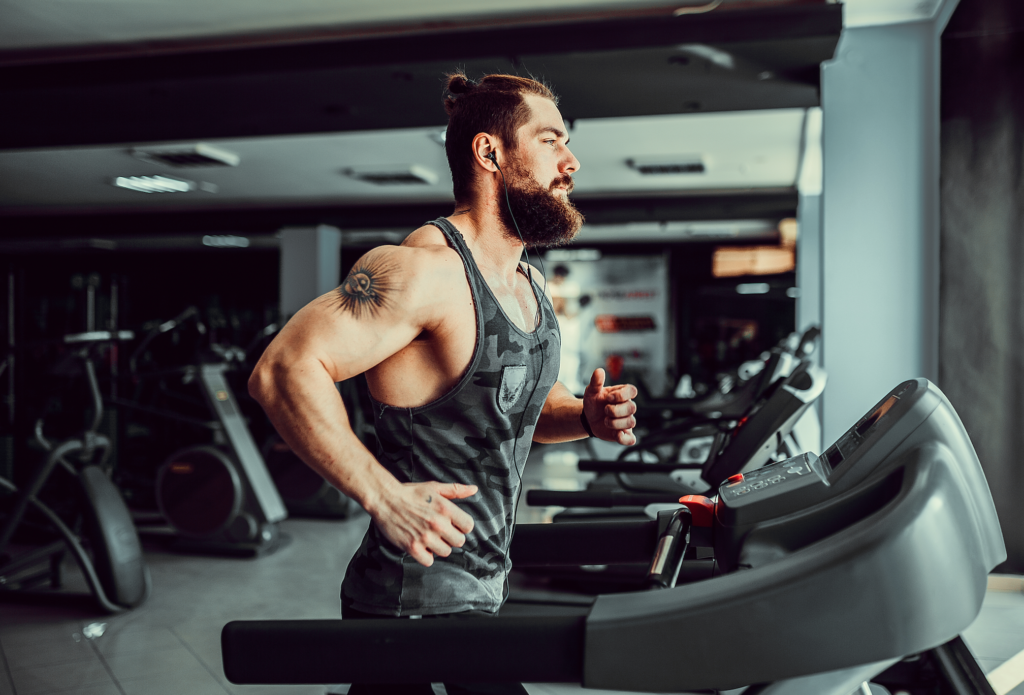 Horizon's 7.8 AT is one of the newest additions to their treadmill lineup and it comes with some interesting upgrades over previous models.
The most noticeable at first glance would be the dial controls for speed and incline- a feature that was added specifically to make the 7.8 AT more compatible with fitness apps and interval style workouts.
But there are some more subtle differences going on under the hood that could make this treadmill a serious contender as we approach the new year- like a 4.0 CHP motor with Rapid Sync technology and a 500 lb thrust incline motor.
If you're looking for a quality treadmill in the under $2000 price range, the new Horizon 7.8 AT could be a great fit- and this review is here to help you figure that out.
In this article, we'll take a detailed look at everything this treadmill has to offer.
I'll also try to include some comparisons to similarly priced machines to see how the 7.8 AT holds up.
After reading, you'll know whether or not this is the right treadmill for your home gym.
Off we go.
Disclaimer: the good folks at Horizon sent me a 7.8 AT for me to try out for this review. I wasn't compensated in any other way and my opinions here reflect only my first hand experience with this treadmill.
The Horizon 7.8 AT Treadmill
Horizon Fitness is a part of the Johnson Fitness and Wellness family.
Johnson is a behemoth in the fitness world and owns a lot of residential and commercial brands you may be familiar with, like Matrix, Vision, and of course Horizon.
Horizon Fitness specializes in affordable home fitness equipment.
They offer several options for stationary bikes, elliptical trainers, and treadmills and I believe everything is $2000 or under.
Horizon is a pretty popular brand and are known for producing quality equipment with fair warranties (I'm especially fond of their 7.0 AE Elliptical– great bang for your buck).
The 7.8 AT Treadmill is one of two new additions to their studio series.
The other new addition is the 7.4 AT, which is very similar to the 7.8 AT, but comes with a weaker motor (but also comes with the convenient dial controls).
Both are upgrades over the popular 7.0 AT, which was a great addition to the Horizon lineup when it first arrived.
The 7.8 AT is Horizon's most powerful and technologically advanced treadmill to date and will cost ya about $2k.
Pros
22″ x 60″ running surface
4.0 CHP motor
3-zone variable response cushioning system
350 lb weight capacity
Folding deck
Max speed of 12 mph
Max incline of 15%
Dial speed/incline controls
Bluetooth compatible with fitness apps
Bluetooth speakers
USB charging port
9.3″ color display which is very easy to read
Large accessory tray
Bluetooth chest strap compatible
Awesome warranty
Cons
Only 10 workout programs
Rollers could be larger
Running Surface
I like to start my treadmill reviews by looking at the running surface.
More specifically, the dimensions of the running surface. This is an important spec to consider and it can tell you a lot about the treadmill without having to dig too deep.
In case you're just starting your treadmill research, the running surface refers to the usable belt space during your workouts. It's measured in inches and is usually written as "width x length".
When it comes to running surface, bigger is always better because it means you're going to have more room during your workouts.
Length is important (especially for taller users) to ensure you have enough room to stretch out comfortably when running at higher speeds.
Width is equally important though, because you'll want to have a little wiggle room from side to side.
You really don't want to feel like you're walking or running on a tight rope (and any sway will send you flying off the machine- that's a sure fired way to ruin your day).
The 7.8 AT has a running surface of 22″ x 60″.
The gold standard for home treadmills is 20″ x 60″.
In this price range, we should expect at least this much room to work with and the 7.8 AT easily checks this mark.
A lot of high end home treadmills are offering the extra wide belts now because more room is always better.
At 22″ wide, this treadmill will feel spacious and you'll have plenty of room to sway a little as you workout (like I do).
The 60″ length is also long enough for taller folks to stretch out completely and sprint without having to shorten their stride.
Not only is the running surface spacious, but it's designed with Horizon's 3-zone variable response cushioning system to reduce strain through your joints on impact.
The "variable response" means that the deck offers more or less shock absorption depending on where your foot is.
There's more cushioning in the front (where your heel usually hits hardest) and less cushioning in the back (where you want a firm surface to push off).
The result is a comfortable feel that should help protect your joints more than a treadmill that's lacking a proper shock absorbing system.
I've had problems with plantar fasciitis in the past with running and so far, my feet have felt fine when running and walking on the 7.8AT.
This treadmill comes with a heavy-duty frame that is strong enough to hold users weighing up to 375 lb.
The frame also folds though, for easy storage.
I'll get to this a little more when we talk assembly, but this treadmill is VERY heavy- keep this in mind if you get one- you're gonna want to have several people around to help you move the box once it's delivered.
The hydraulic mechanism makes folding very easy, so you won't have to worry about lifting the heavy deck on your own.
The hydraulic system also lowers the deck slowly, so in case you drop it, it won't slam into the floor (a nice touch).
Overall, the 7.8 AT scores highly with a large running surface, sophisticated cushioning system, and a heavy-duty, folding frame.
Motor
Motor strength is another key spec to consider when looking for a new treadmill. All motors are a little different, so horsepower alone probably shouldn't be the end all decision making factor.
But when in doubt, stronger is better.
A stronger motor will be able to handle the stresses you throw at it more efficiently than a weaker motor. This means the stronger motor won't have to work as hard, which should mean that it would last longer.
Theoretically, the stronger motor should run quieter too.
I will say this treadmill runs very smoothly and quietly- the only noise is me thudding my way through my workouts.
How strong is strong enough? It really depends on what you're using your treadmill for. If you planning on running, I suggest at least a 3.0 CHP motor.
If walking is your goal, you can get probably get along fine with less horsepower. [Check out my treadmill guide for more info].
The 7.8 AT comes with a 4.0 CHP motor that can reach a max speed of 12 mph and a max incline of 15%.
With this much muscle under the hood, this treadmill comes well equipped to handle serious runners as well as casual walkers.
I've gotta be honest, I'm not sure how the 500 lb thrust incline motor compares to other treadmills because I've never seen that stat marketed before.
It sounds impressive though and I would say that the incline on this machine works very smoothly- there aren't any straining noises or awkward movements as it ascends and descends.
Horizon reports that the combination of these motors makes for a treadmill that can change speed and incline "33% faster" than other competitors.
This is a tough claim to prove or disprove.
What's important though, is that users seem to agree that the treadmill is impressively responsive and the dial controls work wonderfully- all of which I agree with from my experience with it.
Roller size is another spec that ties in with the motor.
Rollers on a treadmill are the parts that actually make contact with the belt, causing it to propel down the deck.
Larger rollers are preferred, because they tend to provide smoother operation, as well as put less stress on the belt (and rollers).
This treadmill comes with 60mm/46mm tapered rollers- I'm not very good with metric measurements, so this equates to 2.36″ and 1.81″ respectively.
High-end treadmills should come with rollers in the 2″-3″ range. Based on the comps, the larger rollers on this treadmill are in the right ballpark, but the smaller ones could be a little larger.
For comparison's sake, the Sole F85, who also falls in the under $2000 price range, comes with 2.75″ rollers.
By the way, I'm a big fan of Sole products and they always make my "best of" lists (and are usually near the top).
Overall, the 7.8AT scores highly with a powerful 4.0 CHP motor.
The rollers could be a little larger, but I don't consider that a deal breaker. This treadmill changes speeds and inclines smoothly and I love the dials that are used to make selections.
Features
The Horizon 7.8 AT comes with the following features:
10 workout programs- this treadmill comes equipped with 10 workout programs to choose from, including fat burn, hills, and heart rate targeted options. It also comes with the Sprint 8 program (which I enjoy), Johnson's patented interval workout designed to help you burn fat and calories faster than typical workouts.
Bluetooth compatible- this treadmill is bluetooth compatible and is designed with fitness apps in mind. You can sync up with apps like Peloton, Studio, and Fitbit to access their workouts and take advantage of their data tracking. Just keep in mind you'll have to pay any subscription fees these apps require.
Bluetooth speakers- you can also use bluetooth connectivity to listen to your favorite music through the built-in bluetooth speakers. They actually sound pretty good, better than I would've expected from treadmill speakers.
Chest strap compatible- the 7.8AT is compatible with bluetooth chest strap heart rate monitors, but I don't think one is included.
Dial speed and incline controls- I mentioned these earlier, but you can rapidly increase or decrease both the speed and incline settings by turning the dials on each handlebar. These come in especially handy when making quick changes during interval training. This is by far my favorite feature on the treadmill and it makes it really easy to participate with Peloton workouts. Once you go dial control, I doubt you'll ever go back to pushing buttons.
9.3″ color screen- the display screen is large and in color, making viewing all your data easy and comfortable. There's even a specific timer that is used during the Sprint 8 program to motivate you during your intervals. The console is really easy to see during workouts and everything is very bright and clean looking.
Quick touch speed/incline buttons- if you don't want to use the dials to make your speed and incline settings, you can use the quick touch buttons instead. If you have a preselected  speed or incline setting in mind, simply hit the corresponding button and you're there. I find myself using the dials more than the preselected buttons, but these are really convenient too.
USB charging port- you can charge your phone or tablet during your workouts with the conveniently located USB charging port.
Multi-position tablet holder- in order to connect with the fitness apps and take advantage of their workouts, it's important to be able to view your tablet. The built-in holder makes it easy to use these apps without blocking your view of the large display screen.
Fan- there's a built-in fan to help keep you comfortable during your workouts.
Accessory tray- the accessory tray is large and has deep pockets, making it easy to hold pretty much anything you would have to store during your workouts (controllers, devices, maybe a small child).
Assembly
Putting the 7.8 AT together is pretty straightforward task. I think Horizon does a nice job with their assembly instructions- each step has an image and well-written instructions describing what needs to be done (although the images could be a little bigger).
I love that they not only tell you what hardware is being used for each step, but actually provide a to scale image to ensure you're using the right screws and bolts along the way.
I really appreciated that the hardware is organized in little bags numbered for each step along the way- definitely made the process a lot easier.
There's only 5 steps to get this treadmill up and running, but keep in mind that this is a large, heavy treadmill (weighs over 300 lb fully assembled)- it might be a good idea to have a helper nearby just in case.
And by "might be a good idea", I mean I highly recommend having a second person.
This will come in handy when attaching the heavy steel uprights and connecting the wires to the console before you attach the console to the uprights.
Overall though, assembly shouldn't be an issue here. I think most folks should be able to assembly themselves without having to pay for expert assistance.
That said, if you don't have several strong people to help you get this treadmill to its final destination in your home, I highly recommend paying for assembly.
This treadmill weighs 390 lb when delivered with all the packaging and whatnot.
This thing is crazy heavy and it took me and 2 strong delivery guys to get this thing into my front door (as soon as we got it inside one delivery guy made sure we weren't going upstairs!).
I had to breakdown the box in my hallway and take each piece separately to the room we were setting it up in.
It was tough, but me and my wife were able to get it done.
Once we got the treadmill to its room, the actual assembly process was pretty easy (even though I wasted a lot of time on step one because I had a bolt in the wrong position).
It took me about 2 hrs start to finish, but it could be done a little faster without kids getting in the way and if I hand't made that initial mistake.
Warranty
The Horizon 7.8 AT Treadmill comes with the following warranty:
Lifetime frame
Lifetime motor
5 year parts and electronics
2 year labor
There's really nothing to critique about this guarantee. Without exaggeration, this is one of the best warranties I've seen on a home treadmill.
You can't beat a lifetime guarantee on the frame and motor.
It's also rare to see longer than 5 years on treadmill parts. When it comes to labor, most quality warranties will offer 1-2 years.
I've seen 3 year labor warranties, but they're pretty rare.
Overall, this treadmill comes with an awesome warranty (it's identical to the warranty offered on the Sole F85, fyi).
Final Thoughts
Horizon's new 7.8 AT has a lot to offer.
The list of included features is pretty extensive, but it's the 4.0 CHP motor, spacious running surface, and generous warranty that stand out most to me.
The dial controls for speed and incline are a nice touch and I really enjoy using them to quickly make selections.
Technologically speaking, the 7.8 AT is pretty advanced, although it is lacking in the workout department.
Personally, this doesn't bother me, but something to keep in mind.
But I think this is because Horizon is really marketing this model to be used with streaming fitness apps.
Which is fine with me, because I really don't use many workout programs (although I like the Sprint 8 workout).
I have tried out a few of the Peloton treadmill workouts with this treadmill and it works great.
The tablet holder is conveniently located for watching a pad and the dial controls mimic the one on the Peloton Tread.
If you're looking for a more affordable option to the Peloton Tread, this treadmill will definitely get the job done – just keep in mind you still have to provide your own tablet and are responsible for paying any subscription fees.
There's a lot of competition for treadmills in the sub $2000 price range, but I think the 7.8 AT holds its own very well.
Again, that warranty is about as good as any I've seen (regardless of price range).
Overall, I think this treadmill is a great buy.
I think it would work especially well for runners, folks interested in HIIT, or for those interested in using the Peloton app (or other similar apps).
In other words- yes, it's worth buying (Horizon- thanks again for letting me try this bad boy out, I love it!)