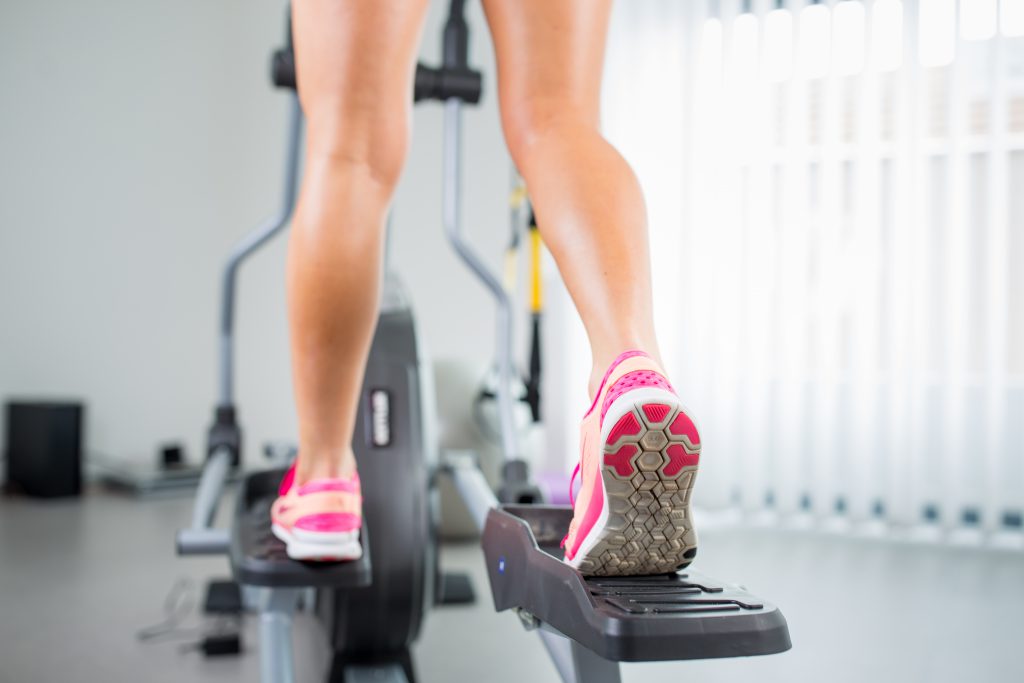 Finding the best home elliptical machine doesn't have to be complicated.
It's all about knowing the key differences between ellipticals and knowing what features are most important to you.
There are a lot of ellipticals on the market these days, but if you understand how to compare them effectively, you'll be able to sift through the junk to find the right elliptical for your home gym in no time.
And that's just what I'm here to help with.
In this guide, I'll go over everything you should consider before deciding on an elliptical trainer – we're talking specs, features, warranties, and pretty much everything in between.
I'll also present my top picks for 2023 based on all the specs we discuss.
After reading, you'll know everything you need to in order to find the right elliptical for your home gym.
Let's begin.
Stride Length
Flywheel
Warranty
Highlights
Price
#1 Sole E98
20"
32 lb
Lifetime frame
5 year parts
2 year labor
20 levels of incline
Bluetooth
400 lb weight limit
$$$
#2 Spirit XE395
20"
30 lb
Lifetime frame/brake
10 year parts
1 year labor
20 levels of incline
Bluetooth
Included chest strap
$$
#3 NordicTrack Commercial 14.9
19"
32 lb
10 year frame
2 year parts
1 year labor
14" HD console
iFit compatible
35 built-in workouts
$$
#4 Sole E95
20"
27 lb
Lifetime frame
3 year parts
1 year labor
20 levels of incline
13" touchscreen
Screen mirroring
$$
#5 Life Fitness E5
18 - 24" adjustable
n/a
Lifetime frame
5 year parts
3 year console
1 year labor
Choice of console
WhisperStride technology
Included chest strap
$$$$
#6 Sole E25
20"
20 lb
Lifetime frame
2 year parts
1 year labor
20 levels of incline
Bluetooth speakers
USB charging port
$$
#7 Horizon 7.0 AE
20"
23 lb
Lifetime frame
3 year parts
1 year labor
20 levels of incline
Bluetooth speakers
USB charging port
$$
#8 Nautilus E618
22"
17 lb
15 year frame
5 year parts
2 year labor
10° incline
29 built-in workouts
Bluetooth
$$
#9 NordicTrack Spacesaver SE9i
18"
18 lb
10 year frame
2 year parts
1 year labor
14" HD console
iFit compatible
Folding frame
$$
Choosing An Elliptical Machine
Ellipticals are a great choice for home fitness.
I like to think of ellipticals as a combination between stationary bikes and treadmills.
You get the benefits of performing a weight bearing exercise (burning more calories) combined with the low impact motion of a bike.
It's win-win: burn more calories, less stress on the joints.
As a physical therapist, this makes me happy.
Folks love using ellipticals in the commercials gyms. It's obvious because at my local YMCA they are always the first thing to fill up.
Luckily, ellipticals for the home have gotten pretty advanced and there are plenty of models that won't break the bank.
They're a little smaller and a little less heavy duty, but they can offer a lot of the same features the commercial machines offer.
And let's face it, most of us may not have the room (or budget) for a full sized commercial grade elliptical in our home gyms.
Keep in mind commercial grade equipment has to be designed to take the wear and tear of a lot of users day in and day out.
So, when looking for a home elliptical, where do we start?
Let's start with the most important features you need to consider before purchasing.
Stride Length
Stride length is the most important consideration when it comes to how comfortable an elliptical is while you are using it.
This is what gives an elliptical it's "feel", if that makes any sense.
Technically speaking, it's how far the pedals move (front to back) during use. As a therapist, stride length is something we consider as well during walking.
Having a longer stride length will make it feel more natural, shorter stride lengths will make the motion feel choppy and uncomfortable, especially for taller people.
Most ellipticals have stride lengths ranging from 12 – 20+ inches. Nicer ellipticals will be in the 20 inch range because it comfortably fits most people.
Anything below 16 inches is probably going to be uncomfortable, unless you are under 5'3″.
Flywheel
The flywheel in an elliptical is similar to the flywheel you'd find in an exercise bike.
It's what you are pushing against and moving as you use the machine.
Flywheels come in different weights and can range anywhere between 13 – 30 lb.
Heavier flywheels are typically preferred because they make the ride feel smoother- the extra weight (once you get it moving) builds up momentum and makes the flywheel spin more smoothly.
Heavier flywheels should, theoretically, be able to provide more overall resistance as well, but this depends on the magnetic resistance system too.
Nicer ellipticals typically come with heavier flywheels, but you should always check to make sure.
Personally, I recommend aiming for a machine with a flywheel in the 20 lb range to ensure smooth operation.
However, when it comes to the luxury or commercial grade ellipticals, the flywheel rule gets thrown out the window.
Most commercial grade ellipticals don't use perimeter weighted flywheels.
These machines are usually designed differently so they can provide the same smooth resistance without needing heavy flywheels- has something to do with different gear ratios and more sophisticated magnetic resistances.
You might also want to consider whether you want the flywheel in the front or the rear of the machine- these days you have options in both categories.
A lot of us might not care as long as all the other specs measure up, but generally speaking, front drive ellipticals tend to take a little less floor space and cost a little less.
Check out my guide on front vs rear drive ellipticals for more info.
Weight Capacity
I'm always talking about weight capacity with cardio equipment.
It's just one of those things you have to look at and compare. If I'm stuck between two machines, I always go with the one with the higher weight capacity.
It's a great indicator of quality of build.
You have to at least find a machine that comfortably accommodates your weight. Preferably, you should have a 50 lb cushion, but this may not be doable with some of the larger users.
I always aim for at least a 300 lb weight capacity.
Again, higher is always better in my book. Higher-end models will offer 350 – 400 lb weight limits.
I like to look at the machine's assembled weight as well. This inconspicuous spec tells us exactly how "heavy-duty" the machine is.
As you'd expect, heavier ellipticals will likely feel more stable during workouts.
Warranty
Warranty is another good indicator of quality.
Quality machines have better warranties. Junkier machines have weak or no warranties – always something to consider when purchasing fitness equipment.
Elliptical warranties are usually divided into frame, parts, and labor.
Quality ellipticals will often offer lifetime on the frame, although this does depend on the price of the machine.
More expensive ellipticals tend to come with more generous guarantees, but this isn't always necessarily the case either.
I guess what I'm trying to say is that you have to do your homework.
You should expect at least 3-5 years on parts and a 1-2 years on labor for quality ellipticals.
Some brands go above and beyond and offer up to 10 years on parts (but this is rare).
Size
You need to find an elliptical that fits your space. If your machine is too large for your space, you aren't going to be able to use it effectively.
Most home ellipticals need a floor space of about 3′ x 6′ to be used comfortably.
Keep in mind ceiling height as well.
If you're planning on putting it in an attic and you're tall, make sure you will have enough head room at the highest point of the ellipticals motion.
Users under 6 ft tall should be fine on any elliptical with an 8 ft ceiling.
If over 6 ft tall, add 20 inches to your height and that should be the minimum ceiling height- this is just an estimation, when in doubt, look at the specifications for the machine you are considering.
If you think ceiling height is going to be an issue, you should read my elliptical guide for low ceilings.
Price
Ah, maybe the most important factor to consider.
You obviously have to find a product that fits your budget. There are quality machines in all price ranges, but the more you pay, the more you get (usually).
I like to break down ellipticals into 3 price brackets:
Budget (under $1000)- this is a very large category and there's a lot of variation in what you can get here. The nicer models in this price range will offer long stride lengths, heavy flywheels, and loads of features.
Mid-range ($1000-$2000)- ellipticals in this price bracket should come with heavier-duty frames, more advanced features, and longer warranties. There are some really nice machines in this price range and this is where most of us are probably going to find the right model.
Luxury ($2000 and up)- these are the nicer, higher-end machines. These machines should start to feel commercial grade. For the extra cost, you get more comfortable (and sometimes adjustable) stride lengths, higher weight capacities, better warranties, and the most advanced features.
Other Things To Consider:
Resistance
Different elliptical machines offer different levels of adjustable resistance.
The nicer, higher quality machines tend to offer more control over resistance.
You can expect anywhere from 8 levels of resistance up to 25. Most resistances are controlled magnetically- as the magnetic brake comes closer to the flywheel, it provides more resistance.
Magnetic systems are quiet and smooth and require very little maintenance.
Just keep in mind that having more resistance levels doesn't necessarily mean you're getting more total resistance to work against- it just means you can make smaller adjustments to the available resistance.
Pedals
Pedals on ellipticals come in all kinds of shapes and sizes.
It's important to find one that feels comfortable during use because this is the biggest point of contact between you and the machine.
Pedals should be large enough to comfortably accommodate your foot and allow for some movement as you workout.
Nicer pedals have non-slip treading to reduce chance of injury during use.
Console Features
Consoles will vary greatly depending on price range. More expensive models will come with higher tech components:
Pre-programmed workouts: hills, intervals, fat-burning, heart rate, etc. Ellipticals can offer anywhere from 8 – 40 different workouts.
LCD screens: some ellipticals have 1, some have 2 screens for viewing workout metrics (others have none). Nicer models have well lit screens making it easy to see all your stats. And these days you might even find HD touchscreen displays.
Heart rate monitor: many machines will offer contact grip heart rate monitors for tracking heart rate during exercise. Nicer ellipticals will be compatible with telemetry (wireless) monitors and may even include them.
Motorized Inclines: some ellipticals offer an incline adjustment- similar to changing the resistance you are pushing against, you can increase or decrease the angle for exercise variety.
Speakers: mid to higher-end ellipticals will come with built-in speakers for connecting your phone or mp3 player. A lot of machines these days are coming with bluetooth speakers.
Bluetooth: a lot of machines these days offer bluetooth compatibility to easily track your workout stats using one or more apps on your smartphone.
Fans: nicer machines will have built-in fans with adjustable speeds to help keep you cool during your workout. Not a must, if you ask me, but a nice little perk.
Ok, by now you probably have a good idea of what features you can expect to see discussed when looking at elliptical reviews.
As you can see, a lot of the console features are not essential to the operation of the machine.
They just make working out a little more interesting. If the extra features aren't as important to you, you can save some money by finding a machine with fewer bells and whistles.
Well, we might as well get to the good stuff already…
The 9 Best Elliptical Machines of 2023
#1 The Sole E98
If you're familiar with my work, you probably already know I'm a sucker for a Sole cardio machine.
What can I say, they're just my style: easy to use, effective, and built to last.
The E98 is Sole's highest-end elliptical to date and as such, it's packing some very impressive stats.
This machine comes with a 20″ stride, allowing it to comfortably fit pretty much all users out there, but even more impressive is the fact that it's packing a 32 lb flywheel.
I'm not trying to exaggerate or anything, but I do think this is the heaviest flywheel I've come across for an elliptical (if you've found one heavier, please let me know).
This massive flywheel is paired with 20 levels of magnetic resistance and 20 levels of power incline, giving you complete control over the intensity of your workouts.
Speaking of which, the E98 comes with 10 built-in workouts to choose from.
Other highlights include a 10″ screen, bluetooth compatibility, telemetry heart rate monitoring, bluetooth speakers, and a cooling fan.
Oh, I should probably mention that this elliptical weighs damn near 250 lb assembled – now that's what I call heavy-duty.
The E98 also comes with an amazing residential warranty: lifetime frame, 5 year parts, 2 year labor (there's an equally amazing light commercial warranty too).
Add all this up and consider that this elliptical costs well under $3k and you've got the makings for the best home elliptical on the market. See full review.

#2 The Spirit XE395
It's a close call between the E98 and Spirit's XE395 for the top spot because these machines are very similar.
Ultimately, I went with the E98 as my #1 pick because it's heavier-duty than the XE395, but it's still reallllly close – especially considering the XE395 has a better warranty and is a bit cheaper.
Anyway, Spirit's another great brand that's very similar to Sole.
I'm not sure if Spirit is that well known yet or not, but they really should be.
Their XE395 comes with great performance specs, including a 30 lb flywheel, a 20″ stride length, and an impressive 400 lb weight capacity.
And with an assembled weight of 216 lb, you won't have to worry about this machine feeling unstable during workouts.
The XE395 also comes with 20 levels of power incline for added workout intensity.
Additional features include 10 built-in workouts, bluetooth compatibility with apps, adjustable angle pedals, and a cooling fan.
It also comes with an included chest strap for heart rate monitoring, a nice touch.
The XE395 is also backed by the best residential warranty you'll see: lifetime frame/brake, 10 year parts, and 1 year labor.
Yeah, 10 years on parts, crazy.
And the fact that the XE395 is on sale for around $2k makes it a top contender in my book. See full review.

#3 The NordicTrack Commercial 14.9
NordicTrack is another huge name in fitness equipment, well known for producing popular and dependable home fitness machines.
Their Commercial 14.9 is their most advanced front-drive elliptical to date and it's got a lot to be proud of.
If you're looking for an elliptical with more going on in the tech department, this could be your best bet.
The highlight of the 14.9 has got to be the 14″ HD touchscreen console it comes with, giving you access to their streaming app, iFit.
Through which, you get access to unlimited, instructor-led workouts, scenic routes, and metric tracking (subscription fee required).
The large, gorgeous display is designed to pair perfectly with iFit, but if you don't want to pay the monthly subscription fee, you can still access the library of 35 built-in workouts.
Although the hi-tech console is the highlight of this model, its also sporting some impressive performance specs.
Most notably, a 32 lb flywheel, 26 levels of magnetic resistance, and power incline up to 20%.
The warranty on th3 14.9 isn't as generous as the ones we've seen above, but still not bad: 10 year frame, 2 year parts, 1 year labor.
The biggest downside is the stride length- at 19″, taller users may find themselves having to shorten their stride.
But if you're under 6′ tall, you probably won't notice.
Overall, the Commercial 14.9 is a high-end elliptical with impressive specs. This model is a great choice if you're looking for a hi-tech console with lots of workout variety. See full review.

#4 The Sole E95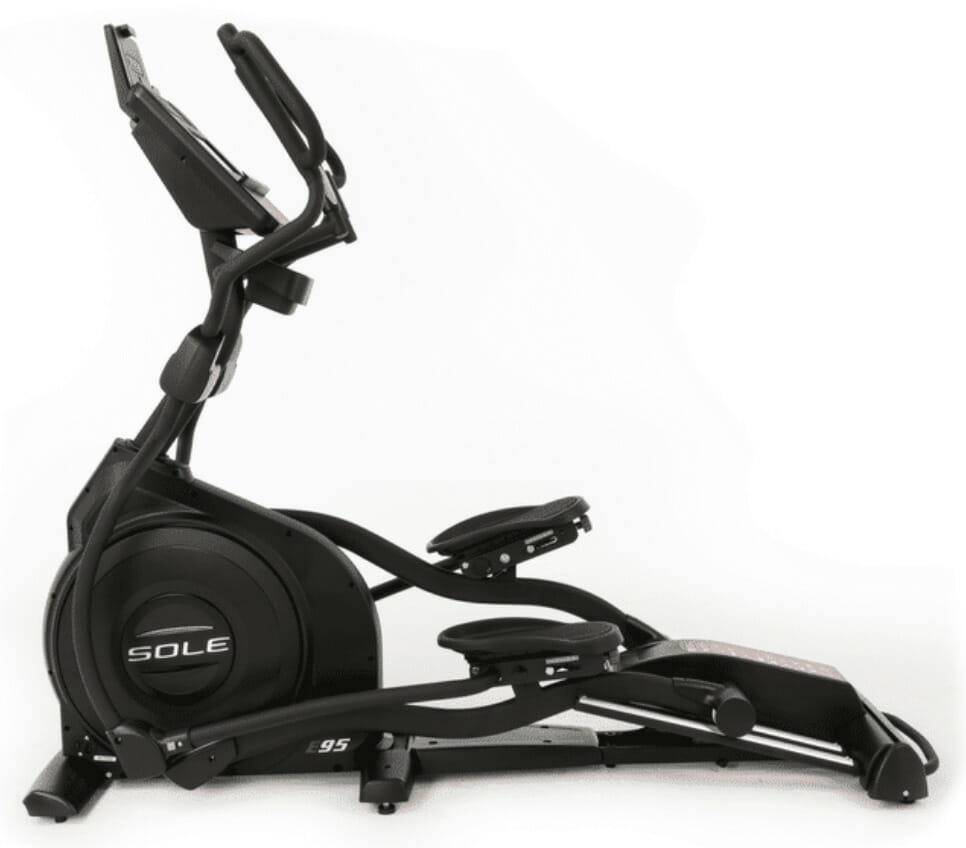 Photo courtesy of Sole Fitness

Yup, another Sole elliptical made the list – and I can't promise this is the last one either.
The E95 is priced as a mid-range elliptical, but this machine is flirting with commercial grade and has some significant upgrades you don't always see at this price.
Like a 27 lb flywheel, which is only a few pounds lighter than what we've seen on the more expensive ellipticals above.
This elliptical also comes with a 20″ stride length, 20 resistance levels, and 20 levels of power incline.
The E95 also comes with an upgraded, 13.3″ touchscreen console with built-in entertainment apps, plenty of workout options, and screen mirroring from your phone.
The E95 is a heavy, solid machine with a commercial grade worthy weight capacity of 400 lb.
And with an assembled weight of 242 lb, this elliptical is tough enough to handle users of all sizes.
Additional highlights include a wireless charging pad, bluetooth speakers, a tablet holder, and a built-in cooling fan to help keep ya comfortable during workouts.
This elliptical is also backed by a great warranty: lifetime frame, 3 year parts, 1 year labor.
Oh, and I almost forgot- the pedals on this model are adjustable, giving you the option to switch the angle to find your optimal position.
A nice feature for folks worried about comfort.
Overall, I think the Sole E95 offers a great combination of specs and features for this price range. If you're looking for an elliptical that offers a lit bit of everything, you can't go wrong with this one.  See full review.

#5 The Life Fitness E5 Elliptical Cross-Trainer
Ok, so let's be real- no legit "best of" list can be complete without including at least 1 Life Fitness machine.
I know these machines are really expensive, but if we're going to be honest about the best options out there, we have to talk about the expensive ones too.
There are several residential Life Fitness ellipticals that could've easily made this list, but I decided to include the E5 because I think it has a reasonable price to features ratio.
Well, reasonably priced for Life Fitness anyway.
Plus, it's about time we get a rear-drive machine on this list – I don't want anybody to think I'm bias.
What really sets Life Fitness apart is the smoothness of operation their machines offer. They're pretty darn quiet too.
The E5 also comes with another feature you don't see too often: a power adjustable stride length.
With the push of a button on the console (or moving handle), you can instantly adjust the stride length anywhere from 18″ to 24″.
This is a cool feature for 2 reasons: it ensures a comfortable fit regardless of your height, and it allows you to concentrate on different muscle groups during your workouts.
With the E5, you also get to choose between the less sophisticated "Go" console and the slightly more advanced "Track Connect" console.
If you aren't interested in fitness apps and data tracking, you can save some cash and go with the "Go" (get it?).
You get extra workouts and user profiles with the "Track Connect" option, but it costs about $500 more (which I think is way too expensive, but that's a discussion for another day).
The stride length features makes the E5 a smart choice for homes with multiple users, especially if the users are all of different heights.
The E5 also comes with comfortable pedals and the same WhisperStride technology as the more expensive ellipticals in Life Fitness's lineup.
Other notable highlights include 20 levels of magnetic resistance, a 400 lb weight capacity, and a free chest strap heart rate monitor with purchase.
You can also usually get free delivery and assembly with Life Fitness, fyi.
The biggest downside is that the E5 doesn't come with an adjustable incline, something you have to give up to get the adjustable stride.
But if you're looking for a luxury rear-drive elliptical, the E5 is a very smart choice.  See full review.

#6 The Sole E25
Ok, I promise this'll be the last Sole elliptical that makes this list, but I wanted to include it to show that Sole has a great affordable model too.
The E25 is the second most affordable option they offer and will cost ya somewhere around $1000 on sale.
For the price, it comes with a great combination of performance specs and console features.
Right off the bat, this elliptical is packing a 20 lb flywheel and comes with a 20″ stride length.
The 20/20 combo makes for a comfortable and smooth ride, while also ensuring the E25 has enough muscle to provide a challenging workout.
Speaking of 20/20, this elliptical also comes with 20 levels of resistance and 20 power incline levels (maybe sole should've named this the E20?), giving advanced users the option to really crank up the intensity of their workouts.
And with an assembled weight of 209 lb, it's also heavy-duty enough to handle users weighing up to 350 lb, which is quite impressive for this price range.
Although Sole isn't known for adding a lot of hi-tech stuff to their machines, the E25 does come with bluetooth speakers and a USB charging port.
It comes with the same 10 workout programs Sole offers on most of their machines as well.
And even though this elliptical is more affordable, Sole still backs it up with a great warranty: lifetime frame, 2 year parts, and 1 year labor.
Overall, it's the impressive combination of specs, warranty, and price that landed the E25 a spot on this list. Simply put- there's no better option for $1000. See full review.

#7 The Horizon 7.0 AE
Horizon Fitness may not be as immediately recognizable as some other brands on this list, but they do a great job of providing high quality products in the budget and mid-range price levels.
They offer several ellipticals in the budget price range, but I think their newest model, the 7.0 AE has the best combination of specs and features.
Primarily because they finally offered power incline with this model.
This elliptical also has a 20″ stride length, making it a comfortable ride for most folks.
To go along with this stride length, it's packing a 23 lb flywheel- impressive considering this is one of the most affordable options on this list.
Horizon pairs that heavy flywheel with 20 resistance levels and 20 levels of power incline, giving you the ability to really crank up the intensity of your workouts if you so choose.
Other fun highlights include bluetooth speakers, a USB charging port, and one touch speed/incline buttons.
This elliptical also has a fairly large display screen, making viewing all your stats easy during your workouts.
Speaking of workouts, this elliptical is a little lacking in the workout department (only 6 included), but it comes with the same great warranty as the E25 above.
It's also heavier-duty than most in this price range, with an assembled weight of 194 lb and a weight limit of 325 lb.
Overall, the Horizon 7.0 AE is a smart choice for people looking for a quality elliptical that is easy to use and that won't break the bank. See full review.

#8 The Nautilus E618
As we get toward the end of our list, I think it's about time we take a look at an under rated machine from a brand I feel like's been forgotten about these days – Nautilus.
At one time, Nautilus was a powerhouse in the fitness industry, but these days it feels like they're all but gone.
Well, Nautilus the brand anyway, I know the bigger company Nautilus, Inc. is doing just fine.
Anyway, the E618 isn't fancy or anything, but it's got a lot to offer.
Not only is it reasonably priced, but it's casually packing a 17 lb flywheel and a 22″ stride length, making it well-equipped to perform.
It's also a lot heavier-duty than you might expect.
With an assembled weight of 210 lb and a weight limit of 350 lb, the E618 is designed to handle folks of all sizes.
The console is pretty basic, but this elliptical does come loaded with 29 built-in workouts to choose from.
Other nice features include multi-grip handles, power incline up to 10°, and bluetooth compatibility with fitness apps.
Nautilus even includes a free chest strap heart rate monitor with purchase.
The E618 is even backed by a warranty many more affordable models would be envious of: 15 year frame, 5 year parts, and 2 year labor.
Overall, if you're looking for a simple elliptical that's designed to perform, Nautilus' E618 is certainly worth checking out. See full review.

#9 The NordicTrack SpaceSaver SE9i
Finishing up our list is another quality elliptical by the popular brand NordicTrack.
Folks looking for a more affordable rear-drive elliptical will likely appreciate the SE9i.
Speaking of which, there really aren't that many rear-drive home ellipticals to choose from.
And most of the ones there are are luxury models that are over budget for most home gymers.
Well, the SE9i fills that niche nicely.
This elliptical has more to offer than simply being a rear-drive machine too.
In terms of performance, the SE9i is a little lighter-duty, with only an 18″ stride length and an 18 lb flywheel.
But it does come with 24 magnetic resistance levels and a power incline up to 10% for added difficulty.
It also comes with a 14″ HD touchscreen display designed to pair with NordicTrack's streaming service, iFit.
Not only does iFit give you access to instructor-led workouts, but with the SE9i you can also take advantage of the automatic trainer control feature that allows the instructors to control the resistance/incline of your machine during workouts.
You don't have to use this feature if you don't want to, but most users seem to love it.
Additional features include bluetooth speakers, an included chest strap heart rate monitor, and a built-in cooling fan.
The SE9i also folds away for storage, something few ellipticals can do.
NordicTrack backs this elliptical with a solid 10 year frame, 2 year parts, 1 year labor warranty.
Overall, if you're looking for an affordable rear-drive elliptical with tons of features, the SE9i might just be the elliptical you're looking for. See full review.

Final Thoughts
Well, that about does it.
If you made it all the way through that guide I applaud you – I know that was a lot of material.
But now you should feel like an expert when it comes to home ellipticals.
When choosing your next elliptical, you know you need to consider certain factors, including: flywheel weight, stride length, machine size, weight capacity, warranty, and price.
These are the essentials and should directly guide your buying decision.
You'll also want to consider console features, but I personally think performance specs should come first.
But to each their own.
I know there are a ton of great ellipticals out there that didn't make this list, but I tried to include machines from varying price ranges and of different styles.
And based on the specs and features we discussed, I stand by the ellipticals I chose.
Now that you've seen the best ellipticals 2023 has to offer, there's only one more thing to do… find the one that best matches your needs and start using it!
I hope this article was helpful.
As always, if you have an questions or comments, leave them below and I'll get back to you (and if there are any ellipticals you think should've made the cut, please share).