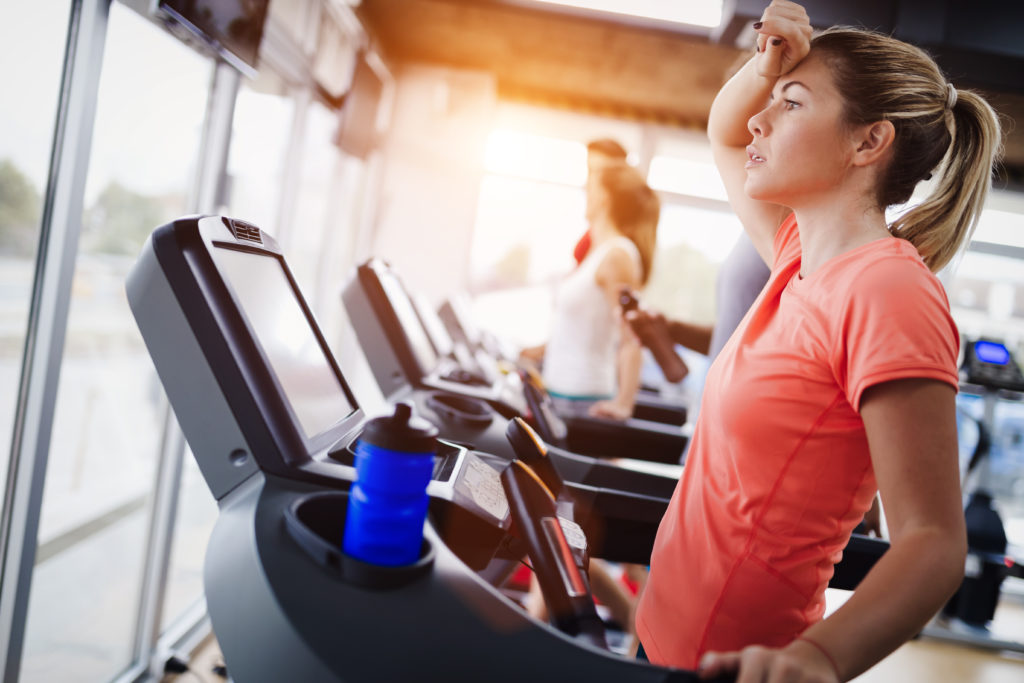 The 7.4 AT is one of two new treadmills Horizon recently added to their lineup. Like the other models in their "Advanced Training" series, the 7.4 AT is designed with streaming and on-demand workouts in mind.
From the console features to the motor, Horizon has designed this treadmill to be user friendly and fitness app compatible. Highlights of this model include a 3.5 CHP motor, easy one-touch controls, and fully integrated bluetooth connectivity.
The result is a sophisticated treadmill with a lot offer.
But does it make sense to purchase this treadmill? That's a tougher question to answer because the 7.4 AT finds itself in a very competitive price range ($1000-$1500).
And then there are Horizon's other 2 'AT' treadmills- is the 7.4 AT priced strategically or is there a smarter buy within this lineup?
I hope to answer all these questions and more within this review. After reading, you'll know everything you need to about this treadmill in order to make the right decision for your home gym.
The Horizon 7.4 AT Treadmill
Horizon Fitness is a fairly well-known brand that's become popular over the years for providing quality budget to mid-range priced home fitness equipment.
The offer treadmills, cycles, and ellipticals and I believe everything is priced under $2000.
I'm guessing the fact that their budget friendly 7.0 AT treadmill was a hit was the motivation for them to expand their AT lineup. Makes sense, you gotta give the people what they want.
The 7.4 AT and the higher-end 7.8 AT were added to the lineup at the same time. Both come with upgrades (and a higher price tag) than the 7.0 AT.
We'll get into specifics below, but generally speaking, upgrades include more powerful motors, larger running surfaces, and longer warranties.
The 7.8 AT also has a unique dial system for making speed and interval selections.
Pros
22″ x 60″ running surface
3.5 CHP motor
0.5 – 12 mph
0 – 15% incline
3 zone variable response cushioning system
350 lb weight capacity
Bluetooth compatibility with fitness apps
Bluetooth speakers
Chest strap heart rate monitor compatible
One touch incline/speed buttons
Handlebar buttons
USB charging port
Multi-position tablet holder
Easy assembly
Great warranty
Cons
Only 10 workout programs
Rollers could be larger
Running Surface
I like to start my treadmill reviews with the stuff that really matters- performance specs. And no spec is more important, in my opinion, than the running surface.
Simply put- treadmills with larger running surfaces are more comfortable to use.
How large is large enough? Technically speaking, it depends on your height and whether you're walking or running. But to keep things simple- most people are safe with a 20″ x 60″ running surface.
This has become the gold standard for home treadmills because most people, regardless of height, can use a treadmill this large comfortably.
And by comfortably, I mean without running out of room (usually due to short belts, but it's just as uncomfortable to walk or run on a really narrow belt).
The 7.4 AT comes with a running surface of 22″ x 60″, which should be spacious enough for folks of all sizes to run comfortably without having to shorten their stride.
A lot of nicer treadmills are opting for the extra wide belts these days because it does make a difference. It gives you a feel that more closely resembles a club machine.
This is a noticeable upgrade over the 7.0 AT, which has a 20″ x 60″ running surface. The 7.8 AT also comes with a 22″ x 60″ running surface.
Like all other Horizon treadmills, this model also comes with their patented 3-zone variable response cushioning deck.
This just means that you get more or less cushion depending on where your foot hits the deck (more cushioning in the front where you need it at heel strike and less in the back where you want a firm surface to push off of).
Users seem to be happy with their shock absorption system as most agree these treadmills are comfortable to use.
Frame robustness is another key spec that you should consider. Heavier-duty frames make for a more stable running surface, meaning less wobbling and wiggling around during your workouts.
The 7.4 AT comes with a heavy-duty frame that feels sturdy during your workouts. Objectively speaking, this treadmill weighs 318 lb and can hold users weighing up to 350 lb.
This sounds pretty impressive and it is.
But this is the norm for quality treadmills in this price range. For comparison's sake, the identically priced Sole F80 has a weight capacity of 375 lb.
This treadmill's frame can also fold vertically for easy storage. The FeatherLight hydraulic system makes folding the heavy deck a piece of cake.
Overall, the 7.4 AT scores highly with a spacious running surface and sophisticated shock absorbing system. The assembled weight and weight limit are also more than enough to handle most users.
Motor
Motor strength is another crucial spec to examine, especially if you plan on doing some running.
Stronger motors will be able to handle the stresses of higher speeds more efficiently, which should equate to smoother, quieter operation (as well as prolonged motor life).
The 7.4 AT comes with a 3.5 CHP motor that can reach a max speed of 12 mph and a max incline of 15%.
All of these motor stats are impressive, but Horizon also claims this motor has a RapidSync drive system that reduces any lag time between speed or incline adjustments (as much as 33% faster according to Horizon).
Motor strength is another obvious difference between the AT treadmills: the 7.0 only comes with a 3.0 CHP motor (and the 7.8 comes with an even stronger 4.0 CHP motor).
This treadmill comes with 60mm/46mm tapered rollers. I'm no good with the metric system, so that's 2.36″ and 1.81″ respectively.
The rollers are the part of the treadmill that propels the belt along the deck. Larger is considered better, because it makes for smoother operation (and puts less stress through the belt and rollers themselves).
Most high-end treadmills use at least 2.5″ rollers for durable, smooth operation. With this in mind, the 2.36″ rollers aren't bad, but the smaller ones could use a little upgrading.
Roller size isn't necessarily a deal breaker for me, but all other things being equal, I'd go with the treadmill with the larger rollers.
Overall, the 7.8 AT comes with an impressive motor for the price range. It's powerful enough to comfortably reacher higher speeds, making it a good treadmill for running. I'd like to see larger rollers.
Features
The Horizon 7.8 AT Treadmill comes with the following features:
10 workout programs- this treadmill comes with 10 programmed workouts to choose from, including the "Sprint 8" workout which is a 20 min HIIT style program designed to burn as many calories and as much fat as possible in a short period of time.
Bluetooth compatible- this treadmill can easily sync up with smart phones and tablets, giving you the option to use it with any streaming (like Peloton) or on-demand fitness app you prefer. There's also a free fitness app Horizon uses (AFG Pro Fitness) allowing you to store and transfer data to other apps.
Bluetooth speakers- you can sync your phone to the bluetooth speakers and listen to your music wirelessly through the treadmill. Comes in handy for folks who don't own headphones (or don't like having something in their ears while they work out).
Chest strap compatible- you can sync a chest strap heart rate monitor up to the treadmill via bluetooth for more accurate heart rate tracking.
8.25″ LCD screen- nothing too fancy going on in the screen department, but it's big enough and bright enough to see clearly during your workouts.
One touch speed/incline settings- this feature makes it easy to change your speed and incline settings rapidly during your workouts (comes in handy when doing those streaming workouts where you may be doing interval training).
Custom interval buttons- Horizon takes it one step further and included buttons on the handles that allow you to save custom work/recovery settings too, making it really convenient to do interval training.
Handlebar controls- you can also manually increase or decrease your speed and incline from the conveniently located handlebar buttons.
USB charging port- there's a USB port with the table holder, allowing you to charge your smart devices while you get your workout on.
Multi-position tablet holder- the tablet holder is located above the screen, so you don't have to block your workout data if you're using your tablet to watch a workout (or Netflix).
Fan- the built-in fan will help keep you more comfortable during your more strenuous workouts.
Accessory tray- Horizon does a good job with their trays, making them large and deep enough to hold pretty much anything you'd want to store on your treadmill (remotes, keys, maybe a sandwich).
Assembly
The 7.4 AT treadmill is pretty easy to assemble. Horizon does a great job with their assembly manuals- they're easy to follow and the images are large enough to see everything clearly.
I especially like that they have to-scale images of the bolts and screws used for each step- this makes it a lot easier to figure out what hardware goes where (I hate it when you have to skim back to the beginning of the manual to look up which piece you're using).
The assembly process is pretty straightforward- there's only 4 steps to get the job done.
I think most folks will be able to get the job done by themselves. Just keep in mind this is a large, heavy treadmill- it's a good idea to have a second set of hands available for faster (and safer) assembly.
I would guess most people can have this treadmill out of the box and working within an hour or so.
Warranty
The Horizon 7.4 AT comes with the following warranty:
Lifetime frame
Lifetime motor
5 year parts
2 year labor
Horizon always does a great job with their warranties. I think this is a fantastic guarantee for any price range, but especially for one under $1500.
You can't beat a lifetime warranty for the frame and motor, although these days we should expect this from any self-respecting treadmill in this price range.
Five years on parts is also impressive. Two years on labor is very impressive too, considering a lot of brands max out at a year.
This is actually the same warranty the more expensive 7.8 AT offers (both are longer than the guarantee on the 7.0 AT). It's also identical to the warranty offered by the impressive Sole F80.
Overall, Horizon is offering a great warranty on the 7.4 AT.
Final Thoughts
I think it's pretty safe to say the 7.4 AT treadmill has a lot to offer.
For the price, it comes with a spacious running surface, a powerful motor, and a generous warranty- the 3 factors I stress most highly when looking for a treadmill.
I think it stands out pretty well when compared to the other treadmills in this lineup as well.
The larger running surface, stronger motor, and longer warranty are more than enough to warrant the additional cost when compared to the 7.0 AT.
But the line's a little finer when compared to the 7.8 AT.
Yes, the 7.8 AT has a slightly more powerful motor (4.0 vs 3.5 CHP), but the running surfaces and warranties are identical.
The only other noticeable difference is the 25 lb difference in weight limits.
Are these small differences enough to warrant the additional cash?
If you're a serious runner, then maybe- the stronger motor makes sense. But for the more casual runners and joggers, I'd say save the money and go with the 7.4 AT.
What about the other comps out there?
I compared this treadmill to the Sole F80 a few times because I love Sole products and they regularly make my "best of" lists.
Toe to toe, the 7.4 AT holds its own against what I consider to be one of the best treadmills in this price range.
Both treadmills come with the same motor strength, the same running surface, and the same warranty.
They both come with the same amount of workouts and the same bluetooth options.
Ultimately, I'd have to choose the Sole F80 because it has larger rollers and a higher weight capacity, but it's a close call.
Overall, I think Horizon has a developed an impressive treadmill with their 7.4 AT model. It's priced fairly and has the specs to hang with the best in this class. In other words, a smart buy indeed.