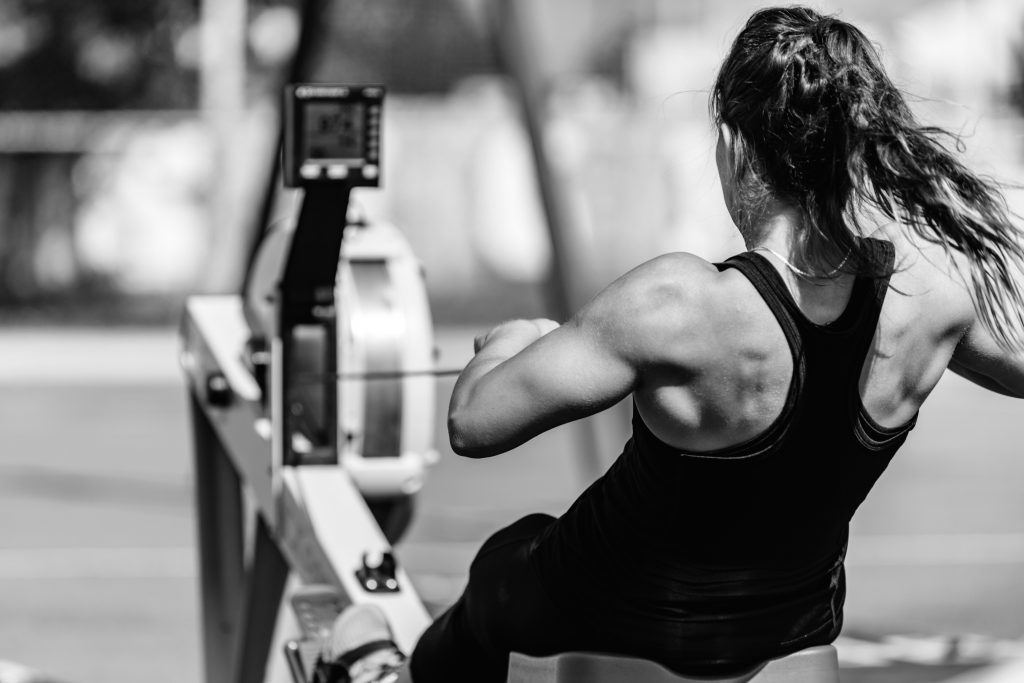 Rowing machines are becoming increasingly popular these days and this year we've got a ton of great options to choose from.
There are more hi-tech, streaming rowers on the market now than ever, but there's still plenty of quality classic rowers too.
The key to finding the right rower is really just knowing what kind of machine you want and then knowing what to look for when comparing different options.
And that's exactly what this guide is here to help with.
This comprehensive guide will go over the differences between each style of rower, as well as all the specs and features you should consider when deciding on a rower.
I'll also share my picks for the best rowers of the year based on the specs and features we discuss.
After reading, you'll be well-equipped to pick the right rowing machine for your home gym.
Let's begin.
How To Buy A Rowing Machine
Rowing machines are a great option for folks looking for a different way to get their cardio in.
When it comes to overall conditioning and cardiovascular exercise, they're tough to beat.
They're also a great option if you find treadmills or exercise bikes painfully boring, as many do.
If you've never used one before, it may be a good idea to try one out at your local gym or maybe even a sporting goods store to make sure it's something you can see yourself doing realistically.
It's a lot different than a lot of the other workout machines and it may not be for everyone.
It's also important to make sure you're rowing with correct form- especially for the folks with back issues.
The last thing you want to do is injure yourself and not be able to use your brand new rower.
They aren't that difficult to use correctly, but it does take a little practice to get the hang of it. If you have any questions about how to use a rowing machine, check out this article for some helpful tips.
Ok, let's get to the good stuff.
The first thing you need to determine is what kind of rowing machine you're looking for.
Types of Rowers
There are 4 different types of rowers and they differ on how they provide the resistance:
Magnetic Rowers
Magnetic rowing machines provide resistance with the use of a metal disc and magnets.
Resistance is increased or decreased by moving the magnets closer or farther from the disc.
The biggest benefit here is that these machines provide consistent resistance, regardless of how fast (or hard) you pull.
These machines are also very quiet during use, which is a must for some households.
But they don't feel quite as realistic as the air or water rowers.
Some feel the resistance isn't quite as intense either (which makes sense considering there's no limit to the resistance an air rower can provide).
A lot of of magnetic rowers these days use a combination of magnetic and air resistance, but I think most of these rely primarily on the magnetic side to provide the majority of their resistance.
The idea being you can take advantage of the consistent resistance, but also get even more resistance (from the air) when rowing at faster paces.
Water Rowers
Water rowers provide resistance with a flywheel spinning through water.
They provide the closest experience to actually rowing a boat through water, because that's what you're actually doing.
A water rower would be great for a competitive rower or anybody just looking for a realistic experience.
With these bad boys, the harder/faster you pull, the more resistance you get – it's physics.
That means there's no messing with resistance levels – if you want more resistance, row harder.
The biggest downside is that these rowers do make a swooshing sound, so they aren't the quietest machines around (but some people, myself included, find the swooshing sound to be soothing).
These models tend to be a little more expensive too, but they're by far the most attractive rowers on the market.
Air Rowers
In these machines, the resistance is provided by a fan pulling against air.
When you pull, a flywheel with fans attached, spins. This gives a feel closer to rowing a boat.
Remember the old fan bikes (or the new awesome fan bikes)? Same idea.
The harder you pull, the more resistance you get.
Air rowers are very popular and are even used in indoor rowing competitions because they can provide unlimited resistance and they feel very similar to rowing a boat on water.
The only real disadvantage of an air rower is that they do create a decent amount of noise.
But air rowers can provide a great workout and are usually priced pretty reasonably.
Hydraulic Rowers
Hydraulic rowing machines use pistons (1 or 2 depending on make and model) full of air or fluid to provide the resistance.
They tend to be smaller and cheaper than the other types of rowers out there, but there are still some legit options out there.
Some have sliding seats, some don't. Most have adjustable resistance.
These are good for people on a budget or with space limitations.
Weight Capacity
Regardless of what type of exercise equipment I'm looking for, the weight capacity is always one of the first specs I examine.
And that's because this spec gives us an objective measure of how "tough" a piece of equipment is.
The weight capacity is the spec that's going to give us a hint as to how durable the rower's frame is.
Machine weight is another spec that gives us a clue- more robust (heavier) machines should move and sway less during use.
Simply put- rowing machines that can handle larger users have to have more durable frames. If they weren't heavier-duty, they wouldn't be able to handle heavier users.
Most quality rowing machines have high weight capacities in the 300 – 500 lb range.
I realize this is a huge range, but it depends greatly on the type of rower you're looking at.
We can't expect a compact hydraulic rower to have the same weight capacity as a full size water rower.
Personally, I like to aim for at least a 300 lb weight capacity on any machine I'm considering (I'm 6'1″ and about 200 lb).
This won't always be doable, especially if you're looking for a hydraulic rower, but as long as the weight capacity safely accomodates your body weight you should be good to go.
Features
The included features vary a lot from rower to rower and price plays a big role.
I doubt you're very surprised to hear that more expensive models usually come with more bells and whistles.
These days, even rowers are coming with large, HD touchscreens and instructor-led workouts, but there are plenty of simpler machines to choose from too.
Most rowers come with a monitor.
What that monitor can do depends on the model. A basic monitor will display time, distance, and speed of rowing.
More advanced features include calculations of calories burned, power output (watts), and preprogrammed workouts.
Some of the nicer monitors can save your stats and let you race against yourself. Or race against a pacer boat.
These are fun features, but may not be necessary for you.
Some rowing machines come with a heart rate monitor, many don't.
Some monitors are compatible with heart rate monitors even if they don't include them.
Some monitors have a USB port for storing workout data. Others may be compatible with workout apps that make it easy to record and view workout stats.
If you're not too concerned with the console features, you may be able to save a little money – the rowing machines with nicer monitors usually cost a little more.
Some monitors look better than others.
Most are dark colored, some offer color. Size and location can vary. Some allow you to adjust the location of the monitor.
You should consider the usability of the display screen when comparing products.
After all, comfort is important- if you're rowing machine isn't comfortable to use, odds are you won't use it for long.
Size
This spec goes directly hand-in-hand with the different types of rowing machines we started with.
Realistically, your workout space may play a big role in deterring what type of rower you end up with.
It's a good idea to know exactly where you're putting your rowing machine before you purchase.
If space is limited, I would get a tape measure and physically measure out your spot to see how much square footage you're working with.
These rowers can take up a lot of space.
Full size rowers (air, magnetic, water) can take up spaces as large as 9′ x 4′, although there is some variance between models.
The smaller, hydraulic rowers usually take up spaces of around 4′ x 2′ (a prime example as to why these rowers work so well in small homes and apartments).
Price
Last, but not least, is price.
I put price last, but let's be real- most of us are going to consider price first.
Hey, I get it – you gotta find something that fits your budget.
You may even be pleasantly surprised- you may not have to spend as much as you think to get a nice rower.
In reality, you can expect to spend between $100 – $1500 for your rowing machine.
There's a really big difference between the $100 rower and the $1500 rower, that shouldn't come as a surprise.
But it really comes down to what you need and how much you plan on using it.
If it makes you feel better, the most popular rower in the world costs less than a $1000 – not bad for a machine that's used to train Olympians.
Speaking of training Olympians, if you're interested in seeing how the fittest people on the planet row, check out these killer CrossFit rowing workouts (just be prepared to bring your A-game).
Ok, I think it's about time to get to the best rowers around…
The 12 Best Rowing Machines of 2022
#1 The Hydrow 
Yup,  The Hydrow landed my top spot
You've probably seen their commercials on tv by now, after all, they're kinda all over the place.
Commonly referred to as "the Peloton of rowers", The Hydrow was the first rowing machine to come with a huge, HD touchscreen display for streaming workouts.
And by huge, we're talking 22″.
It's easy enough to be captivated by the console, but The Hydrow has a lot going for it despite the hi-tech monitor.
Take for example, the single piece frame that comes with a weight capacity of 375 lb and that can be stored vertically (storage kit sold separately).
Then there's the one-of-kind magnetic resistance system that is computer controlled to simulate the feel of rowing on water (which also allows you to digitally select the drag on a 0-300 scale).
The result is a smooth, quiet workout experience that can be tailored to fit the experience level of any rower in the world.
The streaming workouts are unique too, in that they are filmed on real bodies of water around the world.
Instead of watching an instructor row on a rower in some studio, you get to watch and hear your instructor as they row real boats on real water.
Like every other streaming device, there's a monthly subscription fee to access the library of on-demand and live workouts ($38/month).
And not that looks should matter that much or anything, but just look at how cosmetically appealing this rower is- this machine is just gorgeous.
Overall, The Hydrow isn't cheap, but if you're looking for the most advanced rowing machine on the planet, here it is. See full review.

#2 The Ergatta
The cleverly named Ergatta takes the second spot, although it's a really close call.
And looking at it, it's easy to see why- this thing is about as elegant as any fitness machine I'v ever laid eyes on.
Regardless of how well the Ergatta actually works or not, I could see purchasing this rower and just putting it in my living room as a piece of art…
Luckily, it functions as well as it looks.
This rowing machine comes with a solid cherry wood frame that looks fantastic, but also turns out to make for one hell of a durable rower.
So durable that the Ergatta is capable of safely holding users who weigh up to 500 lb.
I know it's hard to look past the gorgeous frame, but once you do you'll likely notice the large monitor mounted to this rower.
Yup, the Ergatta is another streaming rowing machine.
But unlike the streaming rower we saw above, the Ergatta is a water rower, making it the first streaming water rower on the market.
And unlike the instructor-led workouts most streaming machines use, the Ergatta uses their own, game-oriented workouts to make using this rower more fun than most.
With racing workouts and custom pacing options to choose from, the Ergatta takes a lot of the tedium out of exercising.
You have to pay the monthly fee to access them, but at only $29/month, it's a little cheaper than a lot of the other streaming services out there.
And did I mention you also get the advantages of its smooth-acting water resistance system?
If you're looking for a water rower that can give you access to streaming workouts (and look good while doing it), the Ergatta is a no-brainer. See full review.

#3 The Concept2 RowErg
Last time I checked, this was the most popular indoor rowing machine in the world and is even used by Olympic rowers when doing indoor training.
Concept2 used to offer the Model D and Model E, now they've simplified things – there's the RowErg with standard or longer legs.
Regardless of what you call it, Concept2 makes the best air rower in the world.
As an air rower, it uses a fan to provide the resistance, so there's no adjusting resistance levels or any of that jazz.
If you want to feel more resistance, you simply pull harder- the harder you pull, the more resistance you get.
This rowing machine does have a damper for the flywheel, which changes the airflow. Opening or closing the damper allows you to fine tune the feel of your workout.
The RowErg comes with Concept2's sophisticated PM5 monitor, which is one of the most impressive monitor you'll likely see on a rowing machine.
The PM5 can track all your workout stats and it also comes with preprogrammed workouts to choose from.
It even comes with a few competitive games to make your workouts more interesting.
It's also ANT+ and bluetooth compatible for data tracking.
The RowErg is also built like a tank.
The solid, welded steel frame can hold users up to 500 lb and a steel chain is used to connect the handles to the flywheel.
Overall, this rowing machine is a beast of a rower that is built to handle the most strenuous workouts you can throw at it. Highly recommended. See full review.

#4 The NordicTrack RW900
If you like the idea of streaming workouts, but are looking to save a few hundred bucks upfront, NordicTrack's RW900 is worth considering.
Like The Hydrow, the RW900 comes with a 22″ HD touchscreen display that allows you to access thousands of on-demand workouts from the comfort of your home.
NordicTrack is part of the ICON family, so the RW900 uses iFit as their streaming app- but through iFit, you also get access to all kinds of strength training and cardio workouts that aren't rowing related.
The RW900 isn't quite as sophisticated, but it's still got a lot to be proud of.
This rower utilizes a smooth acting magnetic resistance system and like all other magnetic rowers, this means you get a clean, consistent resistance regardless of how fast you pull.
In this case, you get 26 digital levels to choose from, giving you a lot of control over the intensity of every workout.
This rowing machine has a max weight capacity of 250 lb, so it's not quite as heavy-duty as The Hydrow, but it does fold vertically for storage.
And like all other NordicTrack machines, with the RW900 you get to take advantage of the automatic trainer control function that automatically adjusts your resistance to match what the instructors are telling ya to do.
A cool feature, but you can always do things the old fashioned way (manually) too.
The monthly fee for iFit is almost identical to The Hydrow at around $39/month.
Oh, and to put the icing on the cake, the RW900 is backed by one of the best warranties you'll ever see on a rowing machine. All things considered, a great rower. See full review.

#5 The WaterRower Club Rowing Machine (with S4 Monitor)
If you like the Ergatta, but aren't interested in the whole streaming thing, then the WaterRower Club Rowing Machine might just be what the doctor ordered.
I didn't mention it above, but Ergatta actually outsources their rowers to be made by WaterRower.
Which was indeed a smart decision, because WaterRower has been around for decades and has earned a stellar reputation for making some of the best rowing machines in the world.
As a water rower, the flywheel spinning through the tank of water provides a feel that closely mimics the sensation of rowing with oars on a boat.
It also produces a water swooshing sound, much like you might here if you were actually on a lake somewhere.
It's quite relaxing.

The Club Rowing Machine's frame is pretty special.
The entire frame is constructed out of Ash- an extremely hard wood that can withstand high loads without splintering (think baseball bats, tool handles, and furniture).
The hardwood design looks amazing and is incredibly durable, but the wood also absorbs a lot of the sound and vibration coming from the water tank, making for a quieter workout than you'd normally expect from a water rower.
The Club model also comes with a pretty sophisticated display monitor (the S4) that comes with built-in workout programs as well as the ability to track advanced metrics.
It's also heart rate monitor compatible (one not included).
Looking past it's good looks, this rowing machine is really built for durability.
It's designed for heavy, commercial use. It has a 700 lb weight capacity without the hi rise attachment (with it, it goes down to 600 lb).
Either way, these huge weight limits indicate how sturdy and well-built the hardwood frame really is. It also means users of any size can safely use this machine.
This is a large rower and can't fold due to the hardwood frame. Luckily, it can be stored vertically when not in use.
There are several different finishes for the WaterRowers at different price points.
The hi rise attachment is also optional- it brings the rower an additional 8″ off the ground, making it easier to access (especially for folks with stiff joints).
Overall, this is a fantastic rowing machine that works as great as it looks. If you're looking to mimic the feel of rowing a real boat, there's no better option. See full review.

#6 The BodyCraft VR500 Commercial Rower
The BodyCraft VR500 is a great rowing machine in its own right though, and can stand toe to toe with Concept2 in most categories (but it does come with a bigger price tag).
I tend to think of this as an air rower, but technically speaking, its resistance is a combination between air and magnetic systems.
This combination is designed to give you the benefits of both: you get the power associated with air rowers, but the quiet and constant resistance associated with magnetic rowers.
The VR500 comes with 32 levels of magnetic resistance.
Users love the fact that you can increase or decrease the resistance level straight from the handlebar during use (one of my favorite features on this rower).
The long rail and robust frame (weight capacity of 350 lb) make this is a smart choice for larger users, as does the taller seat height (19″).
This rowing machine also comes with a more sophisticated monitor than your average home rower.
Although it's not quite as impressive as the PM5, it does come with 12 workout programs, 4 user profiles, and heart rate monitoring.
A big difference users seem to really like about this rowing machine is how comfortable the seat is, even more so than the Concept2.
Rower seats are kinda notorious for being uncomfortable (much like spin bike seats)- they're typically hard, but the VR500 has some extra padding to make it more comfortable.
The VR500 comes with an amazing residential warranty: lifetime frame, 7 year parts, 1 year wear items, 2 year labor.
It's also rated for light commercial use (up to 5 hrs a day).
Overall, this is an elite home rower designed to provide and withstand the most intense workouts you can throw at it.
If you're looking for a quiet rower that should last forever, this is a great choice. See full review.

#7 The Life Fitness Row HX Trainer
And yes, this is the same Life Fitness brand which is uber famous for their high-end, commercial grade fitness equipment.
And even though they're probably most know for their gym-quality machines, they also have a residential lineup that's just as superlative.
Their Row HX Trainer is a pretty down-to-Earth water rower- you aren't going to find a lot of fancy bells and whistles on this model.
Instead, they've created a durable rowing machine that's designed to last.
The Row HX Trainer also comes with a wood frame, although not quite as cosmetically appealing as the 2 water rowers above if you ask me.
This rowing machine comes with a rapid adjusting water tank, which allows you to instantly add or remove water from the active tank with the turn of a dial (which is a whole lot more convenient than siphoning water).
With 4 levels to choose from, you can fine tune the feel of your workouts, as well as provide a custom feel for multiple users.
The Row HX Trainer comes with a max weight capacity of 330 lb, which is impressive for a home rower.
The wooden frame can't fold obviously, but you can store this machine vertically if you need the extra space.
There's also an LCD monitor that's heart rate monitor compatible that displays all the necessary workout metrics.
Life Fitness backs this rower with a pretty solid warranty as well, which is great given the price.
Overall, the HX Trainer is a heavy-duty rower from a trusted fitness brand.

#8 The Echelon Smart Rower
Echelon's Smart Rower is a more budget-friendly alternative to The Hydrow, especially if you already have your own tablet.
The Smart Rower is another streaming rowing machine, but instead of coming with a huge hi-tech monitor to access the workouts, Echelon saves you a ton of money by giving you the option of using your own phone or tablet as the console.
But in case you do want that large display built-in, Echelon's Row-S has got ya covered.
This rowing machine is more of a traditional magnetic rower- you won't find any computer controlled or dual-resistance systems here.
Instead, you simply set the resistance level (32 to choose from) and off ya go.
And with the convenient resistance controls located on the handle, you easily adjust your intensity during your workouts without having to interrupt your rhythm.
The Smart Rower comes with a fairly heavy-duty frame that can hold users weighing up to 300 lb.
The frame can also be folded for easy storing.
Echelon uses their own streaming app for the workouts and it costs the same as the 2 mentioned above (but you can save significantly if you purchase annual bundles).
The biggest downside to this rower is the warranty, but if you're looking to access streaming rowing workouts on a budget, something has to give.
Overall, Echelon's Smart Rower has a lot to offer and it's priced fairly. Definitely one of the top magnetic rowers of the year. See full review.

#9 The Stamina ATS Air Rower 1399
The Stamina ATS Air Rower is a more affordable option when it comes to air rowing.
I'm not going to say that this machine can play in the same league as the others already mentioned, but it's a quality machine for the price.

I like the simplicity the air rower provides.
I think this is one of the biggest reasons I prefer air rowers to magnetic rowers. With a traditional air rower if you need more resistance, you simply pull harder.
There's no fumbling with buttons trying to adjust resistance as you row.
That's what the Stamina ATS is here to provide.
Nothing fancy, just good ol' fashioned air rowing at a reasonable price.
If you're looking for solid air rower that won't break the budget, this is a good choice.
The seat is padded and fairly comfortable. It glides smoothly along it's track, offering a comfortable feel as you row.
The steel frame is stable and won't wobble as you exercise (a common complaint on budget rowers).
The footplates are large with adjustable straps, user's report they work effectively and are easy to adjust.
This rower does come with a simple monitor that will track speed, calories, time, and distance. You know, the basics.
The Stamina ATS only has a 250 lb weight limit, so it's not appropriate for larger users like some of the previous rowers.
I would like to see that a little higher, but for this price range it's fairly average.
All in all, a nice rowing machine for the price. This air rower would best suit a beginner or moderate rower. Serious rowers should consider upgrading. See full review.

#10 Kettler Kadett Rowing Machine
The Kettler Kadett is a bulldog of a rower- this thing is tough and mean in all the best ways.
For the folks who thought all hydraulic rowers were cheap and junky, the good people at Kettler are here to teach you otherwise.
What stands out most about this rowing machine is how much more robust the frame and moving parts are when compared to most hydraulics.
The Kadett, with its high carbon steel frame, weighs roughly 51 lb and can hold users up to 285 lb- giving it one of the highest weight capacities I've ever seen on a hydraulic rowing machine.
I also like that this rower utilizes dual pistons, which doubles the overall resistance it's capable of providing.
Each moving arm is attached to its own piston, and each piston has 12 levels of adjustable resistance.
Speaking of moving arms, the arc of movement on the Kadett is a lot wider than most. This is because the arms are designed to mimic the wider arc of rowing with oars on a boat.
The arms also have a rotation aspect of movement, giving the rowing motion a more fluid and natural feel.
This rowing machine does come with a monitor.
It's not the fanciest display you've ever seen or anything, but it's compatible with chest strap heart rate monitors and there are a few included goal oriented workout programs.
The piece de resistance is the warranty: Kettler backs their Kadett with a lifetime warranty on the frame and with a 3 year warranty on parts.
This guarantee blows most other hydraulics out of the water.
If you're looking for a tough hydraulic rower that's got enough muscle to handle more strenuous workouts, the Kettler Kadett is a great choice. Easily the best hydraulic rowing machine available. See full review.

#11 The Kettler Favorit Rowing Machine
Yup, another Kettler rower made the list.
What can I say- they make the best.
The Kettler Favorit is another high-end hydraulic rowing machine, but there are a few key differences that set it apart from the Kadett up above.
This rower also comes with 2 hydraulic pistons, one for each arm.
However, the resistance settings are set differently. Instead of turning a dial (like you do on the Kadett), you adjust the height of where the piston attaches to each arm.
This gives you a lot more control (with 50 different resistance adjustments), to control your workout intensity, but it's a little more labor intensive to do so.
But as a dual-piston system, it's still capable of providing twice the resistance as all of those single piston rowers.
The monitor on this rowing machine is pretty solid. It can track time, distance, energy, strokes, heart rate, and frequency throughout your workouts.
The Kettler Favorit also includes an earlobe clip-on heart rate monitor.
This is great for tracking heart rate during your workout to ensure you are in your zone for optimal cardiovascular exercise.
This is a nice feature because few machines come with a heart rate monitor, especially in this price range.
The rower has a gliding seat to offer a total body workout, excellent for cardio and strengthening. The seat has a thick cushion, however some users still complain of the seat being uncomfortable.
The Favorit also has a 285 lb max user weight capacity, indicating superior frame quality and durability.
Kettler backs this rowing machine up with the same awesome warranty they gave the Kadett: lifetime frame, 3 year parts.
If you like the Kadett, but are looking to save a couple hundred bucks, the Favorit is a good choice. It's designed with the same attention to detail and high standard of quality.
The only downside is that adjusting resistances can be a little awkward. See full review.

#12 The EFITMENT Total Motion Rowing Machine
EFITMENT's Total Motion Rowing Machine is the only single piston system to make this list.
Although it may not be able to provide as much resistance as the previous two machines, it makes up for it in other areas.
Most notably in the frame strength and length departments.
Hydraulic rowers are known for being compact- and to some extent that's the point. These rowers are smaller, allowing them to work in areas that may not be able to fit a full size rowing machine.
This is convenient for some, but can be a problem for larger users.
EFITMENT's rower is a smart choice for larger folks because it has a solid steel frame that can hold up to 350 lb.
It also has a longer rail than most hydraulic rowers, making it more comfortable for the taller crowd to use.
But back to the piston.
The single piston does come with 12 levels of adjustable resistance, but the manufacturer recommends that you limit rowing to 20 min at a time because the piston will heat up (as do many in this price range).
Speaking of price, this rower is by far the most affordable on this list, so if your budget is tight, this model might be your best bet.
The Total Motion rower (as the name implies) also uses a wider arc of motion for the handles – although you can also row with a more standard, narrower grip.
The warranty on this model isn't as impressive as the warranties we saw on the Kettler machines, but in this price any warranty is a victory.
EFITMENT backs this rower up with a 3 year frame warranty and a 90 day guarantee on parts.
If you're looking for a budget friendly hydraulic rower that can offer a solid workout, this is your best bet (especially for the larger and taller rowers). See full review.

Final Thoughts
Rowing machines are impressive in that they can offer a total body strengthening and cardio workout simultaneously.
They also work great for home gyms because they can be very affordable and quiet (depending on the style you choose).
Speaking of style, I suggest you decide on what type of rowing machine you want at the beginning of your search.
It'll make the whole process a lot easier if you can hone in on the type of rower you want from the get go.
All of the different rowing machine styles have their own advantages and disadvantages- the key is figuring out which type will work best for your home.
Hydraulic rowers work great for small rooms or for those looking for nearly silent operation.
Magnetic rowers are also very quiet, and they can offer a constant resistance regardless of how fast your row.
Air rowers are nice, because they give you most of the benefits of a water rower, but without having to worry about the water tank.
Water rowers offer the most realistic rowing experience because they utilize water to provide the resistance.
Water rowers are usually a little more expensive, but that's not always the case.
Once you know what type of rower you want, then it's all about comparing features, warranties, and prices and finding the model that offers the best combination.
Well, that about does it.
In my opinion, the 12 rowers mentioned above are the best the market has to offer this year.
I hope you found this guide helpful and I hope it helps you find the right rowing machine for your home.
If you have any questions or comments (or know of some impressive rowers that didn't make the list) please leave a message and I'll get back to you soon.
Happy rowing!