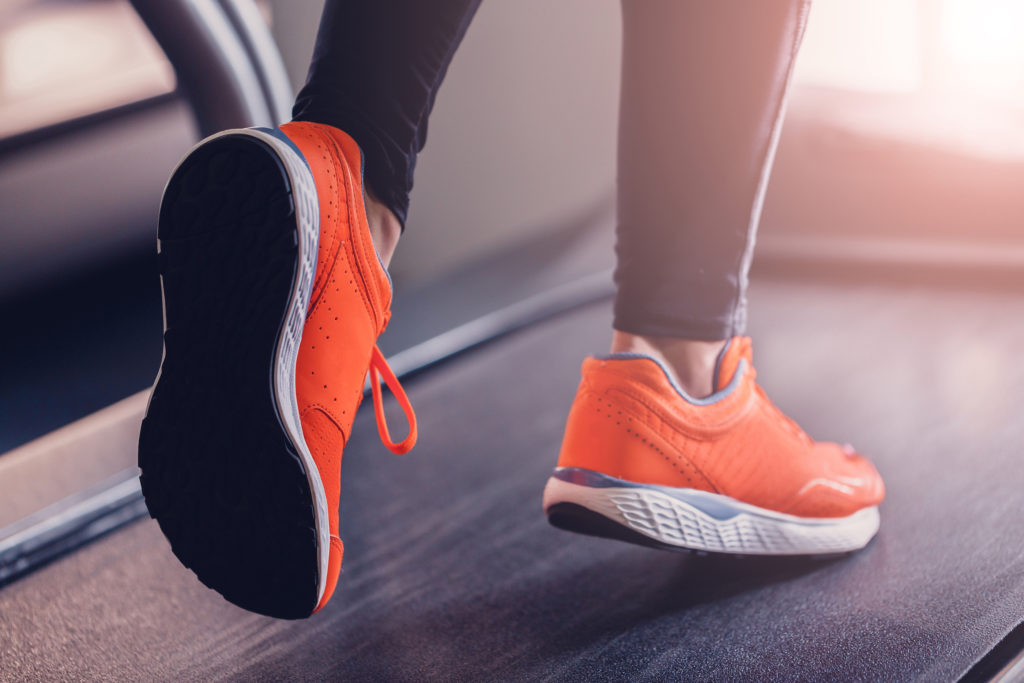 The Horizon Fitness T101 is an affordable treadmill designed to pair seamlessly with your smart devices. With several higher-tech features that aren't usually found on budget treadmills, the T101 might sound like a great fit for the technology enthusiast.
But odds are, bluetooth connectivity isn't the only spec you're considering for your next treadmill.
Even budget friendly treadmills need to provide a little more to make them a smart buy. Does the Horizon T101 offer enough value to make it a smart buy?
That's what this review is here to help you decide.
This article will take you through a thorough walk-through of everything this treadmill has to offer (and point out the areas where it's lacking), in the attempt to help you decide whether or not this is the right treadmill for your home.
I want to start with a quick intro to budget treadmills. You know, make sure we're all talking about the same thing here.
Budget Treadmills 101
"Budget" or "budget friendly" is highly subjective and means something a little different to everybody. That's why, for the purpose of this review (and others) I'm setting a price ceiling. For me, budget treadmills are machines that cost less than $1000.
This might seem like a high ceiling for budget products, but keep in mind how expensive home treadmills can be. Considering high-end models can easily cost $4000-$5000, I think it's reasonable to consider anything under a grand an affordable buy.
I also want to point out that home treadmills start out at around $100. This means the budget treadmill category is HUGE. There are a ton of treadmills that fall between $100 and $1000.
This includes both manual and motorized treadmills with a wide range of included features.
But if you are looking for a treadmill that even remotely resembles something you've used before in a commercial gym, you need to be looking at models starting in the $600 range.
Not to say that cheaper treadmills aren't worth buying. But if you want a larger, more powerful machine that is likely to feel more comfortable and last longer, you'll probably have to pay more than $500.
Considering how much the quality of treadmills in this price range can vary, it's important to have a game plan when comparing options.
Here are the top 3 specs I use to compare treadmills. If nothing else, I suggest you compare these specs to see how different budget treadmills stack up to each other:
Running Surface
The running surface is the size of the belt available to run (or walk) on during your workout. It basically means how spacious the treadmill is. Whether you're planning on walking or running, larger is better (especially if you'll be running).
The gold standard for home treadmills is a running surface of 20″ x 60″. This means the treadmill belt is 20″ wide and 60″ long.
A lot of budget treadmills have running surfaces smaller than this, and that's ok. Shorter users and folks who don't plan on running or jogging might make out just fine with a smaller running surface.
But if you're looking for the most comfortable experience, or one that feels more like a commercial treadmill, go with one that has a larger running surface.
Motor Strength
Looking at the strength of the motor will also tell you a lot about the quality of the treadmill. Higher quality machines usually come with stronger motors and vice versa.
Budget treadmills usually come with motors in the 2.0 – 3.0 CHP range. CHP means "continuous horse power" or the horse power the motor can maintain over time.
More expensive home treadmills may have motors in the 4.0 – 4.5 CHP range.
Stronger is usually preferred because it means the motor won't have to work as hard to maintain the higher speeds and inclines. This extends the life of the motor and provides a smoother ride.
Warranty
The warranties on budget treadmills varies greatly and are usually directly related to the quality of the machines. Nicer treadmills come with longer warranties.
Treadmill warranties are usually broken down into: frame, motor, parts, and labor.
Nicer treadmills will offer lifetime warranties on the frame and motor, a few years on parts, and a year or two on labor.
It's a myth to think you can't get a great warranty on a budget treadmill. The best budget treadmills come with lifetime frame and motor warranties (and there are several that do).
The Horizon Fitness T101 Treadmill
Horizon Fitness is one of the brands offered under the Johnson Fitness & Wellness family, along with other brands including Matrix, Vision, and Octane.
Horizon's mission is to provide technologically advanced, budget friendly home fitness equipment. They offer several different home treadmills at differing price points. The T101 is their most affordable, entry level treadmill.
Pros
20″ wide running surface
Easy assembly
Great warranty
40 built-in workout programs
Built-in bluetooth speakers
USB charging port
One touch speed and incline settings
Cooling fan
Great price
300 lb weight capacity
Easily folds for storage
Cons
55″ long running surface
Max speed only 10 mph
Incline to only 10%
Running Surface
The running surface on the T101 measures 20″ x 55″. The 20-in width is great, the 55-in length could be better. Recall from above that a 60-in length is preferable for most users to run comfortably.
At 55″, the T101 should work well for walking and jogging, but all out running might be an issue.
It's true that this also depends greatly on your height- shorter folks (people under 5'6″) actually may not have any problem running comfortably on this treadmill.
People 6′ or taller will certainly have to shorten their stride a little.
Although the length is a little short, the deck itself should provide a comfortable experience with Horizon's 3-zone shock absorption system.
The deck is designed with different amounts of cushioning based on what your foot is doing at each part of your stride.
The "impact zone" offers the most cushioning because this is where initial heel strike is occurring as your foot hits the ground. The "transition zone" is in the middle and is a little firmer as you prepare to push off for your next stride.
The "push off zone" is at the end of the deck and has the least amount of cushioning- providing your foot a firmer surface to push off of.
Users are almost unanimous in their expressions of surprise for how quiet and comfortable the T101 is (given the affordable price).
This treadmill also folds vertically for storage, a nice touch a lot of treadmills are including these days. The saved space when not in use can be a game changer for small homes and apartments. The hydraulic mechanism makes folding a breeze.
I like to look at weight capacity as an objective indicator of build quality. This isn't an exact science, but theoretically, the higher a treadmills weight limit is, the more durably built its gotta be right?
The T101 has a weight limit of 300 lb, which is pretty standard for home treadmills. It's actually pretty good for this price range, where it isn't uncommon to see weight limits in the 250 lb range.
Motor
This treadmill comes standard with a 2.5 CHP motor. This fits right in the middle of the 2.0-3.0 CHP range we should expect for treadmills in this price range.
It would be nice to see a 3.0 CHP motor on this machine, but considering how low the price is, I hate to be too picky.
Users agree the motor is surprisingly quiet during use. It's capable of maintaining a top speed of 10 mph, which is a little slower than the 12 mph max speed seen on most more expensive machines.
The T101 can also achieve a max incline of 10%. Again, this is a little lower than the 12-15% often seen in home treadmills.
Overall, it's evident this treadmill isn't designed with serious runners in mind. It's packing a smaller motor that can reach lower top speeds and inclines. However, when compared to similarly priced treadmills, the T101 scores pretty highly.
Features
The T101 includes the following features:
Bluetooth speakers- with built-in bluetooth compatible speakers, you can listen to your music (or movie) through the treadmill as you workout. Users agree the sound is pretty impressive for a treadmill.
Rapid charging USB port- while you're jamming out to your favorite music, hook your phone up to the USB port and charge it up so it's ready to go by the time you're all done.
40 Built-in programs- with this many workout programs to choose from, you shouldn't have to worry about getting bored. This treadmill offers a ton of workout variety without having to pay extra for an app subscription.
Integrated device holder- this feature makes it easy to use your phone or tablet during your workout. You can even watch a movie on your tablet and listen to it through the speakers on the treadmill (surround sound!)
One touch controls- instantly set your speed or incline level with the touch of a button, comes in handy if you know what level you want to start at.
Cooling fan- the built-in fan will help keep you comfortable regardless of how intense your workout is.
Water bottle holder- the water bottle holder can be used to hold your water bottle (duh), but it also comes in handy for storing your keys or tv remote.
Assembly
The T101 might be one of the easiest treadmills to assemble. Horizon markets that it can be fully assembled and ready to go within 30 minutes and users report this is accurate.
The instructions are really easy to follow with written instructions for each step and large images to follow along with.
I like how Horizon specifies which hardware is used for each step. This makes it a lot easier to find the right parts during the process.
Fully assembled, this treadmill only weighs about 165 lb, so it shouldn't be too difficult to roll around in the folded position.
Warranty
Last, but not least, is the warranty. The warranty can make or break a product in my opinion. You can have a ton of great features and still not be worth buying if the warranty is weak.
Horizon provides the following warranty on the T101:
Lifetime frame
Lifetime motor
1 year parts (including cushioning)
1 year labor
Considering the price, I think this is a pretty fabulous warranty. The lifetime frame and motor warranties should provide a little ease of mind. It also reflects the higher than expected quality of build.
A year on parts is short, but not unexpected for a budget machine. After all, there are reasons budget treadmills cost less money.
Overall, I think this is a generous warranty for this treadmill.
Final Thoughts
The Horizon T101 is a budget friendly home treadmill with some pretty advanced tech for the price range. On sale, this treadmill goes for about $600. I wouldn't expect to find bluetooth speakers or 40 programmed workouts on a machine this affordable.
I also wouldn't expect to see lifetime frame and motor warranties.
Given the running surface and motor strength, it's obvious this treadmill isn't a great choice for serious runners. But for the price, both specs are respectable and within the expected range.
Given its smaller size though, the T101 would make a great treadmill for homes with limited workout space.
There are better budget treadmills on the market (like the Sole F63), but they will cost you a few hundred bucks more.
Overall, I think the T101 is a smart buy. If you're looking for a solid treadmill and are working with a tight budget, it's going to be hard to find a more dependable machine.