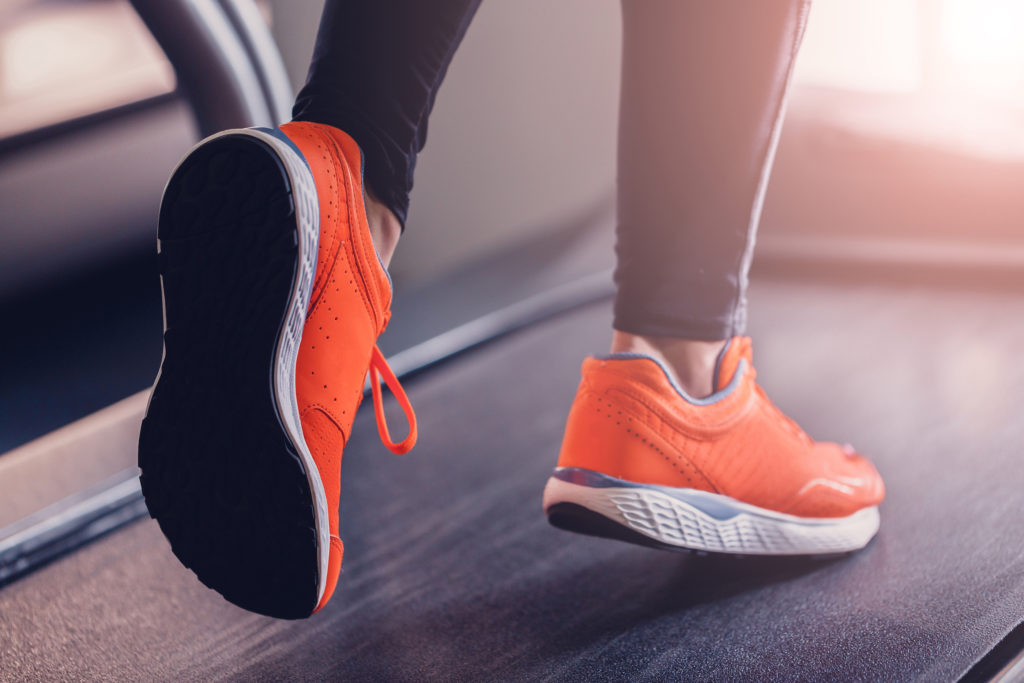 The T101 is Horizon's most affordable treadmill to date and even though it takes it easy on the budget, it still comes with some great performance specs and console features.
With a 20″ x 55″ running surface and a 2.5 CHP motor, the T101 is about as large and powerful a treadmill as you're likely to find in this price range.
And with bluetooth speakers, USB charging, and a built-in fan, its console is also surprisingly well-equipped.
And we can't forget Horizon's EasyDial speed/incline controls, which make adjusting settings more convenient than ever (they're a personal favorite of mine).
All things considered, the T101 is easily one of the best treadmills in the $600 – $700 price range, but there are a few other heavy hitters at the price point.
So, before you decide, you've got a little homework to do – but don't worry, I got your back.
In this review, I'll go over everything you can expect from the T101, but I'll also provide a quick comparison to some of the other top treadmills in this price range.
After reading, you'll know once and for all whether or not Horizon's T101 is the right treadmill for your home gym.
With impressive performance specs and a surprisingly sophisticated console, Horizon's T101 is one of the best treadmills you can get for $700.
The Horizon Fitness T101 Treadmill
Horizon Fitness is one of the brands offered under the Johnson Fitness & Wellness family, along with other brands including Matrix, Vision, and Octane.
Horizon is the budget-friendlier brand of the group and their mission is to provide technologically advanced, affordable home fitness equipment.
Personally, I'd say mission accomplished.
In a world where everything is turning to smart screens and streaming options, Horizon has remained dedicated to focusing on their machines more so than their console tech.
This means you won't find any touchscreens on Horizon products, but you'll get heavier-duty components and more impressive performance.
I've actually owned their 7.8 AT Treadmill for years and couldn't be happier.
But we're here to talk about the T101.
As I mentioned earlier, the T101 is their most affordable treadmill to date and as I'm writing this, it comes with a retail price of around $700 (although they occasionally have promotions that brings that price down even lower).
Pros
20″ x 55″ running surface
2.6 CHP motor
Bluetooth speakers
USB charging port
QuickDial speed/incline controls
Cooling fan
Quick touch speed/incline buttons
300 lb weight capacity
Folding frame
Tablet rack
Variable zone cushioning
Great price
Solid warranty
Cons
Only 6 workout programs
Rollers are a bit small
Running Surface
The running surface on the T101 measures 20″ x 55″, which is pretty spacious for a treadmill under $1k.
FYI, this measurement refers to the usable size of the belt, so it tells you exactly how much real estate you'll have to work with during use.
It's true, more expensive treadmills often come with larger, 20″ x 60″ running surfaces, but hey – affordable treadmills are more affordable for good reason.
Anyway, at this size, most users should have enough room to walk and jog comfortably without issues.
If you're exceptionally tall and trying to run really fast, you may wish you had a longer deck… but I don't think this will be the case for most of us.
Otherwise, the deck itself offers a nice experience.
Horizon uses a 3-zone shock absorption system with their treadmills and the result is a rather comfy treadmill.
The deck is designed with different amounts of cushioning based on what your foot is doing at each part of your stride.
The "impact zone" offers the most cushioning because this is where initial heel strike is occurring as your foot hits the ground.
The "transition zone" is in the middle and is a little firmer as you prepare to push off for your next stride.
And the "push off zone" is at the end of the deck and has the least amount of cushioning- providing your foot a firmer surface to push off of.
Users are almost unanimous in their expressions of surprise for how quiet and comfortable the T101 is (given the affordable price).
As an owner of their more affordable 7.8 AT, this doesn't surprise me in the slightest – this is how Horizon rolls.
This treadmill also folds vertically for storage, which is always nice when you find yourself working with limited floor space.
I also want to point out that the T101 weighs in at around 180 lb, which is quite heavy-duty for such an affordable treadmill.
For the sake of comparison, XTERRA's TRX1000, which is similarly-priced, weighs about 104 lb.
Personally, I love seeing a heavier treadmill because it means larger components were used, which make for a more stable feel.
When it comes to weight capacity, the T101 can handle users weighing up to 300 lb, which is pretty good for a treadmill in this price range (the XTERRA model just mentioned tops out at 250 lb).
Overall, the T101 comes with a large running surface and a robust frame, neither of which is a given in this price range.
Motor
This treadmill comes standard with a 2.5 CHP motor, which is pretty strong for such an affordable model.
Sure, it would be nice to see a 3.0 CHP motor on this machine, but considering how low the price is, I hate to be too picky.
FYI, having a stronger motor comes in handy when it comes to regular running and faster accelerations, but walkers can usually get by just fine with weaker motors.
Anyway, the T101 is capable of reaching a top speed of 10 mph, which is a little slower than the 12 mph max speed seen on most higher-end models.
But let's be real – how often is anyone running faster than 10 mph on a treadmill?
For me, the answer would be never.
The T101 can also achieve a max incline of 10% – again, this is a little lower than the 12-15% often seen in higher-end treadmills, but this is standard for a machine in this price range.
For the sake of comparison, NordicTrack's popular T 6.5 S comes with a 2.6 CHP motor that can also reach a top speed of 10 mph and a top incline of 10%.
In other words, I haven't come across any other treadmills at this price packing more muscle under the hood.
When it comes to the rollers (the parts that the belt make contact with, allowing it to glide over the deck), the T101 falls a bit short.
With 1.8/1.65″ tapered rollers, the T101 has pretty small rollers, but to be fair, so do all other treadmills in this price range.
FYI, having larger rollers makes for a heavier-duty, more durable machine, so bigger (>2″) is always better.
But this is a small offense at best and again, all other treadmills in this price range come with the same size.
Overall, the T101 comes with an impressive motor for the price range and certainly has enough power to support walkers and joggers alike.
Features
The T101 comes with the following included features:
LCD console- the console is pretty simple, no flashy touchscreens or anything like that here, but it's easy to use and the digital displays are big enough to see clearly.
6 workout programs- Horizon isn't known for putting a lot of workout programs on their treadmills and the T101 is no exception. This treadmill only comes with the basic profiles we're all familiar with, so if you like the idea of having tons of profiles to choose from, this could be a problem.
Bluetooth speakers- with built-in bluetooth compatible speakers, you can listen to your music (or movie) through the treadmill as you workout.
USB chargin port- while you're jamming out to your favorite music, hook your phone up to the USB port and charge it up so it's ready to go by the time you're all done.
Integrated device holder- this feature makes it easy to use your phone or tablet during your workout. You can even watch a movie on your tablet and listen to it through the speakers on the treadmill.
QuickDial controls- this is a small luxury, but you know what they say – it's the small details that make all the difference. Horizon uses these little dials for all their treadmills now (I think) and they're great. You can roll them up or down to choose your speed and/or incline levels and they're so convenient I find myself using these over the quick touch buttons. Once you get used to the dials, you'll never be able to go back to buttons.
Quick touch controls- instantly set your speed or incline level with the touch of a button, comes in handy if you know what level you want to start at.
Cooling fan- the built-in fan will help keep you comfortable regardless of how intense your workout is.
Water bottle holder- the water bottle holder can be used to hold your water bottle (duh), but it also comes in handy for storing your keys or tv remote.
Assembly
The T101 might be one of the easiest treadmills to assemble.
Horizon markets that it can be fully assembled and ready to go within 30 minutes and users report this is accurate.
The instructions are really easy to follow with written instructions for each step and large images to follow along with.
I like how Horizon specifies which hardware is used for each step – this makes it a lot easier to find the right parts during the process.
Overall, this is a treadmill where it's very doable to assemble yourself.
Warranty
Horizon provides the following warranty on the T101:
Lifetime frame
Lifetime motor
1 year parts
1 year labor
Considering the price, I think this is a pretty fabulous warranty.
The lifetime frame and motor warranties should provide a little ease of mind and it also reflects the higher than expected quality of build here.
A year on parts is short, but not unexpected for a budget machine.
After all, there are reasons budget treadmills cost less money.
A year on labor is pretty standard operating procedure, but in this price range, it still isn't a given.
For the sake of comparison, NordicTrack offers a 10 year frame, 2 year parts, and 1 year labor warranty on all their treadmills.
Overall, Horizon offers some of the best warranties out there and their guarantee on the T101 doesn't disappoint.
Final Thoughts
Ok, that about does it for everything the T101 has to offer and for a $700 treadmill, I'd say it has a lot going for it.
But the only real way to gauge this is to check out some of the other top treadmills out there in this price range.
So, let's go ahead and do that right now.
I've mentioned 2 of these treadmills already, but let's go into a little more detail here.
The first one I want to talk about is XTERRA's TRX1000, which usually sells for around $600 – $700.
The TRX1000 comes with a 16″ x 50″ running surface, a 2.25 HP motor with a top sped of 10 mph, 3 levels of manual incline, and a max weight limit of 250 lb.
XTERRA's warranty is also quite a bit shorter.
XTERRA's known as a great budget brand, but these specs aren't even that close to the T101's.
The next treadmill worth mentioning is NordicTrack's T 6.5 S, which just so happens to be one of the most popular treadmills on Amazon.
The T 6.5 S has a lot to offer for the price (usually around $800), including a 2.6 CHP motor, a 20″ x 55″ running surface, a top speed of 10 mph, and a top incline of 10%.
And as mentioned above, NordicTrack's warranty is pretty good for this model, although Horizon's lifetime frame guarantee is a little longer.
Anyway, the T 6.5 S is also iFit compatible, so if you're looking for streaming workouts, this treadmill would make more sense.
Otherwise though, I think these 2 examples show that the T101 can easily hang with any treadmill in this price range – I'd even go as far as saying it's probably the best treadmill $700 will get ya.
The biggest downside is probably the lack of workout programs, but if you're like me and rarely use 'em anyway, this won't be an issue.
All things considered, I think Horizon's T101 is a great deal and certainly a smart buy. Highly recommended.