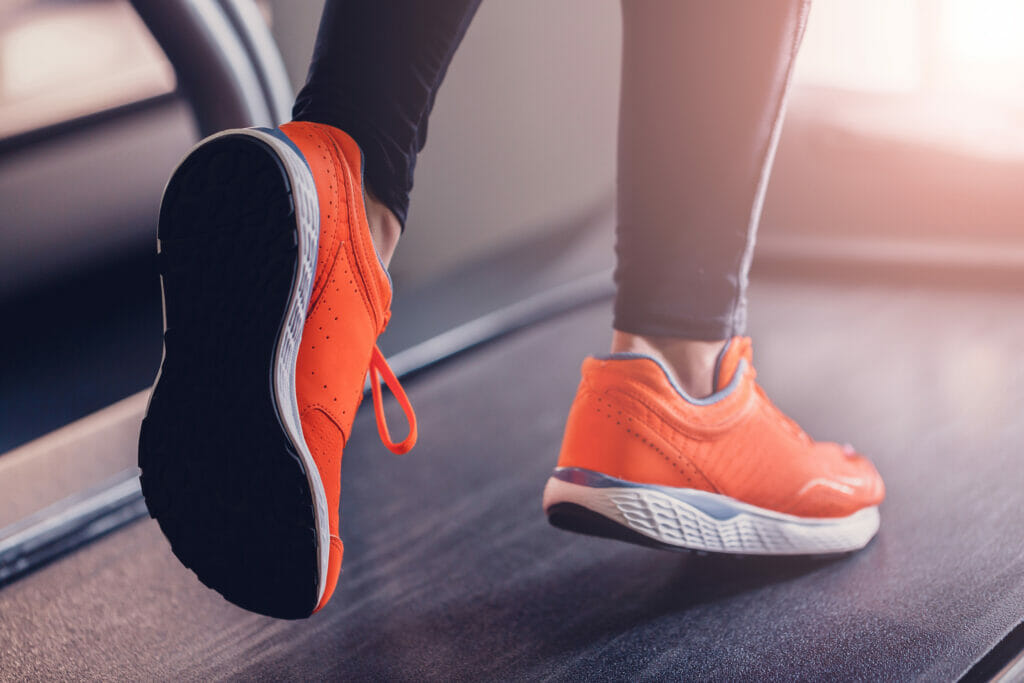 Opting for an under desk treadmill is a great way to instantly up your daily step count, improve circulation throughout the day, and maybe even improve your energy levels and productivity.
And for the folks who never have time to go the gym or workout, walking while you work could be a great alternative to improve overall health.
But let's be real, we don't all have the budget to invest in a new treadmill… or do we?
I don't know if it had anything to do with Covid and the fact that so many more people were working from home or what, but there's been a boom of affordable under desk treadmills and walking pads lately.
And some of these treadmills actually work pretty well.
This is good news for people looking for a budget-friendly way to get their steps in, but with so many options to compare, it can get overwhelming trying to find the right model.
If only you had Cliff Notes (they're still a thing right?) that could help you sift through all the BS and find the under desk treadmills that were actually worth considering…
Well, that's what I'm here for.
In this guide, I'll offer "Cliff Notes" on what specs and features to look for when shopping for these machines, but I'll also offer my top picks based on what's currently available.
After reading, you'll be ready to find the right inexpensive treadmill to fit your home or office.
Alright, let's do this.
Buying An Affordable Under Desk Treadmill
You know, as I'm writing this, I realize my mention of Cliff Notes probably dates me – but I looked 'em up and they're still a thing, so I guess that makes me feel a little better.
But if you aren't familiar with 'em, they were basically abridged study guides that gave you all the main points of a book you were supposed to be reading for school.
I, being the studious individual that I am…uh… of course never…uh… used 'em, but I was aware they were out there…
That's my story and I'm sticking to it.
Seriously though, if you're struggling to find time to exercise or if you're just stuck sitting at a desk for work all day, investing in a walking pad could be a great idea.
Because even though the whole 10,000 steps a day thing has gained a lot of attention, you don't need to walk that much to start gaining the benefits.
Which is good news, considering most of us Americans apparently average less than 5000 steps/day…
Turns out that 10,000 steps was kind of an arbitrary number to begin with (developed by pedometer manufacturers, go figure).
Yup, turns out any walking is better than nothing and we can benefit from walking a lot less than that on a daily basis.
So, if you're not hitting 10,000 steps a day, don't fret too much, but know that getting more steps in is still a good idea when it comes to cardiovascular health.
Especially if you're finding yourself stuck in front of a computer for most of the day.
Anyway, if you're in the market for an under desk treadmill, affordable or otherwise, it's a good idea to know what to look for when comparing options.
Here's a quick cheat sheet of the top features I suggest you check out before making a purchase:
Walking Surface
The walking surface refers to the size of the belt and it tells you how much room you'll have to work with when using the treadmill.
Having more usable space is a good thing when it comes to comfort, but keep in mind these treadmills are designed to fit under a desk – so expect smaller.
Most cheaper under desk treadmills come with walking surfaces in the 16-18″ x 40-48″ range.
The first number refers to the width of the belt and the second number refers to the length.
Taller users might want to look for a treadmill that's longer, falling closer to the end of that expected range.
And having a wider belt makes for a more spacious feel, but again – these things are designed to be compact so they'll fit under most desks and be easy to move.
Speaking of which, most also come with built-in transport wheels, so you easily roll 'em from one room to the next.
Motor
These treadmills are inexpensive for good reasons and one is that they come with weaker motors.
That said, it's still a good idea to compare motor strengths because it can still vary quite a bit between models.
Most of these affordable walking pads come with motors somewhere in the 1 – 2 HP range and can only reach a top speed of 4 mph or so.
Which, if you've ever tried to walk and get work done at the same time, is plenty fast.
Other options though, are designed to work as stand alone treadmills as well and can reach faster jogger speeds too.
When this is the case, they'll have an upright console or folding safety rails that come up to make 'em a little safer for jogging.
Weight Limits
This is a must, especially for the larger individuals out there.
These budget-friendly options are the opposite of heavy-duty and most come with significantly lower weight limits than we're used to from traditional treadmills.
A lot of these treadmills can only hold folks weighing up to 225 – 250 lb and even that's pushing it sometimes.
Lighter-weight individuals will likely have better results with these machines because they simply aren't designed to handle the stresses of higher weights.
It's also worth looking at the treadmill's assembled weight too, especially if you plan on having to move it around on the reg.
Most of these treadmills are under 100 lb and most come with built-in transport wheels, so they shouldn't be too tough to transport.
Ok, that'll do it when it comes to the biggest specs to look for when comparing these treadmills (to be honest, most of these machines don't come with many console features or extras anyway).
So, without further ado:
The 5 Best Inexpensive Under Desk Treadmills 2023
#1 WalkingPad C2
WalkingPad is one of the top brands in this category and they have several different folding walking treadmills to choose from, but I like their C2 because it offers a good combination of utility and price.
And it also comes in 5 different colors for some added style.
The C2 is a folding treadmill and unlike most traditional treadmills you've seen, this little guy literally folds in half like a briefcase.
This feature is cool, but it also makes it easy to transport and store out of the way when you're not using it.
In terms of performance, the C2 comes with a walking surface of 15.75″ x 47.24″ and has a 1 HP motor under the hood.
This is a little narrower than some of the other treadmills on this list, but I appreciate the extra length – I'm 6'1″ and I'm able to comfortably walk on it without shortening my stride.
One of the biggest downsides to this treadmill is that it only comes with a 220 lb weight limit, so larger walkers are out of luck here.
But with an assembled weight of only 55 lb, it's quite easy to move around.
This little treadmill also comes with a little display built-in to the frame, a remote for easy adjustments while walking, and bluetooth compatibility with its own fitness app.
And the C2 is also remarkably smooth to walk on, considering the deck folds in half.
In terms of cost, WalkingPad is usually priced around $550, but they almost always have a coupon available to get it under $500.
So, if you're looking for a stylish little treadmill that's compact and easy to move, WalkingPad's C2 is a great choice. See full review.

#2 UREVO 2-in-1 Under Desk Treadmill
UREVO's 2-in-1 is another top option when it comes to affordable under desk treadmills and this model is similar to the C2 mentioned above.
Although this treadmill doesn't fold in half.
But this treadmill comes with a walking surface of 17″ x 42.5″, making it a little wider than the C2, giving you a little extra wiggle room.
And with a 2.5 HP motor, it's quite a bit more powerful as well.
The "2-in-1" part in the title comes from the fact that this treadmill comes with a handrail that can fold up, allowing you to use it as a more traditional treadmill as well.
With the handrail extended, it can reach a top speed of 7.6 mph, giving you the ability to get a solid jog in (although honestly, I think this treadmill is still best suited for under desk walking).
But still, the option is there if you ever need it.
With the rail down, it can reach a top speed of 3.8 mph, which is better suited for a desk and it too comes with an included remote so you can control it with the rail down.
The UREVO comes with a more impressive weight capacity of 265 lb and weighs in at around 57 lb, so it too should be pretty easy to move around.
And with an asking price under $400, it's certainly priced to move.
Overall, if you don't need the folding deck and are looking for a treadmill that can handle larger users, UREVO has got ya covered. See full review.

#3 REDLIRO Under Desk Treadmill
REDLIRO's Under Desk Treadmill is similar to UREVO's, although there are a few key differences worth noting.
For starters, this treadmill is a few inches smaller – more specifically, the walking surface on this one is only 15″ x 41″.
At this size, taller walkers might start feeling like they have to shorten their stride a little, especially if walking at a faster speed.
Speaking of speed, with a 2.25 HP motor, the REDLIRO can reach a top speed of 4 mph in walking mode (rail down) or 7.5 mph in running mode (rail up).
Again, I don't recommend doing much running on any of these treadmills, but the speed is there if you ever wanna try it.
In terms of weight, this treadmill also weighs in at around 57 lb, but it comes with a lighter weight limit than the UREVO mentioned above.
With a max limit of only 220 lb, this treadmill certainly isn't designed for larger users.
What is cool though, is that this treadmill comes with 12 built-in workout programs – might not be that useful while working, but could come in handy if you want to take a break from work and get a solid workout in.
Otherwise, this treadmill comes with a simple LED console and an included remote and at only 5.5″ thick, it can easily fit under a lot of furniture.
This treadmill is usually priced pretty similarly to the UREVO as well.
So, if you like the idea of having extra speed and built-in workouts at your disposal, this REDLIRO treadmill could be a good fit. See full review.

#4 GoPlus 2-in-1 Folding Treadmill
This is another 2-in-1 treadmill that comes with a foldable handrail that can be extended up if you ever want to workout at faster speeds (away from the desk).
With a 2.25 HP motor, the GoPlus can reach a top seed of 7.5 mph in running mode or 2.5 mph in walking mode.
Although considering the walking surface is only 16″ x 39.3″, I couldn't imagine trying to run 7 mph on it… but hey, each to their own.
The GoPlus weighs around 70 lb, making it a little heavier than some of the other treadmills on this list, but the extra weight is a good thing when it comes to durability.
And with a max weight limit of 265 lb, this treadmill can handle slightly larger folks as well.
Other features include a remote, bluetooth speakers, and a phone holder – the speakers are an unexpected surprise, but I think they would come in more handy in running mode than anything else.
As I'm writing this, this treadmill is selling for around $300 too, so it's certainly affordable.
Overall, the GoPlus is similar to the other 2-in-1 models already mentioned, but it's a bit cheaper and comes with a few extra features. See full review.

#5 JURITS Walking Pad
Finishing off my list here is the JURITS Walking Pad, which at the time of writing this, is the top selling treadmill on Amazon (this may well change by the time you read this, but it's still an impressive feat).
With an asking price under $200, this treadmill is priced aggressively and considering what it comes with, I can see why it's becoming so popular.
This treadmill doesn't fold, doesn't come with an extendable hand rail, and doesn't offer a running mode – it's designed to work as a simple walking treadmill.
It's walking surface measures 15″ x 40″, so it's very small, but it comes with a respectable 2.5 HP motor that reach a top speed of 3.8 mph (again, no running, just walking).
It weighs about 44 lb and can only handle users weighing up to 242 lb – but honestly, with it's small size, I'd recommend it for folks who are even lighter.
The JURITS treadmill comes with a built-in display and an included remote, but there aren't really any other features to speak of.
It does come fully assembled though, which is always nice.
Overall, if you're looking for a really affordable under desk treadmill, this JURITS Walking Pad could be worth checking out.

Final Thoughts
Alright, there ya have it, quick and to the point.
When you think about it, it's pretty amazing you can get an under desk treadmill for a couple hundred bucks – especially how expensive everything else seems to be these days.
When comparing your options, I'd take a close look at those weight limits and walking surface measurements because there really aren't that many other features to consider with these machines.
These inexpensive treadmills are small and simple and really are designed for smaller walkers.
So larger users beware.
But if you fit within the size requirements and are looking for an affordable way to get some steps in while you work, going with one of these treadmills can be worth the relatively small investment.
We've had our C2 Walking Pad for a year or so now and it hasn't skipped a beat – my wife still uses it with her walking desk to get her steps in during the work day.
Speaking of which, I don't think I mentioned this earlier, but i should've – you'll likely need a walking desk to comfortably using one of these walking pads with your desk.
Traditional, non-adjustable desks will probably be too short for you to comfortably stand on a treadmill and still reach everything.
So, if you don't already have a standing or adjustable desk, this is something to keep in mind.
I also want to point out that you can use these little treadmills other places too.
They're so small and portable, you can easily move them into the living room and walk while watching tv or even put 'em in the dining room while helping your kids with homework.
These machines are versatile and easy to use.
Well, I hope you found this guide helpful and maybe even a little entertaining.
As always, if you have any questions or know of any great under desk treadmills that deserve a shout out, please leave a comment below and I'll get back to you shortly.