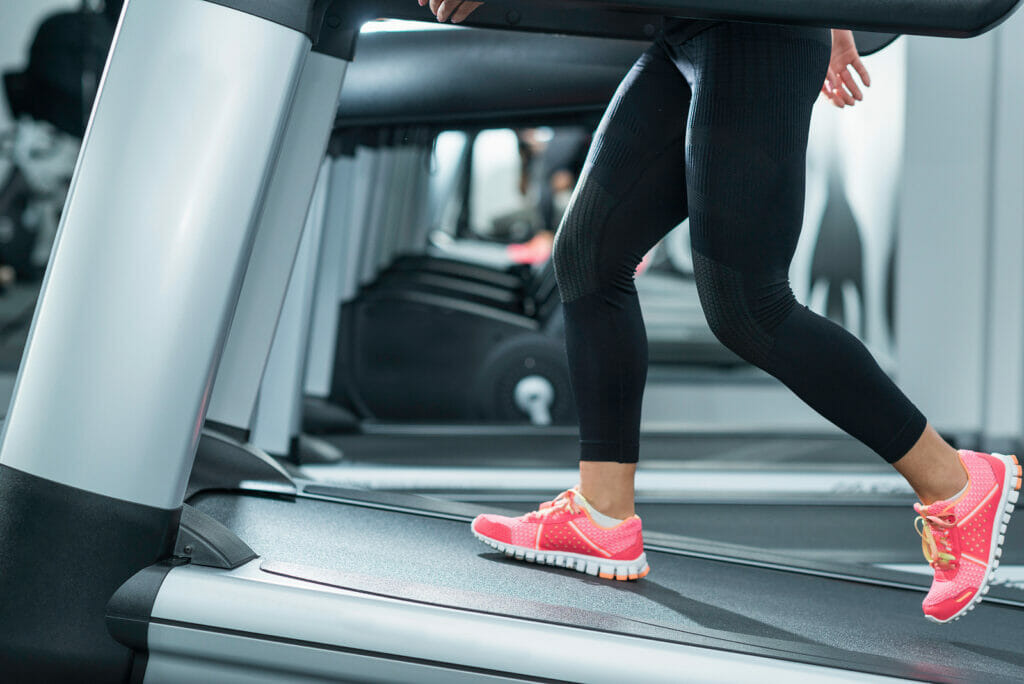 The Commercial X32i is the biggest, baddest treadmill NordicTrack has to offer and that's saying something considering how many models this popular home brand has to choose from.
Its model number refers to the 32″ HD touchscreen console mounted in the front, which is gigantic by anyone's standards, but there's a lot else going on with this treadmill besides the flashy display.
Like the fact that this beast comes loaded with a 4.25 CHP motor and can reach a max incline setting of 40% (as well as a decline of -6%).
There's also the fact that it comes with one of the largest running surfaces of any treadmill on the planet and gives you access to unlimited instructor-led workouts.
Looking at the X32i, it's hard to deny that this thing is pretty darn impressive, but it's got its drawbacks too.
Most notably, that it's huge and doesn't have the longest warranty (not to mention that it's not exactly budget friendly either).
Is the X32i worth going all-in on?
Well, that's what we're here to discuss.
In this review, I'll go over everything this treadmill does and doesn't have going for it.
After reading, you'll have a much better idea as to whether or not it's worth investing in.
Let's get to it.
The NordicTrack Commercial X32i Treadmill
NordicTrack's a well-respected brand that's been around for decades and they're a pillar in the home fitness market as a whole.
And they've been pretty innovative throughout the years and that trend continues even today.
I mean, they were the first ones to think about putting an incline/decline feature on an indoor cycle (found on the S22i), not to mention their incline trainers that can reach astounding incline angles.
These days, they're fully invested in iFit and workout streaming, so you'll notice that all of their equipment is streaming compatible now.
If this is what you're looking for, NordicTrack is a great brand to consider.
If you're not into workout streaming, you might be better off going with another brand that doesn't push streaming so aggressively.
Anyway, the X32i is NordicTrack's largest, highest-end treadmill to date.
It's part of their "Incline Treadmill" lineup, which also has their newer Elite Treadmill and smaller, Commercial X22i.
At the time of writing this, the X32i is going for around $4k, but you know how it goes, this could change at any time.
Pros
32″ HD touchscreen console
4.25 CHP motor
-6 – 40% incline
22″ x 65″ running surface
2.5″ rollers
Very heavy-duty frame
30 day trial of iFit included
Access to unlimited instructor-led workouts (iFit)
AutoAdjust feature for speed/incline (iFit)
Scenic routes (iFit)
Dual cooling fans
Bluetooth
One touch speed/incline buttons
Sled push feature
Extended sled handles
Cons
Warranty could be longer
Console doesn't rotate
Takes up a lot of floor space
Expensive
Running Surface
I like to start my treadmill reviews by talking about the running surface because I think this is one of the most important specs to consider.
Regardless of what you're looking for out of your treadmill, if the running surface is too small, you're probably going to be disappointed.
This spec tells us exactly how large the belt is and instantly let's us know how much room we'll have during workouts.
If you ask me, larger is always better.
I mean seriously, has anyone ever complained about having too much room on a treadmill?
Anyway, most nicer home treadmills come with a running surface somewhere in the 20″ x 60″ range because at this size, folks of most heights can use it comfortably without running out of space (and I mean that literally).
Well, the X32i goes above and beyond.
With a running surface that measures 22″ x 65″, the X32i is, without exaggeration, one of the most spacious treadmills on the market.
We see a lot of treadmills with a 22″ width, but few come with a belt this long.
This means taller folks won't have to worry about having to shorten their stride, even at sprinting speeds.
All of this space is great when it comes to using the X32i, but keep in mind that all this room comes at a cost – which in this case, means a larger footprint.
This is not a compact treadmill and it doesn't fold away for storage.
This bad boy takes up a footprint of 76.5″ x 40″, so you have to make sure you really have enough floor space before you even think about investing in it.
The Commercial X32i is also a very heavy treadmill, so it's a good idea to make sure you know where you want it to end up before assembly.
According to NordicTrack, this treadmill comes with an in box weight of 462 lb – this includes the weight of the packing, but that means the X32i is still at least a 400 lb machine.
Which is very heavy-duty for a home treadmill.
For the sake of comparison, Sole's ST90 is a slat belt treadmill and it only weighs in at around 376 lb…
All this bulk is a good thing because it's going to make for a more stable feel during use – you certainly won't have to worry about this treadmill wobbling around or feeling lightweight during workouts.
But again, it does make it harder to move around.
The last thing I want to mention here is that the X32i only comes with a 300 lb weight limit.
This is high enough to safely accommodate most users, but most treadmills in this price range come with a higher weight limit, often somewhere in the 350 – 400 lb range.
I would usually expect a higher weight limit for a treadmill that's as heavy-duty and robust as the X32i, but I have a feeling NordicTrack lowered their weight capacity to make sure this treadmill could still safely reach those really high inclines.
Overall though, the X32i scores very highly with such a huge running surface and heavy-duty frame.
Motor
This treadmill seems to be biggie-sized in every department and that surely holds true when it comes to the motor as well.
The X32i is packing a 4.25 CHP motor under the hood, so horsepower isn't something you'll have to worry about here.
To put that in perspective, most home treadmills come with a motor somewhere in the 2 – 4 HP range (and we're talking DC motors here).
And most agree that it's a good idea to have at least 3 HP under the hood for regular running (to ensure your treadmill can keep up sufficiently without having to work too hard).
Anyway you look at it, there's no denying the X32i has a very powerful motor.
Like most treadmills, the X32i can reach a top speed of 12 mph, but unlike most, it can also reach a max incline of 40%.
Which is crazy.
When I'm on my treadmill, I usually switch between jogging, sprinting, or walking against an incline and I rarely go as high as a 12% incline…
And I find that challenging.
I can imagine how brutal it would be walking against a 20% or 30% incline for any extended period of time.
Point is, this treadmill is an incline lover's dream.
I know some commercial treadmills out there can reach 20 – 30% inclines, but off the top of my head, I can't think of any that go as high as NordicTrack's incline trainers.
The max incline is impressive, but the X32i can also reach a decline slope of -6%, allowing you to mimic walking downhill.
Personally, I don't really see the reasoning of wanting to walk downhill on a treadmill, but to each their own (maybe if you're trying to mimic real world conditions for a race or something?)
Moving on, this treadmill comes with 2.5″ rollers, which is also pretty good.
In case you aren't familiar with this spec, the rollers are what the belt glides over and having larger ones is a good thing because they tend to last longer and make for a smoother feel.
Most high-end home treadmills come with rollers in the 2- 3″ range, so at 2.5″, the X32i scores pretty highly.
Overall, this treadmill comes with a very powerful motor and is able to reach very steep incline angles, but it also comes with nice large rollers too.
Features
The NordicTrack Commercial X32i Treadmill comes with the following features:
32″ HD console- it's hard to miss the flat screen television acting as the console on this treadmill and I have to give it to NordicTrack: I never thought a 22″ screen would look small, but it certainly does compared to this behemoth. This display is a touchscreen too, so making all selections is really easy. Having a screen this huge obviously makes it easy to see the workouts while on the treadmill, but it comes in more handy when doing workouts off the treadmill, which is very possible with everything iFit has to offer.
iFit- NordicTrack gave the X32i this huge screen because it's designed to pair with iFit and all the streaming workouts that come with it. With iFit, you get access to unlimited instructor led workouts of all varieties, including a bunch of options that have nothing to do with the treadmill. You also get scenic routes, metric tracking, and all that stuff too. Last time I checked, iFit costs around $38/month and even though technically you don't need an iFit subscription to use this treadmill, it doesn't make much sense to me to invest in it and not use iFit (it would be wasting that gorgeous screen), but to each their own. NordicTrack does include a free 30 day iFit trial with purchase too.
AutoAdjust- through iFit, you can also take advantage of the AutoAdjust feature, that allows the instructors to automatically change your speed and incline settings to match what they're saying. It's a neat feature, but you can always adjust your settings manually too if you prefer.
Bluetooth- the console is bluetooth compatible with headphones and heart rate straps too, which is always a plus.
One touch buttons- you can instantly set the speed and incline settings by using the one touch buttons, allowing you to rapidly jump to a given setting without having to push the 'up/down' arrows repeatedly.
Dual cooling fans- there are built-in fans to help keep you comfortable during those challenging hikes.
Extended sled handles- ah, this is an important feature actually, because they give you a nice secure grip while tackling those steep incline angles. They also come in handy when using the manual sled push feature.
Sled push feature- you can mimic the feel of pushing a sled (or using a manual treadmill) by setting the treadmill to 1 mph, grabbing the sled handles, and pushing into it, accelerating the belt to your desired speed.
Water bottle holder- and finally, there's even a place to put your water bottle.
Assembly
If you decide to purchase the X32i, moving the box inside your home will likely be the most difficult part of the assembly process because remember – this thing is heavy.
Once inside and unpackaged though, the assembly process is pretty straightforward.
Like most home treadmills, the deck comes preassembled, so you won't be messing with any of that stuff.
You really only have to attach the uprights to the main deck and then connect the console to the uprights.
You have to be careful not to pinch the console wires when doing this, so it always helps to have a second person around to assist.
Otherwise, I think most folks should be able to assemble this treadmill themselves – the manual is easy to follow and the procedure isn't super complicated to begin with.
Again, make sure you have this treadmill in its final resting spot because moving it will be a pain in the you know where.
Warranty
NordicTrack backs the Commercial X32i with the following home warranty:
10 year frame
2 year parts
1 year labor
This is the same warranty NordicTrack uses for almost all of their products these days and even though it's a solid guarantee for their cheaper products, I think it's a bit short for their X32i.
Most of the top treadmills in this price range come with lifetime frame and motor warranties, so 10 years on the frame falls short of what I'd expect to see.
And 2 years on parts is shorter than the 3-5 years most other top brands offer on their parts.
A year on labor is expected, so no complaints there.
Overall though, NordicTrack's warranty is short for a treadmill in this price range.
Speaking of which, NordicTrack also has a pretty bad reputation when it comes to their customer service – there have been tons of complaints regarding having difficulty reaching them or it taking forever for them to get back with solutions.
To be fair, most large fitness brands seem to have this issue, but NordicTrack seems especially notorious when it comes to their customer service.
Final Thoughts
Ok, I think that about does it.
All things considered, I think the X32i is an impressive specimen with a lot to offer people who are looking to go all-in with home streaming workouts.
That huge screen will make it easy to view off the treadmill workouts, but I think it's the X32i's insane incline capabilities that impress me most.
The short warranty and sheer cost of this thing are the biggest downsides I see – well, that and the amount of space this treadmill takes up.
Oh, speaking of which, something I forgot to mention earlier is the step-up height.
You may notice by looking at the images that this treadmill sits up a lot higher than most home treadmills (likely to ensure it can reach a -6% decline).
I read somewhere that a NordicTrack rep quoted it as having about a 12.5″ step up height, meaning at 0% incline, you're already a foot off the ground on this treadmill.
And if you increase that incline, you'll be even higher off the ground.
So, if you have really short ceilings (or you're really tall), you might want to keep this in mind.
Otherwise, I think the X32i has a lot to offer when it comes to both performance specs and features – folks looking for a serious incline treadmill should certainly consider this model.