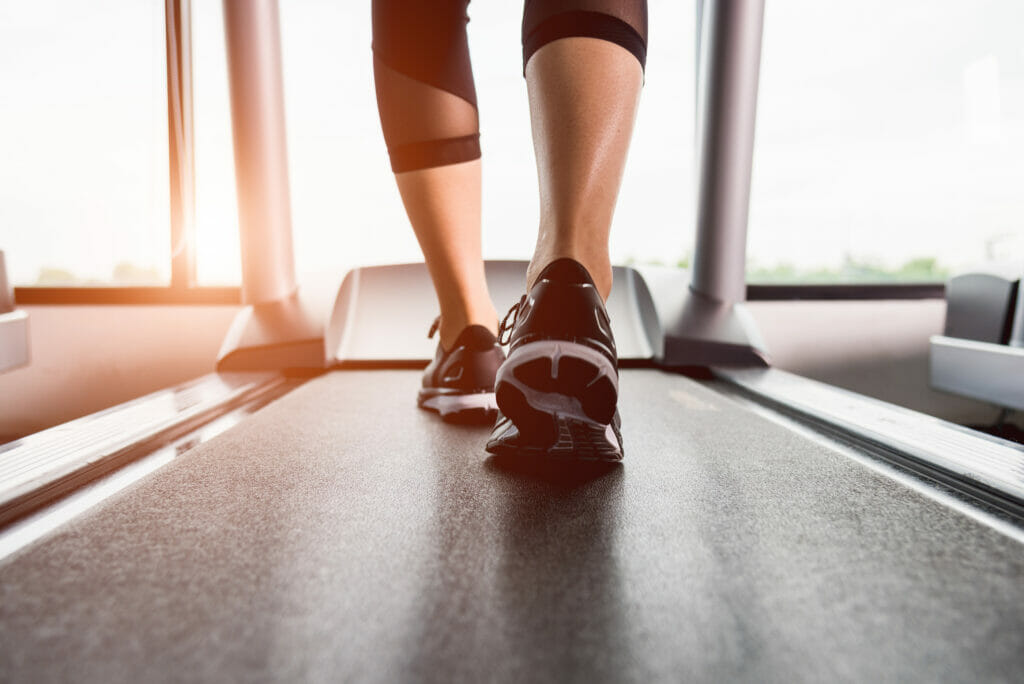 The T303 is an affordable folding treadmill from Horizon Fitness, who just happens to be one of the best brands when it comes to budget friendly treadmills.
Highlights of the T303 include a 20″ x 60″ running surface, a 3.0 HP motor, and a 325 lb weight capacity.
It also comes with bluetooth capabilities and a built-in USB charging port, making it a great option for folks who like to watch their tablets during workouts.
Add in a generous warranty by Horizon and you've got the makings for one of the best treadmills in this price range.
If you ask me, I think the T303 is one of the best treadmills $1000 can get ya- but there's no reason to take my word for it, you have to do your own homework.
But that's where I can help.
In this review, I'll go over all the key specs and features this treadmill has to offer.
After reading, you'll know everything you need to in order to decide for yourself whether or not the T303 is the right option for your home gym.
The Horizon T303 Treadmill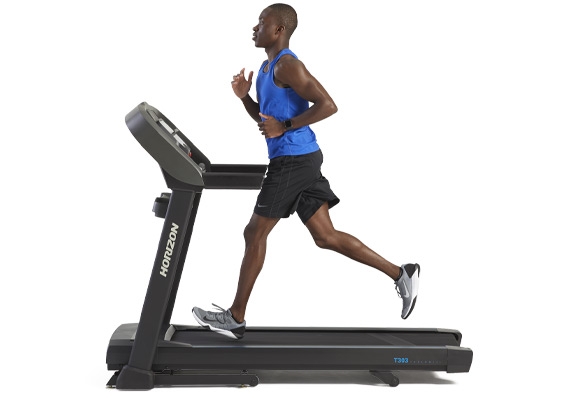 I like Horizon as a brand, but I think their treadmills are where they really shine.
I have their 7.8 AT treadmill in my home as we speak and I've have been very happy with it for the last few years.
The nice thing about Horizon as a brand is that their products are very straightforward to use- you aren't going to find a bunch of cumbersome menus to go through to get your workouts started.
When you look at their treadmills, Horizon's models tend to be at the high end when it comes to heavy-dutiness, motor strength, and length of warranties for their respective price ranges.
The T303 is the highest-end model in their "Go" Series, which also includes the more affordable T101 and T202.
At the time of writing this, the T303 goes for about $1000, still making it quite affordable in the world of home treadmills.
Pros
20″ x 60″ running surface
3.0 HP motor
Top speed of 12 mph
Top incline of 12%
325 lb weight capacity
Folding frame
Bluetooth speakers
Bluetooth compatible with fitness apps
Heart rate monitor compatible
Custom interval buttons
Quick-touch speed/incline buttons
USB charging port
Great warranty
Cons
Rollers a bit small
Chest strap monitor not included
Running Surface
I think the size of the running surface is one of the most important specs to consider when researching any treadmill you're thinking of purchasing.
This is because this spec will almost instantly tell you whether or not the treadmill will be comfortable to use or not.
If the treadmill is too small for ya, odds are you won't be using it for too long regardless of whatever other features it may have.
As the term implies, the running surface refers to the physical dimensions of the belt (you know, how much usable space you have during your workouts).
This spec is usually measured in inches (here in the US anyway) and written as "width x length".
The T303 comes with a running surface of 20″ x 60″, which is good for any home treadmill, especially one in this price range.
At this size, the T303 will be able to fit pretty much all users comfortably, regardless of whether they're walking or running (our stride increases when running at faster speeds, so shorter treadmills can't always accommodate taller runners).
We see 22″ wide belts on a lot of higher-end treadmills, but it's unlikely to find that in this price range.
The T303 is large enough to fit most folks comfortably, which is great, but it also comes with Horizon's 3 zone variable response cushioning system for added comfort.
This just means that there's a little more shock absorption at the front of the treadmill (where there's the most impact from your foot contacting the belt) and a little less at the rear (where you want a firmer surface to push off with each stride).
The T303 comes with a fairly heavy-duty frame too.
With an assembled weight of 194 lb and a max weight limit of 325 lb, this treadmill should feel pretty secure during workouts.
Overall, the T303 scores highly with a large running surface and a secure frame, allowing it to comfortably fit users of all sizes.
Motor
Running surface and frames are good to think about and whatnot, but let's be real- the motor is what most of us want to talk about.
I get it, it's a lot more exciting to talk about horsepower than belt dimensions, I agree.
Motor strength is important for more than just bragging rights- it's crucial when it comes to the overall comfort during your workouts too.
This is because a stronger motor doesn't have to work as hard as a weaker one does to provide the same output.
This means the stronger motor will feel smoother and usually work more quietly as well.
Treadmills in this price range usually come with motors in the 2.0 – 3.0 HP range, although more expensive models will pack upwards of 4.0 – 5.0 HP.
With this in mind, the T303 comes with a 3.0 HP motor that can reach a top speed of 12 mph and a top incline of 12%.
The speed and incline this machine can provide are fine and fairly average when compared to other top models in this price range, but with a 3.0 HP motor, the T303 is at the top of the class for this price range.
And with this much horsepower under the hood, this treadmill is strong enough for regular running.
It's true, you can run on weaker treadmills, but I recommend at least a 3.0 HP motor for regular running to ensure your treadmill operates smoothly.
If you plan on walking more than running, you can get usually get away with a weaker motor and still be fine.
The T303 comes with 1.8″/1.6″ tapered rollers as well.
The rollers are the parts that allow the belt to glide over the deck as the motor does its thing. Having larger rollers is preferred because it makes for smoother operation, but also puts less stress on the belt, rollers, and motor.
At 1.8″/1.6″, the rollers on this treadmill are on the small side.
I wouldn't say this is necessarily a deal breaker, but if comparing 2 treadmills and everything else was even, I'd go with the model with the larger rollers.
Overall, I like that the T303 comes with such a strong motor, but it's lacking a bit when it comes to roller size.
Features
The Horizon T303 comes with the following features:
LCD console- the console on this treadmill is very simple, but it's backlit and large enough to see clearly during workouts.
7 workout programs- this treadmill doesn't come loaded with dozens of workouts like some, but it comes with enough to get the job done. Workout options include: manual, fat burn, hill climb, 5k, distance goal, heart rate guided, and calories goal.
Bluetooth speakers- you can connect your tablet or smart phone up to the treadmill and listen to your music/workouts through the built-in bluetooth speakers.
Heart rate monitor compatible- you can also connect chest strap heart rate monitors to track your pulse during workouts, although one isn't included.
Rapid-charge USB port- you can also keep that smart device fully charged during your workouts with the USB charging port. It's always nice to know you won't drain your battery during your workout.
Quick-touch speed/incline buttons- this convenient feature allows you to instantly set your speed and/or incline with the push of a button.
Interval settings- there's also 2 custom interval buttons on the console that allow you to set your own speed/incline settings for custom intervals. An awesome feature for the people out there that like HIIT style workouts.
Cooling fan- there's a built-in fan to help keep ya comfortable during those more strenuous workouts.
Tablet holder- the tablet holder is conveniently located above the console, so you won't have to block your view of your workout metrics while using your tablet.
Storage tray- there's a large storage tray running between the 2 uprights under the console. You can hold you water bottles here, as well as a bunch of other stuff like remotes, keys, towels, etc.
Assembly
Horizon does a pretty nice job with their assembly manuals. The images are large enough to see clearly and there are written instructions for each step to guide you along the way.
I think most folks should be able to assemble the T303 on their own without having to pay for professional assembly (assuming you or others in your home are able bodied and able to follow simple directions).
The deck comes pre-assembled, so you won't have to worry about doing anything there.
You would really only be responsible for attaching the uprights, the console, and a few covers, including the storage tray.
All necessary tools and hardware are included.
As always, just make sure you don't pinch any of those console wires when attaching the uprights/console- the last thing you want is to finish the job only to realize the console doesn't work.
Overall though, the assembly process for the T303 shouldn't be bad.
Warranty
Horizon Fitness backs their T303 Treadmill with the following warranty:
Lifetime frame
Lifetime motor
3 year parts
1 year labor
See, I told ya Horizon doesn't mess around when it comes to warranties.
You can't beat a lifetime frame and motor guarantee and you shouldn't take this for granted either (especially in this price range) because most brands don't offer this.
Three years on parts is also quite generous, considering many in this price range offer 1-2 years.
A year on labor is pretty standard operating procedure regardless of cost.
Overall, Horizon offers some of the best warranties around -they're right up there with Sole.
Final Thoughts
Alrighty, that about does it for the T303.
All things considered, I think this is a very nice treadmill for the price.
I like that it comes with a large running surface and a powerful motor. I also like that it comes with such a high weight limit.
And I love that warranty.
It also comes with a nice combination of included features too, especially for folks who plan on using their tablets to watch entertainment apps or for workout streaming.
The biggest flaw I see is the small rollers, which in itself isn't a huge deal, but remember when I said "all other things equal, go with the treadmill with the larger rollers"?
Ha, well it turns out Horizon's 7.0 AT is almost identical to the T303- same running surface, same motor, same warranty, same price, pretty much all same features.
But the 7.0 AT is significantly heavier and comes with 2.4″/1.8″ rollers (it also comes with the dial speed/incline controls, which I love).
Sooo, I think the T303 is a nice treadmill, but I see no reason to choose that over the identically priced Horizon 7.0 AT- unless of course you want a lighter treadmill (or really don't want the dial controls).