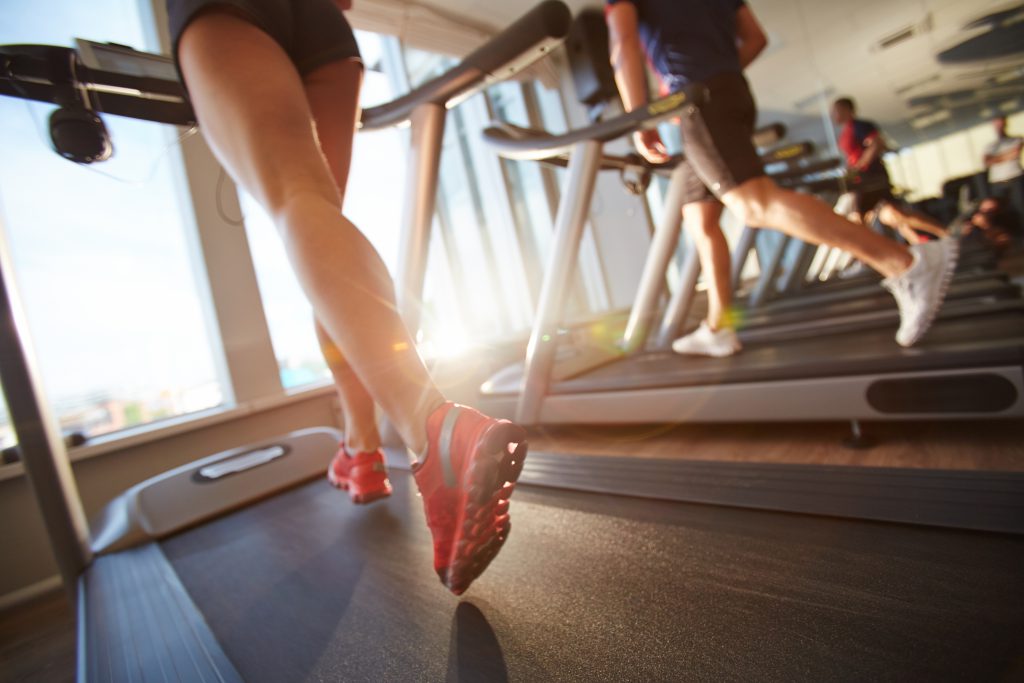 In order to find the best treadmills, you have to know which specs and features are most important to prioritize in your search.
Once you have an understanding of what you should be looking for, it's just a matter of comparing the treadmills in your price range and finding the one that has the best combination of these specs.
But as you're doing your research, it's also a good idea to think about how you plan on using your new treadmill.
Are you a serious runner or do you plan on walking?
Are you looking for a commercial grade machine that will feel like the one you used at the gym or are you just looking for an affordable folding treadmill that will last?
Knowing the answer to these questions will definitely help you narrow down your search.
This ultimate guide will teach you everything you need to know when it comes to choosing the right home treadmill. We'll start with a buyer's guide that will review the key specs you should consider when looking for a treadmill.
Then we'll dive right into the best machines for each category.
I've divided my guide into 4 categories: best folding, best affordable, best for running, and best high-end treadmills. If you'd like to skip the buyer's guide and go directly to a certain category, I understand. Simply click below to get started:
How To Choose A Treadmill
Many factors should be considered when choosing a treadmill. But I'm a realistic guy and I know that price is probably the first thing most of us consider.
And this makes sense because ultimately you have to find a machine that fits within your budget.
This is true when buying any type of fitness equipment.
But when it comes to treadmills, these are the most important specs to consider:
Purpose (walking vs running)
Running Surface
Motor
Features
Warranty
Let's go into each one with a little more detail.
Purpose
Why are you getting a treadmill? What type of workouts do you see yourself doing? Will you be walking or running? These are important questions to consider when purchasing a treadmill.
The answer will tell you what type of treadmill you should get. We can classify treadmills in many ways, but the biggest distinction is between manual and electric treadmills.
Manual treadmills don't have a motor. They're smaller, lighter, and more portable (traditionally anyway, although these days we have access to high-end, curved manual treadmills that are as heavy-duty as treadmills get).
Anyway, since these treadmills don't have a motor, it's up to the user to make the belt move.
This is going to make it more difficult. Which might be a good thing if you are looking to burn some extra calories, but it can also make them less comfortable to use and more difficult to use for longer periods.
Traditional manual treadmills have a resting incline setting- that is, they can't be set at a 0% incline (they are never completely flat).
This is to make it a little easier to get the belt moving.
This incline setting varies from machine to machine and some manual treadmills allow you to change the incline setting.
Electric, or motorized treadmills, do have a motor. The motor moves the belt for you and you can change the speed of the belt depending on your needs.
Electric treadmills are usually larger and more durable.
They typically have wider belt lengths and are designed for walking or running.
Most manual treadmills are not designed for running. I don't care what the manufacturer claims, the fact is most of these machines are not designed to handle the stress (although the newer, curved models mentioned above are designed specifically for running).
Manual treadmills are significantly less expensive for a reason- besides not having a motor, most are smaller and of lesser quality.
Not to say manual treadmills don't have their place.
If your budget only allows for a manual treadmill I understand, you have to do what you have to do. If you know you're looking for a manual machine, check out my guide on the best manual treadmills for more information.
Running Surface
When it comes to the comfort of a treadmill, I think the size of the running surface is by far the most important spec to consider. It's also a great way to spot a subpar treadmill from a mile away- cheap, junky machines tend to have tiny running surfaces.
The running surface describes the usable dimensions of the belt- ie, how much room you have to exercise on. It's measured in inches and is written like this: width x length.
Belt lengths and widths vary from machine to machine. Typically, the larger the overall dimensions for a treadmill are the larger the running surface is.
The gold standard for home treadmills is a running surface of 20″ x 60″.
A running surface with these dimensions is capable of comfortably accommodating most users at a running pace.
If the belt is too short, you're likely going to have to shorten your stride when running. If it's really short, you may even have to shorten your stride when walking.
The belt width isn't quite as important as length, but wider is still better. Anything narrower than 20″ and you might feel a little claustrophobic.
Who wants to feel like they're running on a tightrope anyway?
The small running surface is the biggest problem with most cheap treadmills. Again, a treadmill with a running surface that is too small for you, isn't going to feel comfortable to use.
Motor
The treadmill's motor strength is another important spec to consider when comparing machines.
Motors are categorized based on their horsepower (HP) or continuous horse power (CHP). HP refers to the motor's peak power, while CHP refers to the power a motor can maintain over time.
CHP is more important for us as users, because we want to know how strong our motor is while we are using it during a workout (here's a more detailed discussion on HP and CHP if you are interested).
Functionally, more HP is a good thing. It's going to allow you to go faster and make your workouts more comfortable (you don't want to feel as if the motor is struggling to keep up with you!).
Stronger motors also don't have to work as hard as weaker motors to provide the same output, which theoretically means they should last longer
Most treadmill motors range between 2.0 and 4.0 CHP. If you are only walking on your treadmill, 2.0 CHP may be plenty. For runners, you should look for a treadmill with at least 3.0 CHP.
The majority of home treadmills come with DC motors because they're a little cheaper and require less power to operate. Commercial grade treadmills (and high-end home models) may come with an AC motor.
AC motors run more efficiently and are better equipped for longer workouts and for multiple users. These motors can handle operating for hours a day without over heating or breaking down.
The roller size is something else to keep in mind that is kind of related to the motor. The rollers are the part that makes contact with the belt, causing it to move along the deck as the motor purrs along.
Just like bigger is better when it comes to running surfaces, bigger is also better when it comes to rollers.
Bigger rollers make for a smoother action because there is more surface contact area between the roller and the belt- this is also is supposed to make it easier on the motors.
Roller size varies, but most treadmills have rollers somewhere between 1.9″ and 2.5″ (with the latter being the desired size for quality treadmills). Higher-end treadmills will come with 3″ – 3.5″ rollers.
Features
Features on electric treadmills vary depending on price range and model, but there are a few standard options that you can expect to see.
I suggest you prioritize running surface and motor strength before features, but these extras can definitely add to your workout enjoyment.
Incline
Pretty much all decent electric treadmills offer an incline function. This is a great feature to have because it can add a lot of variety to your workout.
You can walk against a high incline and burn almost as many calories as you would running on a flat surface.
Most treadmills allow you to incline between 10-20 deg. Some will let you decline a few degrees as well (walking downhill).
Programmed Workouts
Treadmills vary on the amount of pre-programmed workouts they offer. Most treadmills offer several workouts depending on your fitness goals, including cardio, fat burn, interval, heart rate (HR), etc.
Some treadmills will offer 6 programs, others may offer 50. Programmed workouts can be great because they control your workout for you, but they are not necessary for a great workout.
Folks who are concerned about getting bored with their workouts or who really enjoy preset routines should look for treadmills with more expansive workout libraries.
Then of course there's the streaming treadmills that come with large, HD touchscreen displays that allow you to stream live and on-demand workouts (like the Peloton).
Heart Rate Monitor (HR)
Most treadmills these days offer grip HR monitors. These are a nice tool to get a ball park idea of where your heart rate is.
Higher-end treadmills will be compatible with wireless heart rate monitors.
Many are compatible with both chest strap monitors and watch-style HR monitors. Some companies are even nice enough to include a chest strap with your purchase.
Bluetooth
Bluetooth capabilities allow you to connect your treadmill to a fitness app to keep track of your workout stats.
Some treadmills these days come with bluetooth speakers, giving you the chance to play your music through their speakers wirelessly as well.
Quick Touch Buttons
These are a great feature, especially for people who like to do interval training. With quick touch buttons, you can instantly set the speed and incline without having to push the up and down buttons a million times.
A lot of nice treadmills are including this feature these days.
Fans, Water Bottle Holders
These are pretty self explanatory. Most quality treadmills come with these common features, but if you find a model that has a particularly interesting water bottle holder, I guess that could be a perk.
Warranty
Last, but not least, is warranty. If you are stuck between 2 different machines, comparing the warranties could help you make your decision.
Treadmill warranties typically include: frame, motor, parts, and labor.
Nicer treadmills will have more impressive warranties, cheaper treadmills will have limited or no warranties.
Quality treadmills will have lifetime warranties on their frames and motors. Warranties on parts can vary, but you should expect between 1-5 years. Most labor warranties are only 1-2 years.
Personally, I'm a stickler for a good warranty. I'd rather have a treadmill with fewer features and a great warranty than vice-versa.
---
The Best Folding Treadmills Of 2021
#1 Sole Fitness F80
The Sole Fitness F80 is one of the most popular treadmills for home use. I like this treadmill because it offers a lot of the same qualities a high-end treadmill offers, minus the high-end price.
Like all of the other treadmills in this category, it folds in half for storage.
This is a great feature if space is an issue- when not in use, you can fold it and save a lot of floor space.


Specs
Motor: 3.5 CHP, 0.5-12 mph speed range
Running surface: 22″ x 60 "
Weight capacity: 375 lb
Warranty: Lifetime frame, motor, and deck; 5-year electronics; 2-year lab0r
Reviewing the specs for this treadmill, you can see it has a powerful motor capable of reaching speeds of 12 mph. This will be plenty of power to handle the most strenuous runs you can throw at it.
You will also notice the Sole F80's running surface is on the larger side of normal. At 22″, this is one of the widest home treadmills you're going to find.
This will make it comfortable to run on, even for tall users. It also has a great weight capacity and warranty.
This treadmill offers 10 total workout programs: 6 standard, as well as 2 custom and 2 heart rate programs. Yes, this treadmill does have a grip heart rate monitor… but it also includes a chest strap monitor, which is a nice bonus.
It was very nice of Sole to throw in a chest strap monitor for us, many companies don't.
If you're looking for a heavy-duty treadmill that feels like a commercial machine, the Sole F80 is a smart choice.
It's built like a tank and the high weight limit makes it usable for larger folks (check out my big and tall treadmill guide for more great options) .
Considering the great warranty, it's gonna be hard to find a better treadmill in this price range. See full review.

#2 3G Cardio 80i Fold Flat Treadmill
3G Cardio is well known for making awesome running machines, but their Fold Flat model is a really unique folding treadmill. The majority of folding treadmills fold vertically, meaning the deck folds up to meet the console.
Well, this treadmill does that, but it can also fold down to the ground- i.e., "flat" as the name suggests. This is genius because you can actually fold this treadmill up and roll it under your bed for storage.
Specs
Motor: 3.0 HP, 0.5-11 mph speed range
Running surface: 18.5″ x 58 "
Weight capacity: 325 lb
Warranty: Lifetime frame and motor; 5-year parts; 1-year lab0r
You will notice this treadmill isn't quite as heavy-duty or as powerful as the Sole F80. I would guess they have to take away a little in these departments to make the frame foldable in 2 directions.
The running surface is significantly smaller (especially the width), so this treadmill may be more comfortable for smaller users. It has a decent weight capacity and good warranty though.
The 3G Fold Flat offers 12 total workouts: 8 standard and 4 custom. This machine does have a grip heart rate monitor, but isn't compatible with chest strap monitors.
Some of the other treadmills 3G produces are chest strap compatible, but again, I would assume they had to give up some hardware to make sure this machine can fold flat to the ground.
The 3G Fold Flat does offer incline settings, ranging between 0-15%. Combined with a max speed of 11 mph, this treadmill is more than capable of offering a hard core workout.
If you are looking for a super folding treadmill, this is your best bet. It folds vertically and horizontally making it incredibly easy to store.
Did I mention it is ready to use right out of the box? Yup, no assembly required. See full review.

#3 Proform SMART Pro 2000
The Proform SMART Pro 2000 is the most affordable option in the Proform Pro series and it's easily one of the best folding treadmills on the market.
Proform is known for building durable and dependable machines and the Pro 2000 is no exception.
I like this treadmill because it offers a little more in the high-tech department than some of it's competitors. If you are looking for a few more features (and don't want to pay more) this is a treadmill you should consider.


Specs
Motor: 3.5 CHP, 0.5-12 mph speed range
Running surface: 22″ x 60 "
Weight capacity: 300 lb
Warranty: 10-year frame; 2-year parts; 1-year lab0r
Reviewing the specs, you should notice that the Pro 2000 is more powerful and more heavy-duty than the 3G Fold Flat. It also has a lot more to offer in the tech department.
This treadmill is very comparable to the Sole F80, with the exception of the warranty. I think the Pro 2000's warranty could use a little work, but otherwise it's tough to beat.
The Proform Pro 2000 is a little cheaper too.
I mentioned that this treadmill offers a few more features than it's competitors in this price range. Like the above treadmills, the Pro 2000 can incline up to 15%. Unlike the 2 other treadmills mentioned, this machine can also decline to -3%.
This gives you the option of training downhill as well. This comes in handy if you are trying to replicate the feel of running outside on different terrains.
The Proform Pro 2000 comes iFit ready. iFit is basically a library of unlimited workouts and personal coaching you can access on your smart phone/tablet or compatible treadmill. You have to pay a monthly subscription rate, but it's optional.
It's compatible with Google Maps as well- you can draw your route and send it to iFit. Pretty cool if you are into the tech stuff, but by no means necessary.
One of the biggest benefits of the Pro 2000 is the fact that it comes loaded with 50 different workouts. With all the variety this machine offers, you are guaranteed to keep your workouts fresh and challenging for years.
This treadmill also includes a chest strap heart rate monitor, a great little benefit.
This is a very powerful treadmill with lots of workout options. If you're looking for a treadmill with a little more tech, this is a smart choice.
When it comes to workout variety, this is about as good as it gets. See full review.

Interested in seeing more? Check out my guide on the best folding treadmills for more options.
---
The Best Budget Friendly Treadmills Of 2021
#1 The Sole F63
Anybody that's familiar with my work knows I'm a huge fan of Sole Fitness and pretty much all of their fitness equipment- I appreciate that they concentrate on performance more than tech features.
I also appreciate their long warranties and fair prices.
And as their most affordable treadmill model to date, the F63 is a prime example of what Sole is all about. With a sales price right at $1000, it just squeaks in as a budget friendly treadmill.
Specs
Motor: 3.0 CHP, 0.5-12 mph speed range
Running surface: 20″ x 60 "
Weight capacity: 325 lb
Warranty: Lifetime frame and motor; 3-year parts; 1-year lab0r
Looking at the quick specs above, it's easy to forget that we're talking about a budget-friendly treadmill here. I mean seriously, there are treadmills out there that cost 2x as much that can't compete with these numbers.
A 3.0 CHP motor is strong enough to handle running speeds, and with the 15 incline levels this treadmill comes with, you shouldn't have to worry about outgrowing this machine any time in the near future.
The running surface is also right where most folks want it and that gold standard, 20″x 60″.
Like most treadmills in this price range, the F63 is a folding treadmill, but unlike some, this doesn't take away from this machines frame stability.
The F63 is strong enough to handle users weighing up to 325 lb, which is great for any treadmill in this price range.
And then there's the warranty, which is amazing.
The biggest downside to this treadmill is that it only comes with 10 preprogrammed workouts to choose from. Personally, this wouldn't bother me in the slightest, but if you're looking for a lot of workout options, it's something to consider.
Overall though, I consider the Sole F63 to be the best budget friendly treadmill on the market. It's got the specs and warranty of a much more expensive machine. Highly recommended. See full review.

#2 Horizon 7.0 AT
Horizon is another name that's getting a lot of recognition for their well-made, fairly-priced fitness equipment. Similar to Sole, they tend to spend more energy focusing on the stuff that really matters more so than fancy bells and whistles.
That said, the 7.0 AT is designed with streaming workouts in mind.
But it doesn't come with any fancy displays or monthly fees, instead you would use your own tablet and simply connect with another fitness app.
The result is a treadmill that can be used any way you like, while still keeping the cost low.
Specs
Motor: 3.0 CHP, 0.5-12 mph speed range
Running surface: 20″ x 60 "
Weight capacity: 325 lb
Warranty: Lifetime frame and motor; 3-year parts; 1-year lab0r
You might notice that the quick specs above are identical to the F63's. Yup, the 7.0 AT comes with a powerful motor, a spacious running surface, and a very impressive weight capacity for a treadmill in this price range.
Speaking of price range, the Horizon 7.0 AT is usually on sale for $999, which is exactly what the F63 goes for.
This treadmill also folds and comes with bluetooth capabilities, which is nice. It only comes with a handful of built-in workouts to choose from, but if you plan on using a fitness app with it, you won't even notice.
One new feature Horizon added to the 7.0 AT this year is the QuickDial control system that allows you to rapidly set your speed and incline settings.
Instead of pushing buttons up and down, you conveniently rotate a small dial. This feature first popped up on their 7.8 AT (which I know from experience works great), but now they're adding it to all their "AT" models.
It sounds like a small thing, but once you get used to the dial, it'll be hard to go back to buttons again.
Overall, the Horizon 7.0 AT has a lot to offer- powerful performance specs, a great warranty, and convenient controls. See full review.

#3 NordicTrack T6.5 S
The NordicTrack T6.5 S is a little weaker, a little smaller, but for the price, it's really tough to beat (at the time of writing this, this model is about $300 cheaper than the 2 treadmills mentioned above).
Given the smaller size, I would suggest that the T6.5 S is better suited for smaller users or folks with walking and jogging in mind, as opposed to serious running.
Specs
Motor: 2.60 CHP, 0.5-12 mph speed range
Running surface: 20″ x 55 "
Weight capacity: 300 lb
Warranty: Lifetime frame; 25-year motor; 1-year parts and lab0r
And I say this, because with a 2.60 CHP motor, this treadmill falls under the 3.0 CHP mark I like to see to consider a treadmill a good "running treadmill".
But this rule certainly isn't written in stone.
You'll also notice that the running surface is a little shorter on this model, but the weight capacity of 300 lb is still high enough to hold most folks safely.
The adjustable cushioning system on this machine is a little different too. By adjusting the dials below the belt, you can increase or decrease the amount of cushion you feel during your workouts.
A neat idea, but I'm not sure how much difference it really makes. Might be fun to play with and see what feels better for you.
The NordicTrack T6.5 S offers an incline setting up to 10% and 20 built-in workouts. This treadmill takes advantage of easy one-touch buttons to quickly select your speed and incline settings.
This is a nice feature because it can be frustrating trying to increase or decrease these settings during a run by pushing the little up and down buttons.
This treadmill is also iFit compatible and comes with a grip heart rate monitor. You can also connect your mp3 player to the built-in speakers for easy use during your workout.
Overall, this treadmill has a lot to offer and is priced to move, making it a smart choice for folks with smaller budgets to work with.
Negative user comments seem to be centered primarily around customer service. Definitely worth a closer look if you are interested in a high-quality affordable treadmill. See full review.

Looking for more great treadmills that won't break the bank? Check out my complete budget friendly treadmill guide.
---
The Best Treadmills For Running Of 2021
#1 3G Cardio Elite Runner
A proper running treadmill should be comfortable on the joints, spacious, and have enough power to reach and maintain high speeds comfortably.
Running treadmills should also be built durably enough to withstand the stress of running for multiple users.
The 3G Cardio Elite Runner can answer "yes" to all of these criteria. This treadmill is great for running and feels like a commercial grade machine.
Specs
Motor: 4.0 HP, 0.5-12 mph speed range
Running surface: 22″ x 62″
Weight capacity: 400 lb
Warranty: Lifetime frame and motor; 10-year parts; 2-year lab0r
You should notice that right off the bat this treadmill is significantly more powerful with a 4 HP motor. This is going to give you the ability to accelerate comfortably and maintain those higher speeds.
I want to point out how much larger the running surface is on this treadmill is too.
This is the largest running surface of any of the treadmills discussed thus far, and this is going to make it significantly more comfortable to run on.
Even for taller runners.
You can also see that this machine is durable with a 400 lb max weight capacity and that it comes with a great warranty.
The 3G Cardio Elite obviously has the muscle and frame to handle serious running, but it also has a few key features that make it a great running treadmill.
First is the orthopedic belt, which is thicker than most treadmill belts. It's designed to reduce strain on your joints as you run and provide a more comfortable experience.
The second great feature for runners is the one touch controls for speed and incline- you can bump the speed or incline up or down rapidly by touching a button.
This feature increases speed by 1 mph in 1.5 sec or incline by 1% in 1.5 sec, a great feature for interval training.
The 3G Cardio Elite also offers speakers, grip heart rate monitor, 8 total workout programs, and an incline range up to 15%.
They also throw in a chest strap heart rate monitor to give you more accurate readings during your run.
Overall, this is truly a commercial grade treadmill designed with runners in mind. Be warned, this treadmill is heavy and it doesn't fold, so it isn't designed to be portable. If you are looking the best of the best though, you found it. See full review.

#2 Sole F85
This is the third Sole treadmill to make this list and I can't promise it'll be the last. The fact is, no "best of" list is going to be accurate without a few Sole models.
There's just no denying that Sole is one of the best home treadmill providers out there.
The Sole F85 is an upgraded version of their popular F80 model that we discussed earlier. Check out the specs and see if you can find the differences:
Specs
Motor: 4.0 CHP, 0.5-12 mph speed range
Running surface: 22″ x 60″
Weight capacity: 400 lb
Warranty: Lifetime frame and motor; 5-year parts; 2-year lab0r
The upgrades are subtle, but not insignificant. First off, we see that the F85 is packing more power- 0.5 HP more power to be exact.
The extra muscle will come in handy for serious runners that are maintaining higher speeds or for families with multiple runners. Stronger motor = smoother operation and extended motor life.
The F85 is also a little more robust, which is evident by the increased weight capacity of 400 lb. I always like to compare weight capacities- when in doubt, go with the higher limit.
The F85 comes with the same great warranty as the F80 (which really says something about the awesome guarantee on the less expensive F80).
Sole doesn't concern themselves with adding a ton of extra features on their treadmills, but they do offer some convenient extras that should add to the enjoyment of your workouts.
Things like bluetooth speakers, bluetooth connectivity to apps, and an included chest strap HR monitor to name a few.
The Sole F85 has everything a runner needs: powerful motor, a spacious running surface, and a great warranty. If you're ok with the simple console the F85 is a no-brainer. Simply a great treadmill all around. See full review.

#3 ProForm Pro 9000
Another treadmill from the ProForm "Pro" series, the Pro 9000 has a little more muscle under the hood than the 2000 discussed earlier.
This extra muscle makes the Pro 9000 a great treadmill for runners. Combine that with the spacious running surface and the price and this treadmill is kinda hard to beat.
Specs
Motor: 4.25 CHP, 0.5-12 mph speed range
Running surface: 22″ x 60″
Weight capacity: 300 lb
Warranty: Lifetime frame and motor; 5-year parts; 2-year lab0r
Right off the bat, the first thing you should notice is how strong this motor is. 4.25 CHP is actually the strongest motor discussed thus far in this article.
And honestly, this is my favorite aspect of this treadmill. This bad boy has the enough power to smoothly go as fast as you can handle.
It also has a nice, spacious running surface, perfect for running. The weight capacity is a little lower, but this is actually a folding treadmill as well.
The warranty is good and is what we should expect from a quality machine.
The ProForm Pro 9000 also has a wonderful incline system. It can incline up to 15% and decline down to -3%, great if you enjoy training both uphill and downhill.
Running downhill is actually more challenging than you may think. If you are a serious runner, training on downhills is a smart move to improve your overall performance outside.
To go along with the strong motor and spacious running surface, the ProForm Pro 9000 also includes the ProShox cushioning system many of the other ProForm machines offer.
This system is designed to reduce compression forces through your joints as you run- and a great shock system is important for running treadmills.
This treadmill has great tech as well. It has one of the nicest display screens in it's price range- a 10″ full color touchscreen with 38 workout programs available.
Not to mention the internet and bluetooth connectivity that allows you to use iFit right from the display screen.
Overall, the ProForm Pro 9000 is a great treadmill for running. The motor is packing some serious muscle (actually, the mach Z motor is similar to the motors used in their commercial grade treadmills) and the ProShox cushioning system does a great job of reducing stress. See full review.

For more great options, check out my complete running treadmill guide.
---
The Best Luxury Treadmills Of 2021
#1 Life Fitness Platinum Club Series Treadmill
Life Fitness's Platinum Club Series machine is the epitome of a luxury home treadmill. This model is commercial grade from top to bottom.
You wouldn't be able to tell the difference between this treadmill and one of their commercial machines if Life Fitness didn't designate them so.
Although Life Fitness is mostly known for their commercial fitness equipment, they do offer a home lineup as well. They offer several treadmills for home use, but the Platinum Club Series is by far their highest-end unit.
Specs
Motor: 4.00 CHP AC, 0.5-12 mph speed range
Running surface: 22″ x 60″
Weight capacity: 400 lb
Warranty: Lifetime frame and motor; 10-year parts; 3-year console; 1-year lab0r
You'll notice this treadmill comes with an AC motor. I point this out because commercial treadmills are usually the only ones that come with AC motors. Most home treadmills come with DC motors (although we're starting to see more models with AC motors).
AC motors are equipped to handle hours of use each day without over heating or breaking down. Most DC motors can't offer this.
With this motor, the Platinum Club Series can easily handle households with multiple users using it for hours a day. Even for advanced runners who are cranking the speed up and tackling high inclines.
Speaking of multiple users, this treadmill comes with unlimited saved user profiles.
As you'd expect from a treadmill in this price range, the Platinum Club Series is built like a tank. You'll quickly notice how thick and robust the frame is- just like something you'd see at your neighborhood gym.
This treadmill also comes with a very advanced console. The SE3 HD touchscreen display gives you access to television, the internet, apps, and a full lineup of interactive courses and workouts.
The specs and features are top notch, but the warranty is just as impressive. The lifetime guarantees on the frame and motor will give you a little peace of mind when making an investment of this size.
Overall, there's no finer specimen of home treadmill than the Life Fitness Platinum Club Series. If you have the cash and are looking for the best of the best, you found it. See full review.

#2 Sole TT9
The high-end, luxury treadmills should look and feel like the commercial grade machines we use at the local gym. In terms of high-end treadmills for the home, the Sole TT9 treadmill is the gold standard.
By now, it's probably no secret that I'm a fan of Sole. How many Sole models made this list? 3? 4? I lost count. Anyway, the TT9 is their most advanced treadmill to date, both in terms of specs and hi-tech features.
Specs
Motor: 3.00 CHP AC, 0.5-12 mph speed range
Running surface: 22″ x 60″
Weight capacity: 450 lb
Warranty: Lifetime frame, deck and motor; 6-year electronics; 3-year lab0r
The first thing that really stands out about the TT9 is its AC motor. Most home treadmills come with DC motors because they are cheaper and use less power.
Commercial grade machines use AC motors because they're more powerful, more efficient, and they last longer.
Just like the Platinum Club Series, with its AC motor, the TT9 is well-equipped to handle hours of daily use from multiple users without overheating or breaking down.
Another great feature of this treadmill is its Cushion Flex Whisper Deck shock absorption system that apparently reduces strain through your joints by as much as 40%.
This and the extra thick commercial grade belt give the TT9 the comfortable feel you'd expect from a gym quality machine.
Another pleasant surprise is its 10″ touchscreen display. Sole isn't exactly known for adding hi-tech features on their treadmills, but with the TT9 they switched things up.
The large screen can also connect to the web, allowing you to browse the internet and check emails during your workouts.
The biggest con for this treadmill is probably its size- this thing takes up a good chunk of floor space (and doesn't fold). But if you have the room and budget for this bad boy, you won't be disappointed. Truly commercial grade quality. See full review.
Unfortunately the TT9 has been discontinued. If you're lucky, you may be able to find one through Amazon or another retail site. The closest alternative to the TT9 is the Sole TT8 which is still being sold through Sole. Sorry.

#3 NordicTrack Commercial 2950
I'm not sure NordicTrack's Commercial 2950 has a price tag steep enough to really count as a "luxury" machine, but this is definitely one of the best treadmills around so it had to make my list somewhere.
Well, the MSRP on this bad boy is $3599, so we can count it as a luxury model (although it's always on sale so you don't have to ever worry about paying full price).
Specs
Motor: 4.25 CHP, 0.5-12 mph speed range
Running surface: 22″ x 60″
Weight capacity: 300 lb
Warranty: lifetime frame and motor; 5-year parts; 2-year lab0r
The 2950 has the specs to pretty much fit into any category above (except for the budget treadmills of course). With a 4.25 CHP motor under the hood, this machine has enough muscle to reach and comfortably maintain the higher speeds that weaker treadmills may struggle with.
This is actually one of the strongest motors you'll ever find on a home unit, making this a wonderful running treadmill.
All the other specs are top notch, but what really sets this treadmill apart is it's 22″ HD touchscreen display. Pair this gorgeous screen with the unlimited workouts offered through iFit and you'll never think about going to a commercial gym again.
Even if iFit isn't your thing, you can still take advantage of the 40 built-in workouts that come standard on this treadmill.
The 2950 is hi-tech all around. Besides the screen, you also get bluetooth speakers/data tracking, chest strap HR monitoring, and quick touch speed and incline buttons.
Speaking of incline, this treadmill can decline down to -6% for training downhill- a cool feature for serious runners who may be training for a road race.
All this and it's backed by a great warranty makes the 2950 one of the premiere home treadmills of the year. On sale, it's one of the best buys you're gonna find. See full review.

---
Final Thoughts
There you have it – 12 of the best treadmills 2021 has to offer. I chose to organize them based on the 4 different criteria because I think it will help you find the right treadmill. It also helped me organize my thoughts.
Right off the bat, if you can determine what type of treadmill (folding or non-folding) you want and what type of exercise you plan on doing (walking, running, both) it should make the search a little easier.
Once those decisions are made, it's all about knowing your price range and what features are most important. The higher your budget is, the easier it is to get everything you want. That's just the way it is.
But as the affordable treadmill section shows us, there are great treadmills at every price point.
I suggest you concentrate on the specs that matter the most (running surface, motor, and warranty) before you get too wrapped up in the tech and features.
If space is an issue, you might want to consider a folding treadmill. The ability to fold really does cut down on the amount of space the machine takes up when not being used. Most have transports wheels that make moving the treadmills pretty doable.
Luckily, most of the top home models these days are folding.
I hope you found this buying guide helpful. I know finding a new treadmill can get a little overwhelming at times, with all the options. Not to mention the cost- even buying an affordable treadmill is still a considerable investment.
But knowing what to look for and knowing what to expect makes all the difference in the world.
If you are still uncertain or have any questions, that's ok. I'm here to help. Just leave any questions or comments below and I'll get right back to you.