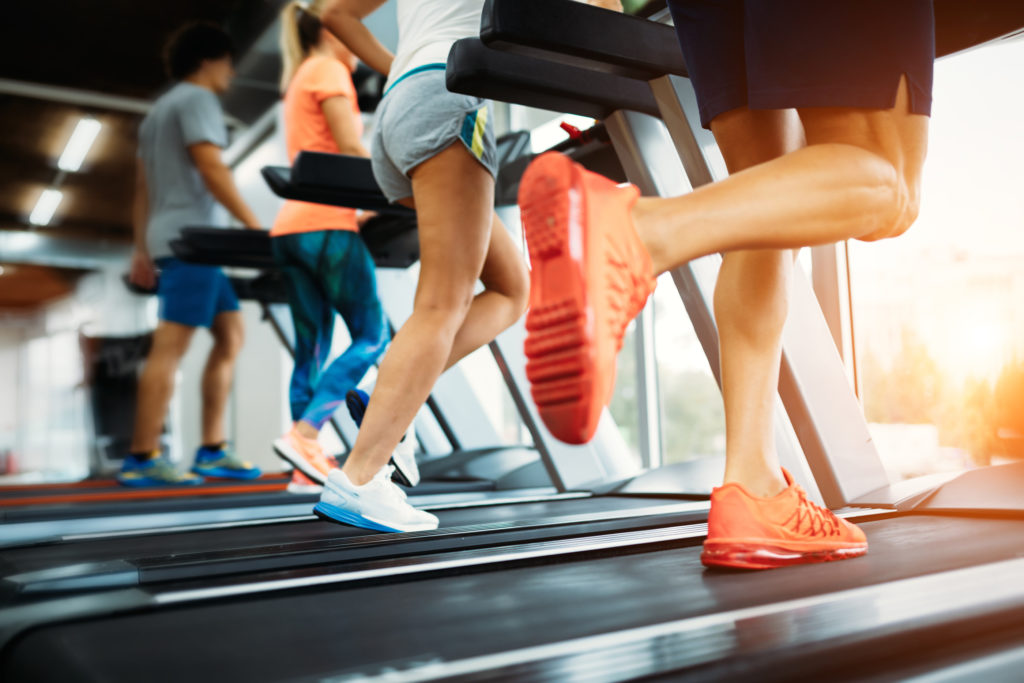 Sole's F85 Treadmill offers a great combination of power and finesse.
Between the powerful motor, large running surface, and new fancy console, one could make a pretty solid argument that the F85 is the finest treadmill around in the $2000 price range.
Am I here to make that argument?
Hmm, not sure yet, but I'll probably make my mind up by the time I finish this review.
Seriously though, the F85 is a stellar treadmill provided by one of the most impressive brands in home fitness. It's no wonder this treadmill often finds itself near the top of annual "best in class" lists.
Anyway, this review is here to show you everything this treadmill has to offer.
In this review, I'll go over all the specs and features this treadmill comes with, but I'll also try to provide a little insight in how it stacks up against some of the other top options in this price range.
After reading, you'll know everything you need to in order to decide whether or not the F85 is the right option for your home gym.
So sit back, relax, and enjoy the show.
The Sole F85 Treadmill
I want to start out by saying I'm a big fan of Sole Fitness's work.
I love how understated they are. You never see a lot of fancy commercials or marketing for their products because their users' reviews speak loudly enough.
I also like that they keep things simple.
One thing you'll notice about all Sole fitness equipment is that they're pretty easy to use. You won't find a lot of complicated programs or screens on the consoles.
Although that said, Sole is certainly starting to amp up their console game, as you can see by all the updates they've been making.
Sole Fitness started out providing treadmill for hotel chains and gradually worked their way into the home fitness market.
All of their treadmills, even the more affordable ones, are heavier duty than you'd expect.
I'm guessing that they learned from their experience in the light commercial arena that heavy duty products work better and last longer.
Sole's lineup has several models to choose from and they offer models in every price range, from their budget friendly F63 to their highest-end TT8.
Although their most famous for their treadmills, Sole offers some pretty awesome ellipticals, exercise bikes, and rowers too.
The F85 we're here to discuss now is one of their mid-range treadmills and will cost ya right around $2k, give or take.
I think the moderate price level is where we usually find the best deals (and the F85 is no exception).
Pros
22″ x 60″ running surface
Cushion Flex Whisper Deck
Folding deck
4.0 CHP motor
Top speed of 12 mph
-6 – 15% incline/decline
Sleek frame design
15.6″ touchscreen display
Access to entertainment apps
Heavy-duty frame
375 lb max weight capacity
2.75″ rollers
Bluetooth speakers
Screen mirroring
Wireless charging pad
Quick touch speed/incline buttons
Awesome warranty
Cons
Console has been known to have a few glitches
Running Surface
Personally, when I'm researching treadmills I always look at the running surface first. I think this is one of the easiest ways to tell a high-end treadmill from a dud.
And that's because higher-end treadmills will come with larger running surfaces (usually- this is the rule, but there are exceptions).
And by larger running surface, I mean at least 20″ x 60″.
Treadmills with a running surface of 20″ x 60″ will be able to comfortably handle pretty much all users without any issues.
This means that you'll be able to walk or run at top speed without having to worry about altering your stride.
Which is crucial for a comfortable workout experience.
I don't know about you, but if I'm looking for a treadmill to run on, I want to make sure it's long enough to accommodate my full stride.
Running surface isn't as important if you're just looking for a treadmill to walk on, but that said, larger is always better.
Well, the Sole F85 comes with a 22″ x 60″ running surface.
Not only does this meet our size goal mentioned above, but it actually exceeds it by 2″ on the width.
The extra room is a nice luxury because you'll have plenty of wiggle room to work with.
So, if you sway a little while walking or running, you won't have to worry about running out of belt space (or falling off the treadmill).
The running surface is generous, but the deck itself is pretty sophisticated too.
The F85 comes with Sole's Cushion Flex Whisper Deck (great name)- this is basically just their shock absorbing system.
According to Sole, their Cushion Flex system can reduce the impact your joints experience by up to 40%.
I don't know about that, but it does provide a pretty comfortable feel.
I also like how heavy duty the frame is – this treadmill weighs 319 lb fully assembled and has a user weight capacity of 375 lb.
Both of these numbers are more impressive than most of the home treadmills we see these days, making it a great treadmill for the bigger and taller folks out there.
A larger, more robust treadmill like this is going to move and wobble less during your workouts.
It's also going to be able to handle the stresses of daily use better, which is evident by the warranty Sole backs this machine with (more on that in a sec).
Oh, the F85 is also a folding treadmill.
I know, it's surprising that a treadmill this beefy would also be able to fold, but it does.
So, if space is limited, you can easily fold this treadmill vertically and cut its footprint roughly in half when not being used.
Overall, the F85 scores very highly with its large, heavy-duty deck.
Motor
If the running surface is my first priority, the motor is my second because a good treadmill needs a motor strong enough to handle reaching and maintaining higher speeds.
Well, if you plan on running anyway.
Regardless of what your plans are, the F85 should be able to handle it.
This treadmill comes with a 4.0 CHP motor that is capable of reaching a max speed of 12 mph.
It also comes with 15 levels of power incline to bump up the intensity level of any workout as well as 6 levels of power decline, giving you the option to train downhill if you like.
At 4.0 CHP, the F85 has plenty of muscle to maintain those higher speeds without crapping out. – and it also has one of the strongest motors in its price range.
Horizon's 7.8 AT also comes with a 4.0 CHP motor, but it's got NordicTrack's Commercial 1750 beat by half a horse.
I always encourage runners to look for a treadmill with at least a 3.0 CHP motor under the hood.
This really should be the cutoff point for folks looking to log some serious miles on their treadmill and the F85 easily surpasses this.
Sole also built this treadmill with 2.75″ rollers to help this powerful motor provide a smooth and quiet ride.
FYI, rollers are the part that makes contact with the belt, propelling it along the track.
For the sake of comparison, many competitors use rollers in the 1.9″ – 2.5″ range, making Sole's larger by quite a bit.
When it comes to rollers, larger is better because they make more surface contact with the belt – this reduces stress through both the rollers and the belt, prolong the life of both.
It also creates a smoother feel.
Sole also uses 2-ply belts with 4 layers – these thicker belts add a little extra cushion and also last longer because they're less likely to stretch out over time.
Overall, Sole did a great job providing the F85 with a powerful motor and large rollers.
Features
The Sole F85 Treadmill comes with the following features:
15.6″ touchscreen display- the F85's new console includes a large, touchscreen display that makes it easy to make all selections during your workouts. It also comes with several built-in entertainment apps, including Netflix, YouTube, Amazon Prime, Hulu, Disney+, and more. There have been complaints regarding Sole's software being a little glitchy in the past, but it looks like they've got that fixed with this new update.
10 workout programs- you can access the same standard workouts Sole offers on all their machines, including 6 profiles, 2 custom workouts, and 2 heart rate guided options.
12 customizable programs- along with the preloaded profiles, you can also customize and save a dozen of your own workouts.
Bluetooth speakers- with the built-in bluetooth speakers, you can wirelessly connect your phone or mp3 player to the console and listen to your playlists through the treadmill.
Bluetooth compatibility with apps- you can also connect this treadmill with your phone for data tracking and all that jazz. You can use the free Sole app that gives you access to thousands of instructor-led workouts or one of several other popular fitness apps.
Heart rate monitoring- this treadmill is compatible with strap heart rate monitors, so you can get more accurate readings if you want to.
Wireless charging pad- with the new upgrade, you can charge your phone wirelessly while you workout.
Screen mirroring- you can mirror you phone or tablet's screen on the console, allowing you to access any fitness or entertainment app you want.
Cooling fan- this is pretty standard, but it might help keep ya a little more comfortable during your workouts.
Quick touch speed/incline buttons- this is a nice feature, especially if you like to do interval training. Hit the quick touch buttons and you can instantly set your speed or incline to one of the predetermined values.
Integrated tablet holder- the tablet holder is conveniently located above the console so you won't block the screen when you're watching Netflix on your tablet.
Assembly
Sole always does a great job with their assembly manuals.
I love that they show you ahead of time which hardware will be used for each step- and they also provide a to scale image of that hardware so you know what you're using along the way.
Assembly for the F85 is pretty straightforward.
There's only 9 steps and you're basically just attaching the console to the deck via the support beams.
The most challenging part is probably step 4 where you have to connect the wires from the deck to the console before attaching the console to the supports.
It would be convenient to have another set of hands for this step, but you could always place the console on a table at roughly the right height and do it yourself.
The most challenging part of assembling this treadmill would be the fact of how heavy it is.
Keep in mind this machine weighs 300 lb. You'll need some help moving this bad boy to its final destination prior to assembly.
Overall though, most fairly handy folks should be able to assemble the F85 by themselves (or with a helper).
Warranty
The Sole F85 comes with the following guarantee:
Lifetime frame
Lifetime motor
3 year deck/parts
1 year labor
The warranty on this treadmill is pretty great and it beats out what a lot of the competition is offering.
You can't beat lifetime on the frame and motor and three years on parts and electronics is also really good (although Horizon does offer 5 years on parts).
A year on labor is par for the course, so nothing too special there.
Overall though, I think it's a great guarantee for a treadmill in this price range.
Final Thoughts
Ok, I really like this treadmill.
I love that it has an over-sized running surface and one of the most powerful motors you'll find on a home model.
I also love the generous warranty which provides some extra peace of mind when making a purchase of this magnitude.
The new touchscreen console is great and it's cool to see that they've added entertainment apps and screen mirroring because that does open up a lot of possibilities when it comes to fitness apps.
And it's nice that you don't have to sign up for a streaming membership to get access to all the cool stuff this console has to offer (I'm looking at you NordicTrack).
All things considered, I think the F85 is awesome and easily one of the best treadmills in the ~$2000 price range.
But it's got a lot of competition.
Horizon's 7.8 AT is usually priced a little cheaper and it comes with the same sized running surface and motor, as well a heavier frame and better warranty.
But the F85's new console is much more sophisticated than Horizon's.
There's also NordicTrack's New Commercial 1750, which comes with a snazzy HD touchscreen console and all the iFit streaming features you can handle.
But the F85 comes with a larger running surface, stronger motor, and better warranty.
Of this group, the F85 offers a great combination of both console features and performance, giving folks looking for both a perfect alternative.
Anyway you look at it, this treadmill can easily hang with any competitor in its price range and it's easy to see why this has become Sole's most popular model.
Truly a great home treadmill. Highly recommended.