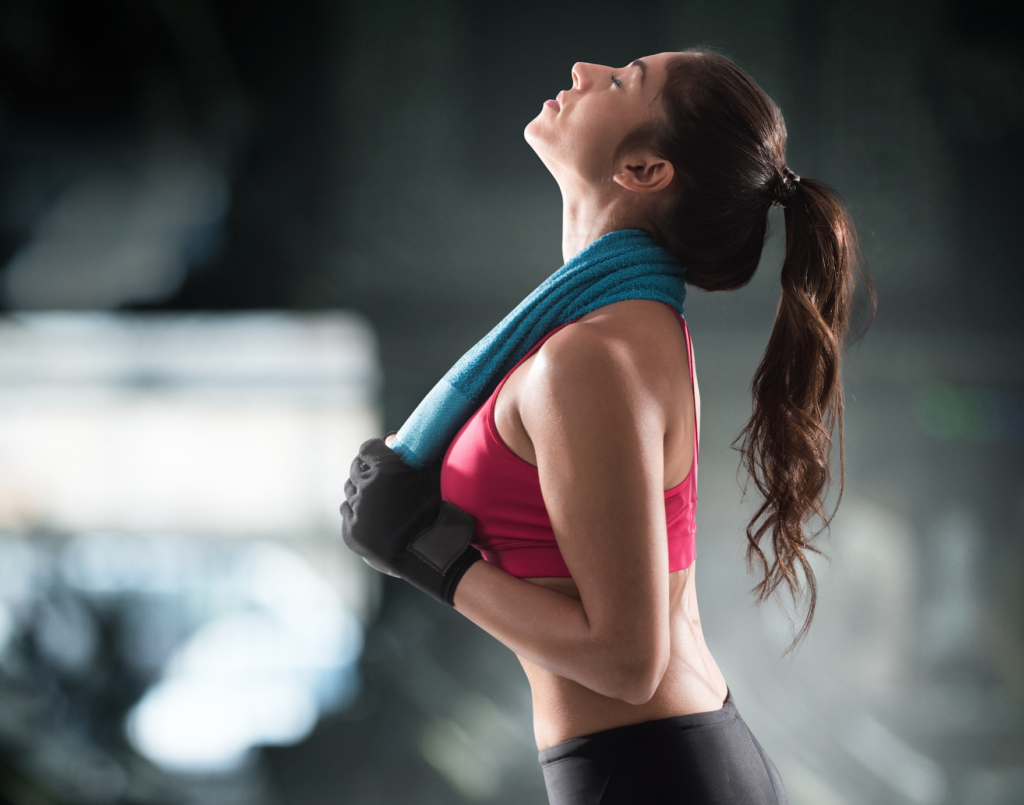 Recumbent cross trainers have been popular in the rehab setting for a long time because they offer a safe, comfortable way to strengthen your legs and improve cardiovascular health.
This is often a challenging task right after surgery or for people with mobility issues. This is why these machines can be found in almost every rehab clinic around the country.
Turns out you no longer have to go to therapy to reap the rewards from recumbent trainers. Nowadays, manufacturers are producing machines designed specifically for home use.
This is great news for the people out there that have a hard time exercising due to physical limitations.  Instead of having to go out to therapy or find someone to take you to the local gym, you can purchase a recumbent trainer and exercise safely in the comfort of your own home.
But, like any other fitness equipment, you need to know what to look for before making a purchase.
Doing your research is the best way to reduce your chances of buying a lemon. Luckily, you've come to the right place!
My guide is here to teach you everything you need to know about recumbent trainers, including what you should look for and how to compare different models.
I've also included my top picks for the trainers available for home use.
Let's start from the beginning.
What Is A Recumbent Cross Trainer?
If you've accidentally stumbled across this article or aren't exactly sure what counts as a recumbent trainer, let's make sure we're all talking about the same thing here.
A recumbent cross trainer, or recumbent trainer, or recumbent elliptical trainer, or recumbent stepper is a combination of a recumbent bike and an elliptical trainer.
The seat resembles the large, comfortable seat associated with recumbent bikes. But instead of pedaling like you do on a bike, you are pushing large pedals back and forth with your feet.
You also get to use handles for your arms, just like most ellipticals let you do.  This is great because you can effectively get a full body workout while sitting comfortably on a large seat with backrest.

If you've never heard of a recumbent trainer, you may have heard of the NuStep, the first (and most popular) recumbent trainer.
It came out in the late '90s and was designed by a bio-medical engineer and an exercise science guy from Michigan State. The goal was to create a safe cardio machine for people who had had cardiac surgery.
It was marketed to physical therapy clinics and rehab settings and the rest is history. You can find a NuStep in pretty much every therapy clinic these days, and for good reason- they work very well.
NuSteps are awesome, but they are also very expensive. They claim they have "home models", but their most affordable machine is about $4000. If you have the money, you can't go wrong with a NuStep. Their biggest flaw is their steep asking price.
When I think of home exercise equipment, I think of equipment that is usually a little more affordable.
I was actually inspired to write this article after a discussion I had with one of my patients. For those of you who aren't aware, I'm a physical therapist in my day job.
I do home health- that's where I travel to my patient's houses and treat them in the comfort of their homes.
Anyway, my patient had recently had a total hip replacement and was talking about how much he loved using the NuStep at therapy before his surgery.
He wanted to purchase one for his home, but was disappointed when he saw how much they cost. He asked me if I knew of any cheaper options…
I said I would look into it for him and the idea for this article was born.
Long-story-short, yes, there are more affordable options available. And yes, some of them have a lot to offer and are worth buying.
And yes, you guessed it- those elliptical trainers worth buying are the ones I've reviewed below.
How To Choose A Recumbent Cross Trainer
When it comes to recumbent trainers, the options aren't quiet as vast as they are with recumbent bikes or ellipticals. Searching online, you may only come up with a handful of options for home use.
This definitely makes the search a little easier. You may even be able to use price alone, depending on your budget.
Even so, it's always a good idea to know what you should expect when comparing these machines. Here are a few key characteristics I suggest you examine during your search.
Use this info as a guide and make sure to compare these features among the different recumbent trainers you are considering.
Seat
The seats on recumbent trainers are always a little larger and they always have a backrest. Some seats will have an adjustable recline setting, which is a nice feature to have because it allows you to customize your position more.
Some seats may also offer arm rests- this can add comfort if you are exercising your legs only and not utilizing the arm handles.
The nicest seat feature found on some recumbent trainers is the ability to swivel. On these machines, you can release a lever and the seat rotates 90 deg to the side.
This makes it a lot easier to get in and out of and is especially helpful if you have mobility issues or are transferring from a wheelchair.
All of the NuSteps offer this feature, some of the competitors do too. Just a heads up though, trainers with swiveling seats are more expensive.
Pedal Motion
The motion of the foot pedals is something else to consider. The motion can be linear (like a stepper) or have a circular pattern that more closely mimics the motion of an elliptical machine.
It may not make much difference to you and you may not even really notice, but technically speaking a linear motion would provide the lowest impact workout.
If you have severe arthritis you may want to look for a machine with a linear pedaling motion to ensure as little impact as possible.
Features
You probably shouldn't expect all the fancy bells and whistles you see on other types of fitness equipment. These machines are usually pretty simple.
The console usually just displays metrics like steps, time, distance.
Some nicer machines might calculate METs (metabolic equivalents) or watts, but you shouldn't expect a lot of bluetooth functions with fitness app tracking (although some machines do offer this).
Most trainers will offer workout programs, but the number and sophistication of them will vary. Keep in mind these machines are designed for people who usually just want to hop on and ride.
Other important built-in features to look for include:
Walk-through frames- makes getting on/off easier
Adjustable handle bars- makes it easier to ensure the right fit for anyone
Adjustable resistance levels to accommodate users of any fitness level
Heart rate monitor compatibility
Weight Capacity
Like any type of fitness equipment, it's always a good idea to consider the weight capacity of the trainer you are considering. It needs to at least safely fit you or any family member that might be exercising on it.
If stuck between two options, always go with the machine with the higher weight capacity, it indicates superior strength and durability.
Recumbent trainers usually have weight capacities that are higher than other types of equipment. Nice trainers will start at 300 lb capacities and go as high as 600 lb.
Warranty
Last, but not least, is warranty. Always consider the warranty when making a recumbent trainer purchase. More expensive models tend to have higher warranties, but that rule is not written in stone.
These machines typically have warranties that are divided into frame, parts, and labor.
Labor is always the shortest warranty, typically 1-2 years.
Parts warranties usually vary between 3-5 years depending on the model.
Frame should be the longest, because it's the part that is least likely to fail. Good frame warranties can range between 5 years to lifetime.
---
The 6 Best Recumbent Cross Trainers For Home Use
#1 Teeter FreeStep LT1 Recumbent Cross Trainer – Most Budget Friendly
This cross trainer by Teeter is one of the most highly-rated trainers you can find online. It's also the most affordable. The first thing you might notice about the Teeter FreeStep is that it's actually pretty compact.
This is great if your workout space is limited and every inch counts. A downside to a lot of these machines is that they do take up a good amount of floorspace.
The seat on this trainer is a little smaller than some of the more expensive models and there are no arm rests. The recline setting of the backrest is adjustable to help keep you more comfortable during your workout.
Unfortunately, the seat doesn't swivel- and I'm not surprised, it would be pretty impossible for a trainer this affordable to include a high-end feature like that.
The Teeter FreeStep utilizes a liner step motion, similar to performing a step machine while sitting comfortably. This pattern should limit the stress through your hips and knees as much as possible.
The handles are large and do offer some grip variety that can allow you to emphasize certain upper body muscle groups during your workout.
When it comes to features, the FreeStep doesn't offer a lot. It has adjustable handle bars and a small LCD display that shows your workout stats. It also has a water bottle holder and a small shelf on the display where you can place a smart phone.
This recumbent trainer has a max weight capacity of 300 lb. This is on the lower side of our expected range, but still respectable.
Especially considering the price. Considering the smaller footprint and lower weight capacity, the FreeStep may be better suited for smaller users- that said, 300 lb will still fit most users.
The warranty department is where the FreeStep really falls short in my book. Teeter only offers a 1 year warranty on this trainer. There's just no getting around it, this is an awful warranty.
Users all seem to agree the machine is well-built and feels sturdy during use…but only 1 year?
Overall, the Teeter FreeStep is a good choice if you are on a tighter budget. It's designed with a compact footprint and still offers most of the sought after qualities the more expensive machines offer.
In my opinion, the only place where this trainer is really lacking is in the warranty department. For the price though, there's no better option. See full review.

#2 Spirit CRS800S Recumbent Stepper- Best High End
If you're working with a slightly higher budget and looking for a recumbent trainer that can stand toe to toe with most commercial  machines, Spirit's CRS800S is a safe bet.
And what makes this model commercial grade?
For starters, the CRS800S is heavy-duty and easily accessible. When it comes to the frame, this machine is tough enough to handle users weighing up to 450 lb, allowing it to hold smaller and larger folks alike.
This steppers weighs 262 lb itself, which is quite substantial for a home fitness machine.
One of the nicest features on it is the over-sized seat that comes with a reclinable back rest. The seat also swivels, making it easy to get in/out of, regardless of any mobility issues you may have (and there are adjustable arm rests too).
It also has a low, walk-through frame that makes it easy to access from either side.
The CRS800S utilizes a very linear pedal motion, making for a comfortable exercise experience for all. The pedals are large and cushioned and the handles are multi-grip and adjustable.
The console is pretty simple, but it's easy to use and does come with 10 or so built-in workout programs.
And if you're a sucker for a great warranty like me, you'll love this- the CRS800s comes with one one of the best warranties you'll ever find:
Lifetime frame
10 year parts
2 year labor
Yeah, 10 years on parts…crazy.
Overall, if you're looking for a commercial grade recumbent cross trainer that can hold it's own with NuStep, Spirit's CRS800S is worth considering. See full review.

#3 Inspire Fitness CS3 Cardio Strider – Most Bang For The Buck
The CS3 Cardio Strider is kind of priced in the mid-range between the Teeter and the higher-end trainers like NuStep. With the extra money you get some pretty significant upgrades- more advanced console, nicer seat, and a more serious warranty.
This machine is priced well and has everything it needs to make it a great choice for a home trainer.
The seat on the CS3 is a little larger than the one on the Teeter, but it still doesn't have arm rests or swivel. It too is recline adjustable with 3 positions. The frame isn't quite walk-through, but the step through height is pretty low, making it easy to access.
The handles are adjustable and offer multiple grips to customize your upper body workout. You can also rotate them easily to match the position you need. This comes in handy when you are emphasizing your arms- after all, these machines do offer a full body workout.
The CS3 also utilizes a pretty linear pedal motion, good for reducing stress through your joints. This trainer has stationary foot rests you can park your feet on if you want to isolate your arms.
You can also place your arms on stationary handlebars if you want to isolate your legs.
I mentioned the console is a lot more sophisticated, that might be an understatement. It' much larger, it's blue backlit and it comes with 10 preset workout programs.
It also offers 20 different resistance levels, enough to challenge you regardless of your fitness level.
And not only is the CS3 heart rate monitor compatible, it comes with a Polar chest strap monitor!
The max weight capacity on this trainer is 300 lb, same as the Teeter. Should be enough to fit most users comfortably, but if you require a higher weight capacity this isn't the right machine for you.
The warranty offered by Inspire Fitness is pretty awesome. They offer the following warranty on the CS3 Cardio Strider:
Lifetime frame
5 year parts
1 year labor
This is actually one of the best warranties I came across while doing my research for this article. If I remember correctly, it even beats out NuStep. If you're looking for a recumbent trainer that is built to last, this could be the one for you.
Overall, the CS3 has a ton to offer. With several workout programs to choose from and 20 levels of resistance, getting a good workout won't be a concern.
And if you are worried, Inspire Fitness is throwing in a heart rate monitor to ensure you are working at your desired intensity. The CS3 offers a great combination between features and price- it's definitely earned it's way on this list.

#4 Octane Fitness xR6xi Recumbent Elliptical – Most Hi-Tech
Octane Fitness offers several different recumbent trainer models with the xR6's being the most advanced home units. This machine offers a level of luxury most of the others simply can't.
I like the xR6xi because it looks like something you would see in your local gym. The design is very inviting- but you know what they say, you can't judge a book by it's cover…luckily in this case, the content is just as impressive.
Starting with the seat, you'll notice that's it's large. You'll also notice the large lever right below the seat- this makes adjusting the height easy and accessible.
You can also adjust the recline setting here, but unlike the other trainers that simply changes the backrest angle, this one actually tilts the entire seat/backrest combo. The result is a more comfortable position to operate.
The handlebars are large with plenty of grip options- this makes working out more comfortable and allows for specific muscle isolation.
The pedal motion on the xR6xi is a little more circular than some of the other machines we've discussed. Not as circular as a traditional elliptical, but more so than a purely linear motion.
Octane Fitness claims this helps you activate your glutes more- I'm not sure about that, but users agree it feels smooth and comfortable to use.
This recumbent trainer is loaded with features. Easily the most features we've seen thus far. Key features include:
Compatible with Octane Fitness app for fitness tracking and more workouts
Compatible with Polar and ANT+ heart rate monitors
Polar chest strap included!
9 preprogrammed workouts
"Workout boosters" to help you isolate certain muscle groups and burn more calories during your workouts
Multicolor "smart light" gives you visual cues of your workout intensity and helps you stay within your zone
The xR6xi also has a 300 lb weight limit. Their commercial grade machines go up to 400 lb. Either way, this trainer is built solid enough to hold up to intense workouts.
And in the case that something does go wrong, Octane Fitness is backing this machine up with one impressive warranty:
Lifetime frame
5 year parts
1 year labor
Overall, I'm really impressed with the xR6xi (and all of Octane Fitness's recumbent ellipticals). It has by far the most advanced features of any of the trainers discussed thus far and it comes with an awesome warranty to back it up.
I also like that it actually looks like it's fun to use and not like it should be found in a therapy clinic (no offense NuStep).

#5 HCI Fitness PhysioStep LXT Recumbent Cross Trainer – Most Accessible 
HCI is another company that offers an impressive recumbent trainer lineup. Impressive enough to give NuStep a run for their money even.
The LXT looks a little more "rehaby" and doesn't have all the cool console features like the xR6xi, but it does have something no other trainer listed so far does…a swivel seat.
Yup, this trainer does come with a swivel seat. And this is a game changer for folks who are transferring from a wheelchair or who have mobility issues that make it difficult to step over the frame to get in.
Turning the seat away from the pedals gives you a lot more room to get on and eliminates the need to step over the pedals to get in.
The LXT has a linear pedal motion that provides a natural, gentle back and forth motion that is easy on your joints. This is the most comfortable pattern for achy knees and hips. The large pedals actually have straps to help keep your feet in place.
This is another great feature because I see people all the time that have a hard time keeping their feet on the pedals (either due to weakness or mobility restrictions).
The console doesn't look that high-tech, but it's large and easy to read. The LXT comes with 18 preprogrammed workouts and 16 resistance levels. This gives you a lot of control over your workouts.
It also means this trainer can offer you a tough workout regardless of your fitness level.
The LXT is also compatible with wireless heart rate monitors, however one isn't included.
Another thing this trainer has going for it is that it can hold users up to 400 lb. This is the highest weight capacity thus far. This is amazing for a home fitness machine and can even hold up to commercial grade equipment.
The LXT also has it going on in the warranty department. HCI is backing this machine up with a lifetime frame warranty, a 3 year parts warranty, and a 1 year labor warranty.
Very impressive. Seeing a great warranty like this should give you a little more peace of mind.
As you can see, the LXT has a lot to offer. This is a perfect choice if you have mobility issues. The swivel seat makes getting in and out so much easier.
The warranty is also great. But if you are looking for fitness tracking or bright lights, this isn't the recumbent trainer for you.
PS- this trainer is several hundred bucks less than the xR6xi and NuStep

#6 HCI Fitness PhysioStep RXT Recumbent Cross Trainer – Best Weight Capacity
Rounding out the list is another HCI Fitness produce, the PhysioStep RXT. This trainer is priced the same as the LXT model we just looked at, but does have a few key differences.
Choosing between them would be a matter of preference. Personally, I prefer the LXT, but depending on what you are looking for, this might be the right fit.
The first big difference is that the RXT doesn't have a swivel seat. The seat does recline and is fully adjustable, but no swivel. The handlebars are also larger and offer multi-grip positions which I do like.
Speaking of which, I forgot to mention that the handles on the LXT swivel- some users don't like this and prefer the stationary ones (they are also available for that model).
The pedal motion is also different on this trainer. The RXT utilizes a more circular, elliptical style pattern. This is where preference comes in.
I like the linear motion better for achy joints, but if your legs feel fine you won't have any trouble with the elliptical pattern. It too is low impact.
The console on the RXT is very similar to the one found on the LXT. Same number of workout programs and same number of resistance levels (18 and 16 respectively).
The biggest difference is that the RXT is self-powered, meaning there is no electrical plug-in to the wall. The LXT has to be plugged in to operate. The RXT is also compatible with wireless heart rate monitors.
This recumbent trainer has a 500 lb weight capacity. We have a new winner! Yes, this trainer has the highest weight limit of the bunch. Looking at the image you'll notice the RXT has that extended stability bar across the front.
I'm guessing this is the reason the weight limit is so much higher on this model. This is a great option for the larger users.
Finally, the RXT has the same great warranty as the LXT: lifetime frame, 3 year parts, 1 year labor. You can tell a lot by the warranty a company places on it's products.
This warranty tells me HCI is confident that their stuff actually works and that they are built to last.
Overall, the PhysioStep RXT is another great recumbent trainer. If you prefer the elliptical pattern and the higher weight limit, this is the trainer for you.
It's also nice that you don't have to worry about plugging this thing in, you can put it anywhere and it'll work just fine.

---
Final Thoughts
Recumbent trainers are great, especially for people suffering from arthritis or mobility issues, because they offer a safe, comfortable mode of exercise.
They work well for improving cardiovascular function, but can also help improve strength and flexibility.
When looking for the best recumbent cross trainers, it's a good idea to know how to compare apples to apples.
Comparing traits like the seat, the console, weight capacity, and warranty gives you a guideline of how to see how these machines truly differ from each other. It also helps you organize your thoughts and figure out which features are most important for you.
All though there aren't quite as many recumbent trainers on the market as there are bikes or treadmills, there are still plenty to choose from.
The options also fall into a pretty wide price range, with the most economical choices starting around $700 and ranging upwards of $5000.
The recumbent trainers I discussed here all made the list because they have the most to offer for the price and are the highest rated.
I hope you found this article helpful. If you have any questions or comments, please leave them below and I'll get right back to you.