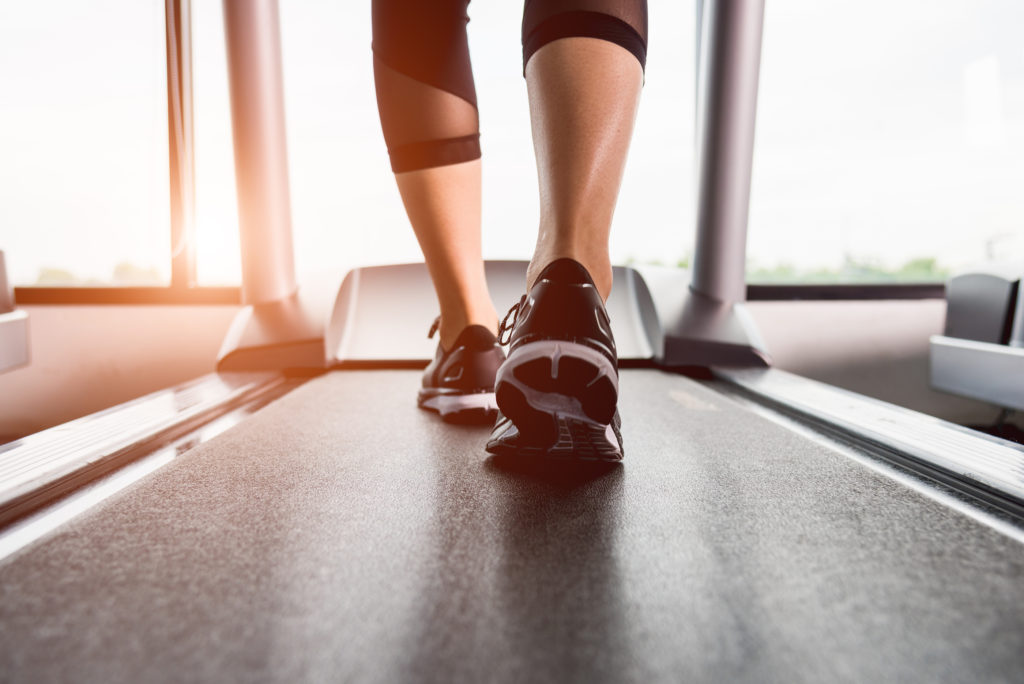 Although the F63 is Sole's most affordable treadmill, you'd be hard pressed to guess it based on the impressive spec sheet this machine is sportin'.
With a motor and running surface beyond its price point, the Sole F63 is a bargain hunter's dream. It also comes with a few extras you wouldn't expect at this price.
If you're looking for an affordable treadmill that feels like a high-end model, the F63 might be a good fit.
But in order to make that call, you have to know why this treadmill comes so highly rated. What sets this treadmill apart? Which specs are most important to consider when looking for a home treadmill?
I want to answer that last question briefly before I jump into the F63 review. Knowing what you should look for in a treadmill will make it a lot easier to know when you find one that's special.
Choosing A Treadmill
I realize a lot goes into the decision making process to purchase a treadmill. When you finally get to the part when it's time to start comparing machines side-by-side, it's a good idea to have a cheat sheet of stuff to compare.
Here's a boiled down version of the most important specs I think should be considered when looking for a treadmill. For the full version, check out my treadmill buyer's guide, which goes into a little more detail:
Running Surface
Running surface, also known as belt size, refers to the actual dimensions of the treadmill belt. Well, the part of the belt you get to use during your workout anyway. This is a crucial spec to consider because it's probably going to affect your comfort level during use more than any other feature.
The running surface of home treadmills varies greatly. If you get one with a running surface that is too small for you, you're going to know it instantly- because it's going to feel awkward to run on (or even walk on depending on how small it is and how tall you are).
Most home treadmills have belt widths in the 18-22″ range, with 20″ being the gold standard. The lengths usually range between 48-60″. Bigger is always better when it comes to running surface, especially if you 6 feet tall or taller.
Motor
The motor strength is another spec you should pay close attention to. Motor strength is measured in horsepower (HP) or continuous horse power (CHP). CHP is a more common measurement these days in quality treadmills , as it refers to the amount of power the motor can sustain over time- which is what we are interested in.
Most home treadmills are packing motors that are somewhere in the 2.0-4.0 CHP range. Stronger is usually better, but all motors are designed differently.
Some are just better equipped to sustain the necessary force to keep that treadmill running at peak performance.
If you're planning on running, you should be looking for a motor that's at least 3.0 CHP. That should ensure you have enough power to sustain higher speeds without wearing out the motor.
Warranty
Last, but not least, is warranty. I think warranty should be considered regardless of the type of equipment you're buying. When it comes to treadmills, the warranty is usually broken down into: frame, motor parts, and labor.
Quality treadmills will offer lifetime warranties on the frame and motor. Parts warranties vary, but usually land somewhere in the 1-3 years range. Labor warranties are always shorter, usually 1-2 years tops.
Some brands will break down the parts warranty a little farther into electronics and deck warranties.
Keep in mind, when it comes to warranties, longer is better. Also, more expensive treadmills usually have longer warranties (but not always).
The Sole F63 Treadmill
The Sole brand has earned an impressive reputation in the home and light-commercial fitness world. Sole products are known for being constructed out of high-grade materials and they're usually backed by generous warranties.
Sole offers several home treadmills and the F63 is their most budget friendly model. Like many of Sole's products, the F63 has been named "Best In Its Price Range" by several sources.
Pros
3.0 CHP motor
Spacious, 20″ x 60″ running surface
325 lb weight capacity
Folds for easy storage
10 workout programs
Built-in bluetooth speakers
Chest strap heart rate monitor compatible
Great warranty
Affordable price
Cons
Some complaints from users about squeaking
Running Surface
The calling card of a quality treadmill is its running surface. Regardless of price, you can tell a lot about a treadmill by how spacious its operating surface is.
The F63 scores highly on this important spec with a belt size of 20″ x 60″. This is the gold standard for home treadmills- at this size, pretty much all users can run (or walk) comfortably without having to shorten their stride.
If you're well over 6′ tall you might have issues sprinting, but if you're that tall, you're gonna have issues on pretty much all home treadmills- sorry.
Another great perk this treadmill has going for it, is that this is a folding treadmill. The deck can fold up vertically when not in use for storage.
The "easy assist" mechanism uses hydraulics to make it easy to fold, which is a plus considering the weight of this machine.
The F63 also has a max weight capacity of 325 lb, which is impressive for a treadmill in this price range. The higher weight limit indicates superior frame strength and overall quality.
A lot of home treadmills max out around 300 lb, making the F63 a good choice for larger individuals as well.
Sole's "CushionFlex" shock absorbing technology will help reduce stress through your joints as you walk or run on the F63.
This is a nice feature for folks who have had joint pain or injuries in the past and are looking to reduce stress as much as possible during their workouts.
Motor
The F63 comes with a 3.0 CHP, DC motor. With this powerful motor, this treadmill can reach a top speed of 12 mph, which should be fast enough for most (5 minute/mile pace).
Sole uses heavy-duty flywheels with their motors to provide a smoother running experience for the users, but it also keeps the motor running cooler (which prolongs the life of the motor).
They also user large, 2.5″ rollers for smoother belt movement and a more durable running surface.
This machine also has 15 levels of power incline for added intensity. The incline level can be selected manually (0.5% at a time) or with the quick set buttons (the speed also has quick set buttons).
To keep things interesting, this treadmill offers 10 total workout programs: 6 preset (cardio, fat burn, etc), 2 heart rate centered workouts, and 2 custom.
Overall, the F63 is equipped with a strong motor and plenty of workout options to keep you working. Impressive for a treadmill under $1000.
Features
6.5″ display- the screen is large and brightly-lit, making it easy to see all your stats while working out.
Bluetooth speakers- the newest edition comes equipped with bluetooth speakers, giving you the option to listen to music from your phone through the treadmill. This is a great feature. It surprises me that more home fitness machines aren't including this.
Data tracking- the F63 also allows you to connect with the free Sole app for workout data tracking.
Integrated tablet holder- the new F63 model comes equipped with an integrated table holder and USB charging port. This lets you charge your smart devices and watch a movie while you exercise.
Cooling fan- the fan built into the console will help keep ya comfortable during those tough workouts
Heart rate monitoring- the F63 comes with grip heart rate monitors and is compatible with wireless chest strap monitors, making it easier for you to track your heart rate throughout your workouts
Water bottle holders- 2 water bottle holders will help keep you hydrated while you work
As you can see, the F63 comes pretty loaded for a budget treadmill. I love the fact that it comes with bluetooth speakers- a lot of the more expensive machines don't offer this, which is a shame because it's a great feature.
Assembly
Putting the F63 together is pretty straightforward. The deck of the treadmill comes preassembled, so you really just need to attach the console and supporting frame.
The instructions are well written and easy to follow. I like that they specify what hardware will be used for each step along the way. There are both written instructions and large images to follow.
You only need a screwdriver and a couple of Allen wrenches to get the job done and they are included.
Keep in mind that this treadmill weighs about 250 lb, so you might need some help getting it where you want it before assembling.
Otherwise, most people shouldn't have any problems putting this treadmill together by themselves.
Warranty
Sole backs the F63 up with the following warranties:
Lifetime frame
Lifetime motor
3-year parts (electronics and deck included)
1-year labor
This is a very generous warranty regardless of price range, but for a budget treadmill, this is amazing. Three years on all parts for a treadmill under $1000 is pretty rare. And you can't beat a lifetime warranty on the frame and motor.
Seeing this warranty shows us how much confidence Sole has in their products. Which is warranted given the quality of materials they use to build these treadmills.
Final Thoughts
Looking back at the 3 specs I suggested you consider at the beginning of this review, it's easy to see why the F63 has become so popular.
With a 20″x60″ running surface, walking and running should be comfortable for most users. And with a 3.0 CHP motor, we know it's got enough power to get the job done.
And when it comes to warranty, Sole's generous guarantee should inspire confidence in this treadmill.
Add on a few extra features like an easy-folding deck and bluetooth speakers and you've got the full package.
If you're looking for an affordable treadmill that is designed to perform, the Sole F63 is a perfect choice. It's packed with features and specs that are rarely seen on a treadmill this affordable.
And to make things even better, it has one of the best warranties in the industry.
Long-story-short: the F63 is a great buy and easily one of the best budget treadmills around if you ask me.