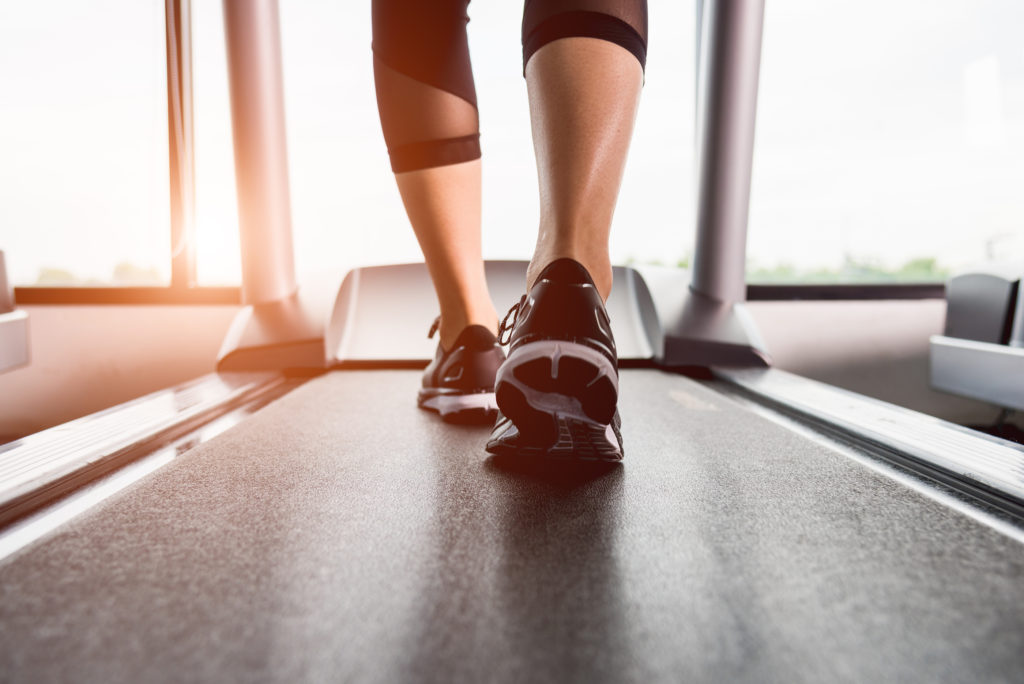 Although the F63 is Sole's most affordable treadmill, you'd be hard pressed to guess it based on the impressive spec sheet this machine's sportin'.
With a motor and running surface beyond its price point, the Sole F63 is a bargain hunter's dream.
And it also comes with a few extras you wouldn't necessarily expect at this price, like bluetooth speakers, USB charging, and a power incline up to 15%.
In other words, if you're looking for an affordable treadmill that feels like a high-end model, the F63 is as good as it gets.
But in order to make that call for yourself, you have to do your homework and learn as much as possible about this treadmill.
Luckily, I'm here to help with that part.
In this review, I'll go over everything the F63 has to offer- we're talking specs, features, warranties, and everything else in between.
After reading, you'll know whether or not Sole's F63 is the right treadmill for your home gym.
Let's begin.
The Sole F63 Treadmill
The Sole brand has earned an impressive reputation in the world of home fitness.
Their products are known for being constructed out of high-grade materials, performing well, and being backed by awesome warranties.
Turns out people like this stuff, who knew?
Jokes aside, I have to admit, Sole is one of my favorite home fitness brands when it comes to cardio equipment.
I say that because I like how straightforward their equipment is.
Sure, they've started updating their consoles, but it's obvious these machines are designed with performance in mind, first and foremost.
Plus their treadmills have some of the best performance specs and warranties in the market.
Anyway, Sole offers several home treadmills to choose from and the F63 is their most budget friendly model to date.
As I'm writing this, the F63 is selling for ~$1200 through Sole directly, but it you may find it a little cheaper from time to time, depending on promotions and whatnot.
Pros
3.0 CHP motor
20″ x 60″ running surface
325 lb weight capacity
Folds for easy storage
9 workout programs
Built-in bluetooth speakers
Cooling fan
Compatible with apps
Chest strap heart rate monitor compatible
USB charging
Tablet holder
Good warranty
Reasonably-priced
Cons
Running Surface
The calling card of a quality treadmill is its running surface. Regardless of price, you can tell a lot about a treadmill by how spacious its operating surface is.
Regardless of whether you're planning on walking or running, it's always a good thing to have more room.
Well, if you like being comfortable anyway.
Running surfaces are measured in inches and usually written as "width x length".
The F63 scores highly in this important spec with a belt size of 20″ x 60″.
This is the gold standard for home treadmills- at this size, pretty much all users can run (or walk) comfortably without having to shorten their stride.
There are plenty of more expensive treadmills that come with larger, 22″ widths, but you aren't going to find that in this price range.
So in terms of sheer size, the F63 scores highly.
Another great perk this treadmill has going for it, is that it can fold vertically for storage after workouts- something that can come in especially handy for homes with smaller gym areas.
The "easy assist" mechanism uses hydraulics to make it easy to fold, which is a plus considering the weight of this machine.
The F63 has a max weight capacity of 325 lb, which is impressive for a treadmill in this price range as well.
Seeing a higher weight limit tends to indicate better overall build quality, but it also allows folks of all sizes the ability to use said equipment.
And considering a lot of home treadmills max out around 300 lb, the F63's higher limit makes it a good choice for larger individuals as well.
Speaking of which, I'd like to point out that this treadmill weighs about 224 lb fully assembled, which is quite heavy for a treadmill in this price range.
For the sake of comparison, ProForm's Carbon TLX, weighs around 200 lb, meaning it has around 20 less pounds of 'bulk'.
Personally, I like seeing a heavy treadmill because it means it's going to feel more secure during workouts.
Sole's "CushionFlex" shock absorbing technology will help reduce stress through your joints as you walk or run on the F63.
This is a nice feature for folks who have had joint pain or injuries in the past and are looking to reduce stress as much as possible during their workouts.
Overall, the F63 scores highly with a spacious running surface and heavy-duty frame.
Motor
When it comes to treadmill motors, stronger is usually better.
That's because a stronger motor doesn't have to work as hard as a weaker one does to provide the same output.
The result is usually a smoother feel.
In terms of power, home treadmills in general usually come with motors somewhere in the 2 – 4 HP range.
With this in mind, the F63 comes with a 3.0 CHP motor, which is surprisingly strong for this price range.
With this powerful motor, this treadmill can reach a top speed of 12 mph – which again, is impressive in a price range where many max out at 10 mph.
Not that many of us will ever need this additional speed, but I guess it's still nice to know it's there.
Moving on, let's talk rollers.
The rollers are the part that allow the belt to glide smoothly across the deck and having larger ones is a good thing because it puts less stress on the belt, motor, and rollers themselves.
Roller sizes vary and we usually see smaller rollers on more affordable models and larger rollers on more expensive models – you know, because there are reasons why some treadmills cost more than others.
Well, at 1.8″, the rollers on the F63 are pretty small, but this is how it goes in this price range (NordicTrack and ProForm treadmills use 1.9″ rollers).
It would be nice to see larger rollers on this treadmill, for the sake of heavy-dutiness and whatnot, but I wouldn't consider this to be a dealbreaker.
Oh, I also want to mention that this machine also has 15 levels of power incline (15 % at highest setting) for added intensity.
The incline level can be selected manually (0.5% at a time) or with the quick set buttons (the speed also has quick set buttons).
This is a little more incline than many similarly-priced treadmills offer, as many top out at 12%.
Overall, I like that the F63 comes with a strong motor and an impressive incline range. It would be nice to see larger rollers, but this isn't a surprise for this price range.
Features
6.5″ display- the screen is large and brightly-lit, making it easy to see all your stats while working out. There's nothing too fancy going on here, but it's easy to use.
9 workout programs- this treadmill doesn't come with a ton of workouts, but with 7 profiles and 2 custom options at your disposal, you'll have enough to get the job done.
Bluetooth speakers- the newest edition comes equipped with bluetooth speakers, giving you the option to listen to music from your phone through the treadmill. This is a great feature and not something you see on all affordable models.
Bluetooth friendly- the F63 also allows you to connect with the free Sole app, giving you access to thousands of instructor-led workouts without having to worry about a membership fee.
Integrated tablet holder- the new F63 model comes equipped with an integrated table holder and USB charging port. This lets you charge your smart devices and watch a movie while you exercise.
Cooling fan- the fan built into the console will help keep ya comfortable during those tough workouts
Heart rate monitoring- the F63 comes with grip heart rate monitors and is compatible with wireless chest strap monitors, making it easier for you to track your heart rate throughout your workouts
Water bottle holders- 2 water bottle holders will help keep you hydrated while you work
Assembly
Putting the F63 together is pretty straightforward.
The deck of the treadmill comes preassembled, so you really just need to attach the uprights, the console, the tray, and a few covers.
The instructions are well written and easy to follow – I like that they specify what hardware will be used for each step along the way.
There are both written instructions and large images to follow.
You only need a screwdriver and a couple of Allen wrenches to get the job done and they are included.
Keep in mind that this treadmill weighs well over 200 lb, so you might need some help getting it where you want it before assembling.
And it always helps to have a second set of hands when it comes time to attach the console and hook up the cables.
Otherwise though, most people shouldn't have any problems putting this treadmill together by themselves.
Warranty
Sole backs the F63 up with the following warranties:
Lifetime frame
Lifetime motor
2 year parts (electronics and deck included)
1 year labor
This is a pretty solid warranty for this treadmill.
It's obviously great to see the lifetime frame/motor warranties and this isn't a given in this price range (NordicTrack only offers 10 year frame warranties on all their treadmills).
Two years on parts is pretty solid for the price, considering most in this price range come with 1-2 year parts guarantees.
That said, Horizon offers 3 years for parts on their 7.0 AT…
And a year on labor is standard stuff.
Overall, Sole continues to offer some of the best warranties out there and the F63 comes with one of the longer guarantees in its price range.
Final Thoughts
Alrighty, that's about all I've got when it comes to the F63.
Looking at all the impressive specs and features this bad boy is packing, it's easy to see why the F63 has become so popular.
With a 20″x60″ running surface, walking and running should be comfortable for most users and with a 3.0 CHP motor, we know it's got enough power to handle workouts of every variety.
Sole also offers a nice collection of console features and a generous warranty, which never goes out of style.
And personally, I find it refreshing to see a treadmill that's still using a classic LCD console because not everything in our lives needs to come with a touchscreen and a membership fee.
Sometimes you wanna just hop on, push start, and get it over with.
Anyway, it would be nice to see larger rollers, but again, this is a minor offense, considering every thing else this treadmill has going for it.
If you're looking for an affordable treadmill that's designed to perform, I think the Sole F63 is a great choice, but you may also want to check out Horizon's 7.0 AT.
As I'm writing this, the 7.0 AT is priced about $200 cheaper and it comes with the same sized motor, same sized running surface, a heavier-duty frame, a better warranty, and a nicer console (in my humble opinion).
And I love the QuickDial controls Horizon uses for the speed and incline adjustments… super convenient.
Either way, there's no denying the F63 is an impressive treadmill.
At its current price, I don't think it's the absolute best model in its price range, but it's pretty freakin' close.
Highly recommended.