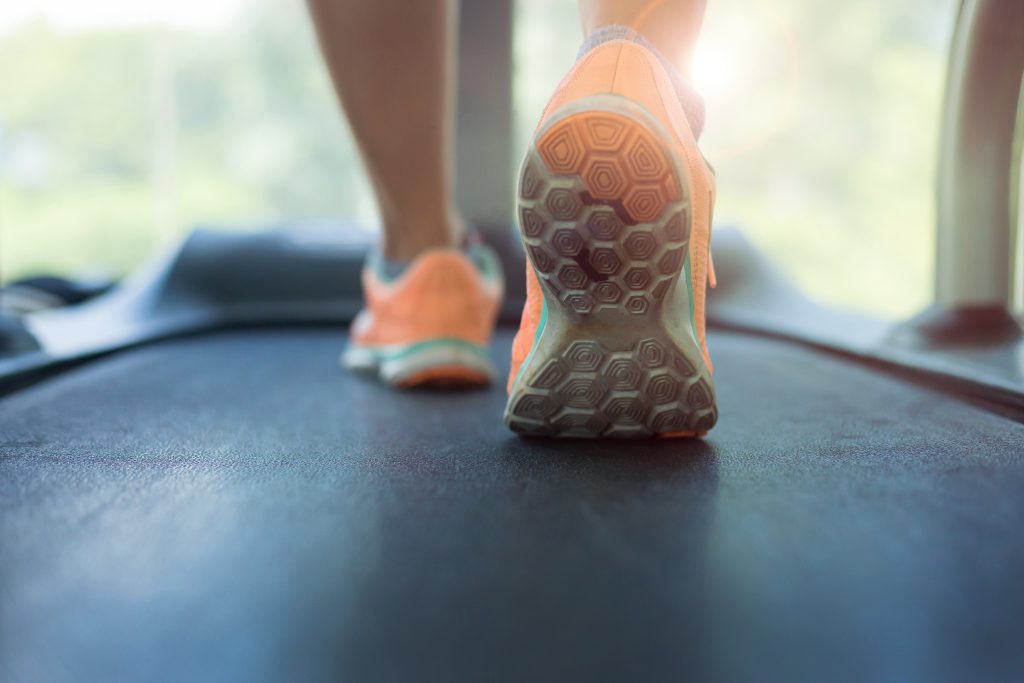 The best manual treadmills for walking are sturdy, reliable, and comfortable during use. Manual treadmills are often looked down upon because they are so much cheaper than typical electric treadmills.
Something that cheap can't possible last right? Wrong. There are some very respectable manual treadmills out there, you just have to know where to look.
I'm here to show you what you should be looking for in a manual treadmill and where to find them.
Click here to skip ahead to the best manual treadmills for walking
What Is A Manual Treadmill?
If you're not exactly sure what a manual treadmill is to begin with, let's set ya straight right now. A manual treadmill is a treadmill that does not have a motor.
Since it does not have a motor, the treadmill is powered by you, the user. Think of a hamster walking in it's wheel- the wheel moves because the hamster is powering it. Same idea with manual treadmills.
Manual treadmills are great for walking and can provide excellent cardiovascular exercise. They are also easy to store and super portable, making them great for apartments and smaller workout areas.
The faster your walk, the faster the treadmill moves. The "manual" part comes from the fact that the user has to do all the work to get the belt moving.
A simple manual treadmill is really just a frame and a platform with a belt going around it. Some manual treadmills will include a display monitor, but these machines are much simpler than electronic treadmills. Manual treadmills don't have any programs or electronics to deal with.
Some machines will offer incline settings, many will not. The ones that do allow you to set an incline will make you manually set that as well- again, no motors or electronics on these bad boys.
Some manual treadmills can provide a magnetic resistance. This makes it a little harder or easier to get the treadmill belt moving. Kinda like changing the resistance on a bike or elliptical. You may like this feature if you want to have the ability to increase the difficulty of your workouts.
At this point, you may be asking yourself why anyone would buy one of these manual machines because they don't seem to offer anything.
Well, there are some perks to their simple design. For one, they are significantly cheaper than there motorized counterparts.
We're talking like less than $200 cheap.
No motor also means that many of these machines don't need to be plugged in. The ones that offer a display monitor are usually powered by batteries. This means you don't have to worry about placing these machines near outlets.
Manual treadmills are also super portable. Most of them fold away for storage and have transfer wheels. Also, with no motor, these machines are significantly lighter.
This makes them really easy to move around. Manual treadmills are also shorter than motorized treadmills, making them a good choice if space is an issue.
These treadmills work well for walking. Keep in mind that it will take a little more energy to get these machines started initially- this may be a good thing if you are looking to burn a few extra calories.
Running, however, can be difficult. They have smaller belts and significantly lower max weight capacities. Smaller folks may be able to jog on these, but I would consider an electric treadmill if running is your primary goal.
For a good review of the big differences between manual and electronic treadmills, check out this article.
What To Look For In A Manual Treadmill
It's good to have an idea of what you want before you start looking to purchase a treadmill. Even though manual treadmills don't offer quite as many options as motorized treadmills, they do still differ in what they can provide. Let's take a quick look at some of the things you consider when choosing a manual treadmill.
Features
Incline- do you want a machine that has the ability to incline? The inclines on these treadmills is adjusted manually- that means you would have to set your incline before you start. Or if you want to change incline stop walking, get off, and change it before continuing your workout. Different machines have different numbers of incline settings. The ability to incline doesn't affect price that much.
Display Monitor- most of the manual treadmills will offer a small display monitor, some won't. Most of the better ones do. They typically display speed, time, calories, and distance. This feature doesn't really affect price much either. Unless you find one you really like that doesn't have one, no reason not to find a product that includes a display screen.
Heart Rate Monitor- some nicer models will include grip heart rate monitors. This is a great feature that is typically seen in motorized treadmills. If you want to track heart rate during workouts, this is a nice feature to look for. These may cost a little bit more, but these models are still very affordable.
Magnetic Resistance- some manual treadmills include an adjustable magnetic resistance for the belt. This changes how easily the belt moves as you start walking. Some models claim this helps stabilize the speed of the belt as you walk or run, making it easier to walk without holding on to the rails. Most users enjoy this feature.
Price
This is an obvious one. Price is usually the first thing any of us consider when making a new purchase. I always like to have an idea of what I want is going to cost me before I start hunting. For manual treadmills, most of the best models are under $200. This is incredibly affordable compared to electronic treadmills, which can easily cost thousands of dollars.
Weight Limit
Most manual treadmills have a significantly lower max user weight capacity than electronic treadmills. This is definitely something that needs to be considered if you are a larger individual. Most of these machines have a max weight limit somewhere between 225 lb – 300 lb. Although I did see one that boasted a 440 lb weight limit, that's impressive!
Size
Manual treadmills tend to be smaller than the motorized machines, they take up less floor space and they weight a lot less. That said, always measure your room to make sure you have enough room for your chosen treadmill. Most machines need a floor space of roughly 4′ x 2′, some a little more. Many also fold for storage.
Warranty
Manual treadmills definitely fall in the affordable category. The most expensive treadmill listed here is still under $200. So when it comes to warranties, you can't expect too much. That said, some manual treadmills have better warranties than others and it is definitely something you should consider when choosing a product.
Most of these treadmills will offer 1-3 years on the frame. Some will offer 30-90 days on moving parts. Like I said, these warranties aren't that great, but it's better than nothing. Some manual treadmills don't have any warranty. Unfortunately, that's just the reality when dealing with products in this price range.
Safety
Manual treadmills require a little more force to initially get started. They also don't offer as much cushioning through the belt. Together, these two facts equate to more pressure through your knees and hips during use.
If you have arthritis or are prone to knee issues, you should consider whether a manual treadmill is right for you. Even though there is no motor, it's still possible to lose your balance and fall while using these machines.
---
The Best Manual Treadmills For Walking
Confidence Fitness Magnetic Manual Treadmill
This manual treadmill by Confidence Fitness is a great example of a product that does exactly what it claims to do. It's highly rated for it's durability and smooth belt operation.
This treadmill has a fixed, gentle incline- this means it can not be set to a 0% incline (level with ground). This not only helps with belt operation, but it also works you a little harder, much like walking outside on uneven terrain.
Quiet, smooth belt- easy to exercise without bothering family members
8 levels of adjustable, magnetic resistance
Display monitor that shows speed, distance, calories, time, odometer
Easily folds for storage when not in use
Built-in wheels for easy movement
Light weight, only weighs 47 lb
Easy to assemble
12 month warranty
Cons
Only a 220 lb max weight limit
Resting incline- you don't have the option of walking on level ground, always a 5% incline
Overall, the Confidence Fitness manual treadmill is a nice product at a nice price. It only has a 220 lb weight limit, so this is definitely designed for smaller folks.
There aren't any fancy features or add ons here, just a great example of what a manual treadmill can and should offer.
This manual treadmill should work well for you if you are comfortable working against a constant 5% incline. This will definitely give you a great workout as you burn more calories working against that incline. You will also appreciate how easy this machine is to assemble, fold, and store.
Click on the above image if you would like to learn more about the Confidence Fitness Magnetic Manual Treadmill
---
Stamina InMotion Manual Treadmill
The Stamina InMotion treadmill in another highly rated manual treadmill. User's love how smooth the belt operates, often a common complaint about manual treadmills in general.
This machine also has a resting incline position, but it is adjustable- either 8 deg or 10 deg. You will appreciate having the option to up the incline when you are looking to really push yourself during your workout.
The smooth belt operation is achieved with the use of dual weighted flywheels. This keeps the belt moving evenly, making your experience more comfortable and steady. The belt is also textured to reduce chance of slipping while you walk or jog.
Click here to see it in action.
Price
Dual weighted flywheels for smooth belt operation- this makes it easier to keep a constant pace during your workout
Adjustable incline positions- 8 deg or 10 deg
Display monitor that allows you to view: time, speed, distance, and calories
Durable steel frame for increased treadmill stability
Folds away for easy storage
Textured, non-slip belt to help reduce fall risk during use
Foam padded front and side hand rails for added safety
Light weight, easily moveable with built-in transport wheels
Rubber floor protectors to help keep machine from moving (as well as protect your floors)
12 month frame warranty, 90 day parts
Cons
Only a 225 lb max weight limit
Unable to walk without incline
The Stamina InMotion manual treadmill is another high-quality, incline walker. Very comparable to the Confidence Fitness treadmill above, however this machine has higher inclines and the ability to adjust between 2 incline settings.
This machine does not offer magnetic resistance, however most users are happy with how smooth the belt rides.
With only a 225 lb max weight limit, this is another machine perfect for smaller users. This treadmill states that it can accommodate jogging, but I would limit that.
This treadmill is more appropriate for walking with it's light weight frame and small weight limit. Not to mention it would be very difficult to jog on these incline settings…
Click on above image if you would like to learn more about the Stamina InMotion Manual Treadmill
---
Fitness Reality TR3000 Manual Treadmill
A few things stand out immediately about this manual treadmill by Fitness Reality- first of all, it has a 325 lb max weight capacity; second, it has a significantly larger display monitor; and third, it has 3 incline positions.
It also has an adjustable magnetic resistance system which allows you to adjust how freely the belt moves.
This manual treadmill seems to combine all the most popular features from it's competitors into one machine. Luckily, they were able to do this without jacking up the price.
Back to that impressive weight limit again. Anyone familiar with my product reviews knows I pay a lot of attention to weight capacities. I feel it gives us a really good idea of how well built a machine is. The more weight a treadmill can tolerate, the sturdier and more well built it has to be. This treadmill can safely tolerate 100 lb more than the previous 2 treadmills discussed above.
Besides the max weight limit, this treadmill offers a 3rd incline setting- it can be set to 8, 10, or 13 deg. This extra setting will really give you a great workout. Click here to see it in action.
Price
Great weight capacity
8 levels of adjustable magnetic resistance
3 levels of adjustable incline
Large display monitor with room to store TV controller or water bottle (batteries included)
Grip heart rate monitor allows you to monitor heart rate during workouts
Larger belt allows a little more room for comfort as you walk (16″ x 45″)
Extra long side rails to reduce fall risk during use- this will come in handy when you are walking on those steep inclines!
Twin flywheels provide smooth belt action, help keep belt moving quietly
Assembles in minutes, all you have to do is attach monitor
Foldable for storage, easy transport with built-in wheels
Cons
No flat setting (always have to be on incline)
Some complaints that it makes too much noise
Some complaints that it has too much incline
All things considered, this is my favorite manual treadmill on the market. Sturdy, magnetic resistance, extra long hand rails, and an additional incline setting.
Speaking of inclines, you may have noticed that all of the treadmills discussed thus far have a set incline setting. That is, they do not go completely flat.
This is because the incline helps you get the belt moving easier- it is significantly more difficult to get the belt moving when it is completely flat.
So, manual treadmills use the incline and gravity to help you get it moving. The downside is, of course, that you are stuck with that incline throughout your workout. Most users don't mind, the lowest setting isn't too extreme and it gets you burning more calories.
This is a great manual treadmill at a great price. This treadmill would be great for the larger users with it's weight capacity, larger walking surface, and extended rails.
Click on above image to learn more about the Fitness Reality TR3000 Manual Treadmill
---
Adjustable Incline Magnetic Manual Treadmill By Efitment
Efitment is a distributor of budget friendly exercise equipment based out of California. This manual treadmill is their most affordable model, however it is currently priced just a little above the TR3000.
This is one of the higher rated manual treadmills online, currently boasting a 4.1/5 average user rating on Amazon.
Users love how durable the machine feels. There aren't many complaints about the treadmill wobbling or feeling flimsy during use. That said, it only has a 220 lb weight limit, so it's definitely designed with smaller users in mind.
This treadmill also has 3 levels of incline, but they are a little gentler than the TR3000. Here, you can choose between 7, 8, or 9 deg.  This machine also includes a larger LCD display monitor for tracking speed, time, distance and calories.
I like treadmills that offer a heart rate monitor. There's really no reason not to get one these days, it really doesn't change the price significantly. This treadmill does offer hand grip heart rate monitor that can be tracked through the large monitor.
8 levels of magnetic resistance controlled through turn dial
3 levels of adjustable incline
Grip heart rate monitor
Sleek design
Sturdy, stable frame
Easily folds for storage
Moves easily with built-in transportation wheels
Only weighs 68 lb, very portable
Excellent customer service
1 year manufacturer warranty
Cons
Weight capacity only 220 lb
This manual treadmill from Efitment is very comparable to all of the other treadmills reviewed thus far. This would be a wise selection if you are a little worried about the higher incline settings on the TR3000.
If that's the case though, you may also be better off with the Confidence Fitness treadmill because it's resting incline is only 5%. That treadmill doesn't offer a heart rate monitor though.
A nice manual treadmill for walking, I wouldn't suggest jogging due to the short track and lower weight limit, but to each their own. The incline would make running difficult as well. Overall, a nice manual treadmill that has definitely earned it's way on this best of list.
If you are interested in learning more about the Adjustable Incline Magnetic Manual Treadmill by Efitment, click on above image
---
Exerpeutic 100XL High Capacity Manual Treadmill
This manual treadmill by Exerpeutic is like the TR3000's slightly bigger brother. Actually, I think Exerpeutic and Fitness Reality are part of the same fitness products family.
The 100XL offers the highest incline option of any of the treadmills discussed thus far with a 15 deg option for the truly hardcore.
The TR3000 is still my favorite option, but this one is a close second. Really, the only reason I would still choose the TR3000 over this model is price- the 100XL costs a few dollars more.
Like the TR3000, the 100XL offers 3 levels of incline, 8 levels of magnetic resistance, and extended hand rails. The walking surface is larger than most other manual treadmills and it also comes with hand grip heart rate monitors.
This model also includes over-sized display monitor that can hold a controller or water bottle easily- very convenient if you place this treadmill in front of a tv. As portable as this model is, you could easily unfold and move it over and watch tv or a movie while you workout.
325 lb weight limit
8 levels of adjustable, magnetic resistance
3 levels of incline- 8, 10, and 15 deg
Grip heart rate monitor
Over-sized display monitor with room for storage
Extra long hand rails for added safety while walking up those inclines
Larger walking surface
3 year limited warranty
Twin flywheels for smooth belt movement
Foldable, easy to transport with built-in wheels
Lightweight
Cons
Some complaints it is difficult to walk on at higher inclines
Some complaints about the display monitor moving during use
Is it possible the higher inclines can be a pro and a con? Well, yeah. Some users have complained that there isn't enough magnetic resistance to slow you down enough at the 15 deg incline- the belt moves too fast and you can't keep up. This may be the case with larger users, smaller users may not have this problem. Might also depend on fitness level.
Overall, another great manual treadmill. The Exerpeutic 100XL offers all the features a manual treadmill should offer and then they kick it up a notch with the 15 deg incline option. The high max weight limit makes this model approachable for most users, just keep in mind it may be difficult to use on that highest incline.
Click on above image to learn more about the Exerpeutic 100XL High Capacity Manual Treadmill
---
Phoenix 98510 Easy-Up Manual Treadmill
The Phoenix 98510 manual treadmill doesn't have quite as many bells and whistles as previous products, but what it does, it does pretty well.
Unlike many of the other treadmills, this machine does not have adjustable incline- it has a set incline at 12.5 deg. A word of caution, this is a lot of incline and can be very challenging to maintain for any given time unless you are in very good shape.
The name of this product reveals one of it's best features- the "easy-up".  A spring loaded pull pin makes it simple to fold and lock this treadmill vertically for easy storage. Pull the pin and it easily folds back down and is ready to use.
The walking surface on this treadmill is pretty comparable to all manual treadmills- it's small, but they are all small. That's one of the perks and it is why these treadmills are well suited for walking. Again, if you are looking for a treadmill to run on, you should be looking at motorized treadmills.
As simple as this machine is, it does offer one feature that (surprisingly) most of the other models do not…a water bottle holder. The Phoenix 98510 actually comes with a water bottle too, a nice touch.
Price
Easy assembly
Large, LCD display screen for viewing workout stats
Large console for storage, water bottle holder
Easily folds for storage
Easy transportation with built-in transport wheels
250 lb weight limit
Cons
Fixed incline at 12.5 deg
No magnetic resistance
No heart rate monitor
This is a well reviewed manual treadmill, users for the most part are very satisfied with this product. Personally, I see no reason to choose this model over the other treadmills discussed above.
The price is about the same as most of the other treadmills and it doesn't offer as many features.
I have an issue with the incline as well. 12.5 deg is a huge incline to be fixed at. I wish they had made the incline adjustable to a lower degree. I think most users are going to have a hard time walking on such a steep incline for any given amount of time. That said, the reviews are very positive.
I think this model would come in handy for doing interval training. Consider this: making it part of a full body circuit consisting of walking x2 min, 20 pushups, 20 sit ups, 20 squats…just thinking out loud. For this type of exercise, I could see the benefit of this treadmill. Or, if you really just want a machine with a bottle holder.
Click on above image to learn more about the Phoenix 98510 Easy-Up Manual Treadmill
---
Pure Fitness Everson Incline Treadmill
This manual treadmill by Pure Fitness is another adjustable incline treadmill. Strangely enough, I was unable to find what exactly those incline levels are, apparently the manual doesn't specify?
Anyway, there are 3 levels. A nice little feature Pure Fitness included in this model is that they threw in a resistance band for upper body exercise at the same time…nice!
There are only a handful of user reviews on Amazon, however they are all very positive- this treadmill is sporting an average user rating of 4.5/5.
This treadmill has a nice, large LCD display monitor. It too comes with an aluminum water bottle and water bottle holder. I also like the design of the frame- it has a little cross bar in the front that would be perfect for holding a towel to wipe down machine after those sweaty workouts.
Users appreciate how smoothly the belt operates. The gentle incline (of unknown value) makes it easy to get the belt moving and helps use burn extra calories. After you get used to walking on these inclines, you will definitely be walking circles around your friends outside on even ground.
3 levels of adjustable incline
Large, easy to read LCD display
Includes aluminum water bottle with holder
Grip heart rate sensor
Folds up easily for storage
Transport wheels make moving the machine a breeze
Resistance cord included for upper body strengthening
Quiet belt operation
Easy to assemble
250 lb weight capacity
Cons
No magnetic resistance
Heart rate sensor may not be that accurate
Not sure how steep incline settings are
This manual treadmill by Pure Fitness is a great treadmill for walking. I like the addition of the resistance band to offer a full body workout. This machine has a respectable weight capacity, folds easily, and includes a heart rate monitor. It's also very highly rated by users.
This treadmill might be a great fit for you if you are not scared of the mystery incline settings.
It's priced competitively to all the other machines with similar features. Really the only thing missing is the magnetic resistance, but they did throw in a water bottle and resistance band- not a bad trade.
To learn more about the Pure Fitness Everson Incline Treadmill, click on above image
---
Fitness Reality TR1000 Manual Treadmill
If the Exerpeutic 100XL is the big brother, the TR1000 is the little brother. This treadmill is another sibling in the "TR" family offered by Fitness Reality. This treadmill is a little smaller, has fewer features, and costs a little less.
Right off the bat, you will notice this is a significantly smaller machine. It has a significantly lower weight capacity as well, at only 230 lb. This treadmill only has 2 incline options: 6 and 10 deg.
The TR1000 does have a small LCD display screen (I really can't call this a "monitor", it more closely resembles a watch) that can track time, distance, speed, and calories.
Like the TR3000 and Exerpeutic 100XL, this treadmill has over-sized hand rails. I love this feature because it makes it a lot easier for you to hold on during use. It also gives you a little more flexibility in where you position yourself on the machine.
Treadmills with smaller hand rails force you to stand closer to the front. I think you will like these larger hand rails because it gives you a little more room to work with.
This treadmill also folds easily and can transport without difficulty. Like the other related treadmills, this too has twin flywheels for added stability and smoothness during use. You will notice the difference if you have ever used manual treadmills with only 1 flywheel.
Great price
2 levels of incline available
Display screen (although a bit small)
Extended hand rails make it easier to hold on while walking on incline
Folds up for easy storage
1 year warranty
Twin flywheels for smoother belt operation
Cons
Lower weight capacity
No magnetic resistance
No heart rate monitor
The TR1000 is really just a smaller version of the TR3000 (or Exerpeutic 100XL). If you are looking to save a few bucks and aren't worried about some of the features you are missing, this is a great option. It has a durable, steel frame and it doesn't take up much room. Just keep in mind the lower weight capacity- but as long as you fit, I think you will be satisfied with this model.
I realize a 1 year warranty isn't much. I have been counting these warranties as "pros" because honestly, at this price range, any warranty is appreciated. Keep in mind that all of these treadmills are between $100 – $200 (this one much closer to $100!).
These are the most affordable treadmills on the planet and we can't expect lifetime warranties at this price point.
Sorry, I got a little off topic there. But anyway, this is a nice treadmill with positive reviews. If you can do without a heart rate monitor and magnetic resistance, you should be happy with the TR1000.
Click on above image to learn more about the Fitness Reality TR1000 Manual Treadmill
---
Sunny Health & Fitness T7615 Cross Training Magnetic Treadmill
Long name, cool product. Anyone who is familiar with my "best of" lists should know that Sunny Health & Fitness products always find their way on there.
They really are one of the leaders in producing affordable exercise equipment for the home. This manual treadmill of theirs is interesting because it comes with attachments for working your arms while you walk.
The T7615, like the name suggests, offers magnetic tension. This is a nice feature because it allows you to adjust how freely the belt moves. This comes in hand with larger users and at higher incline levels.
This treadmill does not have an adjustable incline, it is fixed at 6.8 deg, which is pretty gentle compared to some of the other treadmills we have reviewed.
This belt uses twin flywheels for improved mobility and less stopping and starting during your workout. On some manual treadmills, it is difficult to keep the same pace going because if you miss a step here or there it drastically slows down the belt.
Have two flywheels helps keep the belt moving consistently, which means if one step is misplaced the belt won't completely slow down on you.
The biggest difference about this machine is it's adjustable resistance upper body arms. This feature will help you strengthen your arms while you walk. This also turns the treadmill into a full body workout, which means you get to burn more calories in less time.
Adjustable resistance arms for working your upper body while you walk
8 levels of adjustable magnetic resistance
Large, easy to read LCD display monitor for tracking your workout stats
Smooth, quiet belt operation due to twin flywheels
Large, padded hand rails for added comfort and safety
Grip heart rate monitor
3 year warranty on frame, 90 day warranty on parts
Easy assembly
Folds for storage, easy to transport
Gentle incline to reduce strain on joints, helps keep belt moving smoothly
Cons
Only a 220 lb max weight limit
Incline isn't adjustable
I like this machine because Sunny Health & Fitness always finds a way to produce high quality products at affordable prices. I also really like the addition of the upper body resistance arms to make it a full body "cross training" workout. My biggest concern with the T7615 is it's low max weight limit. But, if you fit well within that limit you should be fine.
If you are looking for a dependable, affordable full body workout, you should consider the T7615.  Sunny Health & Fitness have made a name for themselves by producing equipment that people love and this manual treadmill is no exception.
Click on above image to learn more about the T7615 Cross Training Magnetic Treadmill
---
Best Choice Products Manual Folding Treadmill
Last, but not least, we have a manual treadmill by Best Choice Products. Best Choice Products offers all kinds of affordable stuff from house hold goods to exercise equipment.
This manual treadmill they offer doesn't have some of the additional features other treadmills have, but it is cheap, durable, and very highly rated.
This treadmill has a heavy-duty frame for additional stability during use. That said, it only has a 240 lb weight limit. There is no adjustable magnetic tension on this treadmill, so you will not have the ability to adjust how freely the belt moves. There is also only a single flywheel, however users haven't been complaining about belt issues.
This machine gives you a choice between 2 incline settings. I had a hard time finding what inclines the machine offers. One user reported it's about 10 deg, but it's kind of a mystery. Sounds like it is a fairly moderate angle (unless you want to place a 2″x4″ under the bottom- many users for all manual treadmills report using this trick to reduce incline).
This machine does have a small display screen for keeping track of calories, time, distance, and speed.
Besides it's price, this treadmills best quality is probably how portable it is. Not only does it fold in half for easy storage, but it only weights about 40 lb. This treadmill is small, making it perfect for tight spaces.
Affordable price
Sturdy frame
Easy to assemble
LCD display screen for tracking workout stats
Very easy to fold for storage or move from room to room
Quiet during use
Cons
Lacking many features other treadmills offer (heart rate monitor, magnetic tension, adjustable incline)
Warranty?
Overall, this treadmill by Best Choice Products is a no thrills piece of equipment that is capable of offering you a good workout. It is by no means the best treadmill listed here in this guide, but it is highly rated by users with an average rating of 3.7/5 on Amazon.
This is also one of the most affordable options listed. But honestly, the prices on these manual treadmills are all really within $50 of each other. Personally, I see no reason to choose this model over any of the other treadmills discussed earlier. You can get a lot more for a minimal change in price. But again, on average, users are very happy with this treadmill.
If you would like to learn more about the Best Choice Products Manual Folding Treadmill, click on above image
---
Final Thoughts
There you have it. The 10 best manual treadmills for walking the market has to offer. Before you make your choice, make sure you are finding a machine that will work well for YOU. You can be confident with your choice if you consider the qualities you want your treadmill to have. Ask yourself:
What features do I need?
How much space do I have for my treadmill?
What's my price range? (all of these machines are in the same price range)
Does this machine's max weight limit accommodate me comfortably?
Am I safe to use a manual treadmill to begin with?
Answering these questions should help guide you in finding a manual treadmill that will perfectly meet your needs.
Now you are familiar with the best manual treadmills on the market. Only thing left is to make your choice and start enjoying your new treadmill!
I hope you found this article helpful. If you have any questions, leave me a comment and I'll get back to ya.