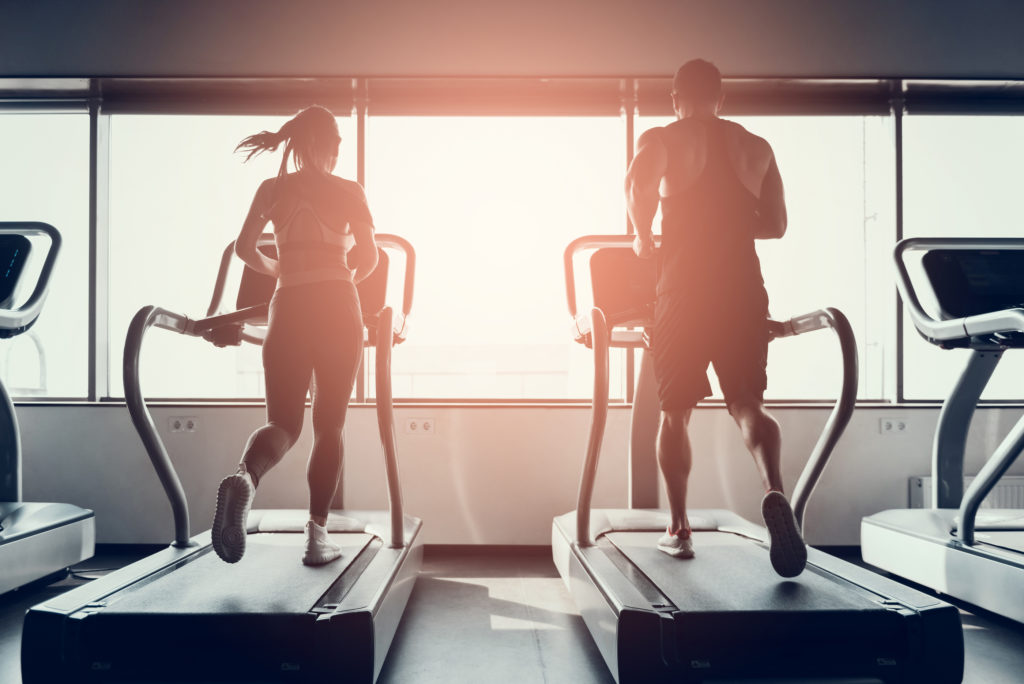 If you're looking for a serious running treadmill, the 3G Cardio Elite Runner should be on your short list. As the name implies, this treadmill was designed from top to bottom with runners in mind.
3G Cardio built this treadmill with enough muscle and size to handle the performance needs of the most advanced runners on the planet.
To accomplish this, they gave this beast of a treadmill a 4.0 HP motor, a 22″ x 62″ running surface, and a thicker, orthopedic belt for extra comfort.
They also back this treadmill up with one of the best home warranties I've ever come across.
To cut to the chase, I'm a big fan of 3G's Elite Runner Treadmill. If you're looking for a quality treadmill that can handle the added stress of frequent running, this is a smart choice.
But it's important for you to do your own research and come up with your own conclusion- that's where this review comes in.
In this review, I'll take you on an up close and personal tour of everything this treadmill has to offer.
After reading, you should have a better understanding of what this treadmill does and doesn't have going for it.
You should also have a better understanding of whether or not it's the right treadmill for your home gym.
The 3G Cardio Elite Runner Treadmill
3G Cardio isn't one of the more recognizable home fitness brands out there. You may've never heard of them before and that's definitely understandable, they tend to fly under the radar.
But that doesn't mean they don't know what they're doing.
They're most well known for their treadmills, although they do offer a few exercise bikes and vibration machines.
I first came across the brand when I was researching running treadmills- I was impressed at first glance.
What I especially like about their treadmills is that they don't waste your time.
What I mean is, they don't pretend to come with a bunch of fancy bells and whistles to distract you from the stuff that matters.
What you see is what you get. And what you get are great treadmills that work the way they're supposed to.
3G Cardio treadmills concentrate more on function. They built their treadmills with strong motors and durable frames and then they back them with awesome warranties.
Let's get to the specifics.
Pros
Spacious, 22″ x 60″ running surface
Powerful, 4.0 HP motor
Ortho Flex Shock shock absorbing system
Thick, orthopedic belt
400 lb weight capacity
Top speed of 12 mph
Max incline of 15%
3″ rollers
Chest strap HR monitor included
One touch speed/incline settings
Incredible warranty
Cons
Simple console
No bluetooth data tracking
Running Surface
I always start with the running surface when reviewing treadmills because it's always the first thing I look at. I think it's the most important spec because it's the biggest contributing factor to your overall comfort level when using said treadmill.
If your treadmill's running surface is too small, it isn't going to feel right.
By the way, the running surface refers to the actual dimensions of the belt used during your workouts, measured in inches.
If your treadmill is too narrow, you aren't gonna have any wiggle room- if you sway a little to either side you might literally step right off the machine. That's an easy way to ruin any workout.
If your treadmill is too short, you may have trouble walking or running with your natural stride length (especially if you're over 6′ tall).
This becomes more important when running at faster speeds because our stride length increases with running.
Any self-respecting home treadmill should come with a running surface of 20″ x 60″.
At this size, most folks can comfortably walk or run without any issues.
The Elite Runner one-ups the rest with an over-sized running surface of 22″ x 62″.
The extra space will be noticeable. Not only will you not have to worry about running out of space (unless you're like 7′ tall), but it gives this treadmill a commercial feel.
Commercial treadmills always feel better because they're larger (and heavier).
Speaking of heavy, this treadmill weighs 386 lb. When it comes to fitness equipment, heavier is also better because it gives the machine stability.
You won't have to worry about the Elite Runner wobbling or shaking while you run. Just make sure you know where it's permanent home is going to be before you assemble- with this weight it's not the easiest thing to move.
To go with the large deck, 3G Cardio added their Ortho Flex Shock shock absorbing system to reduce the stress through your joints.
They also use a thicker, orthopedic belt for extra comfort.
As you might expect, with the running surface and machine weight, this treadmill is a best – it has a max weight capacity of 400 lbs.
I like to look at this weight capacity as a measure of durability- the more weight a machine can handle, the more durable it should be.
Makes sense right?
Well, with a weight limit of 400 lb, it's clear to me that this treadmill was designed to handle some stress (I actually think this is one of the best treadmills for big and tall folks).
For comparison's sake, most home treadmills max out in the 300 – 350 lb range.
Overall, the Elite Runner scores highly with a huge running surface, advanced shock absorption system, and heavy-duty frame.
Motor
Ok, let's talk horsepower.
Motor strength might be the first thing a lot of folks consider when checking out treadmills.
I get it, it makes sense. You want to make sure your treadmill has enough muscle under the hood to get the job done.
Most quality home treadmills have motors anywhere in the 3.0 -4.0 HP range.
Well, if running is your thing, you'll want to find a motor that is at least 3.0 HP to ensure your motor can handle the added stress.
Stronger motors don't have to work as hard as weaker one to reach and maintain the same speeds.
This means stronger motors should theoretically last longer. They should also provide a smoother ride.
The Elite Runner Treadmill comes with a 4.0 HP motor.
This is at the top of our expected range and easily surpasses the recommended strength requirements for running.
This motor can comfortably reach a top speed of 12 mph as well as a top incline setting of 15%.
With these capabilities, the Elite Runner should be able to challenge even the most talented runners.
3G Cardio also uses 3″ rollers on this treadmill, which is larger than most.
The rollers are the part that makes contact with the belt and propels it along the track.
Larger rollers are preferred because they make more contact with the belt- this makes for smoother operation, but it also applies less stress on the belt and rollers (and prolongs the life of both).
Most high-end home treadmills use 2.5″ rollers. 3G again one-upped the competition with their extra large rollers.
Overall, the Elite Runner scores highly again with a powerful, 4.0 HP motor and large rollers.
Features
The 3G Cardio Elite Runner comes with the following features:
8 workout programs- this treadmill isn't loaded with workout options, but it has enough to get the job done. This includes a couple custom programs you can create.
Chest strap HR monitor included- not only is this treadmill chest strap monitor compatible, but 3G Cardio throws one in to help you track your HR data during your workouts.
One-touch speed/incline settings- you can instantly set the speed and incline settings with the quick touch buttons. This is a great feature, especially when you are switching back and forth between settings when doing interval training.
mp3 port- you can hook your mp3 player or smart phone up to the console and hear your music or movies through the built-in speakers.
USB charing port- hook your smartphone or tablet up to the USB port and keep it fully charged while you run.
Multi-speed cooling fan- nothing fancy here, but you have a few speeds to choose from to customize your comfort during your workouts.
Smart Zone smart phone spot- this is a designated spot to hold your smart phone during your workout. The non-slip padded area will ensure your phone stays safe and sound during your workouts. It also makes it convenient to hook your phone up to the mp3 port or USB charging port.
Assembly
Most users agree putting the Elite Runner together is surprisingly straightforward. You may think that because this treadmill is so big and powerful that it would be more difficult to assemble.
Luckily, this isn't the case.
The assembly instructions are straightforward and easy to follow. Each step has written directions as well as an image showing you what to do.
There are only 6 steps to get the job done. You're basically just attaching the console to the upright posts that are attached to the deck.
The most challenging part of assembly will be getting the treadmill to it's final destination before you start- this treadmill is heavy!
Unless you pay for white glove delivery, you will be responsible for transporting the treadmill in your home. Delivery usually drops it off at your front door.
Keep in mind that the delivery weight is over 400 lb- it is highly encouraged that you have a couple of friends available to help you move this thing.
Once you get the treadmill to where it goes, putting it together should be a piece of cake. All of the necessary tools are included.
Warranty
3G Cardio backs the Elite Runner with the following warranty:
Lifetime frame
Lifetime motor
10 year parts
2 year labor
This is a fantastic warranty.
We should expect lifetime guarantees on the frame and motor, most high-end models will give us that. But 10 years on parts is above and beyond.
Most nice treadmills offer up to 5 years on parts. Two years on labor is also awesome. Most treadmills only offer a year.
Overall, this is one of the best treadmill warranties I've come across.
3G also provides a commercial warranty on this treadmill: 5 year frame and motor, 5 year parts, and 1 year labor.
Final Thoughts
3G Cardio's Elite Runner treadmill has a lot going for it.
The combination of the huge running surface and powerful motor is enough to get this treadmill into the best running treadmills conversation.
When you add on one of the best warranties in the industry, it's hard to deny that the Elite Runner is one of the best home treadmills period.
The only thing this treadmill is missing is an advanced console. The console on the Elite Runner is very simple and not particularly sophisticated.
So, if you're looking for HD touchscreens and a ton of workout programs, this definitely isn't the treadmill for you.
But if you're looking for a commercial grade treadmill that is perfect for running, the Elite Runner Treadmill is a no-brainer. Highly recommended.