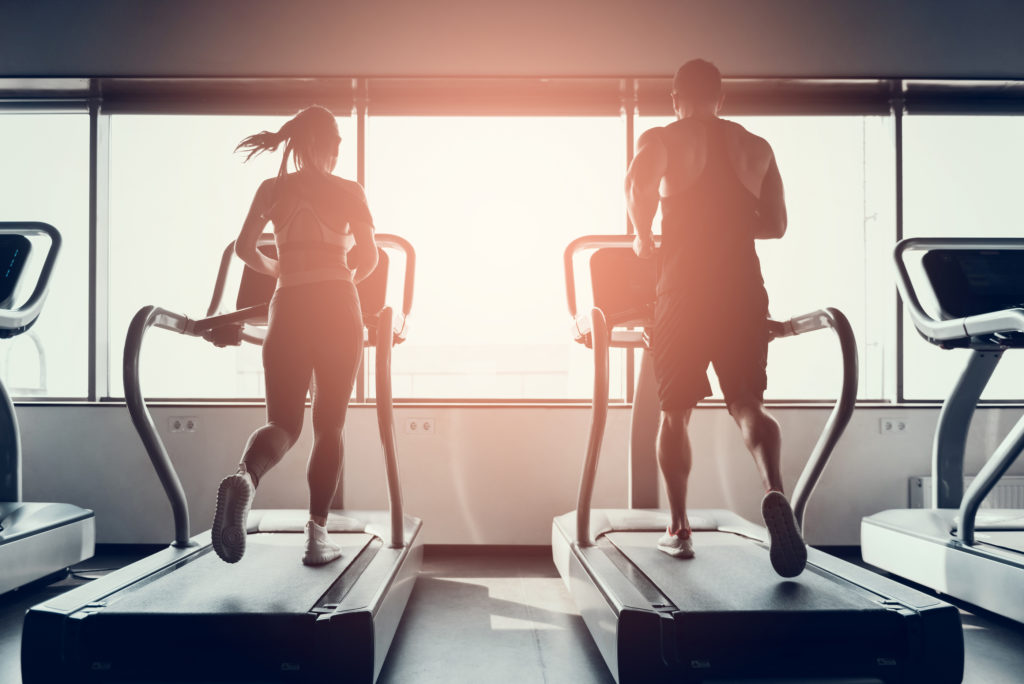 There are a ton of affordable treadmills to choose from and it seems like there are more and more of them popping up every day.
This is fine I guess – I mean technically speaking, having more options to choose from should be a good thing because it gives us a better chance of finding something that'll work for our budgets.
But in this case, I feel like it makes the whole process more confusing.
Mostly because so many of these affordable treadmills come with generic, hard to remember names and almost identical features.
And unfortunately, I hate to say this, but a lot of these cheaper treadmills kinda suck.
But don't give up hope because there are some legit affordable treadmills out there… you just have to know what to look for and where to find 'em.
And it just so happens this is exactly what I'll be going over in this comprehensive guide.
Yup, in this guide I'll show you what to look for when comparing these treadmills to make sure you end up with one that'll actually work.
I'll also present my top picks for this price range, based on all the criteria we go over.
And we're talking real treadmills here, with legit motors, spacious running surfaces, and solid warranties.
After reading, you'll know everything you need to in order to find the right affordable treadmill for your home gym.
Alright, I'm fired up, so let's do this.
I'm gonna start with the buyer's guide, but if you'd like to skip it and get right to the point, I understand:
Running Surface
Motor
Warranty
Top Features
#1 Horizon 7.0 AT
20" x 60"
3.0 CHP
Lifetime frame/motor
325 lb weight limit Bluetooth speakers
USB port
#2 XTERRA TRX3500
20" x 60"
3.0 CHP
Lifetime frame/motor
2 year parts
1 year labor
350 lb weight limit
30 workout programs Bluetooth
#3 LifeSpan TR1200i
20" x 56"
2.5 CHP
Lifetime frame
5 year motor
2 year parts
1 year labor
21 workout programs
Large rollers
#4 Horizon T101
20" x 55"
2.5 CHP
Lifetime frame and motor
1 year parts and labor
300 lb weight limit
40 workout programs Bluetooth speakers
#5 NordicTrack T 6.5 S
20 x 55
2.6 CHP
10 year frame
2 year parts
1 year labor
300 lb weight limit FlexSelect shock absorbing system
#6 XTERRA TRX2500
20" x 55"
2.25 CHP
Lifetime frame/motor
1 year parts
1 year labor
300 lb weight limit
24 workout programs Handlebar controls
#7 ProForm Carbon T7
20" x 55"
2.6 CHP
10 year frame
1 year parts
1 year labor
7" HD touchscreen
iFit compatible Bluetooth

Honorable Mention: Sole F63
20" x 60"
3.0 CHP
Lifetime frame/motor
3 year parts
1 year labor
325 lb weight limit Bluetooth speakers
USB port
What Do We Mean By "Budget Friendly" Treadmill?
Home treadmills are available in pretty much any price range you can think of.
Manual treadmills start out at around $100; high-end treadmills can easily run you $4000 and up.
Before we get too ahead of ourselves, we should probably define what we mean by "affordable" or "budget friendly".
Because your definition and my definition may be completely different, so let's make sure we're on the same page here.
For the purpose of this article, a budget friendly treadmill is any treadmill with an asking price less than $1000.
I know $1000 might not sound like an affordable machine, but when it comes to a treadmill, it really is.
For comparison's sake, if you wanted a commercial grade treadmill like you see at the local gym, you'd probably have to spend at least $6000-$8000.
Now $1000 doesn't sound too bad does it?
Anyway, $1000 is the ceiling for our price range here, but that said, I'm talking about the sticker price – so with taxes and shipping, the final cost could very well be a little over this.
And of course, I try to get this guide updated, but prices on these machines can change throughout the year, so I apologize if my listed prices here aren't completely accurate.
Please don't hate me, I'm doing the best I can.
Anyway, there are some treadmills on this list that cost less, most of these machines are in the $700 – $999 range.
This is a price point where you can get some really nice treadmills without completely devastating your budget.
There are some quality machines that cost less, but this guide is here to show you the best options in this price range.
Remember the old saying: "you get what you pay for"?
Of course you do, everyone knows that one.
Well, it's usually true.
The sad truth is that a $300 treadmill can't offer the same features that a $900 treadmill can, regardless of what the gifted marketing team behind that machine is telling you.
But like I said, this price range includes a lot of machines.
Which again, can be a good thing- it means there are a lot of options to choose from, giving us more opportunities to find the perfect match for our home gyms.
I'd also like to point out that treadmills have gotten a bit more expensive over the last year- well, some of them have anyway.
Unfortunately, some of the top picks from previous years have had to be scratched because they got too darn expensive to keep on this list (like Sole's F63, but more on that later).
I think it had a lot to do with the whole inflation thing – like everything else, fitness equipment is tending to get a little more expensive.
Regardless, this year's guide has been adjusted so that all of the treadmills on this list are actually under $1000 and are available for purchase (at the time of writing this anyway- again, please don't hate me if any of these treadmills have gone up in price).
Anyway, back to the good stuff.
How To Buy An Affordable Treadmill The Smart Way
Buying a budget treadmill really isn't any different than buying a high-end treadmill – there are certain specs and features you should prioritize and compare, regardless of price.
The only difference is having realistic expectations regarding what you can get for under $1000.
The following specs/features should be prioritized when looking for a home treadmill in any price range:
Running Surface
If you've ever read any of my treadmill reviews before, you know I'm a stickler for the running surface size.
Simply put, this measurement refers to how much usable belt space you have when walking or running on the machine.
Measured in inches, the spec is presented as "width x length".
And when it comes to running surface, bigger is better – the bigger the running surface is, the more room you're going to have during your workout.
I don't know about you, but I don't like to be cramped when I'm trying to run.
Which brings up an important point- if the running surface is too short, taller users are going to have to shorten their stride when running (especially at higher speeds).
This doesn't make for a comfortable run.
The belt width isn't quite as important, but again, you don't want to feel like you're running on a tightrope either.
It's nice to have a little wiggle room laterally in case you tend to sway a little (you don't want to find yourself falling off the belt).
The gold standard for home treadmills is a running surface of 20″ x 60″.
At this size, most users can comfortably run as fast as the want without having to shorten their stride.
And one of the tell-tale signs of an inferior budget treadmill is a really small running surface.
I love it when cheap treadmills market that they have a "large, 16″x50″ running surface"… can't blame 'em for trying I guess, but that's not very big.
And maybe a lot of people don't know what to expect, but now you do.
That said, shorter users and folks simply looking for a walking treadmill can certainly get away with smaller running surfaces.
Just because larger is more comfortable, doesn't mean a smaller treadmill can't get the job done – but we're here to talk about the best options.
And luckily, you don't have to settle for less than 20″ x 60" in this budget price range.
Motor
The motor strength is another crucial spec to consider when looking for an affordable treadmill.
And I doubt this is too surprising, but stronger is better, especially if you plan on doing some running on your new machine.
A weak motor is another indicator of a lower quality treadmill and it's a common theme for really affordable treadmills.
As a reference, most home treadmill motors usually fall in the 2.0 – 4.0 CHP range.
P.S.- "CHP" refers to "continuous horse power" and means how much power the motor can sustain over time (which is generally a better indicator of motor performance than "HP", which often refers to max, short-term power).
Anyway, having a stronger motor is preferred because the motor won't have to work as hard to power your workouts.
This usually results in a smoother feel and I'm assuming most people don't want to feel their motor struggling to maintain a 4 mph pace.
And since the stronger motor doesn't have to work as hard to maintain the same speed, it should last longer than the weaker motor as well.
Personally, I would shoot for at least a 3.0 CHP motor, especially if you want to run regularly.
If you plan on doing walking (or light jogging) only, a weaker motor can get the job done.
But there are several great treadmills in this price range that offer 3.0 CHP motors, so there's really no reason to settle for a weaker motor.
Actually, you shouldn't expect anything more powerful than 3.0 CHP for under $1000- that's about as strong as these machines get in this price range.
But there are a lot of treadmills in this price range with significantly weaker motors too.
Before I forget, I want to mention roller size real quick.
The rollers are the part that make contact with the treadmill belt and actually cause it to propel down the deck.
Larger rollers are preferred, because they make more surface contact with the belt, which theoretically should equate to a smoother experience (that also puts less stress on the motor).
For home treadmills, rollers that are 2.5″ or larger are preferred, but a lot of treadmills in the budget category user smaller rollers that are in the 1.5″-1.9″ range.
I don't think this is a deal breaker either way, but just something to be aware of.
If you're stuck between 2 similar machines, I'd pick the one with the larger rollers.
Frame
Before you buy anything, you need to check the dimensions to make sure it'll actually fit in your home, but there are a few other things to consider regarding the frame as well.
Like the assembled weight and weight limit.
And I like to see higher numbers in both categories.
Higher weight limits are great because it means folks of all sizes will be able to use the treadmill safely, but it also tends to mean the treadmill is more durably built.
And the same goes for the assembled weight.
Sure, having a heavier treadmill means it'll be a little harder to move around, but it also means it should feel more stable during workouts.
When it comes to weight limits, I want to see at least a 300 lb capacity; and with assembled weight, I want to see over 200 lb.
Seeing numbers this high gives you a good indication that the treadmill is heavy-duty enough to hold up for the long run.
Warranty
The warranty is another important spec to consider when buying a new treadmill or really any other piece of equipment.
This is the insurance plan for your new purchase and a good warranty will let you rest a little easier when making a purchase of this size.
And a poor warranty can keep you up at night, wondering what you just did.
Anyway, treadmill warranties are usually divided into 4 parts:
The frame and motor warranties should be the longest because these are the parts that should last the longest.
Most quality models will offer "lifetime" warranties on both the frame and motor, and yes, there are treadmills in this price range that offer this.
Parts warranties vary greatly, but usually fall somewhere in the 2-5 year range.
Lower quality models may only offer 1 year on parts or even less for some of the really affordable options.
Labor warranties are always the shortest.
Budget treadmills usually just offer 1 year on labor – even expensive treadmills rarely offer more than 2 years.
Either way, I think a treadmill's warranty tells you a lot about the quality of the machine.
Short warranties mean the company knows the machine is cheaply made and they don't expect it to last.
On the other hand, longer warranties show you the manufacturer trusts their products are well made.
When stuck between 2 similar treadmills, I would always opt for the better warranty.
Personally, I would go with a simpler treadmill with fewer features and a strong warranty than a hi-tech treadmill with a weaker warranty, but it really depends on what you're looking for.
Features
Budget treadmills don't usually pack as many fancy, hi-tech features as the high-end models. After all, there are reasons these machines cost less.
But that said, you may be surprised at some of the features you can still find on quality models.
Here are some of the features you can expect to find on treadmills in this price range:
Fewer built-in workouts- usually these consoles are simpler with fewer workout options, but there are treadmills on this list with 20-30 workouts included.
Simple displays- you won't find any large, touchscreen displays for under $1000. These displays are smaller and less sophisticated.
Bluetooth capabilities- you can find treadmills with bluetooth connectivity in this price range. Bluetooth can be used for data tracking with apps as well as connecting to built-in speakers wirelessly.
Heart rate tracking- quality budget treadmills should be compatible with chest strap heart rate monitors, some may include one with purchase.
Folding decks- most home treadmills these days come with folding decks. This is a nice feature if your workout space is limited to begin with. Folding the treadmill when not in use can save you 2-3′ of floor space.
Shock absorbing system- quality budget treadmills will come with some type of shock system to reduce stress through your joints.
USB/mp3 ports- a lot of these treadmills also come with USB and mp3 ports to charge your devices and plug your devices into the treadmill to listen to music through the built-in speakers
Quick-touch buttons- this features allows you to instantly set a preselected speed or incline. This is a great feature, especially for doing interval training. A lot of quality budget treadmills offer this now.
These are the most common features you'll see. There may be a few I missed, but generally speaking, budget treadmills come with less sophisticated tech than their higher-end counterparts.
I think the under $1000 price range can be a real sweet price point though, because you can get a high-quality treadmill with decent features without breaking the bank.
Ok, that about does it for the buyer's guide.
When comparing treadmills (budget or not), you should start with the running surface, motor, frame, and warranty.
Then take a look at what features are most important to you and find one that comes with as many of your preferences as possible.
Now here are my top picks for this price range, based on the criteria we just discussed.
The 7 Best Budget Friendly Treadmills Of 2023
#1 The Horizon Fitness 7.0 AT Treadmill
Horizon Fitness has a reputation for building high-quality treadmills that won't break the bank- and the 7.0 AT Treadmill is no different.
And unlike some of the other brands mentioned in this guide, Horizon hasn't increased the price on this treadmill…well, not yet anyway.
This treadmill comes with a spacious, 20″ x 60″ running surface, which I think is of the utmost importance.
This is big enough for runners/walkers of all sizes to workout comfortably without having to worry about running out of belt space.
The 7.0 AT is also a folding treadmill, making it great for tight spaces.
It has a 3 zone variable response cushioning system, where the amount of shock absorption varies on the deck based on the kinematics of running.
The result is a comfortable experience with less stress through your hips and knees.
This treadmill also has an impressive 3.0 CHP motor with a top speed of 12 mph and a top incline of 15% – stats that shouldn't be taken for granted in this price range.
And Horizon built this model with 2.3″/1.8″ tapered rollers, which are pretty large for this price range as well.
The 7.0 AT is also backed by an awesome warranty: lifetime frame and motor, 3 year parts, and 1 year labor.
If you're looking for a good ol' fashioned treadmill without too many bells and whistles, this is a good pick (although it does come with bluetooth speakers and those awesome control dials).
Overall, it's built like a tank and comes with a great guarantee. What else could we want in this price range? See full review.

#2 The XTERRA TRX3500 Treadmill
XTERRA is another solid home fitness brand that tends to fly under the radar, but when you check out their specs, XTERRA's treadmills can hang with any other brand out there.
The TRX3500 is one of their more affordable treadmills, but it's still packing an impressively heavy-duty frame and some great performance specs.
This treadmill comes with a running surface that measures 20″ x 60″– which again, is very impressive in this price range.
The TRX3500 also comes with an impressively strong 3.0 CHP motor that can reach a top speed of 12 mph and comes with 12 levels of power incline to play with.
The warranty on this treadmill is no joke either – with a lifetime frame/motor, 2 year parts, and 1 year labor guarantee, XTERRA certainly stands behind this model.
I'd also like to point out that this treadmill folds and is surprisingly heavy-duty (with a weight limit of 350 lb).
Overall, the TRX3500 is another quality budget treadmill from a brand that specializes in affordable home equipment. See full review.
Full disclosure- this treadmill isn't always priced under $1k. In fact, XTERRA usually has it priced over $1k, but it can often be found much cheaper on Amazon.

#3 The LifeSpan TR1200i Treadmill
I could be wrong, but I don't think LifeSpan Fitness gets the respect they deserve.
I mean, LifeSpan is a solid home fitness brand with several nice budget-friendly machines to choose from, but you don't seem to hear that much about 'em these days.
Anyway, I especially like their TR1200i because it comes with some very respectable performance specs for this price range.
The running surface on this model is a little smaller than the above model, but with a 20″ x 56″ surface to work with, it's still larger than many in this price range.
The TR1200i is also packing a 2.5 CHP motor that can reach a top speed of 11 mph and comes with 15 levels of power incline to add all the extra intensity you're looking for.
This treadmill also comes with 21 built-in workouts to choose from, making it a great choice for people looking for a lot of workout variety from their treadmill.
The console on this model is pretty simple, but it's large and brightly-lit for easy viewing.
More importantly, the TR1200i is backed by a decent warranty: 10 year frame, 2 year parts, 1 year labor.
Overall, if you're looking for a dependable treadmill with a lot of workouts to choose from, LifeSpan's TR1200i is definitely worth a second look. And on sale, it's well under $1k. See full review.

#4 The Horizon T101 Treadmill
Yup, another Horizon treadmill made my list – I'm a fan or variety, but the fact is, Horizon offers great budget-friendly treadmills.
The T101 is their entry level treadmill as well as their most affordable.
As I'm writing this, the asking price is roughly $300 cheaper than the 7.0 AT, making this the cheapest treadmill on this list.
The T101 comes with a running surface of 20″ x 55″, almost identical to the treadmill we saw above.
You might've noticed the correlation between lower price and smaller running surface- remember, there are reasons some treadmills cost more than others.
Anyway, when it comes to muscle, this treadmill comes with a 2.5 CHP motor capable of reaching 10 mph as well as inclining up to 10%.
Not as impressive as some of the treadmills we've discussed so far, but not bad for a machine in this price range.
The most surprising features on this treadmill (surprising in a good way) are the bluetooth speakers and the fact that it comes with 40 different workout programs.
There are home treadmills that cost 2x as much that don't come with bluetooth speakers- nice job Horizon.
The T101 also comes with the convenient dial resistance/incline controls that I've fallen in love with on my 7.8 AT.
Oh, and the T101 comes with a decent warranty for the price, offering lifetime on the frame and motor, and 1 year on parts and labor.
Overall, the T101 has a lot to offer for a $600 treadmill.
If you're looking for a well-built machine with some nice tech features, the T101 is a great choice. See full review.

#5 The NordicTrack T 6.5 S Treadmill
NordicTrack is one of the most well-known home fitness brands around, so I doubt an introduction is necessary.
This T 6.5 S is one of their older models and it's a bit outdated when compared to some of their newer machines, but for the price, it's still one hell of a treadmill.
And it was actually the #1 selling treadmill on Amazon at one point…enough said.
This treadmill comes with a running surface that's 20″ x 55″– this is far from perfect, but it's still better than a lot of the other treadmills in this price range.
The shorter belt might be a problem for taller users- if you're over 6′ tall, you might find yourself shortening your stride a little (especially when sprinting).
But shorter folks and slower runners won't have any issues.
The included 2.6 CHP motor is also a little weaker than the previous models, but the T 6.5 S is still capable of reaching a max speed of 10 mph and a max incline of 10%.
I'm guessing most of us could still get a strenuous workout with these specs.
This model folds and comes with the same FlexSelect shock absorbing system as the other more expensive NordicTrack treadmills.
NordicTrack backs this machine up with the following guarantee: 10 year frame, 2 year parts, 1 year labor.
So as you can see, this treadmill is a little smaller, a little weaker, and not quite as robust as some of the other machines on this list.
It's really best suited for walking and jogging instead of serious running, but considering the low asking price, still a great budget treadmill. See full review.

#6 The XTERRA TRX2500 Treadmill
The TRX2500 is another affordable treadmill from XTERRA and even though it's not quite as impressive as the TRX3500, it still scores highly for a treadmill under $1k.
When it comes to performance, this treadmill comes with a 20 x 55″ running surface and a 2.25 CHP motor that can reach a top speed of 10 mph.
It also offers 10 levels of power incline for extra workout variety.
Speaking of workouts, the TRX2500 comes loaded with 24 workout profiles to choose from, offering a great deal of variety.
The console is far from fancy, but it does come with built-in speakers and quick touch speed/incline buttons for easy controlling.
And when it comes to the warranty, XTERRA doesn't disappoint: lifetime frame/motor, 1 year parts, 1 year labor.
Overall, the TRX2500 is another budget-friendly treadmill worth checking out. See full review.

#7 The ProForm Carbon T7 Treadmill
Rounding out my list is the Carbon T7 by ProForm.
ProForm is owned by the same company that owns NordicTrack, meaning all ProForm treadmills are also compatible with iFit.
And as budget streaming treadmills go, few can offer what the T7 offers.
The T7 is one of the only treadmill you're likely going to find in this price range that actually comes with a touchscreen console.
More specifically, this treadmill comes with a 7″ HD touchscreen display, making it easy to select and few all workouts.
As I mentioned, this treadmill is designed specifically to pair with iFit (30 day membership included), but it's got a lot of other good stuff going for it even if you don't want to commit to the monthly membership fee.
Like a 20″ x 55″ running surface and a 2.6 CHP motor that can reach a top speed of 10 mph and a top incline of 10%.
Other highlights include bluetooth, a folding frame, quick touch buttons, and a built-in cooling fan.
ProForm's warranty isn't too bad either: 10 year frame, 1 year parts, 1 year labor.
Overall, if you're looking for an affordable streaming treadmill, the Carbon T7 needs to be at the top of your list. See full review.
ProForm also offers this treadmill as part of their ProForm+ program, which means you can get it for free with a 3 year iFit membership, although I'm not sure how much longer this treadmill will be available.

Honorable Mention: The Sole F63 Treadmill
I realllllly wanted to include the Sole F63 on this list, but I tried really hard to abide by my $1k price cap and unfortunately, Sole increased the price of this treadmill to just over $1k ($1199 at the time of writing this).
But it's such a great budget treadmill I had to at least mention it…so, "honorable mention" here we go.
Anyway, the F63 is Sole's entry-level treadmill and it's got a lot to be proud of.
This treadmill finds itself on most bloggers' "best of" lists and there's really no surprise why- it's well-built and comes with great specs for such an affordable machine.
Right off the bat, it comes with 20″ x 60″ running surface.
The frame also folds for easy storage and the deck is designed with Sole's CushionFlex shock absorption system to reduce stress through your joints.
It's also packing a 3.0 CHP motor with a top speed of 12 mph and 15 levels of incline.
Simply put, the F63 has enough muscle to challenge even the most talented runners.
This treadmill also comes with a great warranty: lifetime frame and motor, 3 year parts, 1 year labor.
Overall, the Sole F63 is an easy to use, sturdy machine designed to last. If you don't need a ton of preprogrammed workouts, this treadmill is a great choice.
If you want to test drive it first, you can find it at many sporting goods stores (like Dick's). See full review.

Final Thoughts
There are a ton of affordable treadmills out there and you have to be careful when purchasing one under $1000- you don't always know what you're getting.
And yes, there are a lot of junky treadmills out there that you wouldn't be happy with.
To make sure you get a treadmill that will perform and last, I suggest you concentrate on those performance specs first and foremost: running surface, motor strength, frame, and warranty.
Luckily, there are some really nice options that can be yours for under $1000.
But as my list suggests, the best ones are often found in the $600- $1000 range.
Just remember- when it comes to buying treadmills, affordable or high-end, prioritize the specs that matter – don't get caught up in flashy features or unnecessary tech.
Ok, that about does it.
If you have any questions, comments, or know of any treadmills that should've made this list, leave 'em below and I'll get right back to ya.