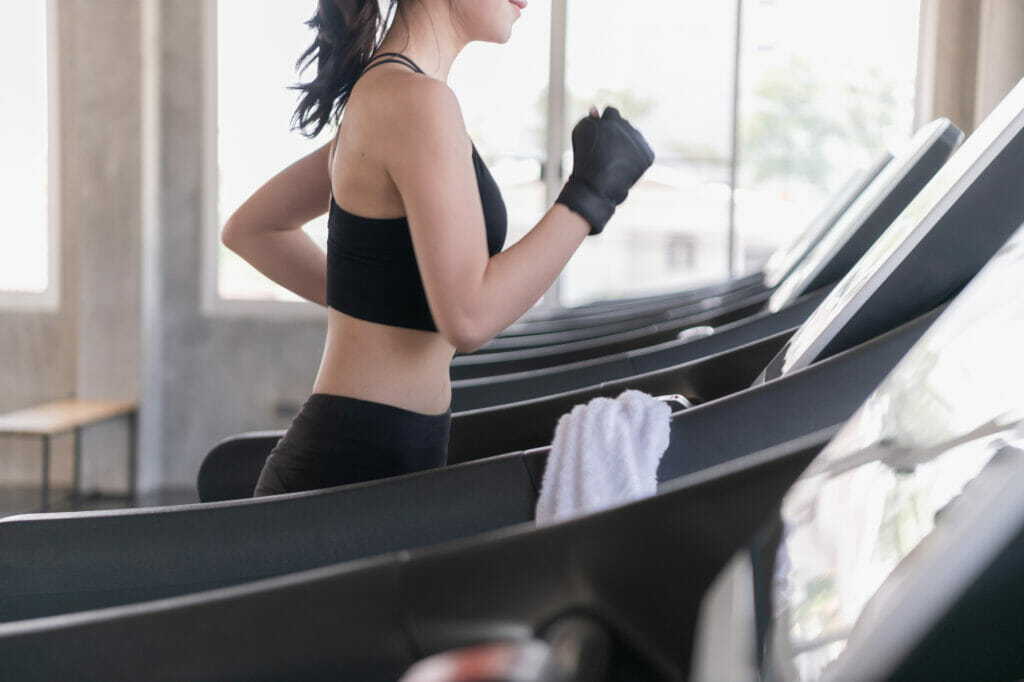 The XT485 is one of Spirit Fitness' highest-end residential treadmills to date. With an amazing combination of performance specs and a fair price, I think this might be one of Spirit's best deals.
To be a little more specific, the XT485 comes with a 22″ x 60″ running surface, a 4.0 HP motor, 15 levels or power incline, and a heavy-duty frame that can hold users weighing up to 425 lb.
And since this is a Spirit treadmill we're talking about here, of course it's backed by an industry leading warranty.
Overall, there's not much to complain about with the XT485- it's a great machine that's priced effectively for a lot of home gyms.
But is it really the right option for your home?
Well, that's what I'm hoping to help you answer.
In this review, I'll go over everything the XT485 has to offer. After reading, you should know everything you need to in order to decide for yourself.
Off we go.
The Spirit Fitness XT485 Treadmill
Spirit Fitness is an elite brand that offers a wide selection of both residential and commercial grade cardio machines to choose from.
They've rapidly become one of my favorite brands because all of their machines are well-built, easy to use, and back by great warranties.
Their generous warranties are one of the biggest things that set them apart from a lot of the other elite brands in their price range, but more on that later.
Spirit has several residential treadmills to choose from. As you go from one model to the next, you'll see subtle upgrades with regards to the performance specs and console features.
And even though I'm a big fan of Spirit in general, I think a couple of their less sophisticated treadmills (like their XT185 and XT285) are priced a bit high for what you get.
That isn't the case though, regarding their XT485.
This treadmill comes with a full retail price of $2699 (which isn't bad considering what you get), but you can get it even cheaper through sites like Fitness Factory.
Pros
22″ x 60″ running surface
4.0 HP motor
2.5″ rollers
425 lb weight capacity
Large console
12 workout programs
15 levels of power incline
Folding frame
Bluetooth compatibility
Chest strap heart rate monitor included
Direct access speed/incline buttons
Handlebar speed/incline controls
Amazing warranty
Cons
Running Surface
Ok, let's get this review started by going over what I consider to be the most important spec for any treadmill: the running surface.
As simple as this spec is, it instantly tells you a lot about the machine.
Not only do nicer treadmills tend to come with larger running surfaces, but it tells you whether or not you're gonna be able to run comfortably.
The running surface is just the dimensions of the belt, measured in inches and usually written as "width x length".
If you're tall or the belt is short (or both), odds are you're not going to be able to stretch out fully when running at higher speeds.
If you don't plan on running, this isn't as big an issue. But even so, having more room is beneficial when it comes to overall comfort too- no one wants to feel cramped while walking or running.
Most treadmills in this price range come with at least a 20″ x 60″ belt and many now are coming with an extra wide 22″ width.
At theses sizes, pretty much any user will be able to run as fast as they want without having to shorten their stride.
With all of this in mind, the XT485 comes with a running surface that measures 22″ x 60″, so we can check that box.
The running surface on this model is quite spacious, which is great, but the frame is heavy-duty too, which is also great.
A heavier-duty treadmill is going to feel more stable during your workouts. You know, no wobbling or shaking every time you run.
The best way to gauge how heavy-duty a treadmill is (without actually taking it for a test run) is to look at the weight capacity and the assembled weight.
These 2 specs will give you a good idea as to what you can expect in terms of overall frame integrity. And as you'd expect, higher is better in both cases.
The XT485 comes with an assembled weight of 269 lb and a max weight capacity of 425 lb.
The assembled weight on this model is actually a little lighter than many of the models in this price range that weigh well over 300 lb, but the weight limit is right up there with the best of 'em.
Seeing a weight capacity this high is indicative of a very stable frame, but it also means larger folks can safely use this treadmill as well.
Overall, the XT485 scores highly in this department – with a large running surface and high weight limit, people of all sizes should be able to use this treadmill comfortably and safely.
Motor
This treadmill is right where I would expect it to be when it comes to the running surface, and it doesn't disappoint in the motor department either.
Motor strength is another crucial spec you should consider when researching any new treadmill.
As you might guess- stronger is usually better.
A stronger motor is going to provide a smoother experience than a weaker one. This is because the stronger motor can provide the same output without having to work as hard.
This means you won't feel or hear the motor struggling to keep up (which is quite possible with a weaker motor).
That's all good and makes sense, but how strong is strong enough?
Ah, great question.
If you're planning on running on the reg, I suggest you aim for at least a 3.0 HP motor.
At this strength, you shouldn't have to worry about the motor not being able to keep up, even when sprinting at higher speeds.
With this in mind, consider that the XT485 comes with a 4.0 HP motor.
With a motor this strong, this treadmill will be able to keep up with even the most gifted runners around without showing any signs of struggling.
The XT485 can reach a top speed of 12 mph (which is the norm for home treadmills) and also comes with 15 levels of power incline for added workout variety.
This treadmill comes with an impressive motor, but it also comes with large rollers, which is key for prolonging the life of the motor and belt.
FYI, the rollers are the parts that allow the belt to glide smoothly across the deck during use.
Larger rollers are beneficial because they make more contact area with the belt, which provides a smoother feel, but it also puts less stress on the rollers and belt (and motor).
Treadmill roller sizes vary, but nicer treadmills tend to come with larger rollers. And I consider anything bigger than 2″ to be considered "large".
With this in mind, the XT485 comes with 2.5″ rollers in both the front and the rear, which is great for a treadmill in this price range.
The combination of a strong motor and large rollers is a great 1-2 punch when it comes to providing smooth workouts and prolonging the life of the treadmill.
Features
The Spirit XT485 comes with the following features:
9″ console display- the LCD screen on this treadmill is blue backlit to make it easier on the eyes and larger than the 7.5″ display on Spirit's lower end models. This display allows you to comfortably see all your workout metrics at the same time (as well as a lap indicator) without having to wait for them to scroll.
12 workout programs- the XT485 comes with plenty of workout programs to choose from. These include all the standard profiles you might expect, like manual, hill, and fat burn, but it also comes with 2 custom user workouts and 2 heart rate guided workouts. There's also a unique "Fusion" workout that alternates between strength and cardio intervals.
Folding frame- the deck on this treadmill can easily fold vertically for storage when not in use.
Bluetooth- this treadmill is bluetooth compatible with Spirit's free Fit App, as well as the Zwift app if you like.
Chest strap- this treadmill is compatible with chest strap heart rate monitors and Spirit even does ya one better and includes one with purchase.
Direct access buttons- you can instantly set the speed and incline with the push of one of the direct access buttons. This is a great feature that comes in especially handy when doing interval workouts.
Handlebar controls- you can also control the speed and incline with the conveniently located handlebar controls. You might not think these are necessary, but trust me- once you start using them, you'll wonder how you ever got by without 'em (kinda like how I feel about the volume control on my car's steering wheel- I know the dial is right there, but it's nice not having to take your hands off the wheel… just sayin')
Audio jack- you can plug your mp3 player into the console and hear your workout tunes through the built-in speaker.
Cooling fan- there's a fan built-into the console to help keep ya cool and comfortable during workouts.
Dual storage trays- there's a fairly large storage tray on each side of the console for storing things like a water bottle, keys, remotes, etc.
Assembly
Spirit does a pretty nice job with their assembly manuals- the written instructions are helpful and there are fairly large images for each step along the way.
The assembly process for the XT485 is straightforward too, so I think most able-bodied folks should be ok with self assembly.
There are only 6 steps in the manual, and they consist of attaching the console uprights to the deck, attaching the console to the uprights, and then adding the horizontal support bar.
There are also a few covers that need to be attached.
The trickiest part for any treadmill is usually connecting the console cables while having to attach the console to the uprights.
This part is a lot easier if you have someone else around to hold the console in place while you make the cable attachments.
Also, keep in mind how heavy this treadmill is- it's a good idea to have at least 2 people during assembly just for the sake of moving it around.
Overall though, putting the XT485 together shouldn't be too bad.
Warranty
The Spirit Fitness XT485 Treadmill comes with the following residential warranty:
Lifetime frame
Lifetime motor
Lifetime deck
10 year parts
1 year labor
I mentioned at the beginning that Spirit is known for their generous warranties- well, now you know why.
This really is, without exaggeration, one of the best treadmill warranties around (especially for this price range).
Lifetime is as good as it gets for the frame, motor, and deck. 10 years on parts is also 2x as long as the 5 year guarantee most elite brands offer.
A year on labor is pretty standard, although some brands offer 2 years (if Spirit upped their labor guarantee to 2 years, it would be the perfect warranty).
Overall, an amazing warranty on the XT485.
Final Thoughts
That's about all I got for the XT485.
All things considered, I don't have much to complain about here.
This treadmill comes with a powerful motor, a spacious running surface, and a really high weight capacity- check, check, and check.
In terms of console features, nothing too fancy here, but it's got ya covered with a nice selection of workouts, bluetooth capabilities, and an included chest strap.
I guess it would be nice if it came with bluetooth speakers too, but does anyone really use them anyway?
And then there's that warranty which speaks for itself.
When it comes to the competition, Sole's F85 is very similar in terms of performance, but it comes with a more sophisticated touch screen console and is about $200 cheaper (although Spirit's parts warranty is 2x as long).
Overall though, I think the XT485 is probably Spirit's best deal when it comes to treadmills and easily one of the best treadmills in this price range.
Is it perfect, no (although if it was $200 cheaper it might be), but it's pretty damn close. Highly recommended.