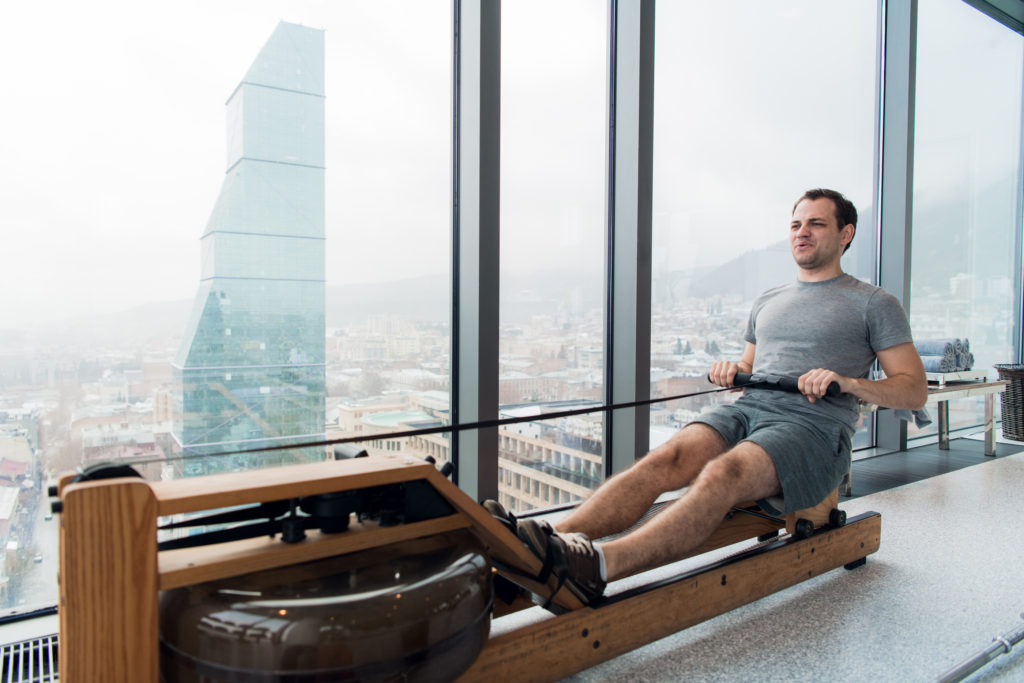 The WaterRower Club Rowing Machine (with S4 monitor) might just be the best water rower on the market. And since water rowers provide the most realistic rowing experience you can find on land, that makes this model second only to jumping in a boat and going for a spin.
Quality construction and precise selection of materials come together here to form an elegant and incredibly functional piece of fitness equipment.
Put another way: this is a rowing machine you're going to want your friends and family to see.
Highlights of this model include a gorgeous frame, quiet operation, and a sophisticated monitor. You can also get the optional hi rise attachment to make getting on and off more comfortable.
If you're looking for a high-end rowing machine, WaterRower's Club model is a great choice. But this review is here to help you decide whether or not this the right choice for you.
In this review, we'll take a close look at everything this rowing machine has to offer, including all the key specs and features you should consider when looking at any home rower.
After reading, you'll know everything you need to in order to make the right decision.
Ok, let's get to the good stuff.
The WaterRower Club Rowing Machine (With S4 Monitor)
If you've been researching rowing machines for some time, you've probably come across the WaterRower lineup before. As the brand name implies, this company specializes in producing luxury water rowers.
The WaterRower company was formed in the late 80's by a US National Team rower. Not only does the company produce beautiful rowers, but they do so by using sustainable hardwoods found in the Appalachian Mountains region of the eastern US.
Their practices are better for the environment, but the hardwoods they use are also better for your rowers. The carefully selected wood materials are chosen for their hardiness and durability as well as their ability to absorb vibration and sound.
WaterRower offers several rowing machines in their lineup. Most are made of hardwood, though they do offer a few all metal models (like the S1 and M1 rowers).
When comparing their different models, the biggest differences are found in the frame materials and monitors. Their Club Rowing Machine is one of their mid-range models and comes with the S4 monitor.
Pros
Water resistance system mimics feel of rowing on the water
Durable, hardwood frame
Elegant design
600 – 700 lb weight capacity
Heart rate monitor compatible
S4 monitor with workout programs included
Can be stored vertically
Optional hi rise set makes getting on/off easier
Easy to assemble
Good warranty
Cons
Heart rate monitor not included
Resistance
Water rowers are called "water rowers" because they use water to create the resistance. After all, if you're trying to mimic the feel of rowing a boat, it makes sense to use water right?
These rowing machines work very similarly to air rowers- the only difference is that instead of the fan pushing against air, you have a paddle pushing against water.
The effect is very similar. Like air rowers, the harder (of faster) you row, the more resistance you get. This is how it works when you row a boat with oars as well.
This means technically speaking, there's no limit on how much resistance a water rower can provide. The only real limit is how hard you can row.
This is an obvious benefit of these types of rowing machines. The only real disadvantage people speak of is that these rowers are a little noisier than other types (since you hear the water churning as you row- which, personally, I find relaxing).
The Club Rowing Machine utilizes a specially designed paddle to closely mimic the feel of an oar pulling through the water.
Being a water rower, there are no digital resistance levels or any of that jazz because they aren't necessary. If you want more resistance, you simply pull harder.
That said, you can play with the water level in the tank to fine tune your overall resistance. Putting more water in the tank will increase the resistance felt and taking water out will reduce the overall resistance level.
PS- you should use municipal or distilled water to fill the tank (no well water)- this should help prevent algae from growing. WaterRower also provides water purification tablets that should be added every 6 months or so.
Users agree the Club Rowing Machine has an exceptionally smooth action. Rowers looking to mimic the feel of rowing a boat will appreciate the gentle lulling sound of the water swishing with each stroke.
Frame
WaterRower's Club machine frame is made out of solid Ash wood. Ash is a very hard wood and is used to make furniture, tools, and even some baseball bats.
It's renowned for its toughness and its ability to absorb shock without splintering, making it a great choice to construct a rowing machine out of.
Speaking of hardiness, this rowing machine has a max weight capacity of 700 lb (600 lb with the hi rise attachment). This basically means the Club rower is tough enough to handle any user.
The hi rise attachment is optional and elevates the rower an additional 8″ off the ground, making it a lot easier to get on and off of (which I think is one of the biggest downsides of most rowers).
These shock absorbing properties also help keep the noise levels down, which is very helpful for a water rower. Water rowers by design are amongst the noisiest rowing machines around, but the wood frame helps muffle some of the swishing sounds heard.
The wood frame has been stained for this particular color, which I think looks fantastic. I love dark wood stains (I wish my kitchen cabinets were this color).
I think the black rails work well with the rose colored stain cosmetically speaking, but they're also designed to prevent scuffing and damage during use.
All of the wood components have also been hand finished with Danish oil and urethane for an extra layer of protection. As the Club name implies, this rower is designed for areas with a lot of users.
Think rehab clinics, fitness studios, or even commercial gyms.
Don't worry about having to oil down the wood  as regular maintenance though, it's not necessary. Just dust it regularly to keep it clean and you're good to go.
This rowing machine uses a belt drive to propel the flywheel, which also helps keep the noise down. Belts aren't quite as durable as chain drives, but they don't make as much noise either.
The pedals are large and come with adjustable straps to ensure a proper fit. One of the only complaints users have had about this rower have to do with the pedals- some find them a little too close together.
The handlebar is thick and padded for a comfortable feel. The black handle and belt match the color scheme of the frame nicely.
With a solid wood frame, folding isn't possible. But the Club Rowing Machine can be stored vertically when not in use (which serves the same purpose as folding).
Overall, this rower has a rock-solid frame with a gorgeous finish.
Monitor
Most rowing machines come with simple monitors that do little more than keep time. The S4 monitor that this rower comes with is a little more sophisticated.
It's larger than most, making it easier to read during your workouts. You'll be able to see all your workout metrics at the same time, instead of having to wait for your preferred data to scroll across (which is super tedious).
The S4 is also heart rate monitor compatible, giving the option to use your pulse rate to drive your workouts (but one isn't included).
This monitor also has a few extra readings you won't find on all monitors. This one calculates your 500m and 2k split times as well as your speed in miles per hour and meters per second.
The S4 comes with several workout programs to choose from, including distance and duration options as well as intervals. You can also pair up a heart rate monitor for heart rate zone programs.
The only thing this monitor is missing is the racing and pacing programs. Not to say these are common for home rowers, but at this price level it would be nice to see (Concept2's PM5 monitor offers these features).
Overall though, the S4 is a nice monitor and is more sophisticated than most. All of the metric tracking and workout programs should make your workouts more enjoyable.
Assembly
Putting this bad boy together isn't as hard as you might think. The assembly manual is well written and the images are all large enough to see what's going on in each step.
Rowing machines are actually pretty simple by design- in 10 steps you go from a pile of pieces on the floor to a fully assembled rower with water in the tank.
It's just a matter of bolting all the components together with the included Allen keys.
Most even remotely handy folks should be able to this job done without professional assistance. It might be a good idea to have a second person available to help- having someone hold components in place while you tighten always make the job go faster.
Overall, WaterRower has done a good job of making their rowers user friendly to assemble.
Warranty
The WaterRower Club Rowing Machine comes with the following warranty:
5 year frame
3 year parts (including monitor)
*But if you read the fine print, you have to fill out the product registration in order to get the full warranty.
In the world of home rowing machines, this warranty is pretty good. Most home rowers don't offer more than a year or two on parts (the most likely part of the rower to break down).
For comparison's sake, the famous Concept2 Model D comes with a 5 year frame and 2 year parts guarantee.
Overall, the warranty on this rower is better than most. For some reason, home rowers don't seem to get warranties as long as other home fitness equipment.
Final Thoughts
WaterRower's Club Rowing Machine is one of the best rowing machines around. As a true water rowing machine, it provides the feel (and noise) of being in a boat out on the water somewhere.
For those looking to mimic the sensation of rowing a real boat, there's no better choice.
I love the look of these rowing machines. I think the hardwood frame gives this rower an elegant and sophisticated look.
I know we usually try to hide our fitness equipment away in a basement or attic somewhere, but this is a rower that would look great in a living room or common room where it can be seen by everyone.
From the durable frame to the smooth paddle action, the Club Rowing Machine is designed for optimal performance. And the advanced S4 monitor is loaded with enough features to keep your workouts interesting for years to come.
When it comes to home rowers, the WaterRower Club Rowing Machine is a top luxury model. Highly recommended.