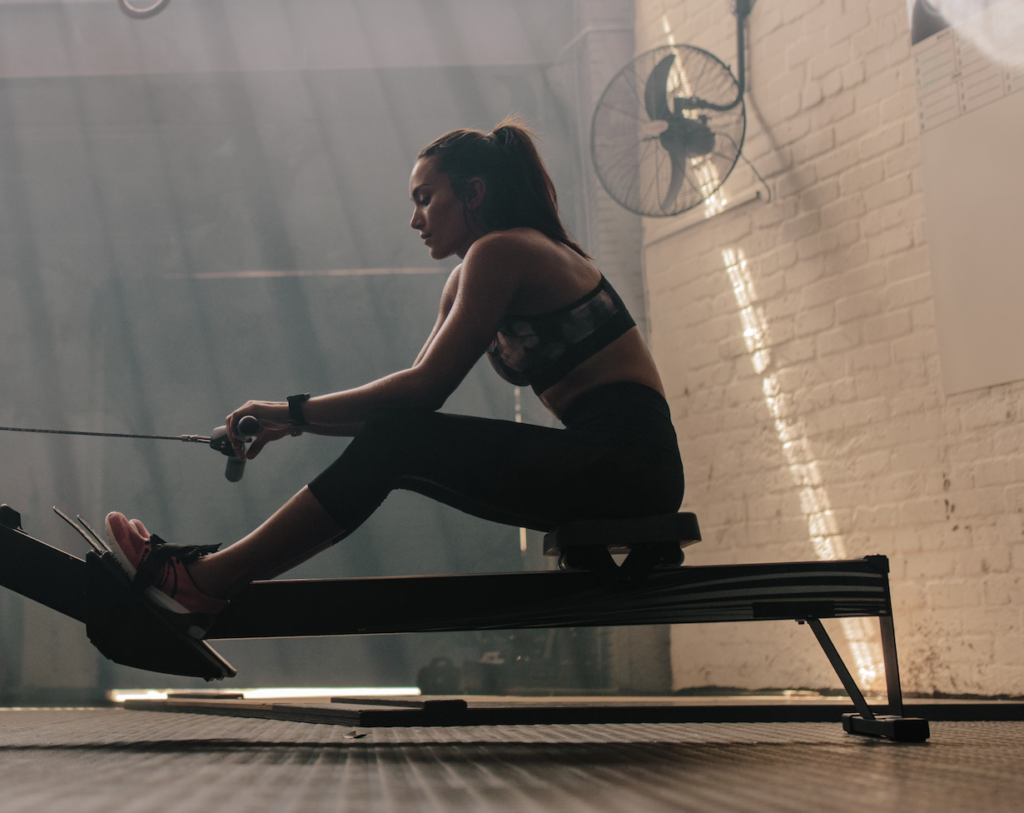 As a budget air rower, the Stamina ATS 1399 doesn't have a lot of competition on the market these days. Sure, there are plenty of affordable rowing machines, but if you study them and look at the small print, you'll find that few are true AIR rowers. We will discuss this in more detail below, but air rowers are usually considered to be the most effective type of rowing machine and serious rowers are usually willing to pay more for them for this reason.
But can the more affordable Stamina ATS 1399 provide a quality home workout for the average user? Or is it just a waste of money?
Air Rowers 101
Here's a quick rundown on air rowers, for a more thorough discussion check out my rowing machine guide.
Rowing machines come in different varieties and you could say that they all have their own pros and cons. Air rowers are just one of the four different types you will find available for home use- and if you ask me, they are the best.
Air rowers get their name from the manner in which they provide resistance for you to pull against. When you pull, the nylon strap is attached to a flywheel with fan blades around it. This flywheel spins every time you row and the blades pushing through the air are what provide your resistance.
The great thing is this- the harder you pull, the more resistance you feel.
Air rowers closely mimic the feel of rowing a boat through water because the resistance is dynamic and depends completely on how forcefully you pull.
For this reason, they have become the training choice of all elite rowers and plenty of recreational rowers alike. The most popular rowing machine in the world, the Concept2 Model D, is an air rower and is used by Olympic rowers when they aren't on the water.
With air rowers, there are no resistance controls. If you want more resistance, you simply pull harder. This is nice because you don't have to worry about interrupting your workouts to adjust the resistance settings (something that can't be said for magnetic rowing machines).
The biggest complaint users tend to have is that air rowers are noisier than their hydraulic and magnetic counterparts. This is true, the spinning fan does make noise. Personally, I find it soothing. Comparable to the sound of actually rowing on a lake, but if you have to worry about waking up sleeping family members it could be an issue.
There aren't many air rowers that fall into the budget category (for this article, "budget" is under $300). For this reason, the Stamina ATS 1399 is intriguing. A lot of the cheaper "air rowers" combine fans with magnetic resistance adjustments. If it's using any type of magnetic resistance, it's not a true air rower. If it has adjustable resistance, it's not a true air rower.
All a true air rower needs is the fan.
The Stamina ATS Air Rower 1399
Pros
Unlimited air resistance
Easy to assemble
Very affordable
Folds in half for storage
Built-in transport wheels make moving the rower easy
Decent warranty
Cons
Fairly low user weight capacity
Frame a little short
You probably haven't heard of Stamina Products, Inc., but odds are you've seen infomercials for some of their products on tv over the years. The relatively small home fitness brand based out of Springfield, Missouri has been in business for over 30 years and has provided products for names like Body by Jake, Suzanna Somers, Tony Little, and Golds Gym more recently.
Their goal has always been geared toward providing decent, affordable home fitness products. The Stamina ATS 1399 fits perfectly with their mission.
Resistance
As I mentioned earlier, the ATS 1399 is a true air rower. It only uses the wind resistance provided by the spinning fan blades to provide your resistance during your workouts. There are no resistance settings that you have to deal with to adjust your workout intensity.
The harder you pull, the more resistance you get. This not only mimics real rowing, but something I didn't mention above is that it also gives you unlimited resistance.
As you get stronger and better at rowing with time, you will be able to pull harder and for longer periods. The ATS 1399 will be able to grow with you, since there is no limit on the air resistance provided.
The ATS 1399 doesn't have a damper on the fan. Dampers allow you to fine tune the amount of air flowing through the fan and adjust the feel of the pull. This probably won't be an issue for most recreational rowers, but if you are an elite or competitive rower you may want to consider a machine that has one.
Construction
The Stamina ATS 1399 has a steel frame and a steel rowing beam running the length of the machine. This is good to know because it tells us this rower has a solid base and should be able to hold up during our workouts. This is true, steel is better than aluminum in this case, but this rower only has a weight capacity of 250 lb.
I don't mean to shame the ATS 1399, 250 lb is fine and to be expected for a budget rower. But this machine isn't designed for larger users.
This rower has a padded seat to add a little extra comfort. Rowers are kind of notorious for being uncomfortable over longer workouts, even the high-end ones. Really no getting around it, but the good news is your tolerance will improve.
Users agree the operation of the seat sliding on the rail is smooth and efficient. Some users are even surprised to how smooth it feels considering the low asking price.
The foot plates are oversized and do have adjustable straps to help keep your feet in place while you row. The worst thing is when your feet aren't comfortably stabilized and they keep moving around while you row. This shouldn't be an issue on the ATS 1399.
The handle has a slight texture to it to help keep it from slipping out of your hands during your workout. Something that is possible when things start getting sweaty.
The strap connecting the handle to the flywheel is made out of nylon, which should be strong enough to handle any workout you can throw at it and still remain smooth acting.
Monitor
The monitor on this rower is pretty basic, nothing too fancy going on here. It comes with a small LCD monitor that will show speed, distance, time, and calories burned. You can't see all metrics at the same time, but there is a "scan" feature that will alternate between the different metrics as you workout.
There aren't any built-in workout routines either. This isn't that uncommon though, rower monitors aren't usually as sophisticated as other types of cardio machines. Unless of course you're talking about the PM5 on the Concept2 rowers.
Assembly
Putting the ATS 1399 together is pretty straightforward. The owner's manual comes with pretty detailed instructions and the images are large enough to actually see where stuff is supposed to go. I also like it when there are actual written instructions for each step along the way (not just a pic showing what is to be done).
All the necessary tools are provided and most users are able to fully assemble in 30-45 minutes.
Fully assembled, the ATS 1399 has the following dimensions: 77″ x 18.75″ x 10″ (L x W x H).
The length on this rower is a little on the short side with most rowers being closer to 8 feet (or 96″) long. That said, Stamina claims users up to 6'4″ can comfortably use this rowing machine. If you are well over 6′ tall, I would recommend going with a longer machine to ensure you can fully extend.
Additional Features
There aren't many additional features to speak of on this rower, but I did want to point out that this rowing machine does fold up for storage. Simply remove a pull pin and the rail folds vertically. Reinsert said pin and the rail will remain vertical for easy storage.
There are also built-in transport wheels at the front of the machine. This and the fact this rower only weighs about 50 lb should make moving it around your home pretty easy.
Warranty
The Stamina ATS 1399 comes with the following warranty:
3 year frame
90 day parts
Neither of these warranties are particularly impressive, but remember what price range we are in. Budget machines come with shorter warranties, that's just the way it is. After all, there are reasons budget machines are budget.
That said, 3 years on the frame isn't that bad. The mighty Concept2 only offers a 5 year warranty on the frame. 90 days on parts is also pretty standard, even more expensive fitness machines rarely offer much more.
Final Thoughts
Air rowers provide the closest experience to rowing on water (except for water rowers) and most people agree they are the gold standard when it comes to rowing machines. Most air rowers are found in the mid and higher-end price ranges, but Stamina does offer a true air rower for a budget price with the ATS 1399.
Taking a close look at the ATS 1399 reveals it does have a lot of value to offer. As a true air rowing machine, it can provide unlimited, dynamic resistance for rowers of any experience level.
It's also easy to assemble, portable, and very budget friendly.
It's biggest downfalls are that the weight capacity is only 250 lb and the total length is pretty short at 77 in. This is indicative that the ATS 1399 is best suited for smaller users.
Overall though, I think the ATS 1399 is a great deal for beginner to moderate level rowers that are looking for an affordable air rower. Elite rowers or households with multiple users may want to consider a more robust rowing machine.
To answer my original question- the Stamina ATS 1399 is definitely not a waste of money. When it comes to affordable air rowers, it's as good as it gets.