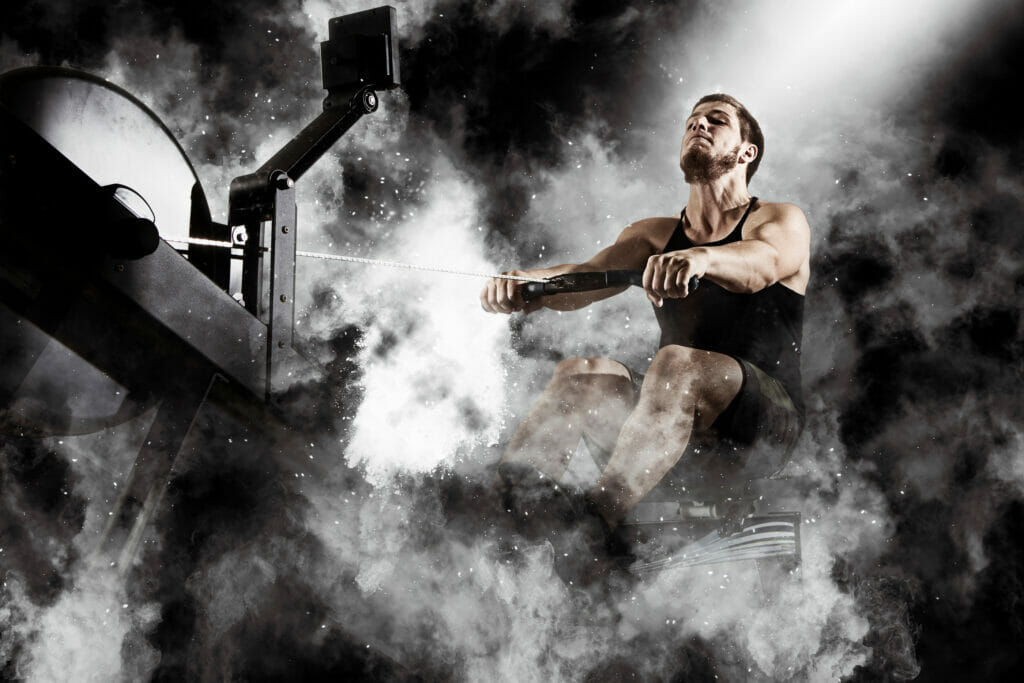 Rowers are a popular choice for home fitness machines because they provide a full body, low-impact form of exercise. They also do a pretty good job of combining the benefits of cardio and strength training in a single machine.
And if you're looking to mimic the sensation of rowing a real boat on a real body of water, then water rowers are the way to go.
Water rowers provide a few unique benefits that other rowing machines can't offer, but they certainly aren't for everyone. And if you're new to rowing or have never used a water rower before, it's important to know what to expect.
Don't worry, we got ya covered.
In this guide, not only will I review my top picks for the best water rowers on the market, but I'll also provide some helpful info regarding water rowers in general.
We'll go over all the specs and features you should consider when comparing models, as well as what to expect from these machines so you can determine whether or not a water rower is the right choice for ya to begin with.
Let's start with the fun part first though.
The 5 Best Water Rowers For Home Use
#1 The Ergatta Rower
The Ergatta is one of the newest in a growing line of "smart" rowers. I'm not sure if that's the correct term for these workout-streaming machines, but I think it makes sense, so, I'll go with it.
Anyway, unlike all the other streaming rowing machines we've seen over the last couple of years, the Ergatta is a water rower.
This means folks who want to join the streaming scene can finally do so while taking advantage of all the benefits a water rower brings to the table.
And not only is the Ergatta the only streaming water rower available (at the time of writing this anyway), it just so happens to be one of the most well-built rowers around.
The first thing you'll notice is how gorgeous the Ergatta is. This bad body's frame is constructed out of American cherry wood (a hard wood)- which not only looks great, but turns out to be a very durable material.
The Ergatta is so rock solid, it can handle users weighing up to 500 lb (yeah, I know, that's kinda insane for a home fitness machine).
As a water rower, you get unlimited resistance, but you can also adjust the water level in the tank to fine tune the feel of your rowing sessions.
It's hard to get past the cherry wood frame, but it's the 17.3″ HD touchscreen display that really sets the Ergatta apart from the rest of the pack.
This wi-fi enabled, bluetooth compatible monitor allows you to access on-demand streaming rowing workouts.
And unlike other streaming rowers that offer instructor-led workouts, the Ergatta offers more game-like, racing style workouts, that can really bring out the competitive side of users (you can also do more traditional workouts if you don't want to race).
The Ergatta uses your workout performance to customize all the workouts for you, ensuring your workouts are of the right difficulty to help you reach your fitness goals.
As a streaming rower, there is a monthly subscription fee to access all the good stuff ($29/month).
And besides the solid frame and hi-tech monitor, the Ergatta is also backed by a great warranty and comes with professional assembly.
Overall, if you're looking for an elegant, sophisticated water rower to add to your home gym, the Ergatta is the best around. See full review.

#2 WaterRower Club Rowing Machine (With S4 Monitor)
I didn't mention this above, but WaterRower actually supplies Ergatta with their rowing machines. The way I understand it, Ergatta develops the software, while WaterRower supplies the rowing machine, and the result is the product you see above.
Well, you can also purchase WaterRower machines without the monitor.
The WaterRower company has been around for a few decades now and they've earned the reputation of creating some of the most well-built rowing machines in the world.
And as their name implies, they specialize in water rowers- you won't find any magnetic or air rowers in their lineup.
It's pretty easy to spot a WaterRower product, because most of them are designed with the gorgeous hardwood frame we saw on the Ergatta (although they do offer a few models with metal frames).
Their Club Rowing Machine is a popular choice because it looks great and is built to last.
This particular WaterRower is crafted out of ash wood, which is a popular choice for furniture and certain tools. I like the dark stain and black accent on the frame, but you can also go with a more natural look.
The Club Rowing Machine comes with a 700 lb weight capacity- I can't think of any other way to describe how rock-solid this thing is than simply stating that fact.
Like the Ergatta, you can easily adjust the water level in the tank to fine tune the feel of your workouts (adding more water is like increasing the "weight of your boat").
The S4 monitor on the Club isn't nearly as sophisticated as the HD screen on the Ergatta, but as traditional rowing machines go, it's ahead of the curve.
This monitor displays all the typical workout metrics you'd expect, but it also calculates your 500m and 2K split times, as well as showing your speed in mph and meter/second.
The warranty on the Club is identical to the Ergatta, so no problem there.
Overall, if you're looking for an elegant water rower to add to your home and you don't want to worry about a subscription fee, WaterRower's Club Rowing Machine is a great choice (and it's surprisingly affordable). See full review.

#3 Life Fitness Row HX Trainer
Life Fitness is one of the most well-known fitness brands on the planet. And even though they're most recognized as a commercial grade brand, they also have an extensive lineup of residential machines to choose from as well.
Life Fitness offers just about everything when it comes to fitness, including strength training equipment and cardio machines of every kind.
Their Row HX Trainer is another water rower with a wood frame, although I'd argue it isn't as beautiful as the 2 wood rowers we've discussed so far.
This rower looks more like a piece of fitness equipment and less like a luxury piece of furniture- but hey, that's not always a bad thing.
The Row HX, much like the Newport Challenge below, comes with an easy to adjust water tank. Simply turn a dial to add or subtract water from the active tank and you can change the feel of your workout without having to add or remove water manually.
There are 4 levels to choose from, giving you some options when it comes to overall workout intensity.
The wooden frame comes with a max weight capacity of 330 lb, which is pretty solid for a home rower. Like the 2 WaterRowers above, the Row HX also uses a dual rail system for the seat to slide on.
The included LCD monitor is rather simple, but it makes it easy to read all necessary stats during your workouts. It's also heart rate monitor compatible, although one isn't included with purchase.
The warranty on this rower is pretty comparable to other machines in this price range- 5 year frame, 2-3 year parts, 1 year labor.
Overall, if you're looking for a well-built water rower created by one of the most popular fitness brands around, Life Fitness's Row HX Trainer is a nice choice.

#4 First Degree Fitness Newport Challenge AR Indoor Rower
The First Degree Fitness (FDF) name might not have that much brand recognition, but when it comes to water rowers, they know how to get the job done.
Actually, FDF uses water resistance for all kinds of fitness machines, including a whole lineup of cycle ergometers as well as power lifting equipment.
I think it makes perfect sense- water resistance works great for rowing machines, why wouldn't it work just as well for other types of exercise?
Well, if you ask FDF, they'd say it does.
Anyway, it's their rowing machines that first drew my attention to FDF, and their Newport Challenge AR in particular.
Unlike the 3 rowers above, the Newport Challenge comes with a more traditional, metal frame that comes in a sporty red color scheme.
This rower isn't quite as heavy-duty as the WaterRowers mentioned above, but with a max weight capacity of 300 lb, it'll be able to handle most folks safely.
The Newport Challenge is obviously a water rower, but its water tank is a little different. This rower comes with a dual chamber tank that allows you to add or remove water from the "active" tank with the turn of a dial (just like the Row HX).
This makes it a lot more convenient to adjust the "resistance level" (or feel) of your workouts. Instead of having to siphon water out or add water, you can turn the dial to take water from one chamber and add (or remove it) it to the other.
The result is a smooth acting rowing machine that's easy to adjust.
The monitor on the Newport Challenge can track all your metrics and rowing times efficiently, however it doesn't come with any pre-programmed workouts.
This rower is also backed by a solid warranty (5 year frame, 2-3 year tank/parts, and 1 year labor), adding a little peace of mind to purchasers. See full review.

#5 Sunny Health & Fitness Obsidian Surge
Right off the bat, I'd like to give a shout out to Sunny for their choice on this rower's name- "Obsidian Surge". It just sounds bad-ass.
Awesome names aside, Sunny has made quite the name for themselves with their affordable fitness machines. I'd even go as far to say that they're my favorite budget brand, especially for spin bikes.
Sunny does a great job of making affordable fitness products that hold up better than most.
And their Obsidian Surge is no exception.
This water rower comes with a steel frame (that looks great in all black) that can safely hold users weighing up to 300 lb. Its water tank is adjustable, with 6 different fill lines (1 being the least resistance, 6 the most).
What's really surprising about the Obsidian Surge though, is how sophisticated its R2 monitor is. Given the price on this rower, I'd be happy with a simple LCD screen that shows the time and pace.
The R2 however, is heart rate monitor compatible and comes with race modes, goal workouts, and even a recovery mode that measures how long it takes for your heart rate to return to baseline.
The warranty isn't as generous on this model (3 year frame, 180 days parts), but given the price, it's not that bad.
If you're looking for a significantly more affordable water rower to add to your home gym, SHF's Obsidian Surge is a great choice. It's probably the best water rower for under $500. See full review.

---
How To Buy A Water Rower (The Smart Way)
Ok, if you're still reading at this point, kudos to you! That means you're doing your due diligence and learning as much as you can before deciding on your next rowing machine.
And even though this takes a little more work, in means you'll probably be a lot happier with your chosen rower in the long run.
Let's start with the pros and cons of water rowers in general.
If you've never used a water rower before, this is a great place to start because we want to make sure a water rower is the right type of rower for ya before you get in too deep.
Benefits Of A Water Rower
Water rowers are called "water" rowers because they use a tank of water to produce the resistance you're rowing against.
Inside the water tank, there are paddles attached to a flywheel- every time you pull the handle, the flywheel spins, and the paddles push through the water in the tank.
This means you are literally rowing against water on these machines.
Since water rowers use actual water to provide the resistance, these machines do the best job of mimicking the sensation of rowing a boat.
The paddles cutting through the water even provide a unique "swooshing" sound, that some people (like myself) find relaxing.
But the biggest advantage of using a water rower in my opinion, is that the resistance is dependent on how fast or hard you row. If you want to feel more resistance during your workout, simply pull harder and you'll get more resistance.
There is no adjusting resistance levels like you have on magnetic rowers– the resistance you feel depends entirely on your rowing speed.
This means that technically, there is no limit on the resistance you can achieve.
Again, this is exactly how rowing a real boat works. Row faster, and you feel more resistance from the oars.
Most water rowers have adjustable water tanks, either by adding or removing water manually, or through the use of dual chamber tanks and dials.
Adding more water to the tank increases your overall resistance level, but it still depends on how fast (hard) you're pulling. Pulling harder with less water can still be more challenging than rowing slower with more water.
Adjusting the water level in the tank is compared to adding or subtracting weight from your boat (if that makes it any easier to understand).
Overall, water rowers are great because:
Mimic the feel of rowing a real boat
You can adjust the resistance by simply adjusting how fast/hard you pull
They provide unlimited resistance
They provide a relaxing "swooshing" sound that sounds like being on the water
Disadvantages Of A Rowing Machine
It's funny, but depending on how you look at it, one could argue that all of the benefits I just mentioned are really disadvantages.
If you like the idea of having a consistent resistance level regardless of how fast you pull, than a water rower isn't for you.
Magnetic rowers provide constant resistance regardless of how slow you pull, so if this sounds nice, then you might want to investigate magnetic rowers a little more.
Same goes for the "swooshing" sound.
If you want a silent workout, water rowers aren't your best option. The water noise they make isn't all that loud, but there is noise when you use them.
If you're worried about waking sleeping family members or watching tv while you workout, a water rower might not be the right choice for ya.
And then there's that water tank.
Water rowers come with a little bit of maintenance that other rowers don't. Every 6-12 months you'll probably have to add a water purification tablet to the water tank to keep it nice and clear.
Periodically you'll also likely have to drain the water and replace all together.
If this sounds like too much work, a water rower might not be your best bet.
Overall, possible disadvantages of a water rower include:
Can't row slowly against hard resistance
Can be noisy
Occasional maintenance to keep water tank clear
If the above issues didn't scare you away, then odds you'll be cool with a water rower in your home. But like everything else in life, all water rowers aren't created equal.
When comparing models, I suggest you consider the following specs when making a decision:
Weight Capacity
I'm always stressing the importance of checking weight capacities when comparing pretty much any type of home fitness equipment.
Not only does the weight capacity of a rower tell us whether we can safely use it or not, but it also gives us an objective idea as to how well built the product is.
I mean it makes sense that a rower that can hold 500 lb is more durable than a rower that can hold 300 lb doesn't it?
To be fair, maybe not necessarily, but when we're comparing rowers and we don't have access to try them all out beforehand, I think looking at this spec is the best we can do to get an idea of overall machine integrity.
If I'm comparing 2 rowers and everything else is pretty even, I'd go with the one with the higher weight limit.
Personally, I say always go for at least a 300 lb weight limit. I also recommend going for a rower that has a weight capacity that's at least 50 lb higher than your body weight.
I know that might not always be doable, but it's a good practice to ensure you're getting a heavy-duty enough product to handle ya.
I also like to look at overall machine weight when looking at rowers. Again, heavier is usually a good sign, unless you're looking for a lighter machine that'll be easier to move.
Warranty
Warranty is right there with weight capacity when we're talking about great, objective indicators of quality. The simple truth is that better products will come with better warranties.
These manufacturers aren't stupid- they know when their products are cheap and likely to fail.
In these cases, they aren't going to back them with extended guarantees because that means they'll be losing money in the long run.
And the opposite is also true- manufacturers producing high-quality rowers will offer longer guarantees because they know their products will last.
Warranty duration often goes hand in hand with price, with cheaper products coming with shorter warranties, and vice versa.
When it comes to water rowers, most high-end options are offering 5 years on the frame, 2-3 years on parts, and a year on labor.
Which is interesting, because with bikes and treadmills, you see lifetime frame warranties. I'm not sure why rowers have decided to offer such short frame guarantees, but it seems to be widely accepted.
When stuck between 2 similar rowers, I'd go with the one with the longer warranty.
Monitor
Before the onslaught of streaming fitness products, most rowing machines came with pretty simple, small, LCD monitors that weren't that fun to look at, but could tell ya what you needed to know.
Nowadays, as the Ergatta plainly illustrates, we have options when it comes to our monitors.
If you're interested in having access to on-demand workouts, you can do so through the use of HD, touchscreen displays (just make sure you take into account the monthly fees when budgeting).
And the folks that want to keep it simple can still do so with the more traditional LCD monitors.
Rower consoles usually display metrics like distance, time, speed, as well as 500 m split times. Some will also come with pre-programmed goal oriented workouts, while others may also offer racing or pacing workouts.
When choosing your next rowing machine, knowing what kind of monitor (and overall workout experience) you're looking for can help narrow the field.
Final Thoughts
Rowing machines have become a popular choice for home gyms because they can provide a great cardiovascular and strengthening workout without taking up too much floor space.
They're also relatively cheap when compared to treadmills and ellipticals.
Water rowers are a great choice if you're looking to mimic the feel of rowing a real boat and you're cool with the gentle "swooshing" sound they create.
The ability to adjust your resistance by simply altering how fast you row is another great perk.
When searching for a water rower, I suggest you prioritize the following specs: weight capacity, warranty, and monitor sophistication.
Comparing these will help you find the best option for your budget.
If you ask me, the 5 water rowers discussed above are the best options currently on the market. But if none of these rowers fit your need, at least now you know what to look for in your search.
Good luck out there and happy rowing!