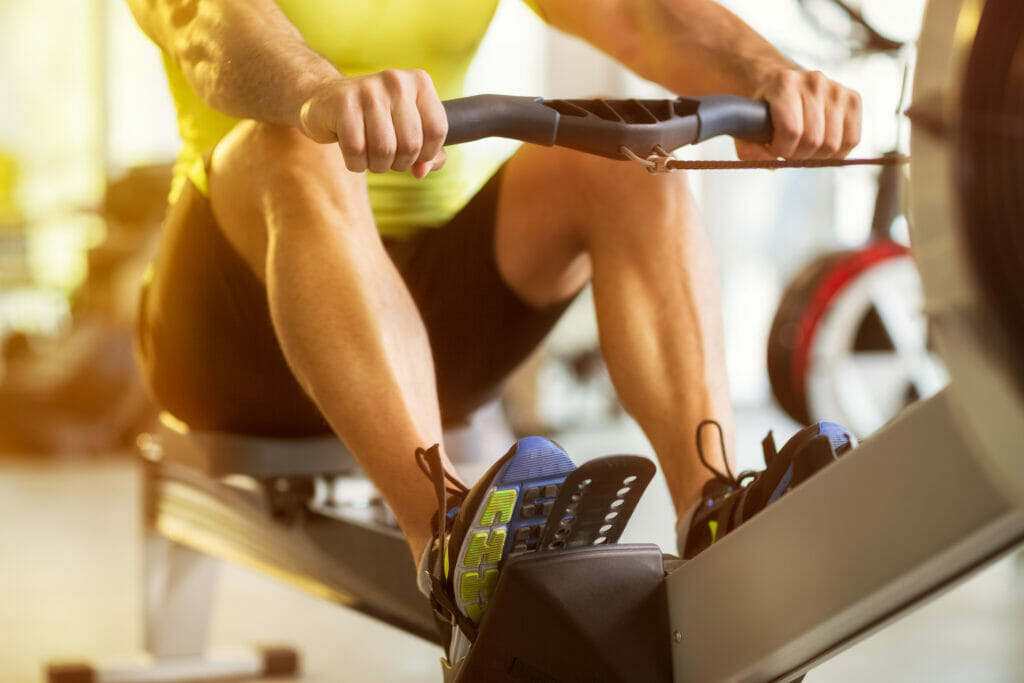 Folks who'd love to get their hands on a Hydrow, but are put off by the price and/or size of it, may celebrate the news that Hydrow now offers a smaller, more affordable model.
Enter the Hydrow Wave Rower.
Utilizing the same computer driven, electromagnetic drag resistance system, the Wave offers rowers a similar real-rowing experience, but at a fraction of the cost of the original Hydrow.
It also takes up a little less floorspace and weighs significantly less, which might come in handy for folks dealing with smaller workout areas.
The screen is also smaller, which isn't necessarily a good thing, but if that's what it takes to cut a cool $1k off the asking price, so be it.
All things considered, I think rowers looking for a more affordable alternative to the original Hydrow will be pleased, but before you buy, you gotta know what to expect.
And that's what I'm here for.
In this review, I'll go over all the in's and out's you should be aware of before investing in this rower.
After reading, you'll know whether or not the Hydrow Wave is the right option for your home gym.
Off we go.
The Hydrow Wave Rower
I'm not sure I'd go as far as to say that Hydrow is a household name by now or not, but the brand's been around for a while and it certainly enjoys a high level of band recognition.
The Hydrow brand also enjoys a high level of customer satisfaction, something that's crucial for a luxury brand's survival.
I mean, if you expect people to invest $2k+ into a product, you need happy customers spreading their joy word of mouth to all the would be buyers.
Luckily, that hasn't been an issue with the original Hydrow Rower.
No, the biggest concern I see for most would be buyers is the Hydrow's asking price – which is simply too steep for a lot of home gymers.
Which is why I think it was a brilliant idea for the brand to come out with a more affordable model that still works with the same streaming platform.
At the time of writing this, the Hydrow Wave costs about $1500 for the rowing machine itself, making it exactly $1000 less than the original Hydrow.
Pros
Computer controlled, magnetic resistance system
Mimics feel of rowing on water
Very quiet
Adjustable drag (0 – 300)
Sleek frame
375 lb weight limit
Fits users with up to a 36″ inseam
16″ HD touchscreen console
Bluetooth/ANT+ compatible
Access to thousands of instructor-led workouts
Workouts filmed on water
1:1 personal coaching available
Adjustable foot pedals
Comfortable handle
Smaller footprint
Easy assembly
Cons
Warranty could be longer
Vertical storage kit not included
Resistance
When considering any rowing machine, I think it makes sense to start with the kind of resistance it uses.
Rowers come in a lot of different shapes and sizes, but you can easily organize 'em by the kind of resistance systems they use – hydraulic, magnetic, air, or water.
There are also a bunch these days that use combinations of magnetic and air, but the magnetic side tends to be the most utilized resistance in these situations.
Anyway, the Hydrow Wave doesn't fit nicely into any of these categories because the geniuses behind this brand came up with their own, patented type of resistance for their rowers.
They describe it as a "computer controlled, electromagnetic drag technology", but they've basically done is created a magnetic rower that acts like a water rower.
Most magnetic rowers offer constant resistance, regardless of how hard/fast you row – this is why you have to adjust the resistance levels on them.
With water rowers though, the resistance you feel is directly related to how fast you row – row faster and you feel more resistance, slower and vice versa.
Well, with the Wave, the resistance is magnetic in nature (there's no water tank or anything), but the resistance you feel is still dependent on how fast/hard you pull.
This is what Hydrow means when they say their resistance is "dynamic and responsive".
The Wave's resistance is kinda the perfect combination of magnetic and water systems because you get the quiet operation you expect from a magnetic rower, but with the feel of rowing on real water.
Speaking of quiet, users all seem to agree that the Wave is about as quiet as they come, so if you're worried about bothering other family members, this could be a big deal.
Even though there aren't any resistance levels on the Wave, you can adjust the drag level to customize the "feel" of your workout.
The drag can range anywhere between 0 – 300 (Hydrow recommends starting at 104 and going from there), with higher numbers relating to a heavier boat.
I tend to have a hard time wrapping my mind around the whole drag vs resistance thing with rowers, but I read a quote from a trainer a while back describing how the drag can be though of as changing the size/weight of your boat.
This made sense to me because I can picture that regardless of how fast you're rowing, it's going to take more energy to row a larger boat.
Anyway, I can't remember where I read that, or I'd happily link to it (my apologies).
But remember – with the Wave, regardless of what drag setting you're on, your resistance will depend on how fast you're rowing (row faster, get more resistance; row slower, get less).
By the way, this is the same resistance system found on the more expensive Hydrow as well.
Overall, the patented resistance system on the Wave (and Hydrow) is one of its most prominent features and folks looking for a quiet, on the water experience will likely be very pleased.
Frame
Like the original Hydrow, the Wave comes with a single piece frame design, meaning there is no pivoting joint between the rail and the frame housing the console.
Although technically speaking, the rail and front frame housing the console are 2 separate pieces that are attached together (but more on that later).
I would assume this design option benefits from added structural stability, but it also happens to make for a very sleek look.
Of course, the downside is that with a single piece frame, the Wave isn't able to fold for storage.
It can be stored vertically, but unfortunately the anchor kit isn't included with purchase ($190 sold separately).
The Wave is constructed with a stainless steel rail and a thick polymer frame – the result is a durable, lightweight frame that's tough enough to hold rowers weighing up to 375 lb.
This rower is quite a bit smaller and lighter than the original Hydrow, possibly making it a better option for apartments and smaller homes.
That said, the Wave still takes up a fair amount of space.
With a footprint of 80″ x 19″, you still need damn near 7′ of open floor to use comfortably.
But with an assembled weight of only 102 lb, the Wave shouldn't be too difficult to move around (especially since it comes with transport wheels).
(For the sake of comparison, the original Hydrow is 6″ longer, 6″ wider, and weighs about 40 lb more).
And even though the Wave is a bit shorter than the Hydrow, it can still accommodate most rowers with up to a 36″ inseam (usually folks in the 6'4″ – 6′ 6″ range).
Overall, I don't think the Wave is quite as sleek looking as the original Hydrow, but it still scores highly with a sturdy frame.
And the fact that it doesn't take up quite as much floor space is never a bad thing.
Console
The Wave comes with a 16″ HD touchscreen console, which is a bit smaller than the 22″ screen found on the original Hydrow.
But it should still be plenty big to comfortably watch all streaming workouts and see all workout metrics.
The console on this rower is WiFi and ethernet friendly and compatible with both bluetooth and ANT+ heart rate monitors/headphones.
Like the Hydrow, the Wave is also designed to pair with Hydrow's own streaming platform ($38/month) that gives you access to instructor led workouts, metric tracking, and all that jazz.
Like most streaming platforms, with Hydrow you get access to live and on-demand workouts, as well as off the rower workouts like yoga, Pilates, and various strength training workouts.
But, what separates Hydrow from the rest is that all of Hydrow's rowing workouts on filmed with instructors rowing real boats on real bodies of water.
That means you get to see and hear real water as you follow along, which could be a huge perk for folks looking to mimic the sensation of rowing a real boat.
Hydrow also offers one on one personal training options with their trainers (paid per session or in groups), giving you the option to work on your technique or simply take your rowing to the next level.
The console on the Wave is fixed, meaning you can't adjust its viewing angle like you can on the original Hydrow, but I doubt most users will mind.
Overall, the console on the Wave is smaller than the original's, but otherwise it functions identically and uses the same instructor-led workouts.
Assembly
If you decide to purchase the Wave, you shouldn't worry about the assembly process because it's very straightforward and Hydrow has very helpful instructional videos to walk you along.
Unlike the Hydrow, which comes with a single, solid piece of frame, the Wave's frame consists of 2 pieces that have to be attached together.
Once attached, it gives the appearance of a single piece, but by having 2 separate parts, the Wave is much easier to ship.
Anyway, during assembly, you basically attach the front foot, connect the frame pieces, attach the footrests, attach the monitor arm, and then connect the console itself.
Oh, you have to slide the seat on the rail too, always an important part.
Hydrow includes all necessary hardware and the only tool you'll need is the hex key which is included with the parts.
Overall, assembly couldn't be much easier. I bet most folks can have this rower up and running within 30 minutes.
Warranty
The Hydrow Wave comes with the following residential warranty:
5 year frame
1 year parts
1 year labor
Ok, so looking at this, I would say that Hydrow's warranty here is ok, but not great.
Five years on the frame is ok, especially considering Ergatta also only offers 5 years on their frame as well.
But NordicTrack offers 10 years on their RW900 and Sole offers a lifetime frame guarantee on their SR500, so I would argue there's certainly room for improvement.
A year on parts is pretty short for a rower in this league though.
For the sake of comparison, Ergatta and Sole both offer 3 year parts guarantees and NordicTrack offers 2 years on parts.
A year on labor is pretty standard operating procedure, so no issues there.
Overall, Hydrow's warranty isn't embarrassing or anything, but it would be nice to see a longer warranty on a rower of this caliber.
Final Thoughts
Ok, that about does it for the Hydrow Wave.
Honestly, there's not much to complain about here.
With the Wave, Hydrow is giving us a smaller, more affordable alternative to their highly-popular Hydrow Rower (which I still think is the best rowing machine around).
The Wave comes with the same resistance system and can handle users of the same size, but it's got a smaller, lighter frame and a smaller HD console.
True, it doesn't look quite as snazzy as the OG, but with an asking price that's $1k smaller, it wouldn't take long to get over this.
The biggest downside I see is that its warranty could be longer (a downside of the original Hydrow as well); it would also be nice if the vertical storage kit was included.
But otherwise, I think the Wave would make a lot of sense for folks who like the Hydrow, but may be dealing with space or budget limitations. Highly recommended.