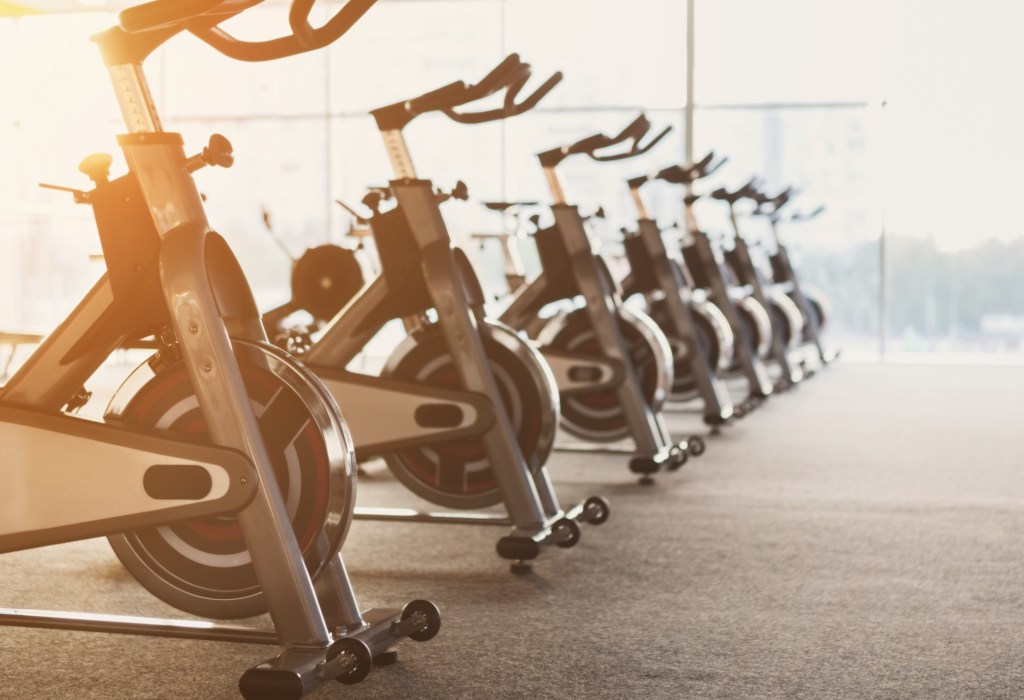 Exercise bikes offer a great, low-impact cardio workout right from the comfort of your own home. However, finding the best exercise bikes of 2020 can get tedious fast with so many options to research and compare.
Luckily, I'm here to help you find the best product for your home gym.  I share the results of my research so you can make informed decisions about purchasing.
After all, you should always do your homework when considering a purchase of anything, especially exercise equipment.
There are thousands of exercise bikes on the market today, but they can all be divided into 3 main categories based on style: recumbent, upright, and spin.
I want to start with a quick intro in what to look for in an exercise bike and discuss the big differences between these 3 main categories.
What To Look For When Buying An Exercise Bike
I think the first thing you need to consider when looking for an exercise bike is: "What type of bike do I want?". If you can answer this question first, your search will be much easier. If you aren't sure yet, that's ok. By the end of this article, I feel confident you will:
Know what type of exercise bike will fit your needs
Know what qualities to look for in that bike, and
Have access to a comprehensive guide to help you make your final decision (i.e., this guide)
3 Types of Exercise Bike
Recumbent
Recumbent bikes are positioned more horizontally than your typical upright bike. That's where the term "recumbent" comes in. I like to think of these as the "reclined" bikes, another term that means the same thing as recumbent.
The reclined position offers benefits, especially when it comes to comfort. The seats on these bikes tend to be larger with larger backs, offering more support.
Having your body in a more horizontal position also reduces the compressive forces in your hips and knees. A great feature if you have achy joints or are dealing with arthritis. This is why recumbent bikes are so popular in rehab settings.
On the other hand, you may not work quite as hard on one of these bikes as you might on a more traditional, upright bike. Think about it, if more of your body is supported by the machine, the less your body is going to have to work.
For example, on a spin cycle, there is no back support so your trunk muscles are going to work a little harder to keep you balanced as you pedal.
I hope I'm not giving the impression that a recumbent bike isn't capable of offering a great workout, because it most certainly is. As long as the machine is capable of offering enough resistance, you can be sure you will be able to get that heart rate up.
These machines tend to have large display screens, displaying all types of varying workout stats depending on the model.
Keep in mind the size of your gym space at home. Recumbent bikes have a larger foot print than the other 2 types.
If you know you are looking for a recumbent bike, you may want to check out my full guide on the best recumbent bikes available.
Upright
Upright bikes more closely resemble the feel of riding on a bicycle. This might be the type of bike most of us picture when we think about an exercise bike.
On a traditional stationary (or exercise) bike, the user sits right above the pedals in a more vertical position.
These bikes have significantly smaller seats, just like a real road bike. These small seats are not as comfortable as the larger ones provided by recumbent bikes.
If you have back or hip issues, a recumbent bike will probably be more comfortable than an upright bike.
Upright bikes also don't have a back rest (typically). This is good in the sense that it will make your back and core muscles work a little harder (and burn more calories!).
More pressure is put through your arms on an upright bike depending on your posture and hand position.
Upright bikes can offer great resistance and take up little floor space, making them excellent options for a home gym.
These bikes also have large display screens to see different stats and workout options, depending on the model.
If you know you're looking for an upright bike, you may want to check out my upright bike guide.
Spin 
A spin bike, technically speaking, is a type of upright bike. You are sitting upright on these as well, but they differ from traditional upright bikes in a few big ways.
Spin bikes are designed to provide the rider the closest experience possible to riding an outdoor bike. The seats are smaller, the handlebars are lower, and you may even have clipless pedals.
Spin bikes are known for having heavy flywheels to give the rider the feel of riding outside. The flywheel comes in a bunch of different weights, and it can be argued that having a heavier flywheel gives you a more constant resistance- kinda like riding a bike uphill.
More on flywheels coming up shortly…
These bikes are designed to give the rider a more high-intensity workout than traditional upright bikes or recumbent bikes. They are made of strong materials that can withstand standing and high resistance rides.
These bikes also take up very little space, making them perfect for home gyms. As the popularity of these models continues to explode, there are some really awesome deals out there on spin bikes.
These bikes are perfect for folks who are serious about cycling, are looking to train indoors when they can't ride outside, or who are simply looking for a great cardio workout from home.
If you know you're looking for a spin bike, you may want to check out my spin bike guide.
Air
I lied, there is a fourth category- air bike. Technically speaking, biking purists may not consider these true bikes because they do include upper body handles.
But who are we kidding, they are still exercise bikes, so I feel they should be included in this discussion.
Air bikes are unique because the resistance you feel is created by spinning fans fighting against air. The flywheel has small fans attached to it- as you pedal, this wheel spins.
The harder you pedal, the more resistance you are going to feel from these fans pushing through the air.
This is similar to rowing a boat- the fast you try to pull the oar, the more resistance you're going to feel from the water.
The great thing about this system is that it can offer unlimited resistance. This is why so many Crossfit athletes and folks doing HIIT workouts have turned to air bikes- this unlimited resistance can give you one heck of a workout.
These bikes work great for interval training because you can let loose and pedal as hard as you want and the bike will just give you more and more resistance. You also get to work your arms at the same time, turning it into a full body workout.
Air bikes are great for burning a ton of calories and can help you get in the best shape of your lives. That said, they aren't for everyone.
While you can ride an air bike casually, it would be kind of a waste. These machines are designed for high intensity, interval style training and are best utilized when used in this manner.
For more information on these bikes, check out my complete air bike guide.
A Few More Considerations
If you have an idea of what type of bike you are looking for, you are off to a good start. Here are a few more things you should consider before purchasing:
Features- what features do you NEED? A lot of the more expensive bikes offer a bunch of features you may not need. For example, a casual rider probably doesn't need to worry about finding a stationary bike with 40 different levels of resistance- you would probably be fine with 15. Same idea with display screens, bluetooth, heart rate monitors, etc.
Price- always an important one. This one is pretty self explanatory, but make sure you find a model in your given price range. Don't worry, you can find a great bike regardless of your price range.
Weight limit- always a good idea to check the max weight capacity of any cardio equipment you are purchasing. The nicer, sturdier models have high max user weight limits. You want to make sure whatever you decide to purchase will fit you comfortably.
Floor Space- another no brainer, but make sure you know where your bike is going and have an idea of how much floor space you will be able to devote to your machine. Always check the dimensions of the equipment. Luckily, the upright and spin bikes don't take up much space. The recumbent bikes take up significantly more.
For more info on what to look for before purchasing an exercise bike, check out this article I found online, it's a nice review.
---
The Best Recumbent Exercise Bikes of 2020
#1 Sole LCR Exercise Bike
I've been a Sole fan since I first tried out one of their treadmills at our local Dick's Sporting Goods. And the more I research their products, the more I like them.
That's because they put function over everything. They design and built their products for peak performance rather than showy features that don't give you a better workout.
Their LCR bike is a prime example.
This recumbent is graded for light commercial use (that's where the "LCR" comes from by the way), meaning it could easily function in a small apartment complex or fire station gym.
But it would make a perfect addition to any home gymer who's looking for optimal performance. This bike comes with a 30 lb flywheel, which is pretty unheard of for a recumbent bike.
It also comes with 40 levels of magnetic resistance, bluetooth capabilities, and an oversized, comfortable seat.
Its bulky frame can handle users who weight up to 350 lb, making it a smart choice for larger users who are looking for a safe and comfortable way to exercise.
To make the LCR even better, Sole backs it with an incredible warranty (lifetime frame, 5 year parts, 2 year labor).
Overall, if you're looking for a high-end recumbent bike that will have the feel of a club quality machine, the Sole LCR is a smart choice. See full review.

#2 Schwinn 270 Recumbent Bike
Schwinn bikes always make the "best of" lists because the company just knows how to make quality bikes. It's in their blood. They have been doing it for over 100 years.
Their exercise bikes are no different. They are known for producing high quality machines and that reputation has been well earned over the years.
The Schwinn 270 stands out for a couple of reasons. The first thing you will notice about this machine is how comfortable it is. It has a thick cushioned seat with contoured legs to keep you as comfortable as possible as you exercise.
Recumbent bikes are popular for the added comfort they provide and the 270 is as comfortable as you can find in this price range.
It also has a over-sized back rest that is vented- this will really help you stay cool as you pedal away during your workouts. The back rest also provides lumbar support to protect your spine and keep you in proper posture throughout your workout.
The 270 offers 20 levels of resistance, all controlled electronically with the push of a button. You can easily change your resistance to provide as much or as little intensity as you prefer during your workout.
With 29 workout programs, you shouldn't have any problem adding variety to your workout. This includes profile, heart rate, and custom workout options. The 270 has something to offer users of all experience levels.
A walk through frame makes it easy to get on/off comfortably. This comes in handy if you do have achy joints.
Additional features you will like include:
Dual LCD backlit display screens for viewing workout stats
Bluetooth transfer of data to workout apps
Grip heart rate monitor,telemetry heart rate compatible
Easy glide seat rail makes it easier to adjust seat position
Upgraded pedal system with wider pedal- makes it more comfortable on your feet
300 lb weight capacity
All in all, the Schwinn 270 is easily one of the nicest recumbent bikes for the home. At this price range, it's pretty much unbeatable. See full review.

#3 Diamondback 510SR Recumbent Bike
Diamondback is another popular name in the fitness bike world. Well known for producing high-quality, durable machines. The 510SR comes with a magnetic flywheel and frame made out of steel to provide incredible durability.
When purchasing an exercise bike, it's important to be able to trust that your purchase will last for years to come. With the Diamondback 510SR, you can rest assured.
The 510SR provides 16 levels of resistance and 20 different workout programs- plenty of variety to offer you a great workout without you getting too bored.
It also uses an eddy current braking system- this system uses magnetic resistance to slow the flywheel down. The result is a smoother, quieter ride for the user.
The 510SR provides a lot of adjustability: the seat back is height adjustable, arm rests are adjustable, and the main console can even tilt for an optimal fit.
Also included:
Quickset program keys
Grip heart rate sensors
Speaker system with mp3 connectivity and headphone jack
USB port- this comes in handy for charging your phone or mp3 player during a workout
Multi-speed fans and water bottle holder to help you stay cool and hydrated as you work
 Limited lifetime warranty on frame and brake
Awesome customer service through Diamondback
With the Diamondback 510SR you get a few more bells and whistles. This is also a highly durable machine that will easily last for years to come. I love the Diamondback brand and the 510SR doesn't disappoint. See full review.

#4 Marcy Recumbent Exercise Bike ME-709
I wanted to include Marcy's ME-709 because it's a great option for people who are on a tight budget. Marcy is known for making high quality, affordable home exercise equipment.
What sets this product apart from the recumbent bikes above, is price. This bike is by far the cheapest bike we have discussed thus far.
But that is what Marcy does. They find a way to offer a great product at a very affordable price.
The ME-709 offers 8 different levels of resistance, adjusted by turning a tension knob. The frame is all steel, so it's a little more
durable than you may think in this price range.
With a fairly comfortable seat and walk through frame, comfort shouldn't be an issue when using this bike.
One of the biggest benefits of this model is that it is light weight and comes with transports wheels. This bike is very portable- if you have to move the bike after workouts, that won't be an issue, it is very easy to move.
With the lower price, comes fewer bells and whistles. You will notice I'm not discussing bluetooth, heart rate monitors, fans, or speakers.
This model is a no thrills recumbent bike. It's price is hard to believe, but just realize you will be sacrificing some of the features the more expensive bikes offer.
The Marcy ME-709 would be great for anyone looking for an affordable, portable exercise bike that is simple to assemble and use. It does require 2 AA batteries because there is no AC adapter for the display screen.

---
The Best Upright Exercise Bikes of 2020
#1 Sole LCB Upright Bike
I hate to be predictable, but I did warn you I'm a sucker for Sole products. The LCB is basically the upright version of the LCR I discussed earlier.
As you might expect from a Sole product, the LCB comes loaded with high-end specs.
First and foremost, this bike is packing a 30 lb flywheel. Not only is this is heavy enough to give a lot of spin bikes flywheel envy, but it's more than capable of proving a smooth and intense workout.
You'll also appreciate the fully adjustable seat that ensures all users can find the proper fit.
The frame is rock-solid and is graded to handle users up to 350 lb. The solid frame provide a sturdy base during your workouts, so you won't have to worry about any unwanted shaking or wobbling.
Other highlights include a 10″ LCD screen, wireless heart rate monitoring, USB charging port, and bluetooth capabilities.
Sole also backs the LCB with a generous warranty: lifetime frame, 3 year parts, 1 year labor.
Overall, if you're looking for a high-end stationary bike that will feel like something you'd use at your local gym, the Sole LCB is a perfect choice. See full review.

#2 Nautilus U618 Upright Bike
If the Sole LCB is a little out of your price range, the Nautilus U618 is a good choice. At about half the price, the U618 has a lot to offer for the price range (but it's not the commercial grade machine the LCB is).
This bike comes loaded with workout programs- 29 to be exact. If having a library of workouts to choose from sounds good, you might want to check this one out.
It also comes with 25 levels of magnetic resistance, giving you a lot of control over your workout intensity.
The flywheel on this model is only around 10 lb, which seems tiny when compared to the massive one above. But this is actually pretty average for upright bikes in this price range.
The lighter flywheel can still provide a solid workout with smooth action, but it won't feel as smooth as the bikes you've used before in the gym.
Other highlights include a fully adjustable seat, weighted pedals, bluetooth, and an included wireless chest strap for heart rate monitoring.
Nautilus also backs the U618 with a nice warranty: 15 year frame, 3 year parts, and 1 year labor.
If you're looking for an affordable stationary bike that's still well built and loaded with features, this is a smart choice. For the price, there isn't a better option (although the Schwinn 170 is close). See full review.

#3 Schwinn 170 Upright Bike
The Schwinn 170 is almost identical to the Nautilus U618, although there are a few subtle differences that ultimately lead to me ranking the U618 a little higher in this list.
Interestingly, Schwinn and Nautilus are owned by the same parent company, ICON Fitness.
The biggest differences are found in the warranty, weight capacity, and price. If you like the U618 but would like a more affordable option, the Schwinn 170 is a good alternative.
Like all Schwinn products, the 170 is well built and well designed. It has a sleek look and the specs to provide even the serious riders a great workout.
This bike comes with 25 levels of eddy current resistance. Combine this with the high inertia perimeter weighted flywheel and you get a very smooth, quiet ride.
I think you will appreciate the 10 quick resistance keys if you like to do interval training- with the touch of a button you can rapidly increase or decrease the level of resistance.
The Schwinn 170 offers 29 (yes, 29) different workout programs. This is a combination of profile workouts, customs, heart rate guided, and fitness tests.
That's a huge number of different programs for a bike in the moderate price range. With this much variety, you should never have the problem of getting bored with your workouts.
This bike offers a comfortable seat with fore and aft adjustments to ensure you are riding comfortably with a perfect fit every time.
Some additional features you will enjoy that the cheaper bikes don't offer include:
Dual LCD display screens for monitoring stats during workouts
Telemetry heart rate compatible
USB charging port- great for charging your phone while you exercise
Decent speaker system
3-speed fan
Integrated levelers to keep the bike stable and sturdy throughout your rides
Overall, this is a great stationary bike that will offer a comfortable, reliable ride. This bike will be great for you if you are looking for a few more features to enjoy while you exercise.
You will love how smooth the bike rides and how much control you have over the resistance. See full review.

#4 Exerpeutic Folding Magnetic Upright Bike
This bike is a perfect example of an economy machine that delivers exactly what it promises. This bike would be perfect for you if you are living in a small space and need a bike that can easily fold away for storage.
Don't let the price fool you- this bike is one of the most highly rated bikes on Amazon: 4.4/5 with nearly 5,000 user reviews…
This statistic tells me 2 things: first of all, A LOT of people are purchasing the Exerpeutic Folding Magnetic Bike; second, A LOT of people really like this bike.

At first sight, I admit this machine looks pretty flimsy. But when you start reading the specs, this product has a 300 lb max weight capacity, the same as most of the more expensive models.
I find these feat pretty amazing considering how easily it can be folded in half and stored.
This is another no thrills exercise bike. Don't expect any of the fancy features or exciting display screens offered by more expensive machines. This is a bike designed for someone who just wants to exercise.
It has 8 levels of resistance, changed by turning a tension knob. Users report having no issues with amount of resistance that it can provide.
The magnetic resistance also provides a very smooth, quiet ride. It also includes a grip heart rate monitor, a nice surprise at this price range.
The seat is large, but some complain that it is not that comfortable. Most negative feedback regarding this bike refers to the comfort or feel during riding.
The placement of the pedals is a little forward, so the rider is not sitting directly over the pedals as they would in a traditional upright bike. This can feel a little awkward while riding, especially since there is no back support.
Although it does have a 300lb max weight capacity, it is designed to fit people between 5'3″ and 6'1″ tall. If you fall outside of this range, the bike might not fit you that well. Although I read a review by someone who was 6'2″ and he had no problems at all.
In summary, this is a very well built economy bike. This bike should work well for folks looking for light to moderate workouts or who are really tight on floor space.
This bike is not designed for more intense workouts or serious riders. If you are on a limited budget though, this is the best in it's price range.

---
The Best Spin Bikes of 2020
#1 The Peloton Bike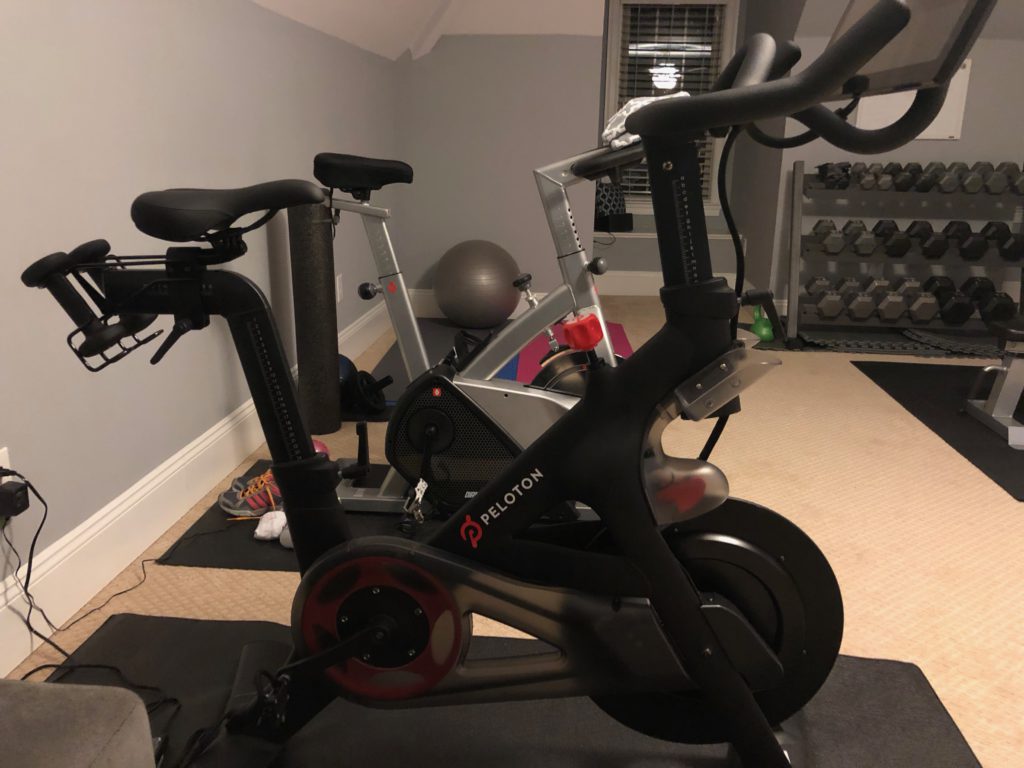 I had to update this list after getting my hands on a Peloton. The commercials are everywhere on tv, but in case you haven't seen them, the Peloton bike is a high-end indoor cycle that pairs with online workouts being taught by professional trainers in New York City and London.
Although a lot of the emphasis on the Peloton (and rightly so) is on the huge HD monitor, the bike itself is commercial grade. It's packing a heavy-duty steel frame, clip-in pedals, fully adjustable seat, and comfortable, multi-grip handlebars.
It also utilizes a smooth magnetic resistance system and belt drive to provide an almost silent workout experience.
I should probably mention that I own a Peloton and have fallen in love with it.
The bike is amazing, but it is the online workouts that put this bike in a league of its own. For the mandatory $39/month membership payment, you get unlimited access to at least 14 live courses a day and an online library with upwards of 10,000 workouts.
The instructors are great and they offer a wide range of different spinning classes, as well as stretching and light strengthening workouts, for folks of all fitness levels.
The biggest (and really only downside) is the asking price. This is a luxury indoor cycle system with ongoing monthly membership dues after the initial cost.
If you are thinking about getting one, make sure you are motivated to use it for the long haul- don't worry, the instructors will help in that department. See full review.
#2 Schwinn A.C. Sport Indoor Cycle Trainer
Yup, another Schwinn product. What can I say, they produce awesome exercise bikes. This is the most affordable of the "A.C." bikes.
If you are curious, the "A.C" stands for "Authentic Cycling"- this is Schwinn's goal, to provide the most realistic cycling experience a spin bike can offer.
One of the coolest features of this bike is the virtual contact resistance technology. This technology uses an aluminum disc and magnets to generate all of the resistance.
Since there are no moving parts touching each other, there is very little noise. You will be surprised at how quiet this bike is. If you are working out early in the morning (like me), you won't have to worry about waking up other family members.
Along with being exceptionally quiet, this resistance system also reduces need for maintenance. No friction means no breakdown of parts.
The Schwinn A.C. Sport is incredibly durable. Constructed out of stainless steel, this bike has a 300 lb weight limit and will not wobble when you stand up. It is sporting a 40 lb flywheel for that authentic road feel while riding.
This bike offers clipless/basket pedals to accommodate any shoe style.
Fully adjustable seat and handlebars ensure you stay properly aligned and fitted during your workouts.
Like many spin bikes, the A.C. Sport Cycle does not offer a display screen, but it does come with a dual water bottle holder.
This is one of the highest rated spin bikes on the market for home use. It's another high quality product from Schwinn that is not going to disappoint you. I would recommend this for the more serious cyclists out there because it is more expensive than the other bikes mentioned.
An experienced rider may take advantage of the subtle differences, but for beginner and moderate level riders, it may not be worth the extra money. See full review.

#3 Sunny Health & Fitness Pro Indoor Cycling Bike
I mentioned flywheels briefly in the buyers guide section above. Flywheels are, arguably, the most important part of a spin bike because they are what make the ride feel authentic.
People love spin bikes because they give you the feel of riding a bike outside, and this is because of the flywheel.
Opinions vary, but a lot of folks believe that having a heavier flywheel is beneficial. It gives you a more steady, constant resistance, like going uphill. Check out this article for a nice discussion on flywheel weights.

I wanted to mention flywheels again real quickly because this bike from Sunny Health and Fitness has a 40 lb flywheel. This is pretty much unheard of at this price range. This is what really stands out to me about this bike.
Besides having a very heavy flywheel, this bike has a fully adjustable seat, adjustable handle bars, and a smooth chain drive mechanism. You will appreciate these features when you feel how smooth and comfortable the end result is.
Like many spin bikes, this cycle does not have a display monitor or heart rate monitor.
What the Pro Indoor Cycling Bike does have, though, is a steel frame and heavy duty crank system to ensure the bike holds up for years to come.
One thing most users agree on is that the seat is not that comfortable. That said, most road bikes have uncomfortable seats too. It can always be replaced with a nicer cushion if necessary.
Overall, if you choose this spin bike, I don't think you will be disappointed. It's designed to provide enough resistance for even the most experienced rider. The 40 lb flywheel will give you the realistic feel most riders yearn for. And at this price, unbeatable!

#4 Diamondback Fitness 510Ic Indoor Cycle
The Diamondback 510Ic seems to make it onto everyone's "best of" list. I guess it's common knowledge that this is one of the best spin bikes on the market. I actually just ordered this bike, should be arriving at my house next week!

This bike has been voted a "Best Buy" for the last 3 years and is one of the most popular home exercise bikes out there. One of the biggest differences that initially drew me to it was the computer controlled resistance.
Instead of having to turn a tension know to adjust resistance, you simply push a button. This is an option most spin bikes don't have. You will find LCD displays on the more expensive models.
The 510Ic has 16 levels of resistance and 14 different workout programs. With an LCD display screen to show you your stats, this bike can offer you more than enough exercise variety to keep you working without the fear of boredom creeping in.
You will be able to work out as intensely as you want, the 510Ic will be able to handle it.
This spin bike comes with a 32 lb flywheel. A little lighter than the Sunny Health & Fitness model above, but plenty to offer a smooth realistic ride. A sturdy steel frame will keep the bike stable enough to stand up and pump up those hills.
Completely adjustable seat and handlebars are included- this will ensure your ride is always comfortable. This model is also known for being more comfortable than most spin bikes. This is because of the extra padding in the seat and handlebars.
Grip heart rate monitor is included, however there have been complaints about it's accuracy. Unfortunately, this is a reality with most grip heart rate monitors on cardio equipment.
If you are looking for a comfortable, sturdy ride with one of the best display screens available on a spin bike, the Diamondback 510Ic might be what you are looking for. See full review.

---
The Best Affordable Exercise Bikes Of 2020
#1 Exerpeutic 400XL Folding Recumbent Bike
I wanted to add a category to discuss a few more of these really affordable bikes because there are some really amazing deals on Amazon. Yes, you read the name of this bike correctly, this is a "folding" recumbent bike!
It's pretty cool. It really just looks like a pedaler with a seat, but it actually offers a little more.

First of all, it has a 300 lb max weight limit. Anytime a folding piece of equipment can boast that type of weight capacity, I'm impressed. This model has a grip heart rate monitor, large LCD display, and 8 levels of magnetic resistance as well.
Users are impressed with how quiet this machine is. You should easily be able to use this while watching tv or while family members are sleeping.
This would be a great bike for folks with achy joints who are looking for some light cardio exercise. This bike is not designed for a moderate or advanced rider. It just isn't going to hold up.
But, if you are looking for a nice product at a great price (currently on sale for under $100), you should consider the Exerpeutic 400XL. It even comes with a 1 yr warranty.

#2 Sunny Health & Fitness Indoor Cycling Bike
Sunny Health & Fitness must be the masters of producing these affordable bikes. They have several different models and I think there are all under $400. This model is a smaller version of the bike discussed earlier.

This spin bike has a 22 lb flywheel- about half the weight of the bike discussed above. That means the feel of this bike might not be quite as realistic, but it also means this bike is going to weigh a little less, making it easier to transport.
It does come with a fully adjustable seat and padded handlebars for extra comfort. This bike actually does come with a small display screen for keeping track of time, speed, distance, and calories burned.
This is a little surprising, because most of the more expensive spin bikes don't offer any display.
The most impressive aspect of this bike (besides it's low price) is it's durability. While studying user reviews, I found that most users were very impressed with how sturdy the frame is.
Very few complaints about wobbling or extra machine movement during workouts.
Keep in mind though, that this bike only has a max user weight of 220 lb.
As long as you fit within the size limitations of this bike, I think you will be impressed. It should offer plenty of resistance for beginner and intermediate riders. It's very highly rated on Amazon with an average user rating of 4.2/5 (over 800 reviews).
Personally, if your budget allows it, I would pay the small difference and upgrade to the "Pro" Indoor Cycling Bike- that 40 lb flywheel is hard to believe at that prize range.
But if you are looking for a real bargain, this spin cycle from Sunny Health & Fitness may deem a second look.

---
The Best Luxury Bike Of 2020
#1 Keiser M3i Indoor Cycle
Ok, I really couldn't write a "best of exercise bikes" article without at least mentioning the Keiser M3i. Think of this bike as the complete opposite of the 2 affordable bikes I just mentioned.
This spin bike is amazing, but it comes with an impressive price tag as well.

The first thing you will notice about this bike is how elegant the look is. You may also notice that the flywheel is in the rear of this cycle- something we don't see very often.
However, there is wisdom in this- as you sweat away during your workouts, you don't have to worry about sweat running down the flywheel and rusting the mechanisms.
This bike also uses a magnetic resistance technology for super quiet workouts and minimal wear and tear.
The M3i also has a display monitor, but more impressively it is also bluetooth compatible.
Additional features you may enjoy include:
Fully adjustable seat to ensure perfect fit
4 way handlebar
Lightweight frame- makes moving bike very easy
Water bottle holder
Backlit digital display on monitor
All of the previous spin bikes have boasted heavy flywheels, the M3i has an 8 lb flywheel. This is opposite of what most bikes are going for, but Keiser believes that lighter flywheels actually provide a smoother ride. I told ya, differing opinions.
Overall, this is a beautiful, state of the art spin bike. I like to think of this as the Maserati of the exercise bike world. The only con is, of course, the price. It comes with a hefty price tag.
There are so many nice bikes with significantly lower price tags, it really is hard to justify this purchase. But, if you have the money and are looking for the best, look no farther. See full review.

---
Final Thoughts
I hope you found this review of the best exercise bikes on the market helpful. As you can see, there are a lot of really nice exercise bikes out there.
And luckily, most of them are really affordable. Regardless of what style of bike you are looking for, you should be able to find a nice product that will meet all of your needs without breaking the bank.
Like most things in life, you usually get what you pay for. When it comes to exercise bikes, higher price tags usually mean heavier duty components and higher-end features.
But I hope this list illustrates that there are quality options in every price range.
In summary, you should figure out which style of bike you are looking for first. Once you know what type of bike (recumbent, spin, etc) you are looking for, think about the features that are most important to you.
Then it's all about finding the bike in your price range that checks off the most preferences on your list.
If you can methodically think about this stuff, it will make your search a lot easier.
I always think it's a good idea to prioritize the essential specs first (like warranty, weight capacity, etc) and consider features of convenience second.
Well, that about does it. Like always, if you have any questions, don't hesitate to leave a comment and I'll get back to you soon. Happy cycling!