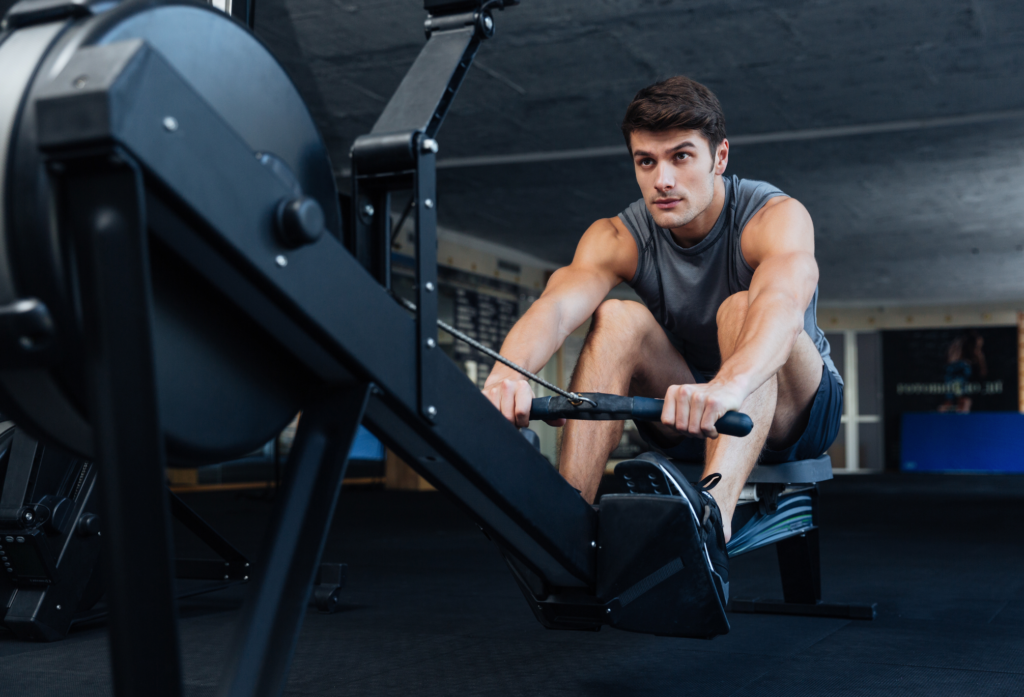 The VR500 Pro Rowing Machine is BodyCraft's most advanced rower to date. This hybrid uses both magnetic and air forms of resistance to provide a powerful, quiet rowing experience.
Highlights of this high-end rower include an extra tall seat, a sophisticated monitor, and a very generous residential warranty.
In a nutshell- if you're looking for a premiere home rower that can dish out intense workouts, the BodyCraft VR500 is a solid choice.
But is it really worth the asking price?
That's what this review is here to help you figure out.
In this article, we'll take a close look at all the key specs and features that make up the VR500. After reading, you should have a better idea of whether or not this is the right rowing machine for your home gym.
Off we go.
The BodyCraft VR500 Pro Rowing Machine
The BodyCraft name might not be as recognizable as Bowflex or Schwinn, but the home fitness brand has been around for about 25 years or so.
They offer a large lineup of equipment, ranging from treadmills and ellipticals to home gyms and functional trainers. Their products usually fall in the moderate to high-end range, but they do have some more budget friendly equipment as well.
BodyCraft has 4 different rowers in their lineup and the VR500 is their most advanced model to date.
Pros
Utilizes both air and magnetic resistance systems
32 levels of magnetic resistance
Extra long rail (accommodates users up to 6'8″)
350 lb weight capacity
Comfortable, contoured seat
19″ seat height
Durable, nylon strap
Contoured handlebar with built-in remote
12 workout programs
4 user profiles
Polar heart rate monitor compatible
Easy assembly
Amazing warranty
Cons
Resistance
I find it convenient to categorize rowers based on the type of resistance they use. For me, it's the easiest way to organize them and for people looking for their first rower, I think it's the most useful way to narrow down your search.
Rowing machines can use 4 different mechanisms to create their resistance: hydraulic pistons, magnets, air, or water.
Each has their own pros and cons and there are different reasons to choose one over the other. If you'd like to read a more thorough description of each type, check out my rowing machine guide for more info.
The VR500 is actually a hybrid rower in the sense that it uses a combination of air and magnetic resistance systems.
I'll be honest, I prefer air rowers, so I don't really get the need to add the magnetic resistance system. Air rowers provide unlimited resistance because the harder (or faster) you pull, the more resistance you get.
I also like the "swishing" noise the fans make- I find it relaxing.
But I know a lot of people think they're too noisy. Magnetic rowers are nice because they're nearly silent and you get the same resistance no matter how fast (or hard) you row.
I think BodyCraft decided to include both resistance types in an attempt to take advantage of the benefits of both.
On lower resistance levels (this rower has 32 levels of resistance to work with), the VR500 will utilize the air fans. As you increase the resistance, the magnetic system will kick in.
Users almost unanimously agree that the result is a smooth, fairly quiet, system that is capable of providing a ton of resistance.
Using the magnetic system at higher intensities makes for less noise, but it also means you can rower slower without losing your resistance (something pure air rowers can't really offer).
Somebody at BodyCraft was thinking when they conveniently placed a wireless controller on the handlebars. This gives you the ability to control your resistance and make your selections without having to stop your workout- very smart.
Overall, the VR500 scores highly with its hybrid air/magnetic resistance system. It's definitely got enough muscle to challenge even the most gifted rowers.
Frame
Quality rowing machines need a stable, hearty frame to ensure smooth seat gliding and to ensure no unwanted wobbling occurs. A good frame should also be long enough to ensure taller users can stretch out fully on the back end of each stroke.
The VR500 can confidently claim true to both of these qualities.
This rower comes with powder coated steel and aluminum beam that can handle users weighing up to 350 lb. As impressive as this is, the VR500 also comes with an extra-long rail.
More precisely, the seat has a max travel distance of 38.5″, meaning folks even as tall as 6'8″ should be able to fully stretch out and row comfortably on this machine.
Larger and taller users will also like that this rower comes with a higher seat than most. At 19″, this seat is easier to get on and off of (the Concept2 Model E also has a higher than normal seat height at 20″).
The seat is also contoured for extra comfort and utilizes large ball bearings for a smooth glide over the rail.
Several users have exclaimed how comfortable the VR500 is and that seat comfort was one of the biggest reasons they decided to purchase.
The frame on this rower can fold vertically for storage too, which can save a lot of space when not in use.
I mentioned earlier that there are controls in the handle. This is a great feature, but the handle bar itself is also contoured for extra comfort during use.
A nylon strap is used to attach the handle to the flywheel. The strap has apparently been tested to handle loads of up to 580 lb repetitively, so it shouldn't have any problems holding up to even the most intense of workouts.
Nylon straps tend to be a little quieter than chains, but chains tend to be a little more durable. If you're looking for a quiet row, than you'll probably prefer the strap that the VR500 comes with.
Overall, this rower scores highly with heavy duty frame, long rail, high seat, and quiet nylon strap system.
Monitor
Most home rowing machines come with very basic monitors that my track time, distance, and strokes. The good people at BodyCraft wanted to provide something a little more impressive though.
The monitor on the VR500 is more sophisticated than most. Not only can it track all the data you'd expect (strokes, watts, calories, distance, times, etc), but it also comes with:
4 user profiles
12 workout programs (including 4 race programs)
Goal programs
Cool down setting
This monitor is also compatible with Polar heart rate monitors, giving you the opportunity to track heart rates wirelessly during your workouts.
Overall, the VR500 has a more advanced monitor than most home rowers (I say most because it still falls short to the PM5 found on Concept2 rowers).
Assembly
Putting the VR500 together is pretty straightforward and most folks should be able to get the job done themselves. The assembly manual is pretty easy to follow, although the images could be a little larger (kinda hard to see what's going on in a couple steps).
Luckily though, there are written instructions for each task and they make sense. All the necessary tools are included.
Keep in mind this is a large, heavy-duty rower, so it would be helpful to have a second set of hands around to help with lifting and holding pieces.
Overall though, most users agree assembly is pretty easy. I'd expect most fairly handy people to have this rowing machine out of the box and running within 45-60 min.
Warranty
The BodyCraft VR500 comes with the following warranties:
Residential:
Lifetime frame
7 year parts
1 year wear items
2 year labor
Light commercial:
10 year frame
3 year parts
1 year wear items
1 year labor
A couple of things here. First, you'll notice that this rower is rated for light commercial use (up to 5 hrs a day). This alone is a good indicator of structural quality and I think the light commercial warranty they offer is pretty generous.
I think the residential warranty BodyCraft provides is very generous. You can't beat lifetime on the frame and 7 years is a great guarantee on the parts.
Two years on labor is also awesome because most only give you a year.
Overall, this is a great warranty (Concept2 only offers 5 years on the frame of their Model D and E).
Final Thoughts
After taking a close look at all the specs and features the VR500 has to offer, it's evident to me that this is a high-end home rower with a lot to offer.
The combination of air and magnetic resistance systems allows this machine to provide enough resistance to challenge elite rowers without all the fan noise of traditional air rowers.
The use of the nylon strap adds to the overall quiet level. People looking for a nearly silent workout (or people who like to watch tv while rowing) will appreciate this.
I also like the sophisticated monitor that comes with this rower. Having access to the different workout programs and race programs should make your workouts more entertaining and engaging.
But I have to say, my favorite feature is the remote control built into the handle bar- super convenient. It's the little touches like this that make a fitness machine more fun to use.
Last, but certainly not least, is the warranty. BodyCraft offers an amazing warranty on this rower and I think that says a lot. Companies don't offer warranties this long on equipment they don't think is going to last.
Put it all together and you have a winner in my book. I think the VR500 is an elite rowing machine that's probably worth the asking price.
You may've noticed that I compared this rower to the Concept2 Model E (and D) a few times in this review -that's because these rowers are considered the gold standards in rowing.
The VR500 actually holds up very well to them. The Model E is a little cheaper, but its warranty isn't even close to the one offered on this model.
If you're ok with a little extra noise, I'd recommend the Model E. But if you're looking for a quiet machine with the added benefits of a magnetic rower, the VR500 is a smart choice. Highly recommended.