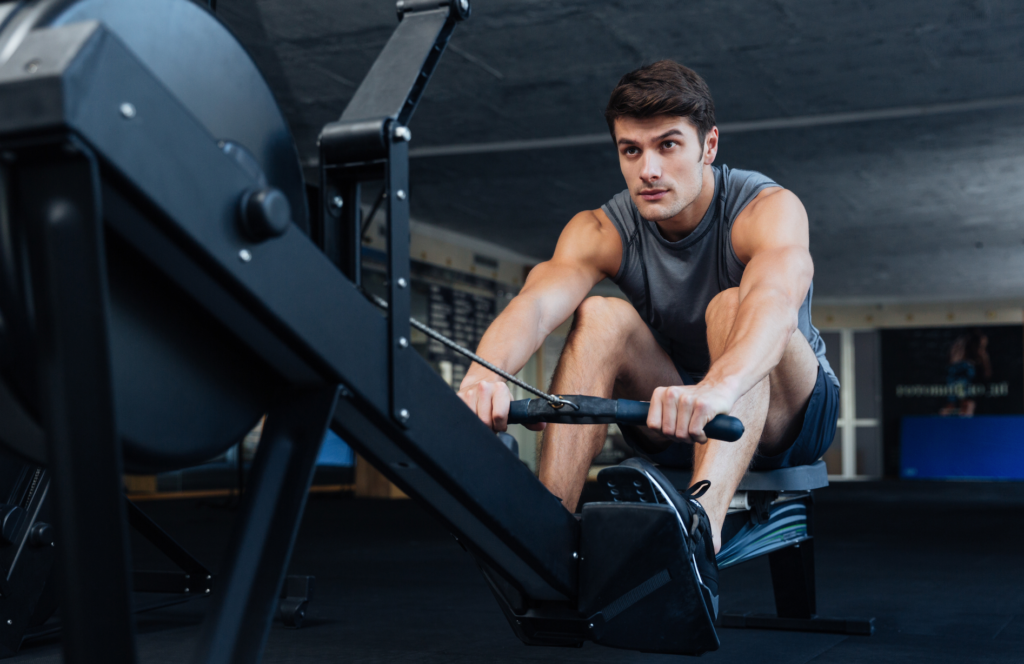 Fitness equipment, like pretty much everything else these days, has been connected to the internet for some time. While brands like Peloton and NordicTrack have made connected cycling mainstream, rowing machines seem to have been left behind.
Although this changed a little when Hydrow hit the scene, there still wasn't a more affordable option available.
Echelon changed that with the unveiling of their new Smart Rower- an affordable rowing machine that gives you access to on-demand workouts lead by professional trainers.
Highlights include 32 levels of magnetic resistance, a folding frame, and a tablet holder that can swivel 180°.
If you're interested in adding a connected rower to your home gym that's a whole lot more budget friendly than the Hydro, Echelon could be a good choice.
In order to help you decide, this review is here to take you on an up close and personal tour of everything this smart rower has to offer.
After reading, you'll know whether or not this is the right piece of equipment to meet your needs.
The Echelon Smart Rower
Echelon has been busy making a name for themselves as the go-to brand for budget friendly, connected fitness equipment. They started off as a more affordable alternative to Peloton, but they've started branching out over the last couple of years.
The idea is pretty smart- save money by using your own tablet as the console.
Most people these days have a smart phone or tablet, why not use that (and an app) to access a library of on-demand workouts?
The idea must've caught on because Echelon seems to be doing pretty well. Over the years, they've come out with several connected cycles (like the EX-3) and have even developed their own bike with a built-in screen (the EX-5s).
They took the same game plan that's worked well so far and applied it to rowing machines. Like most of their cycles, you use your own tablet as the console for this model.
Pros
Smooth magnetic resistance system
32 levels of resistance
Resistance adjusted conveniently from handlebars
300 lb weight capacity
Folding frame
Adjustable foot pedals
Easy assembly
Access to hundreds of on-demand workouts
Scenic rows
Tablet holder swivels
Cons
Resistance
The Echelon Smart Rower uses a magnetic resistance system. Similar to many spin bikes, the resistance is created with the use of magnets and a spinning flywheel.
As you row, the flywheel rotates with a magnet (or series of magnets) on each side of it.
The resistance can be increased or decreased by bringing the magnets closer or farther from the spinning flywheel, respectively.
This is a nice set up because the magnets never actually touch the spinning flywheel, meaning there is less chance for breakdown. Magnetic rowers are also popular because the resistance is constant, regardless of how fast or hard you pull (unlike water or air rowers).
Magnetic rowers are also a lot quieter, because there aren't any fans or water involved.
The Smart Rower, being a magnetic rowing machine, is able to provide all of these perks.  It comes with 32 resistance levels to work with, giving you a large range of intensity levels to choose from.
I also like that the resistance is adjusted from the handlebars- this is convenient because you don't have to worry about reaching the console in the middle of your workouts.
You can easily use the up and down buttons mid-stroke if necessary, without interrupting the flow of your workout.
Overall, the Smart Rower takes advantage of its magnetic resistance system to create a smooth, constant, and quiet workout experience. With 32 levels of resistance to work with, it should be able to accommodate beginners and experienced rowers alike.
Frame
Quality rowing machines need to have stable frames that aren't going to wobble and rock during use. It can be difficult to determine this without physically sitting on the rower and taking it for a spin.
But there are a few things you can look at to get an idea.
First, take a look and see how robust the frame appears. Is it skinny or is it large? In this case, large is preferred because it means it was likely built with stronger components.
My first impression of the Smart Rower is that it appears to have a very robust frame. The front and rear stabilizers are large as is the housing for the flywheel.
More objectively, we can take a look at the machine's weight capacity to give us an idea as to how durable the frame is.
Rowers with higher weight limits will have stronger, more durable frames.
Unfortunately, Echelon doesn't make this information readily available. After a little digging, I was able to find that this rower has a weight capacity of 300 lb, which is pretty standard for a rower.
Fully assembled, this rower weighs about 125 lb, which is heavier than a lot of budget models. Again, heavier is a good thing- it means increased stability.
The handlebars are attached to the flywheel with a belt. Belt drives are common these days because they're durable and a little quieter than chain drives.
Echelon earns themselves a few bonus points in the frame department because this rower is foldable. You can easily fold the rail vertically for storage, which is handy for tight living spaces.
I also like that you unfold it by stepping on the little pedal, convenient.
I think it was smart to add the transport handle too, makes it more comfortable to move around. It's the small things that make all the difference.
Monitor
Echelon offers 2 options when it comes to their rowers- one with an HD display (the Row-S) and one without.
And since we're here talking about the one without, it makes it really easy for me to complete this section of the review, because there is no monitor.
Well, no included monitor anyway.
Recall that Echelon is able to keep the cost lower because users are expected to use their own tablet or phone as the monitor. In order to do this, you have to download the Echelon app and connect it with your rower via bluetooth.
Doing this allows you to see all your workout stats as well as gain access to Echelon's on-demand library consisting of hundreds of trainer-led workouts as well as scenic rows.
Although you could technically use your smart phone to do this, speaking from experience, I suggest you use a tablet. A phone is too small.
The monthly subscription fee is $39.99 if you pay month to month, but you can save significantly if you purchase an annual (or even 2-year) plan.
Oh, I almost forgot- the tablet holder can swivel 180°. Why is this important? Well, it makes it a whole lot easier to do other, non-rowing workouts from Echelon.
Instead of having to take your tablet off, or worse, watch the tablet while it's attached in the rowing position, you can turn the tablet around and watch it without having to be behind the rower.
Assembly
Rowing machines are usually surprisingly easy to assemble – and the Echelon Smart Rower is no exception. Depending on which bundle you decide to buy (that is IF you decide to buy), delivery and or assembly could be included (Free shipping on orders from Echelon!
)
But if it's not, assembling yourself shouldn't be an issue.
The main unit comes preassembled- you'll be responsible for attaching the stabilizers, connecting the rail, and adding the pedals. There's not much more to it than that.
All you need is the included Allen wrench.
I bet most folks can have this rower out of the box and working within 30 min.
Warranty
The Echelon Smart Rower comes with the following warranty:
1 year
30 day money back guarantee
The warranty department seems to be an ongoing Achilles' heel for Echelon. There's no getting around the fact that this is a pretty lousy warranty for a $1,000 rower.
I'd like to see at least 3 years on the frame and a year or so on labor. To me, that would be a worthy warranty for a rower in this price range.
The 30 day money back guarantee is nice, but a longer warranty would be nicer.
Final Thoughts
When you think about it, rowing machines are fairly simple devices- there's not a lot to them. That said, the differences between a nice one and a not-so-nice one are usually pretty evident.
Based on everything we've discussed regarding the Echelon Smart Rower, I'm inclined to believe this is a pretty nice one.
The biggest highlight of this rower is its magnetic resistance system- 32 levels of resistance is a lot and the fact that you can change the resistance easily during your workouts from the handlebar is awesome.
This feature is key, I imagine, in making this rower easily compatible with the on-demand workouts available through their app.
I also like that the frame is heavy-duty, yet easy to fold. I'll say it again, I think the addition of that little handle is brilliant.
The biggest downside I see is the short warranty- a year is a pretty weak guarantee.
Overall though, I think this is one of the best magnetic rowers available right now. If you have a tablet and are looking to join the world of connected rowing without destroying your budget, this is indeed a smart choice.
P.S.- Echelon often has deals that involve free iPads with purchase… just sayin'.