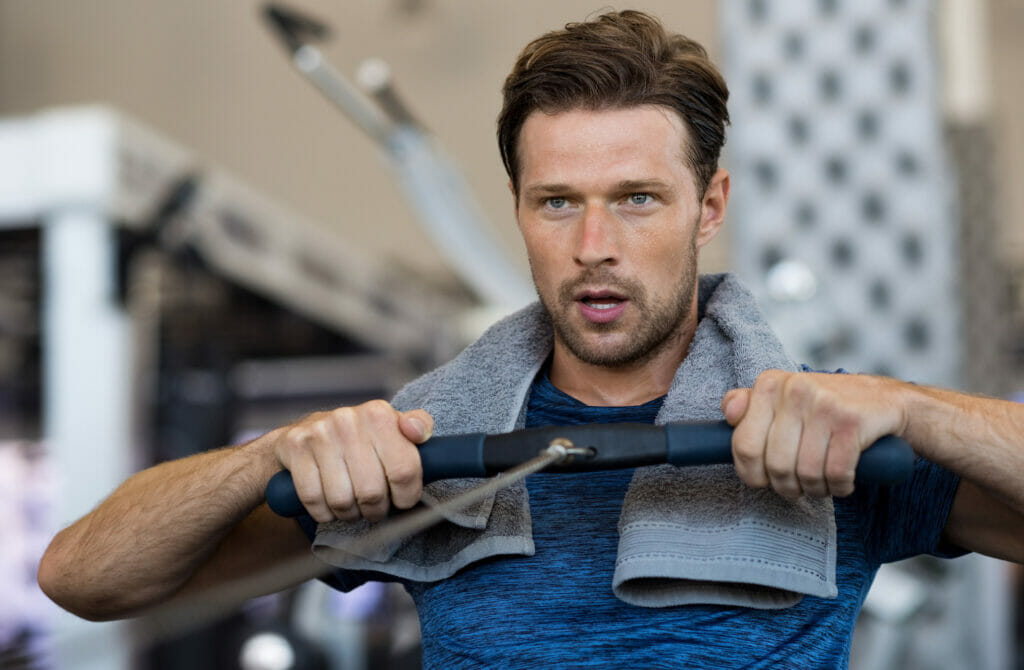 The phenomenon that is content streaming has officially hit the world of home rowing machines…and with a bang.
With more and more connected rowers coming out all the time, it's gotta be difficult for new contenders to make a name for themselves.
Although I don't think that's a problem the Aviron Interactive Home Rower is going to have.
The rower itself is high-end, but it's the media platform that's the real show stopper here. With old school video gaming inspired workouts, the Aviron is designed to take the monotony out of exercising.
You also get to access programs that most other connected rowers aren't offering, like Pros vs Joes mode where you get to compete side by side with elite rowers and competitive races in your community.
Long-story-short: if you're looking for a hi-tech rower that offers a more entertaining way to exercise, the Aviron Home Rower is a smart investment.
That said, it isn't going to be for everyone.
In this review, I'll go over everything this elite rower has to offer, as well as the areas where it's a little lacking.
After reading, you'll know everything you need to in order to decide for yourself whether or not it's worth investing in.
The Aviron Interactive Home Rower (Impact)
The first connected rower I ever came across was The Hydrow, which is still kinda referred to as "the Peloton of rowers" because it was the first to offer instructor led workouts via a large, HD touchscreen.
The Hydrow has been a huge success (and for good reason, it's awesome), so it's only natural that more and more interactive rowers are hitting the market.
These days, we've got several to choose from, like the elegant Ergatta, NordicTrack's RW900, and CityRow Go's Max Rower, and each model comes with its own spin on streaming.
Aviron takes a page out of Ergatta's book and goes with more of a gaming inspired workout plan, but with several additional features.
But more on that shortly.
Aviron is one of the newer brands in the game and has only been around for a few years.
I know I haven't seen much publicity or marketing for this rower yet, but I have a feeling it's going to be a hit.
At the time of writing this, they offer 2 rowers to choose from – the Impact and the newer Strong Series Rower.
As the name might imply, the Strong Series model is a heavier-duty, non-folding version of the Impact, but the resistance and software are the same for both rowers.
This review is focusing on the Impact model.
Anyway, let's get to the good stuff already.
Pros
22″ HD touchscreen console
Bluetooth compatible
Heart rate monitor compatible
Built-in speakers
Dual magnetic/air resistance systems
16 resistance levels
Quiet operation
Up to 100 lb of resistance
Game-based workouts
Tons of racing options
Compete against friends/elite rowers
Access to Netflix, Hulu, Prime, Disney+, YouTube
397 lb weight capacity
Folding frame
Performance guided workouts
Instructor-led workouts
Tracks workout metrics
Unlimited user profiles
Good warranty
Cons
Premium cost
Parts warranty could be longer
The Rower
As I mentioned, I'll be discussing the Impact Series rower from now on because I think this is the rower most folks will likely be interested in (for home use anyway), but feel free to check out Aviron's website for a complete comparison of the 2 models.
Ok, so the Aviron rower uses a combination of both magnetic and air systems to create the resistance.
This is a popular format these days because you can get the benefits of both systems in a single machine- that said, most of these combo rowers rely primarily on the magnetic systems to provide the resistance.
Magnetic rowers are great because they're quiet and they provide constant resistance regardless of how hard you're pulling (something pure air/water rowers can't offer).
On the Aviron, you can choose between 16 magnetic resistance levels.
Aviron suggests using the first 10 levels if you're looking for a cardio workout and using the higher levels (11-16) for more of a strength training workout.
On level 16, the Aviron apparently provides around 100 lb worth of resistance- I've never seen a pounds equivalent given on a rower's resistance system before, but that sounds like a ton of resistance to me.
Which is good, considering some of the workouts on the Aviron use the handle to perform strength training exercises like bicep curls, where you might want some serious resistance.
When rowing on a combo machine like the Aviron, you'll feel the magnetic resistance when rowing at a steady state, but you'll feel a little more from the air resistance if you start speeding up your rowing rate.
The frame on the Aviron is constructed out of steel and aluminum, like most rowers, for a strong yet lightweight feel.
With an assembled weight of 97 lb, the Aviron (Impact) will feel sturdy, but still be easy enough to move around when necessary (it can also fold in half for storage which is nice).
FYI, the beefed up Strong Series version weighs 17 lb more and can't fold.
The Aviron Impact comes with a max weight capacity of 397 lb and a  height limit of roughly 6'7″ (or 38″ inseam), allowing it to comfortably fit most rowers out there.
The handle is connected to the flywheel with a commercial grade nylon belt for quiet operation- and by quiet, we're talking around 60 decibels, or the volume of normal conversation (or your standard dishwasher).
Overall, when it comes to the rower itself, the Aviron scores very highly.
The combination magnetic/air resistance system offers the advantages of each, while the frame is heavy-duty enough to comfortably accommodate most users.
Workouts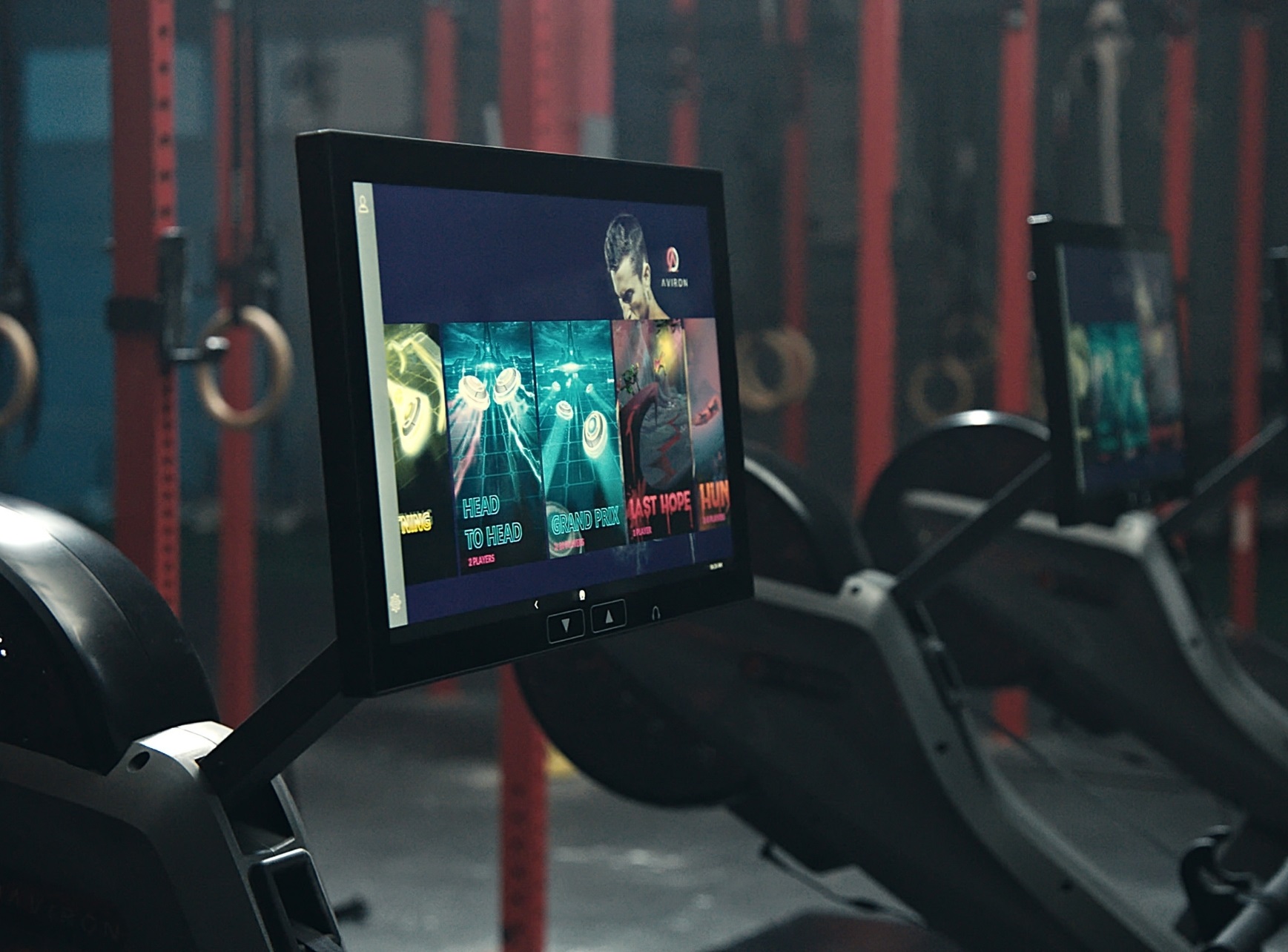 Ok, so the rower itself is nice, but let's be real- all of these elite streaming rowers come with really nice rowers.
The real magic (or lack there of) is in the streaming service itself.
The Aviron comes with a 22″ HD touchscreen display that's Android OS based and it comes with built-in speakers, a front-facing camera, and is bluetooth/wi-fi compatible.
I mentioned that the workouts on the Aviron are game-based, but there's more to it than that.
You actually get several ways to exercise with this rower, but since the games are probably the most unique, let's start there.
There are several racing style games to choose from, including ones where you're trying to out run zombies or killer octopuses, as well as good ol' fashioned car racing games.
You control the speed of whatever avatar you're using (you guessed it) by adjusting your rowing pace.
Something all of these games have in common is that they aren't boring and they help you forget that you're exercising.
Most of the Aviron's workouts are designed around the principles of HIIT, meaning they're of fairly short duration and geared towards intense effort.
There are plenty of other exercise options too though.
One of the coolest features, in my humble opinion, is the "Pros vs Joes" feature that let's you compete head-to-head with Olympians and other elite rowers.
You might think you're an elite rower yourself until you challenge a pro.
You can also compete against other Aviron rowers in various races within the Aviron community.
And if you aren't in the mood for a competition, you can always take a more relaxed approach and enjoy a scenic row through gorgeous virtual destinations around the world.
You can also access more standard, guided workouts that lead you through different rowing/non-rowing exercises to help get you in better overall shape.
Aviron has now added instructor-led workouts as well, giving folks the option to really choose between any workout style they like.
Something no other streaming rower has done yet, to my knowledge.
There are also performance guided workouts, where your metrics are used to progress your workouts.
The console can even adjust your resistance automatically to ensure you're working out hard enough to make progress.
The computer in the Aviron saves all of your workout data, allowing you to easily track your metrics and performance over time.
The takeaway here, is that the Aviron makes a real effort to make exercising more entertaining. This rower comes with tons of gaming and racing inspired workouts to take the monotony out of working out.
Which in itself is good reason to opt for this rower, but there are a few other features I want to point out.
For you social folks out there, Aviron basically has their own social media platform built into the rower.
Through the console, you can add and follow friends, participate in monthly challenges, access leaderboards, and race fellow rowers in friendly matches.
You can even post results and metrics directly to social media through the rower's interface.
The Aviron also comes with all the top entertainment streaming apps built-in, which is kinda crazy.
You can access Netflix, Prime, Hulu, Disney+, and YouTube and watch your favorite shows directly through the touchscreen console during workouts.
And you even get to see your workout metrics simultaneously while doing so.
Game changer.
All of these fun workout options are great, but they aren't free- like all the other streaming devices, you have to pay a monthly membership fee to access 'em.
The Aviron membership costs $29/month (or $299/year), which is pretty identical to what Ergatta costs and a bit cheaper than Hydrow's membership.
I know what you're thinking and yes, you can use the Aviron without a membership, but you only really get access to one free row workout (so what would be the point?).
Oh, and with a membership, you get unlimited user profiles, so you can set profiles up for the entire family – hey, even the kids may want to get on this thing with all those cool games.
Overall, the workouts on this rower are very unique.
They've taken the gaming inspired idea from Ergatta and really ramped it up a notch. And I'm still impressed that you can watch Netflix on this rower.
Warranty
If you're familiar with my work, then you probably know that I'm a stickler for a good warranty, so there was no way I was gonna finish this review with a few words on the Aviron's warranty.
At the time of writing this, both Aviron rowers come with the following residential/commercial warranty:
10 year frame
1 year parts
A couple of things here.
For one, it's interesting that Aviron backs both of their rowers with a commercial warranty.
I see this as a good indicator of overall quality because commercial use typically inflicts more damage to equipment (with multiple users and more overall daily use).
I'd also like to point out that 10 years on the frame is 2x as long as the warranties that Hydrow and Ergatta offer on their elite rowers.
A year on parts could be a little longer, but it's still on par with what the other elite rowers are offering.
Overall, I think Aviron is offering a great warranty on their rowers.
Price
The last thing I want to discuss before I wrap this up is cost.
At the time of writing this (I say this because prices can change throughout the year, with sales and whatnot), here are the following prices for the Aviron rowers:
Aviron Impact Series Rower: $1999
Aviron Strong Series Rower: $2299
These rowers are obviously priced as luxury rowers, but these numbers are still competitive with the other big names in the game.
The Hydrow is going for around $2495 these days and the Ergatta costs $2199 last time I checked, so both are in the same ballpark as the Aviron.
I mentioned it earlier, but keep in mind you'll be responsible for paying that membership fee of $29/month as well.
Overall, based on what the Aviron is and what it provides, I think it's priced fairly based on the comps.
Final Thoughts
Ok, that's about all I have when it comes to the Aviron Interactive Rower.
I think it's pretty safe to say this is a very nice rowing machine.
I also have to say I like the idea of having so many different exercise modes to choose from.
Games, guided workouts, instructor-led workouts, streaming apps…this rower kinda has it all covered.
I could see the Aviron being a good choice for folks who bore easily with following instructor-led workouts or for families looking for fun ways to get their kids exercising.
That said, I could also see a lot of people tiring of the game-themed workouts after a while.
Once the gimmick of playing games while you exercise wears off, it could be more difficult to stay motivated to use it (of course the same could easily be said of rowers that offer instructor-led workouts).
Luckily, with the Aviron rowers, you can switch between games, instructor-led workouts, and streaming apps anytime you want.
So, I would go as far as saying the Aviron Rower is about as "boring-proof" as any piece of fitness equipment out there.
All things considered, I think Aviron has an awesome product here. Highly recommended.