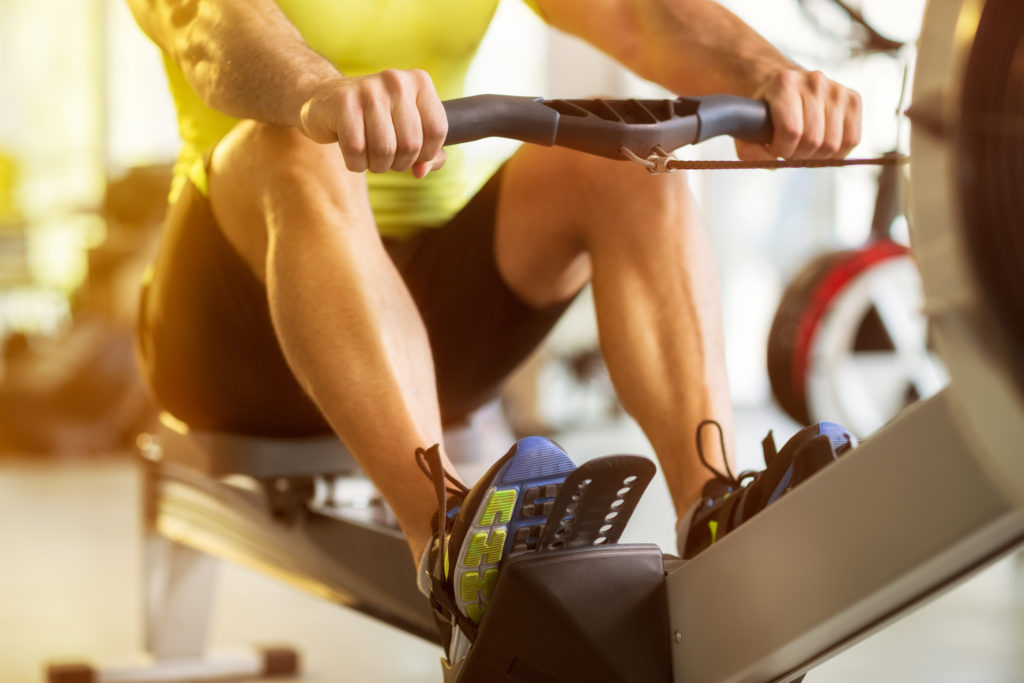 The RW900 is NordicTrack's most advanced rowing machine to date. Taking a page out of Peloton's book, the RW900 is designed for streaming workouts through the company's iFit app.
Although the streaming capabilities are the star of the show here, the RW900 is packing some impressive performance specs too.
Highlights of this rower include a 22″ HD touchscreen display, a dual magnetic/air resistance system, and a very generous warranty.
If you're interested in joining the world of connected rowing, the RW900 is a solid choice.
But with other comparable rowers on the market, it's important to do your due diligence.
And that's where this review comes in.
In this article, we'll take a close look at everything the RW900 has to offer. Advantages, disadvantages, specs…the whole enchilada.
After reading, you'll have a better idea as to whether or not this is the right rowing machine for your home gym.
The NordicTrack RW900 Rower
Their RW900 is one of 3 rowers they currently offer in their lineup- the other 2 being the less fancy RW500 and the much less fancy RW200.
The biggest difference between the 3 rowers is found in the console department.
Neither of the other 2 machines come with a large touchscreen display, although the RW500 does come with a 10″ tablet that can be used to stream iFit workouts.
The RW200 doesn't have any streaming capabilities, but is about $1000 cheaper than the rowing machine we're here to discuss.
Pros
Dual, magnetic/air resistance system
26 levels of magnetic resistance
10 levels of air resistance (damper)
30 built-in workouts
Folding frame
Large, comfortable pedals with quick adjust straps
22″ HD touchscreen display
Adjustable console
1 year iFit included
Chest strap heart rate monitor compatible
Hundreds of on-demand workouts to choose from (iFit)
Scenic rows
4 user profiles
Great warranty
Cons
Weight capacity only 250 lb
Heart rate monitor not included
Resistance
The type of resistance a rower uses is probably the easiest way to categorize them. If you've ever heard people talking about "air rowers" or "magnetic rowers", they where grouping them based on their resistance system.
Most rowing machines can be grouped easily into 1 of 4 resistance types: hydraulic, magnetic, air, and water.
Each type of rower has its advantages and disadvantages- for more information on the different styles of rowing machine, check out my rower guide.
There are others, like the RW900, that combine air and magnetic resistance systems in an attempt to get the best of both worlds.
The RW900 utilizes a magnetic resistance system, which is great because it offers a constant resistance independent of your rowing speed (unlike air rowers that increase or decrease your resistance based on your speed of rowing).
This rowing machine also uses a damper though, giving you the ability to manually control the air resistance too. 
With pure air rowers, the faster you pull, the more resistance you get. Adjusting the damper, you can let more or less air into the rotating fan, thus affecting the general drag or "heaviness" you feel with each stroke.
The idea of dual resistance systems is kinda confusing, but the way I understand it, it works like this:
Setting the magnetic resistance level is like setting your baseline resistance- no matter how fast your row, you're going to have at least this much resistance to pull against.
But if you choose to row at a faster pace, the added air resistance is going to kick in and give you a more challenging workout. If you slow down again, you'll still be pulling against that constant magnetic resistance.
Make sense?
Anyway, when it comes to the RW900, you get 26 magnetic resistance levels to work with. The way iFit is set up, your instructor will usually be adjusting that resistance level for ya throughout the workout (based on your fitness level and goals, etc).
You can set the damper level (air resistance level up to 10) to fine tune your resistance, but as per users, you will want to do this before you start your workout- apparently it's tough to reach while strapped in to the rower.
If you like the idea of starting your workout and not having to worry about messing with the resistance levels, you'll probably like the RW900 because of the automatic resistance changes throughout the workouts.
You can always increase or decrease the resistance during your workouts manually too when needed.
Overall, the RW900 scores highly with its dual resistance system. Users mostly agree it provides a smooth and quiet experience.
Frame
Quality rowing machines should have sturdy frames that aren't going to wobble or creak during heavy use. This can be tough to figure out without taking it for a ride, but there a few things we can look at to get an idea as to how sturdy it is.
Visually, the rower should look durable and robust. Although looks can be deceiving, when a rowing machine looks flimsy, it usually is.
A more objective way to tell is to look at the weight capacity. Higher weight limits are indicative of stronger, more durable frames.
Applying these rules to the RW900, at first glance, the frame looks pretty solid. The stabilizing legs and rail all look heavy-duty.
But when we look at the weight capacity, we find that this rower can hold users up to 250 lb safely. And this is a little disappointing, considering most high-end rowers can hold at least 300 lb.
The remarkable Hydrow (the model that started the whole streaming rower thing) has a weight limit of 375 lb, for comparison.
The weight limit on this rower is a little low, but it does do something the Hydrow can't- fold.
You can easily fold the frame in half, virtually cutting its footprint in half (takes up a space smaller than 3'x2′ when folded). This is a huge perk for home gyms that are a little lacking in the space department.
The handle is conveniently located too, making it easy to transport.
The seat is contoured for added comfort and most users agree the sliding action is smooth. 
The pedals are large and come with easily adjustable straps for a secure fit. The quick release straps allow you to quickly get in and out (makes sense, right). 
The RW900 also uses a high-end strap to connect the handle to the flywheel. Straps are often used in rowers (as opposed to chains) because they're quieter and don't really need any maintenance. 
Overall, the RW900 is well-built and comfortable. The folding frame is awesome, but I'd like to see a higher weight limit.
Monitor
Ok, now to the good stuff. The most notable feature on this rower is the huge flatscreen tv attached to it. To be more specific, the RW900 comes with a 22″ HD touchscreen display that can also rotate for easy viewing when you're not rowing.
This beautiful display is designed to be used with NordicTrack's streaming fitness app, iFit. Much like the Peloton and Echelon apps, iFit is loaded with on-demand workouts lead by professional trainers.
iFit offers a ton of workouts to choose from, but I think they're all prerecorded (no live classes as of last time I checked). Personally, I don't think that's a big deal because I never do the live classes on my Peloton. 
Like the other fitness apps, iFit also offers a lot of non-rowing workouts to choose from. The same fitness app is used for all their equipment (as well as ProForm), so if you've signed up for it in the past, you won't have to pay double (assuming your account is still active).
With iFit you also get to track your workout data and save up to 4 user profiles. You also get access to scenic rows (which is actually pretty cool)- seeing your instructor row down scenic rivers while you row.
The monitor is heart rate monitor compatible, but a chest strap isn't included. iFit requires internet, so the monitor is WiFi compatible.
There's a set of speakers and an audio import and you can also use wireless headphones via bluetooth to hear your workouts.
You should also know that you can only access iFit through the monitor- don't expect to watch Netflix or tv through it.
Overall, the monitor is nice. It's large, HD, and touchscreen.
Before you buy though, make sure you're ok with paying the monthly iFit subscription fee (1st year is included, after that it's $39/month). 
If you don't want to use iFit, you should consider another rower.
Assembly
If you decide to purchase the RW900, you shouldn't worry too much about assembly. Putting this rowing machine together is a pretty straightforward process.
You'll be responsible for attaching the stabilizer legs, adding the seat, and attaching the console. 
All the necessary hardware and tools required for the job are included. The assembly manual is pretty easy to follow. It includes both images and written directions, although the images could be a little larger.
Attaching the console (and console neck) is probably the most challenging step, just have to make sure you don't pinch the wires during the process.
You'll want to have a second person around to hold the large screen as you attach it to the frame.
Overall, I think most fairly handy folks will be able to assemble themselves without having to pay for professional assembly.
Warranty
The NordicTrack RW900 Rower comes with the following warranty:
10 year frame
2 year parts
1 year labor
This is actually a really good warranty on this machine. Ten years on the frame is more generous than most (the more expensive Hydrow only offers 6), as is 2 years on parts.
A year on labor is pretty standard operating procedure.
Overall, a pretty awesome warranty.
Final Thoughts
Ever since Peloton hit the scene, fitness brands have been adding streaming services to their fitness equipment. We've seen it on spin bikes obviously, but now it's on treadmills, ellipticals, and rowing machines too.
I get it- having a personal trainer in the comfort of your home is awesome.
NordicTrack's RW900 is one of the nicer streaming rowing machines I've come across. I like the large, HD touchscreen display and I like the dual resistance system (although most casual users probably won't have much use for the damper).
The folding frame is also a nice touch.
My only real complaint is the lower than expected weight capacity. But realistically, as long as you fall below it, you shouldn't have any issues.
And if you do, the 10 year frame warranty has got ya covered.
Overall, I think NordicTrack has a winner here. The RW900 isn't as high-end as the Hydrow, but it isn't as expensive either.
As long as you're cool with iFit, this is a solid choice (those looking for a more affordable option should consider the Echelon Smart Rower). Recommended.