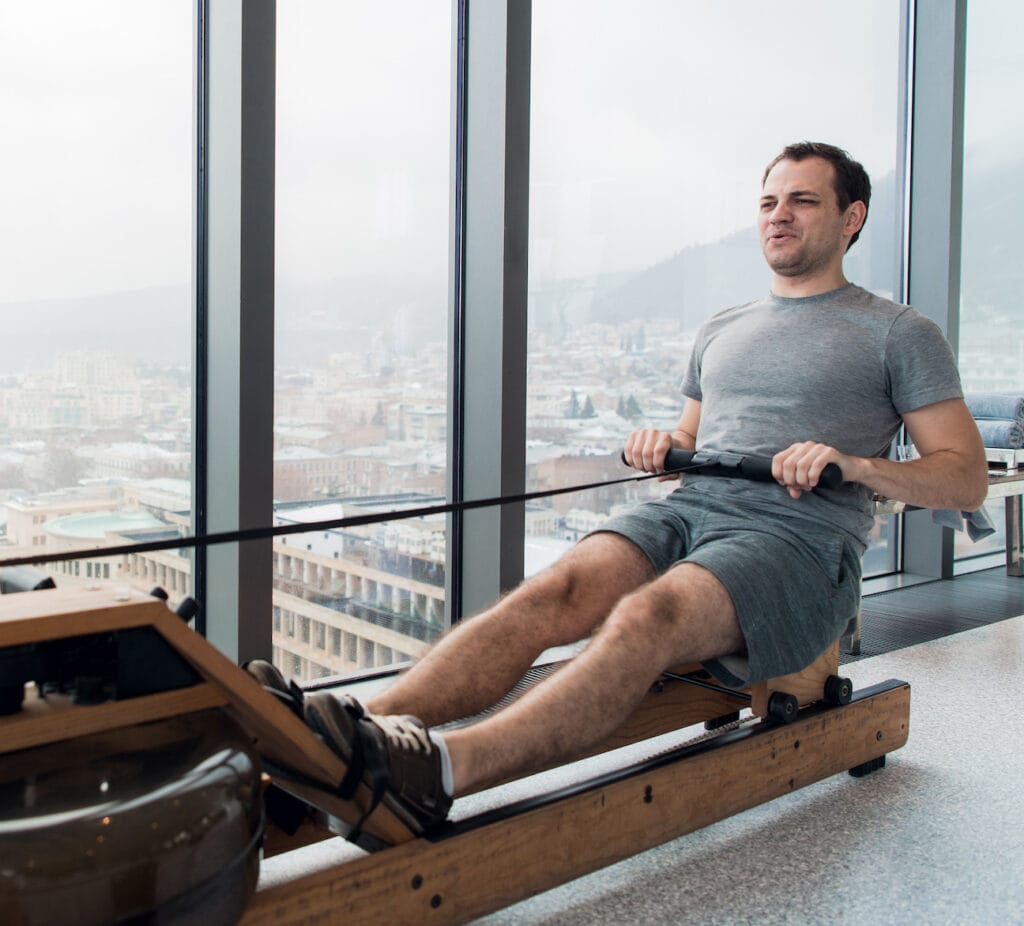 Ergatta has launched a new rowing machine, the Ergatta Lite, and it's really just a smaller, lighter-weight version of their original rower.
With a smaller footprint and a significantly lower weight, the Ergatta Lite is easier to move around and better suited to fit in homes with limited workout space.
And it comes with the same 17.3″ HD touchscreen console and game-style platform, so you don't have to give up the streaming experience that's made the original Ergatta so popular.
The biggest difference though is the price – with a retail cost roughly $700 lower, the Ergatta Lite is a more approachable option for folks working with a smaller budget.
If you're considering this rower, you've come to the right place.
In this review, I'll go over everything you can expect from the Ergatta Lite, but I'll also compare it to the OG so you can see how it differs from the original.
After reading, you'll know whether or not the Ergatta Lite is worth investing in.
Let's roll.
With a lighter-weight frame and lower asking price, the Ergatta Lite would make a good option for folks working with smaller workout spaces or lower budgets.
The Ergatta Lite
I can't remember when the original Ergatta first became available, but the company was launched back in 2019 and until now, they've really only offered the one rowing machine.
Now that one rowing machine has turned out to be a fantastic success, so I'm betting the folks behind Ergatta believe in the whole "quality over quantity" thing.
As do I.
Either way, the Ergatta Lite is here now and I have no doubts it'll do at least as well as the original version.
And with the lower price, I wouldn't be too surprised if it became their best seller.
Speaking of price, as I'm writing this, the Ergatta Lite is listed with a full retail price of $1,799 (although you may see it even cheaper with intermittent promotions throughout the year).
Let's start this review off with a rundown on the performance specs, then we'll switch over and talk about that HD console and all the exciting features it has to offer.
Pros
17.3″ HD touchscreen console
Oak wood construction
Water resistance
Unlimited resistance
Adjustable water level
Siphon/pump included
Free water tablets for life
320 lb weight limit
Fits users up to 6'4″ tall
Can be stored vertically
Easy to move
Game-inspired workouts
Scenic rows
Getting started workout programs
Bluetooth compatible with headphones/heart rate monitors
Good warranty
Great price
Cons
Not compatible with high rise kit
No traditional instructor-led workouts
Resistance
Rowing machines come in a few different varieties based on the kind of resistances they use.
The Ergatta Lite is a water rower, meaning it uses water and a rotating fan to create the resistance, so I'm going to skip ahead and focus on this kind of resistance system.
But if you're interested in learning the differences between the different kinds of rowers, feel free to check out my complete rowing machine guide for more info.
Water rowers are great because they offer the closest experience you can get to physically rowing a boat on water.
Not only do you get the variable resistance that depends on how hard you pull, but you also get to hear sloshing water during your workouts, which definitely adds to the experience.
With regards to the 'variable resistance' I just mentioned, this means that pulling harder increases your resistance and pulling lighter reduces it.
If you want to feel more resistance as you row, simply pull harder and the water will oblige.
This is true with all water rowers and the Ergatta Lite is no different.
This means there are no resistance levels or anything like that to mess with on the Ergatta Lite – simply hop on and starting rowing.
That said, you can adjust the amount of water in the tank to fine tune your rowing experience.
It's a little confusing to think about, but WaterRower explains that adjusting the water level is like adjusting the weight of your boat.
And adding more water is like adding more people to your boat.
You're not really increasing your resistance by adding water (because your resistance is depending on how hard/fast you pull), but instead you're having to move more mass.
Regardless, with the Ergatta Lite, you have the option to fill the tank to any water level between 13 – 19, but Ergatta recommends starting with a water level of 17.
Ergatta includes a hand pump/siphon that makes the job fairly painless, but know that it takes about 4.5 gallons of water to fill the tank to level 17, so it might take a little pumping to get it there.
This same pump can be used to remove water as well, but that should really only be necessary if you want to adjust the feel of your rowing or you're moving.
Because otherwise, you don't have to replace the water in the Ergatta Lite.
Ergatta provides water purification tablets that you simply drop in the tank every 6 months and that'll keep your tank nice and clear. And yes, these tablets are free and Ergatta will keep you stocked for life.
Overall, the Ergatta Lite scores highly with its water resistance system.
Not only does it offer a life-like rowing experience, but it doesn't require the adjustment of resistance levels and it creates a soothing swooshing sound as the water mixes in the tank.
Frame
One of the things that makes the original Ergatta so special is that they used WaterRower, one of the world's premiere creators of water rowers to provide the hardware for Ergatta's software.
In other words, Ergatta's proprietary product is the gaming software, not the rowing machine itself.
This means you could buy the same rowing machine Ergatta uses (minus the console) through WaterRower.
Well, when it comes to the Ergatta Lite, it looks like this rower was also made in collaboration with WaterRower, but I don't see any WaterRower rowers that match its specs.
So, you can't purchase the Ergatta Lite's rower through WaterRower – it looks as this one is specific to the Ergatta Lite.
The Ergatta Lite is constructed out of oak wood and measures 82″ x 23″ x 38″ when being used (L x W x H).
And like the original Ergatta, it can be stored vertically (without having to drain the water) and doing so only takes up a footprint of 23″ x 21″.
The Ergatta Lite only weighs 72 lb with a filled tank (40 lb without water), making it easy to move around with the built-in transport wheels.
This is pretty darn lightweight for a water rower, but it can still safely hold folks weighing up to 320 lb.
And given the length of the rail, it should be able to comfortably accommodate folks with an inseam upwards of 38″ or around 6'4″ tall.
And even though the light brown stain isn't quite as gorgeous as the darker stain found on the Ergatta, I still think the Ergatta Lite is pretty easy on the eyes.
Overall, as the name implies, this is a smaller, lighter-weight rowing machine, but it's still capable of handling folks of most sizes.
Console
The Ergatta Lite comes with a 17.3″ HD touchscreen console that gives you access to Ergatta's streaming platform.
This is the same console found on the original Ergatta as well.
The console itself is nice, but the magic is really in Ergatta's game-like workouts.
Sine the Ergatta was originally released, they've expanded greatly on the number of workout games provided, but here's a quick rundown on the types of games/programs you can expect:
Races
Choose from hundreds of different routes where you can challenge up to 8 other Ergatta users to see who's the best.
And don't worry about getting your butt kicked by folks who are out of your league – Ergatta automatically matches you with individuals of similar levels, so you can assure your races will be spirited.
Push Programs
These are programs, each consisting of multiple workouts, designed towards helping you reach a certain goal.
The push programs are designed by professionals and updated regularly, giving you tons of options to choose from.
Meteor
This is a single person, side-scrolling game where you earn points by collecting coins in different intensity zones.
These intensity zones are designed specifically for you and you're rewarded with more points by spending more time in the higher-intensity zones.
Live Competitions
Ergatta will host live competitions periodically, where thousands of members can compete against each other in real time.
I remember trying to promote the first one they did a while back and they had so many members sign up for it I think they crashed their system.
Again, Ergatta tries to keep it fair and group you so you're competing with other folks at the same skill level.
Vortex
This is one of their newer games and it's designed so that people of different skill levels can fairly compete against each other.
You're basically awarded points by collecting tokens and this is all based on how fast you row (intensity zones) as well as your cadence.
Echo
This game is all about syncing your rowing cadence with what's being shown on the screen.
You can choose between different workout lengths and the better you are at staying in sync with the rhythm, the more points you'll earn.
Pulse
These are single player workouts designed around trying to reach and maintain specific goals throughout the workout.
These workouts come in a ton of varieties and difficulty levels, but basically, the workout gives you a target zone and your job is to hit it and maintain it for as long as the interval lasts.
Scenic Row
This is just what it sounds like.
If you wanna just zone out and enjoy the beautiful scenery, choose a scenic row and go at your own pace.
These are filmed in locations around the world and more are added each month.
Custom Workouts
You can build and save your own custom interval workouts and come back to them anytime you want.
Just Row
This is the equivalent of "manual" mode on a treadmill, letting you simply start rowing and make up your own routine.
You can set distance or time related goals, but you don't have to.
Getting Started Series
If you're new to rowing or just looking to improve your technique, Ergatta's getting started series could be beneficial.
These programs include video tutorials and beginning workouts to help you perfect your form and get comfortable with rowing workouts.
I'm probably missing a few workout options in there, but that's more or less the gist of what this software has to offer.
I also should point out that when you first startup your Ergatta Lite, you'll be asked to complete a rowing assessment to see where you're at in terms of performance.
And it's this assessment that Ergatta uses to calibrate your workouts so that they're at the right difficulty for you.
And don't worry, Ergatta automatically reassesses you periodically and re-calibrates as you get better to ensure you're always being challenged sufficiently with your workouts.
Bluetooth
The Ergatta Lite's console is also bluetooth compatible with headphones and heart rate monitors, so you'll be able to track your heart rate if you like.
Assembly
If you enjoy putting things together (or simply want to avoid the professional assembly fee) you can opt to assemble the Ergatta Lite yourself.
The assembly process itself isn't too complicated, but there are several pieces that need to be attached and connected together.
This is mostly just a process of using an Allen wrench to bolt varying wooden pieces to each other.
Connecting the console is as simple as attaching it to the arm and then plugging in a couple of cables.
And as lightweight as this rower is, it shouldn't be too difficult to move around, so it's doable as a single person job.
If you decide to assemble yourself, expect to spend 45 minutes or so getting the job done (not bad for a cardio machine).
Warranty
The Ergatta Lite is covered with the following home warranty:
5 year frame
3 year parts
1 year touchscreen
I think this is a good warranty for this rowing machine.
Five years on the frame matches what most of the top rowers are offering (Hydrow, Concept2), although NordicTrack actually offers 10 years on their RW900.
And 3 years is better than the 1 year Hydrow offers and 2 years NordicTrack offers.
A year for the console is pretty average, nothing too spectacular going on there.
Overall though, this is one of the better rowing machine warranties out there at the moment.
The Ergatta Lite vs The Original Ergatta
Ok, before I wrap things up here, I wanna provide a quick, down and dirty comparison to the original Ergatta here.
Hopefully this table sums the major differences up nicely:
| | The Ergatta | The Ergatta Lite |
| --- | --- | --- |
| Wood | Cherry | Oak |
| Dimensions | 86" x 23" x 40" | 82" x 23" x 38" |
| Weight (with water) | 105 lb | 72 lb |
| Weight Limit | 500 lb | 320 lb |
| Height Limit | 40" inseam of 6'8" | 38" inseam or 6'4" |
| High rise compatible? | Yes | No |
| Full retail price | ~$2499 | ~$1799 |
So, looking at the above table, here are the main takeaways:
The Lite is made out of a different kind of wood
It's smaller and lighter-weight
It comes with smaller weight/height limits
It costs quite a bit less
I don't think I mentioned this anywhere else, but the Ergatta Lite also isn't compatible with the high rise kit, which raises the Ergatta an additional 8″ off the ground.
Without the kit, the Ergatta's seat is about 12″ off the ground, so the high rise kit raises this, making it easier to access.
Final Thoughts
Alright, I think that about covers it.
If I had to sum this rower up in 4 words, it would be: "Great taste, less filling".
Oh wait, that's the famous slogan for Miller Lite… eh, it still works.
In all seriousness, I think Ergatta was smart to name this model "Lite" because it tells you exactly what you're getting here.
The Ergatta Lite is a lighter-duty, more affordable version of their high-end, original rowing machine, but it still offers the same streaming experience as the original model.
It can't handle folks quite as large as the OG, but with a lighter-weight frame and more compact footprint, it'll fit in easier in homes with limited space.
And even though it isn't quite as gorgeous to look at, that $700 savings will likely help you get over it.
Overall, I think the Ergatta Lite is a hell of a rower and easily one of the best deals in streaming at the moment. Highly recommended.