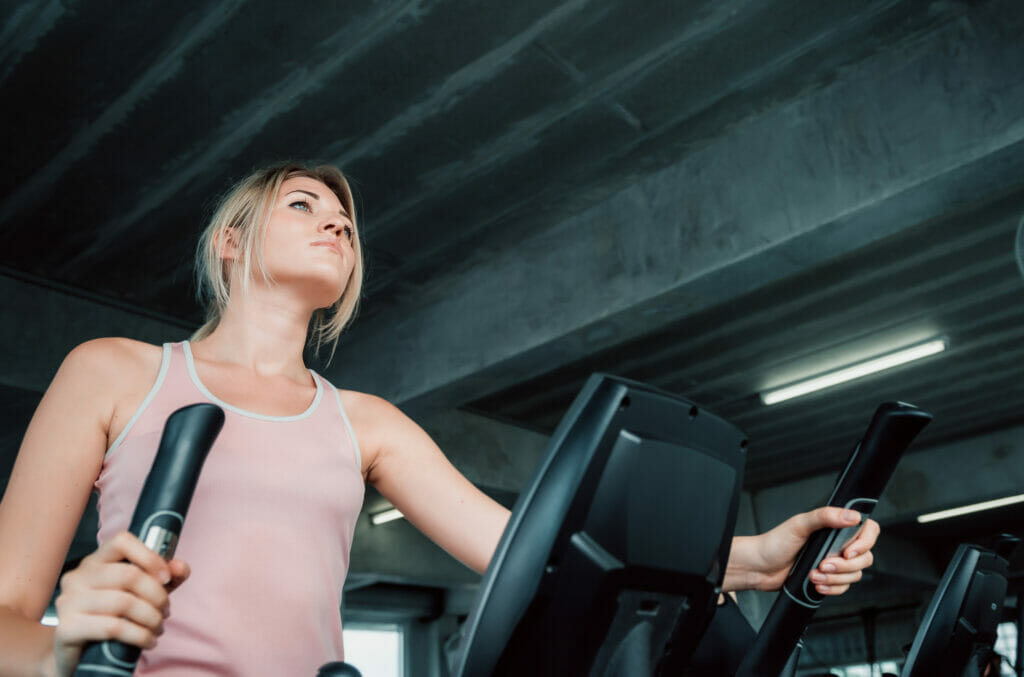 With their new AirGlide 14i, NordicTrack takes their popular elliptical formula and steps it up a notch – or technically speaking, I guess you'd say they're bringing it down a notch.
I say that because the AirGlide 14i is the first elliptical to hit the market that offers the ability to decline down to -5%, mimicking the feel of going down hill.
This will likely add to the overall virtual terrain experience while using Automatic Trainer Control, but I'm not sure this feature alone will be enough to sway new customers to invest in NordicTrack.
Fortunately, the AirGlide has a lot more to offer, including a 32 lb flywheel, comfy pedals, a robust frame, and a generously-sized HD touchscreen console.
So, all things considered, I have the feeling NordicTrack's new elliptical is gonna be a hit, but before you buy, you gotta do your homework.
And that's where I come in.
In this review, I'll go over everything this elliptical machine does and doesn't have going for it.
After reading, you'll know everything you need to in order to decide whether or not the AirGlide 14i is really worth investing in.
Let's roll.
The NordicTrack AirGlide 14i Elliptical
NordicTrack is one of the biggest names in the home fitness game, so you're probably at least a little familiar with the brand.
In a nutshell, they're cardio machines are generally well-received and for the price range, they usually have some of the best options to choose from.
They  aren't perfect and their customer service doesn't have the best reputation, but as moderately-priced equipment goes, NordicTrack is a solid brand to go with.
Especially if you're into fitness streaming.
The AirGlide we're here to talk about now is the first elliptical they've added to their lineup in a while and I'm assuming it's here to take the place of their older Commercial 14.9 Elliptical.
These ellipticals are very similar and priced pretty identically, but the AirGlide comes with the new decline feature (and a snazzy new name, which I must admit sounds pretty sleek).
Speaking of price, as I'm writing this, the AirGlide 14i is selling for around $1,799.
Alright, let's start things off with a rundown of the most important performance specs.
Pros
32 lb flywheel
26 magnetic resistance levels
14″ HD touchscreen console
-5 – 15% power incline
30 days of iFit included
Automatic Trainer Control
Access to unlimited instructor-led workouts
Scenic routes
Bluetooth compatible
Built-in speakers
Large, adjustable pedals
Heavy-duty frame
300 lb weight limit
Built-in handle controls
Cooling fan
Water bottle holder
Reasonably-priced
Cons
18″ stride length could be a little longer
Frame warranty could be longer
Stride Length
When it comes to ellipticals, I think the stride length is the first thing we should be looking at.
I know, touchscreens, workout programs, and fancy incline features are more fun to think about, but trust me – stride length is just as important (likely more important).
And that's because this lowly spec is gonna play a huge part in how comfortable you are when using said elliptical.
If an elliptical's stride length is too short for ya, it doesn't matter how fancy the console is because you aren't going to enjoy using it.
I mean seriously, who wants to feel like they're marching in place on their elliptical?
Anyway, the AirGlide comes with a stride length somewhere between 17.8 – 18.5″, depending on what incline setting you have it set on (so basically 18″).
NordicTrack calls this their "auto adjustable" stride length, but it's not really an adjustable stride length – it just changes a little based on the angle of incline.
Semantics aside, 18″ is ok for an elliptical in this price range, but I think a 20″ stride length would be better.
Taller users would certainly appreciate the extra room to stretch out with a 20″ stride, although most folks under 5'8″ probably won't notice.
And that's not to say taller folks won't be able to comfortably use the AirGlide, it just means they might not be able to stretch out as much as they'd like.
Most higher-end home ellipticals come with a 20″ stride length because this length comfortably accommodates most users, but keeping the stride a little more compact might've come in handy when trying to include the decline feature.
I also want to point out that the AirGlide comes with an in-box weight of 244 lb (meaning its true assembled weight is probably somewhere around 200 lb).
This is quite heavy for a home elliptical in this price range and personally, I love seeing a really heavy elliptical because it means it's gonna feel more secure while I'm on it.
That said, its weight limit is pretty average at 300 lb, but again – this might help things work more smoothly for that decline function.
Overall, the AirGlide comes with a decent stride length at around 18″, but as a taller person myself, I'd like to see a 20″ stride.
Resistance
Moving on, let's talk resistance systems.
Most home ellipticals, and pretty much any elliptical in this price range, work very similarly to how exercise bikes work.
Like bikes, ellipticals use rotating flywheels and magnetic systems to create the resistance you work against.
And just like with exercise bikes, these flywheels come in various weights.
Having a heavier flywheel is usually an advantage because they tend to create a smoother pedaling feel (as well as provide a little more overall resistance).
Most respectable home ellipticals come with flywheels somewhere in the 20 – 30 lb range (Sole's popular E35 comes with a 25 lb flywheel) and this is usually plenty heavy to offer a smooth feel.
With this in mind, consider that the AirGlide comes with a 32 lb flywheel.
This is about as heavy as any flywheel I've come across for an elliptical, matching the flywheel found on Sole's E98 (which costs about $1k more).
So, the fact that the AirGlide comes with such a heavy flywheel is awesome, but I also like that it comes with 26 resistance levels because this gives us a lot of control over the intensity of each workout.
And as I've mentioned a few times already, the new feature on this elliptical is its ability to descend down to -5%, mimicking the feel for walking/jogging downhill.
It can also ascend up to 15% as well, which personally, I find more useful.
NordicTrack's been innovative with their decline features (they first introduced us to this technology with their Commercial S22i), but honestly, it doesn't do a lot for me.
I found it kinda awkward to be sloped downhill while pedaling on a bike, but I could see how it adds to the affect of following virtual terrains.
Overall though, this elliptical scores very highly in this department – with a massive flywheel and plenty of resistance levels, you can expect a smooth ride on the AirGlide.
Features
NordicTrack's AirGlide 14i Elliptical comes with the following included features:
14″ HD touchscreen- this elliptical comes with a large, HD touchscreen console that makes it easy to select all workouts and see all metrics during use.
iFit- and of course, that wonderful console is there so you can access iFit, NordicTrack's streaming service that gives you access to all the instructor-led workouts, metric tracking, scenic routes, and all that jazz. NordicTrack includes a free 30-day trial with purchase of the AirGlide, then you'd be responsible for the ongoing monthly membership fee if you wanted to continue using it.
Automatic Trainer Control- while using iFit, you can take advantage of the Automatic Trainer Control feature that lets the elliptical automatically adjust the resistance and incline settings to match your instructor's cues. This is a cool feature that lets you simply start the workout and keep up, without having to mess around with changing settings.
Bluetooth- the console is bluetooth compatible with headphones and heart rate monitors as well.
AutoBreeze fan- there's a built-in fan to help keep you comfortable during workouts.
Handle controls- you can also conveniently adjust the resistance and/or incline settings with the buttons built-into the moving handles.
Adjustable pedals- the pedals are large and covered with a cushiony/textured surface, but you can also adjust their angle to make sure you find the most comfortable fit.
Water bottle holder- and there's even a place to put your water bottle for easy reaching during workouts.
Warranty
NordicTrack covers their AirGlide 14i Elliptical with the following home warranty:
10 year frame
2 year parts
1 year labor
This is the same warranty NordicTrack uses for all their cardio equipment these days and it isn't bad, but it isn't great either.
Ten years on the frame is a little short compared to the lifetime frame warranties offered by Sole and Spirit on their similarly-priced products.
But 2 years on parts isn't bad for this price range – this matches what Sole offers.
Horizon and Spirit have 'em both beat (3 and 5 year parts warranties, respectively), but again, 2 years is respectable for parts.
And a year on labor is pretty standard across the board.
Overall, I think NordicTrack's warranties are pretty decent.
Final Thoughts
Alright, I think that about does it for the AirGlide.
I'm not sure if I've mentioned this yet or not, but I would like to stop and say that I really like this elliptical's name – "AirGlide" reminds me of Michael Jordan and his awesome shoes and that's a good thing.
MJ will always be the GOAT in my book (no offense LeBron), but I have to admit being a child of the '80s makes me a little bias…
But back to NordicTrack.
I think the AirGlide 14i has a lot going for it and even though it's the new decline feature that makes this machine unique, I actually think it's the performance specs that stand out most.
The stride length could be a little longer, but I love that this elliptical comes with a really heavy flywheel, a lot of resistance levels, and a really heavy-duty frame.
And the folks out there looking for a streaming elliptical will appreciate that large HD touchscreen sitting front and center.
Speaking of which, there aren't a ton of streaming ellipticals out there, so if this is what you're looking for, I think the AirGlide makes a lot of sense.
All things considered, I think NordicTrack has a nice elliptical here for the price and I'd be surprised if it isn't a smash hit.