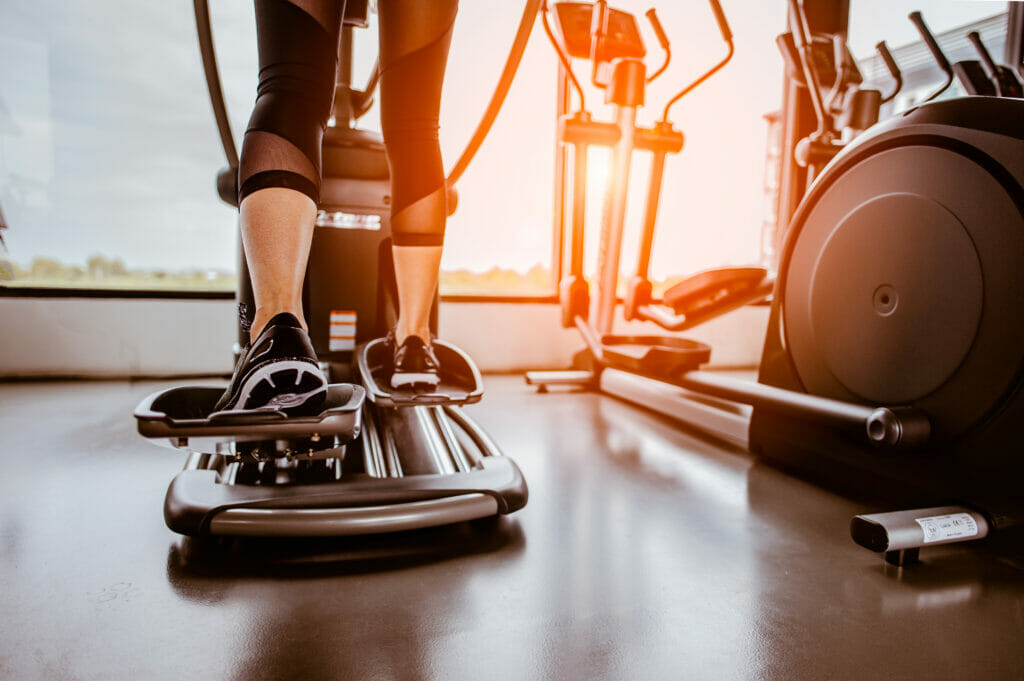 The XE395 is one of Spirit Fitness's highest-end residential ellipticals to date. As such, it's packed with impressive specs and features from top to bottom.
This remarkable specimen is packing a 20″ stride length, a 30 lb flywheel, 20 levels of magnetic resistance, and 20 levels of power incline.
The console is no slouch either- it comes loaded with 10 workout programs, it's bluetooth compatible, and it even comes with an included chest strap heart rate monitor.
And since this is Spirit we're talking about, of course the XE395 is backed by the best warranty you'll find in this (or any) price range.
So, if you're in the market for a premium trainer with performance specs out the wazoo, the XE395 is a fabulous choice.
But before you decide to pull the trigger and purchase, you have to do your homework- and that's where I can help.
In this review, I'll go over everything Spirit's XE395 has to offer. After reading, you'll know whether or not this is the right elliptical trainer for your home gym.
The Spirit Fitness XE395 Elliptical
Spirit is one of my favorite home fitness brands. Like Sole (another one of my favorites), they put performance above everything else.
That, and they back their machines with the best warranties in the market.
We'll go over the warranty in more detail down below, but Spirit backs most of their models with 10 year parts guarantee… 10 years!
That's crazy.
Anyway, if you aren't familiar with them, they really are a great brand.
They offer an extensive lineup of both residential and commercial machines to choose from, including 5 ellipticals marketed for home use.
The XE395 is one of the higher-end models and comes with an asking price of roughly $2100 (although you can usually find it on sale for under $2000).
Pros
20″ stride length
30 lb flywheel
20 levels of magnetic resistance
20 levels of incline
Heavy-duty frame
400 lb weight capacity
10 workout programs
Bluetooth compatible
Chest strap heart rate monitor included
Adjustable angle pedals
Handle bar resistance/incline controls
Amazing warranty
Cons
Assembly manual hard to follow
Stride Length
I think it's a good idea to start with the stride length when talking about any elliptical. This spec is important because it tells you how much room you're gonna have to work with during use.
Technically speaking, it's the distance the pedals travel apart from each other (front to back) during your workout.
Lower-end ellipticals tend to come with smaller stride lengths, instantly making them less comfortable.
Your proper stride length depends greatly on your height and leg length, but most folks between 5'3″ and 6′ are comfortable with a 20″ stride length.
That's why a 20″ stride length is the gold standard for quality home ellipticals.
Having a stride length that's too short makes you feel like you're jogging in place as opposed to running; too long, and you'll feel like you're stretching out too far with each stride.
Either situation is less than optimal.
(For more info on finding the best stride length for you, check out my guide on the topic).
With all of this in mind, the XE395 comes with a 20″ stride length, meaning most folks of average height will fit comfortably.
The stride length on this model is what we should expect from a high-end model, as is the frame.
This elliptical comes with a heavy-duty, powder coated steel frame that's tough enough to hold user weighing up to 400 lb.
And with a product weight of 216 lb, you won't have to worry about any unwanted wiggling or wobbling during your workouts.
The XE395 is also designed with a dual track system for each pedal- this mean there are 2 rails for each pedal to glide across instead of just one.
This just makes for a more stable, smoother feel during use.
Overall, the XE395 scores very highly in this department with its spacious stride length, heavy-duty frame, and high weight capacity.
Flywheel
I encourage all of you to consider the flywheel weight of any elliptical you end up purchasing. Like the stride length, this spec tells you a lot about how comfortable your elliptical is going to feel.
Much like spin bikes, when it comes to elliptical flywheels, heavier is preferred.
A heavy flywheel builds more momentum as it spins, which reduces any lag or awkwardness between pedal strokes.
The result is a smoother feel during your workouts.
Heavier flywheels can also provide more overall resistance, which is a plus for folks looking for a model that can provide a legit workout.
Personally, I consider any flywheel that weighs 20 lb or more to be "heavy".
Considering this, the XE395 is packing a 30 lb flywheel, which is more than enough muscle under the hood to provide smooth pedal action (and strenuous workouts).
Speaking of intensity, Spirit gave this elliptical 20 levels of magnetic resistance. This is nice, because it allows you to make subtle changes in difficulty, instead of making dramatic jumps every time you adjust.
Having more levels gives you more control to fine tune the intensity of your workouts.
This elliptical also comes with 20 incline levels, giving you another dimension to play with during use.
With the heavy flywheel and 20 levels of resistance/incline at your disposal, you'll be able to work as hard or as easily as you prefer.
In other words, the XE395 is capable of challenging folks at every fitness level.
Features
The Spirit XE395 Elliptical comes with the following features:
7.5″ LCD console- the console screen on this elliptical is pretty standard, nothing too special to mention, but it's blue backlit, making it easy to see in any lighting situation. It's also large enough to see all your workout metrics clearly during use.
10 workout programs- I wouldn't say the XE395 is loaded with workouts, but with 10 built-in programs, it's got enough to keep ya busy for awhile. These workouts include: hill, fat burn, cardio, strength, and interval. There are also 2 custom workouts, 2 heart rate guided workouts, and a manual mode.
Bluetooth compatible- this elliptical is bluetooth compatible with Spirit's free app (Spirit Fit) for workout and metric tracking.
Heart rate monitoring- you can grab the stationary handles and check your pulse with the grip heart rate monitors or you can use the included chest strap for a more accurate reading.
Handle bar controls- you can adjust both the incline and resistance level from the conveniently located handle bar controls.
Audio jack- you can plug your mp3 player into the console and listen to your workout jams through the built-in speakers.
Adjustable pedal angles- the pedals are large, cushioned, and angled 2° for added comfort. You can also manually adjust the angle of the pedal, choosing between 3 settings, to find your most comfortable fit.
Swivel fan- there's a built-in cooling fan in the console which comes in handy during those more strenuous workouts.
Water bottle holder- there's a handy place to store your water bottle. Hey, you gotta stay hydrated.
Assembly
I love Spirit as a brand and I don't have much to complain about with their products, but when it comes to the assembly manuals, I think it's time they did some updating.
Their assembly manuals kinda suck.
Their images are too small and they've got way too much going on in each step.
If they'd provide larger, clearer images and break the process up into more steps (there are only 4, but you have to attach like 8 things in each step) it would be a lot easier to follow.
The hard to read manual is really the only complaint users tend to have regarding the XE395.
The assembly process here is fairly involved- there are several components that have to be attached to the main frame, including a few cable attachments (take care not to pinch!)
If you're fairly handy, the job is very doable, but if you tend to have a hard time with following instructions anyway, you might want to consider professional assistance.
Warranty
The Spirit XE395 Elliptical comes with the following residential warranty:
Lifetime frame
Lifetime brake
10 year parts
1 year labor
As I mentioned at the beginning, Spirit is known for their really long warranties and the guarantee they offer on this elliptical certainly doesn't disappoint.
You can't beat a lifetime warranty for the frame/brake, even though most high-end models will offer this type of guarantee.
What really sets this warranty apart though, is the 10 years Spirit offers on parts.
This is 2x as long as the 5 year guarantee most reputable brands offer.
A year on labor is pretty standard.
Overall, a great warranty for any price range.
Final Thoughts
That's about all she wrote for the Spirit XE395.
As you probably noticed, I don't have too much to complain about here.
This elliptical is well stocked in terms of performance specs. I like that it comes with a 20″ stride length and at 30 lb, this is one of the heaviest flywheels you're gonna find.
I also like the heavy-duty frame and the fact that Spirit includes a chest strap with purchase.
The warranty is the icing on the cake though- the peace of mind that a warranty like that brings is hard to match.
The biggest downside I see is the assembly manual- simply put, it sucks.
But it's hardly a deal breaker considering how much this elliptical has going for it.
Overall, if you're looking for a serious elliptical that can out perform most in its price range, the XE395 is a great choice. Highly recommended.
P.S- If you're interested, Fitness Factory usually has it on sale (and you usually get a free mat and free delivery…just sayin').