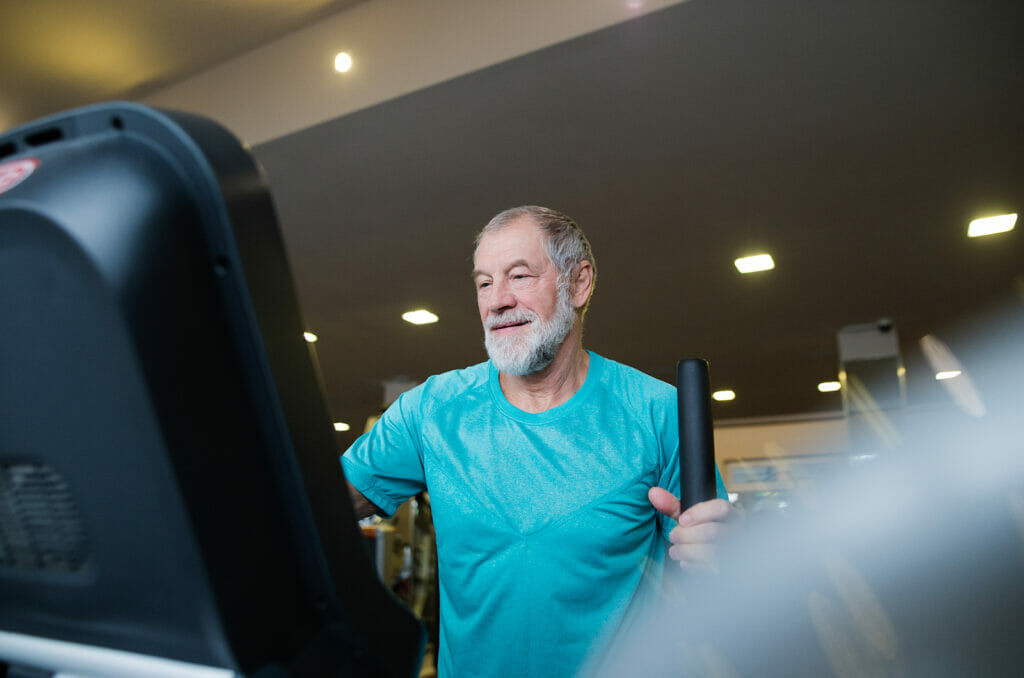 With a 20″ stride length, 30 resistance levels, and a really long warranty, Matrix's E50 has the makings for an elite home elliptical machine.
Toss in a suspension design for quieter operation and a compact footprint and it's hard to deny that the E50 has a lot to offer.
And with the ability to choose between 4 different consoles (ranging from you basic LCD screen to a gorgeous 22″ HD touchscreen loaded with fitness streaming and entertainment apps), you can even go as tech-savvy as you please.
Yup, there's not much to complain about here… well, except for the price that is.
As awesome as the E50 is, it comes at a pretty significant cost – so the real question is whether or not it's worth the investment?
And that's exactly what I'm here to help you figure out.
In this review, I'll go over all the specs and features the E50 has to offer, but I'll do ya one better and also compare the E50 to some of the other top comps to see how it stacks up.
After reading, you'll be able to decide for yourself whether or not this elliptical is worth buying.
Alright, let's do this.
The Matrix Elliptical E50
Matrix is a provider of both residential and commercial fitness products and they're part of the Johnson Health Tech family, the same company that also owns Horizon and Vision Fitness.
Matrix is Johnson's premiere brand, Horizon is their budget-friendlier brand, and Vision is more of their light-commercial brand (think hotels and apartment complexes).
Anyway, Matrix is pretty well-respected by most and they've got a nice lineup of cardio machines to choose from.
In general, their products are well-built and backed by generous warranties, but personally, I'd say it's their consoles that set 'em apart from most other elite brands.
We'll go in a bit more detail below, but Matrix's consoles come with built-in entertainment apps and are also iFit compatible, giving you access to streaming workouts and all that good stuff.
The E50 we're here to discuss now is one of their mid-range ellipticals and its cost will likely range somewhere between $3800 – $5800, depending on which console you go with.
Pros
20″ stride length
30 levels of resistance
Smooth acting resistance system
Heavy-duty frame
325 lb weight capacity
Compact footprint
9″ step-up height
Choice of 4 consoles
Access to entertainment apps*
Screen mirroring*
Bluetooth
USB charging*
Built-in workouts
iFit compatible
Multi-grip handles
Great warranty
Cons
No adjustable incline
Pricey
*Depending on console
Stride Length
I like to start my elliptical reviews off with a rundown on the performance specs because regardless of what cool features and extras a machine comes with, above all else it should be able to provide a comfortable workout.
And when it comes to comfort, the stride length is paramount.
Measured in inches, this spec tells us how far our feet will be moving with each step and if an elliptical's stride length is too long or short for ya, your workouts are gonna suffer.
Your optimal stride length will vary, depending on your height and leg length, as well as your personal preferences.
But most higher-end ellipticals will come with a 20″ stride length because at this size, most users are able to comfortably use it.
That said, the E50 comes with a 20″ stride length.
This is a great size for folks of most heights and it's what we should expect to see from a home elliptical in this price range.
Something we don't see much of from home ellipticals is the suspension design the E50's rockin'.
You'll notice the pedals aren't attached to rails on the bottom and are instead supported from the top, similar to Cybex's Arc Trainers.
According to Matrix, this make the E50 quieter and lower maintenance, due to less friction.
I can buy that – it certainly makes this elliptical very quiet during use.
And let's be real, it looks cool too.
Suspension designs aside, the E50 is a really heavy-duty elliptical as well.
This bad boy weighs in at around 293 lb and can safely hold folks weighing up to 325 lb.
For the sake of comparison, this elliptical weighs almost 50 lb more than Sole's E98. With this much bulk, you won't have to worry about the E50 feeling flimsy or moving around on ya during use.
This elliptical feels rock-solid.
And with a footprint of roughly 69″ x 33″, the E50 is surprisingly compact, considering many ellipticals are 75 – 80″ long.
Overall, the E50 scores highly with its 20″ stride length and suspension pedal design and I love how heavy-duty it is.
Resistance
The stride length is important to think about, but so is an elliptical's resistance system.
The resistance system is responsible for providing your resistance (duh), but it also contributes to how smooth you overall pedaling motion feels.
Most budget-friendlier ellipticals use weighted flywheels, paired with moving magnets to create the machine's resistance.
In this common setup, having a heavier flywheel is usually preferred because the extra weight creates a smoother feel.
The E50, however, doesn't rely on a heavy flywheel because it uses a more advanced magnetic resistance system.
Matrix calls this their "Exact Force" induction brake and with it, the E50 can provide a smooth pedaling feel without the use of moving magnets.
This is beneficial because moving magnets can get stuck, meaning you lose your ability to change the machine's resistance settings.
This can be really frustrating and often requires a service technician to come out and repair.
But with the E50's system, the chances of malfunction should be lower – fewer moving parts is usually a good thing when it comes to durability.
Anyway, the E50 comes with 30 resistance levels, giving you a lot of control over the intensity of your workouts.
This is great, but this elliptical doesn't come with adjustable incline settings, which could be a dealbreaker for folks who like this feature.
Overall, the E50 scores highly with its sophisticated, smooth acting resistance system, but the lack of any incline settings is something to think about.
Features
The Matrix Elliptical E50 comes with the following features:
Choice of console- you get to choose between 4 different consoles with this elliptical and the features you get will vary depending on which one you go with. These include the 22″ HD 'XUR', the 16″ HD 'XIR', the 10″ touchscreen 'XER', and the LCD 'XR'. If you aren't interested in apps and fitness streaming, you can save a lot of cash by going with the 'XR'.
Entertainment apps- but if you go with any of the touchscreen consoles, you get access to built-in entertainment apps, like Netflix, YouTube, Spotify, and more. There's even a built-in web browser, so you can search the internet if you want during workouts.
iFit- all of the consoles are iFit compatible, but with the touchscreen consoles, you can view the workouts directly through your screen. But unlike the NordicTrack and ProForm machines, you don't need an iFit membership to use all the other cool features the E50 offers. Matrix includes a free 30 day trial of iFit with purchase and if you like it, you can continue by paying the monthly membership fee.
Screen mirroring- the touchscreen consoles also come with the ability to screen mirror from your phone, allowing you to view anything from your phone directly on the elliptical's console. This is a cool feature because it gives you access to any entertainment or fitness app you want.
Workouts- the number of built-in workouts you get depends on which console you choose. Workouts range between 5 (XR) to 13 (XUR).
USB charging- the 3 touchscreen consoles come with USB charging ports, so you can keep your phone charged while working out.
Bluetooth- all consoles are bluetooth compatible with heart rate monitors or bluetooth headphones (if applicable).
Multi-grip handles- the E50 comes with large, multi-grip handles, giving you a lot of freedom to choose your favorite hand position.
Water bottle holder- and finally, there's even a place to store your water bottle for convenient hydration.
Assembly
If you purchase the E50, Matrix will likely require their white glove delivery, which includes delivery and professional assembly.
If for some reason this service isn't available in your area, I believe Matrix waives the delivery fee and will send the E50 to your front door.
In this case, you'll be responsible for assembling this elliptical yourself – but don't worry, it isn't that complicated.
Luckily, the base of the elliptical comes pre-assembled, so you won't have to worry about messing with the suspension system or pedals.
No, instead you'll have to attach the console mast, the handles, the pedals, a few covers, and the console itself.
That's about it, it's a pretty straightforward assembly and the manual is easy enough to follow.
Just keep in mind this is a heavy elliptical, so you'll want to have some assistance available to get in your house and to its final resting spot.
But once it's assembled, the transport wheels (and handles) will make it doable to roll from one area to another when necessary.
Warranty
Matrix covers their Elliptical E50 with the following home warranty:
Lifetime frame
7 year parts
2 year labor
This is a great warranty, but let's be real – at this price, we should expect a good warranty.
But even so, Matrix's coverage can hang with any other elite home brand in the biz.
For example, Life Fitness offers a lifetime frame, 5 year parts, 1 year labor warranty for their similarly-priced E3.
And Precor offers the same warranty for their EFX 245; and Octane for their Q37x.
So, based on what the other elite brands are offering for this price range, Matrix's warranty is about as good as you're gonna find.
Final Thoughts
Ok, that about does it for all the specs and features the E50 has to offer.
Based on all the stuff mentioned above, I think it's fair to say the E50 is a really nice elliptical. It doesn't have an adjustable incline, but otherwise it's loaded with top of the line components and features.
But it's pricey, so I want to take a quick look at some of the other high-end ellipticals in this price range to see how it really stacks up.
The first one I want to mention is Life Fitness' E3, which goes for around $4k or more (depending on console choice).
The E3 is a rear-drive model with a 20″ stride, 20 resistance levels, and a lighter-weight frame (225 lb).
And it's nicest console, the "Track Connect 2.0″ is very basic compared to the HD touchscreens Matrix offers.
The next comp I want to mention is Precor's EFX 245, which goes for around $3400 (I know, it's a bit cheaper, but all of Precor's other ellipticals are too expensive to use as comps).
The EFX 245 comes with an adjustable cross ramp for incline training, 16 magnetic resistance levels, and tons of built-in workout programs.
And Precor's R40 console is a 7" touchscreen display, making it a lot more advanced than Life Fitness', but it's still not in the same league as Matrix's displays.
Lastly, there's Octane's Q37x, which also goes for around $4k.
Octane's a great brand and the Q37x is a solid, comfortable elliptical, but again – the console is significantly more basic.
Based on these comps, I would argue that the E50 is priced fairly for what you get and that it's the consoles that really set Matrix apart from their similarly-priced competitors.
So, if you're looking for a high-end elliptical with some serious tech game, the Matrix E50 is most certainly worth the price.