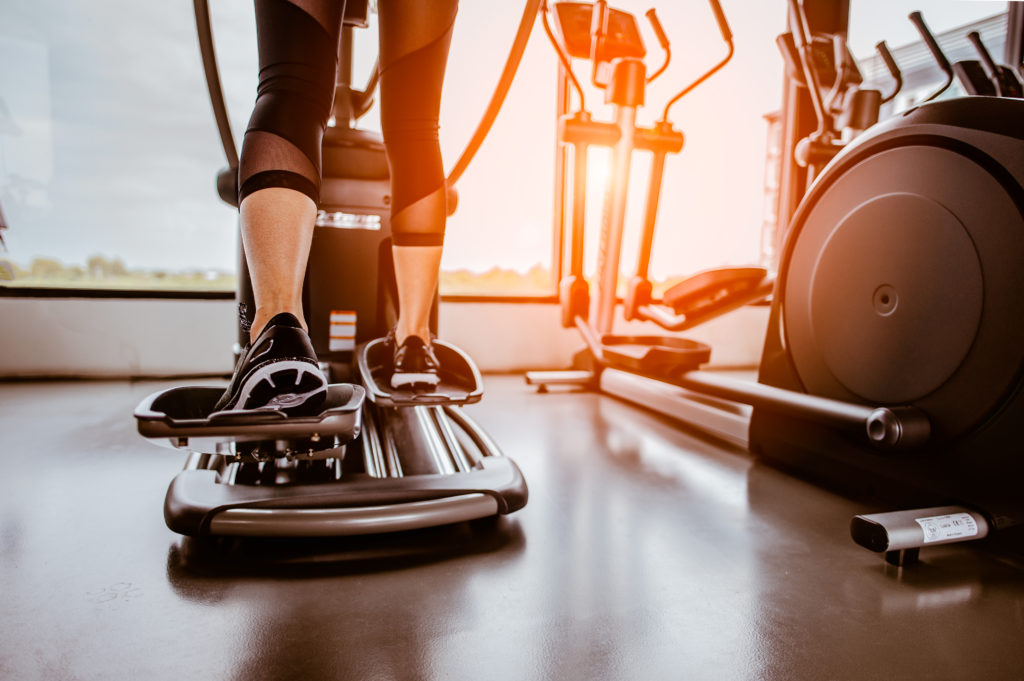 The 7.0 AE Elliptical may be Horizon's finest achievement to date. Well, at least when it comes to home ellipticals. This model offers a unique combination of features from their other models and is priced exceptionally well.
We're talking long stride length, heavy flywheel, bluetooth, and a great warranty. And it's priced as a budget elliptical.
The only question is- what gives?
Are we missing something here or is the 7.0 AE really just a great deal? Well, that's what this review is here to find out. Stick with me while I take you on a tour of everything this elliptical has going for it (as well as what it's lacking).
After we're done here, you should have a better understanding of what this machine has to offer and whether or not it's the perfect fit for your home gym.
Before we jump into the review, I want to start with a quick guide on budget ellipticals.
Budget Ellipticals 101
The term "budget" probably means something different to all of us, so I want to start off by saying that for me, I consider any elliptical that costs under $1000 to a budget elliptical.
This price range covers a large variety of machines- both in terms of quality and features. But generally speaking, with budget ellipticals you tend to get:
Smaller Stride Lengths
A small stride length is a tell-tale sign of a budget elliptical. One of the ways companies can cut down on costs is to make the machine smaller.
Budget ellipticals often come with stride lengths in the 13-18″ range. Personally, I think anything less than 18″ is tiny, but I'm 6'1″ and would be marching in place on a machine that small.
The gold standard for quality home ellipticals is a 20″ stride length. This is where most folks at most heights can comfortably use an elliptical.
Lighter Flywheels
Budget ellipticals usually come with lighter flywheels too. Again, it's another place companies can cut corners to make a cheaper product.
When it comes to flywheels, the general consensus is that heavier is better.
Budget machines often come with flywheels in the 13-20 lb range. High-quality ellipticals are usually packing a 20 lb+ flywheel, with some even going as high as 40 lb.
Fewer Features
This one makes sense, but more affordable ellipticals are usually lacking in the more sophisticated features. Again, there are reasons why budget models cost less.
Features will vary from machine to machine, but in general, budget ellipticals usually have:
Smaller screens
No touchscreens (or HD)
No bluetooth capabilities
Fewer workout programs
No adjustable incline settings
Shorter Warranties
Warranty length is often directly related to the cost of a product. More expensive ellipticals should come with better warranties. On the other hand, less expensive models often come with shorter warranties.
Frame warranties can be anywhere from 10 years to lifetime in this price range. Parts warranties are usually anywhere from 1-3 years. Labor warranties are rarely longer than 1-2 years, regardless of price.
Some really affordable ellipticals may not come with anything more than a 12 month guarantee- I'd stay away from these.
The Horizon 7.0 AE Elliptical
The 7.0 AE is Horizon's most recent addition to their elliptical lineup. I'm not sure if they heard complaints or what, but with this model they finally added adjustable incline settings (something all of their other ellipticals are missing).
This elliptical offers a great combination of features and is priced to move. Personally, I think it's their best elliptical- it offers the same specs as their high-end Evolve 5, minus the Passport and Viafit compatibility (and costs about $400 less).
Pros
Large, 20″ stride length
Low step-on height
Heavy, 23 lb flywheel
20 levels of resistance
20 levels of incline
325 lb max weight capacity
Built-in bluetooth speakers
USB port
Built-in tablet holder
One touch speed/incline buttons
Great warranty
Cons
Limited selection of workout options
Stride Length
The 7.0 AE comes standard with a 20″ stride length. This is the optimal size for home treadmills and most users should find it comfortable to use.
This should be a given for more expensive ellipticals, but in this price range it isn't.
This elliptical also comes with a 10″ step-on height, which is lower than most of the competition. In case you're wondering, the step-on height is how high off the ground you are when you step on the elliptical.
For homes with low ceilings, this in an important number to consider, because you'll likely want to find a machine that is as low to the ground as possible.
The 7.0 AE doesn't have a folding frame like the Evolve 3 and 5 do, but the stationary frame allows it to hold more weight than any other elliptical Horizon provides- this model comes with a 325 lb weight limit (the other models max out at 300).
This extra stability makes this a smart choice for larger users.
Overall, this elliptical scores highly right out of the gate with a 20″ stride length and 325 lb weight capacity.
Flywheel
I mentioned that budget flywheels usually come with lighter flywheels. Well, this is one of the exceptions. This elliptical is packing the same 23 lb flywheel the Evolve 5 is.
23 lb is definitely heavy enough to provide a smooth ride. There are ellipticals out there that come with heavier flywheels, but for the price, this is a great place to be.
To control that heavy flywheel, the 7.0 AE comes with 20 levels of resistance. This many levels gives you the opportunity to really fine tune the intensity of your workouts.
As I mentioned earlier, this is the only Horizon elliptical that comes with an adjustable incline- 20 levels of incline to be exact.
I'm glad Horizon finally decided to put this feature on one of their ellipticals because it really is a great addition. It gives you more opportunity to change the difficulty and feel of your workout.
You can also concentrate on different muscle groups by changing the incline angle. For example, higher inclines usually engage your glutes and hamstrings more.
Overall, the 7.0 AE comes with a heavy flywheel and plenty of resistance and incline settings to give you full control over your workout.
Features
The Horizon 7.0 AE comes with the following features:
6 workout programs- unlike most of their other models, this elliptical isn't loaded with workout options. But the 6 that are included give you a little bit of everything (calorie, distance, fat burn, etc). Plus with the addition of the incline settings, you can easily make your own workouts.
Bluetooth speakers- the built-in bluetooth speakers make it easy and convenient to listen to music or listen to a movie you're watching through the machine. A great feature for a budget elliptical.
7″ LCD screen- this is the largest screen found on any of Horizon's ellipticals. It's large enough to clearly see all of your stats during your workout- no squinting necessary.
USB port- the included USB port comes in handy when you want to charge your phone or tablet during your workout. You won't have to worry about running out of juice, you can keep the tunes blasting as long as you want.
Free training app- this elliptical is compatible with the free AFG Pro Fitness app that lets you track and store all your data as well as control the elliptical during your workouts. It's compatible with a few other fitness apps for data sharing.
One touch buttons- the one touch buttons for speed and incline are very useful, especially for interval training.
Tablet rack- the built-in tablet rack makes it easy to watch your tablet or hold your phone while you charge it with the USB port. It's conveniently located so it doesn't block your view of the display.
Fan- the built-in fan will help keep you cooler during your workout.
Assembly
Putting the 7.0 AE together shouldn't be that bad. The instructions are well organized with large illustrations and written directions for each step along the way.
Each step specifically shows you which parts and hardware to use for that step. I really like that they included a to scale image of each screw/bolt that you use for each step- makes it a lot easier than having to reference back to the beginning of the instructions.
The necessary wrenches are provided.
This elliptical isn't quite as fast to assemble as the Evolve 3, but there are only 10 steps. I bet most folks can have this elliptical up and running in 1-2 hrs.
Warranty
The Horizon 7.0 AE comes with the following warranty:
Lifetime frame
3 year parts
1 year labor
This is a great warranty for a budget elliptical. It's also the exact same guarantee Horizon offers on their more expensive models.
Seeing a warranty like this (especially on a machine in this price range) gives us an insight as to how well built the 7.0 AE really is. Kudos to Horizon for this warranty, they've earned it.
Final Thoughts
With an asking price of $999, the Horizon 7.0 AE falls in the budget category of ellipticals. Even though we tend to expect less from more affordable models, this elliptical shows us that we shouldn't.
The 7.0 AE is boasting some remarkable stats for this price range, including a 20″ stride length, 23 lb flywheel, and a 325 lb weight capacity.
It's also loaded with some higher-tech features that shouldn't be taken for granted in this price range, like bluetooth speakers and 20 levels of power incline.
It's also backed by a great warranty.
It's lacking the Passport and ViaFit compatibility that Horizon's more expensive models offer, but honestly, those features don't seem very interesting to me.
I'd trade them for a power incline and set of bluetooth speakers any day.
Overall, I think the 7.0 AE is a home run and definitely my favorite Horizon elliptical to date. If you're looking for an affordable elliptical with quality construction and plenty of features, this is a smart buy.