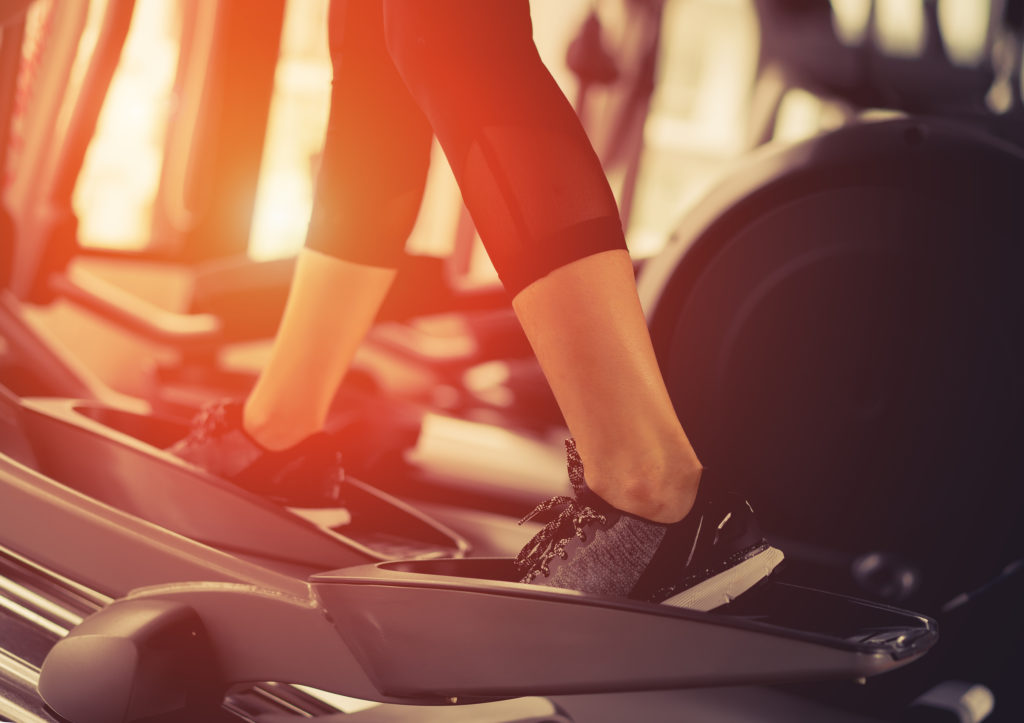 Sole's E25 is an affordable home elliptical that offers a great combination of function and features.
This shouldn't come as much of a surprise though- the Sole brand has made a name for themselves by doing this with pretty much every model they produce.
The E25 is special though, because it's one of the most affordable ellipticals in their lineup.
And with a heavy flywheel, long stride length, and great warranty, the E25 might just be the best elliptical you can get for around $1k.
But before you decide, you should now what to expect – and that's where I can help.
In this review, I'll go over everything this elliptical machine has to offer, as well as where it has room for improvement.
After reading this, you should have a good understanding to whether or not the E25 is the right elliptical for your home gym.
Let's begin.
A Quick Intro To Sole
If you're unfamiliar with the Sole name, that's ok.
I want to start with a quick intro to the brand before we dive into the review anyway.
I always think it's a good idea to familiarize yourself with the company producing any fitness equipment you're considering.
Reputations, good or bad, are often rightly earned.
When it comes to fitness equipment brands, these reputations are often earned over time through the word of happy (or angry) customers.
In Sole's case, they've earned their stellar reputation by producing high-quality fitness equipment over the last few decades.
Their treadmills and ellipticals always seem to find their way onto the years' "best of" lists in pretty much every category.
Sole started off by providing hotel chains with their treadmills.
These machines were so popular in the light-commercial category, that they decided to start producing residential models and selling them directly to folks looking for a great workout in the comfort of their own homes.
They used the same high-quality parts and materials that made their hotel treadmills so popular in their residential models and it was a booming success.
They've branched out a little from treadmills and now offer ellipticals (obviously), bikes, and rowers as well.
Sole specializes in budget and moderately priced machines, though some of their higher-end models give commercial grade equipment a run for their money.
Over the years, Sole has become known for:
Using high quality materials for sturdy frames
Offering great warranties
Having great customer service
Producing great, affordable home fitness equipment
Oh, another great thing about Sole products is that they're usually sold at sporting goods stores around the country (like Dicks).
If you live near one, you can go there and try it out before you purchase.
The Sole E25 Elliptical
As I mentioned earlier, the E25 is one of Sole's most affordable ellipticals (second only to their E20).
Prices may vary a little throughout the year, but at the time of writing this, Sole is selling the E25 for $1199.
For the price, I think you get a great combination of specs and features here, but I'll let you be the judge (PS – check out my Sole elliptical guide to see how the E25 compares to the more expensive models).
Pros
20″ stride length
Strong frame (350 lb weight limit)
20 lb flywheel
20 resistance levels
20 levels of power incline
Articulating foot pedals for added comfort
Bluetooth speakers
Access to free Sole fitness app
USB charging port
Built-in tablet holder
Awesome warranty
Cons
Basic display screen
Assembly can be a little confusing
Stride Length
I always like to start with an elliptical's stride length because I think it's one of the most important specs to consider when comparing machines.
Similarly, I always start with a treadmill's running surface. The two specs are pretty much the same- they tell us how much room we have at our disposal on each machine.
On an elliptical, the stride length is technically the distance your feet move front to back as you pedal.
And like running surface on a treadmill, larger is better because it gives you more room to stretch out.
This is especially important for the taller folks out there.
The gold standard for home ellipticals is 20″ because folks of most heights can comfortably use ellipticals with this stride length.
You can often spot a subpar elliptical a mile away by glancing at its stride length.
Well, you can rest easy because the Sole E25 comes with a 20″ stride length. With a stride length this large, it'll be able to comfortably fit most users without any issues.
The frame on this elliptical is built rock-solid too.
When comparing frames, I like to look for the assembled weight and max weight limit because these specs can give us a good idea as to how stable we can expect the elliptical to feel.
And in both cases, seeing higher numbers is a good thing.
A heavier elliptical is going to feel more stable than a lighter one and should be less likely to wiggle or wobble during use.
The E25 comes with an assembled weight of 209 lb, which is quite heavy for an elliptical in this price range.
The E25 also comes with a 350 lb weight limit, which is also high for an elliptical in this price range. Most budget ellipticals top out at around 300 lb.
The extra weight capacity shows us that Sole has done a great job designing this frame.
In case you're wondering, the step-up height on the E25 is 14″, which is pretty standard for most home ellipticals.
Overall, I like how heavy this machine is and that it comes with a spacious stride length.
Flywheel
The flywheel is another important spec you'll want to consider because this is what provides the resistance for the elliptical.
When it comes to flywheels, heavier is usually preferred because it will provide a smoother ride.
It all has to do with momentum- the heavier wheels build more momentum as they spin, thus providing for a less bumpy feel.
The E25 comes with a 20 lb flywheel, which is very respectable for a budget elliptical.
Twenty pounds should be plenty to provide a smooth, comfortable ride regardless of your fitness level.
For comparison's sake, many budget ellipticals come with flywheels in the 13-18 lb range.
To give you control over that flywheel, the E25 comes with 20 different levels of resistance and 20 different power incline settings.
This gives you a lot of options when it comes to controlling the intensity of your workouts.
Power incline isn't a give in this price range- a lot of the competitors can't offer the same incline adjustability that the E25 does.
I think it's a great touch because it really does add variety and challenge to your workouts.
Playing with the incline also gives you the ability to emphasize different muscles in your legs (higher incline usually hits the glutes and hamstrings more).
Overall, the E25 scores highly with its heavy flywheel.
Features
The Sole E25 comes standard with the following features:
10 workout programs- this isn't a ton of workouts like some ellipticals offer, but it should be plenty to keep you busy. These include 6 standard programs (distance, calorie, fat burn, etc), 2 heart rate workouts, and 2 custom workouts.
Bluetooth speakers- this is a nice feature that we're starting to see on a lot of treadmills and ellipticals now. You can wirelessly connect your phone or tablet to the bluetooth speakers to hear music or a Netflix movie through the elliptical.
Articulating foot pedals- Sole partnered with a physical therapist to design the foot pedals in such a way that they will reduce stress through your ankles and feet. This should increase comfort and reduce chances of injury.
7.5″ LCD screen- the screen isn't that sophisticated, but it's large enough so you can see all your workout stats at the same time. Sole hasn't used particularly sophisticated consoles in the past, although now with their most recent updates we're seeing more touchscreen consoles in Sole's lineup.
USB port- the built-in USB port allows you to charge your devices while you workout. This is great because it ensures you don't drain your battery while listening to music or watching a movie.
Free app- Sole has a free fitness app that can sync with the E25 through bluetooth and record all your workout data. This app can also sync up with other fitness apps like FitBit and iHealth.
Grip heart rate monitor- the included grip handles allow you to get an idea of what your heart rate is as you workout (but these are known for being less than accurate). The E25 is also compatible with chest strap monitors, but one isn't included.
Tablet holder- the tablet holder is conveniently located at the top of the console so it doesn't block your view of the workout screen.
Fan- nothing too fancy here, but the fan will help cool ya off during your workouts.
Water bottle holder- yup, this is where your water bottle goes.
Assembly
Putting the E25 together isn't awful, but there have been some users complaints about it being a little confusing.
And I will say, the assembly instructions could be a little better.
Sole does a good job of presenting large illustrations of the hardware required for each step, but the actual image of where everything goes is on a separate page.
There are written descriptions for each step too, but again, they're on a different page than the actual image showing where everything is going.
There's only 4 steps in the instructions (technically speaking), but step 4 has a lot going on and could've easily been broken down into several more steps.
I think it would a little more sense to have the image of where the parts are going and the written instructions all together on the same page.
Even so, I think most fairly handy people will be able to get the E25 together by themselves with little problem. It might just take a little longer than it needs to.
I'd expect to spend at least 1-2 hrs putting it together.
Warranty
The Sole E25 Elliptical comes with the following warranty:
Lifetime frame
2 year parts
1 year labor
90 day cosmetic items
This is a fabulous warranty for an elliptical in this price range.
You can't beat a lifetime guarantee on the frame and this shouldn't be expected in this price range.
And 2 years on parts is as good as you can expect in this price range as well (matching what NordicTrack offers).
One year on labor is pretty standard across all price ranges, so nothing too crazy there.
Overall, Sole's reputation for offering great warranties stands true here. I doubt you're going to find a better guarantee for $1k.
Final Thoughts
Sole is a well known home fitness brand that's earned a reputation for providing high-quality equipment and backing them with awesome warranties.
And their E25 is no exception.
For a budget elliptical, the E25 has a lot going for it.
It comes with a heavy, 20 lb flywheel that will provide a smooth and consistent feel.
It also has a large, 20″ stride length that should fit most people very comfortably.
It's also packing some bonus features you wouldn't necessarily expect on a budget elliptical, like bluetooth speakers, a USB charging port, and 20 levels of power incline.
Add in the fact that this machine has a 350 lb weight limit and is backed by a wonderful warranty and you've got yourself a serious contender for best in class.
The only real downside I see is that the console is pretty basic, so if you're looking for a fancier touchscreen or anything like that, the E25 might not be the right choice for ya.
But otherwise, I think the E25 is a great elliptical for the price. Highly recommended.