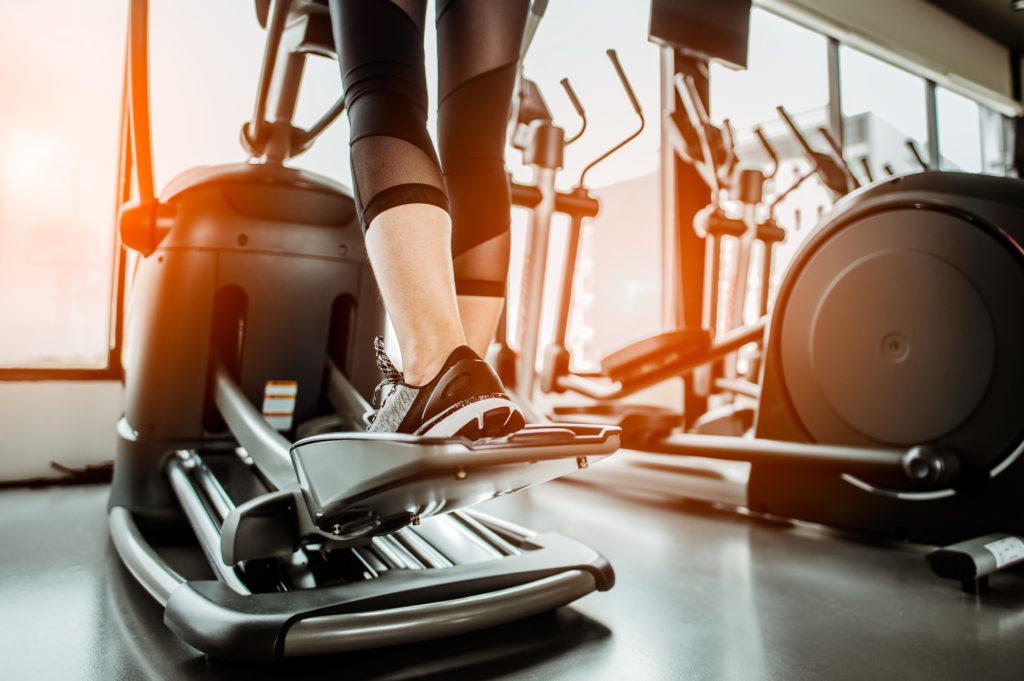 Sole produces some of the finest and most popular ellipticals for home use. They've become a leading brand in the elliptical world because their machines are well-built and they back them with really generous warranties.
Simply put- they work better and hold up laster than most of the competition.
But if you're interested in adding a Sole elliptical to your home gym, it could get a little confusing researching all the different models and comparing their specs to find the best fit.
Luckily, I've done the heavy lifting for ya – this guide does just that.
In this article, I'll provide reviews of all the current models as well as a helpful chart comparing all the models in terms of the key specs you should consider when researching ellipticals.
After reading, you'll have a better understanding of how the different Sole ellipticals compare to each other. You should also have a better idea of which one (if any) is the right choice for your home.
Sole Ellipticals
Sole Fitness has been around for decades. Although they gained popularity for their hotel treadmills, they've rapidly become one of the most popular home fitness brands over the last several years.
It's pretty easy to see why too.
All of their products are designed with maximizing performance in mind. From the ground up, Sole products start with heavy-duty steel frames that are rugged enough to withstand event the most intense workouts.
They don't skimp in the parts department either. Sole components are usually larger and heavier, allowing them to last longer than the competition.
Durable frames and high-quality parts make for machines that run smoother and last longer. In other words, exactly what you're probably looking for in a home fitness machine.
That's why several of their ellipticals have made their way onto my best ellipticals of the year list.
Sole only offers cardio machines at this time, they haven't gotten into the strength training side of fitness yet. They're probably most well known for their treadmills and ellipticals, but their exercise bikes are also top of the line.
There are currently 6 different models in Sole's elliptical lineup. They're all numerically named with higher numbers relating to higher-end models.
Like all brands, the higher-end Sole ellipticals come with certain upgrades over the other models. These upgrades pertain to a few key specs, making it relatively easy to compare machines.
You'll see the biggest differences between Sole models in the following specs:
 
Stride Length (in)
Flywheel Weight
Warranty
Weight Capacity
Dimensions (L x W x H)
Price
Sole E25
20"
20 lb
Lifetime frame
3 year parts
1 year labor
350 lb
70" x 24" x 64"
$
Sole E35
20"
25 lb
Lifetime frame
5 year parts
2 year labor
375 lb
82" x 31" x 67"
$$
Sole E55
20"
20 lb
Lifetime frame
5 year parts
2 year labor
375 lb
71" x 27" x 64"
$$
Sole E95
20"
27 lb
Lifetime frame
5 year parts
2 year labor
400 lb
82" x 31" x 67"
$$$
Sole E95S
18" - 24"
30 lb
Lifetime frame
5 year parts
2 year labor
400 lb
84" x 32" x 70"
$$$$
Sole E98
20"
32 lb
Lifetime frame
5 year parts
2 year labor
*Light commercial warranty as well
400 lb
82" x 31" x 71"
$$$$
Flywheel Weight
Most home ellipticals use perimeter weighted flywheels, paired with a magnetic system, to provide the resistance. The pedals are attached to this flywheel, so as you pedal, the flywheel spins.
It's generally believed that heavier flywheels provide smoother workouts because the extra weight builds more momentum. This extra momentum helps the pedals continue spinning between pedal strokes, essentially eliminating any lag mid-stroke.
The unwritten rule is that an elliptical flywheel that weighs at least 20 lb is heavy enough to guarantee smooth operation.
This is only a guideline- there are plenty of ellipticals that work just fine with lighter flywheels. But generally speaking, when it comes to flywheels, heavier is better.
Knowing this, Sole uses flywheel weight as an upgrade between models.  Flywheel weight is actually one of the biggest differences we see between their ellipticals.
Sole ellipticals can come with flywheels ranging anywhere from 20 lb to 32 lb, depending on the model.
More experienced users and families with multiple users may want to consider a model with a heavier flywheel because it should be able to provide more resistance as well as operate more smoothly.
Weight Capacity
Weight capacity is another key spec that will differ depending on the model you're looking at. An elliptical's weight capacity is the maximum user weight it can safely hold without fear of malfunction.
It's true a machine may be able to hold more, but the stated weight limit is the number the machine has been tested at and been certified to safely hold without breaking down.
It's not a good idea to use any fitness machine if you don't fall within the max weight capacity. Luckily, Sole makes that pretty easy.
Sole elliptical weight capacities range between 350 lb to 400 lb, depending on the model.
This means that even their most budget friendly E25 can safely hold most users.
Weight capacity usually goes hand in hand with total machine weight, with heavier machines being able to hold heavier users. This makes sense, because the heavier ellipticals will be bulkier and more heavy-duty.
Weight capacity is also a great way to get an idea as to how durable a machine is. Higher weight capacities mean heavier, stronger frames.
Warranty
The warranty department is the last area we see the biggest differences between the Sole ellipticals. As you'd expect, the more expensive models come with longer warranties, but the difference isn't as big as you'd think.
Sole only offers 2 different warranties on their ellipticals and only one elliptical (the E25) comes with the shorter version.
And even the shorter of the 2 warranties is still impressive when compared to the competition.
All Sole ellipticals come with a lifetime frame warranty. Most come with a 5 year guarantee on parts and a 2 year guarantee on labor. The E25 is the only one that comes with 3 years on parts and 1 year on labor.
Knowing this, the warranty probably won't have to play that much of a role in your decision making process. I think it says a lot to the standard at which Sole operates that they offer such a generous warranty on all of their products (even the budget friendly ones).
A Few Others
The biggest differences between the different ellipticals are seen in the flywheel weight, the weight capacity, and the warranty. But there are a few other more subtle differences too. These include:
Screen size- larger on more high-end models
Stride length- the E95S is only model that comes with power adjustable stride length
Power incline- the E95S is the only model that doesn't include this
Footprint- the size of the machines vary depending on model, with the E25 and E55 being the most compact
Foot pedal adjustments- some models allow you to adjust the resting position of the pedals for added comfort (E35, E55, E95)
Otherwise, there are quite a few similarities between all of their ellipticals. All models come with the same 10 workout programs to choose from.
All come with bluetooth speakers, a USB charging port, tablet holder, and chest strap heart rate monitor included.
The Sole E25
The E25 is Sole's most affordable elliptical with a sale price just under $1000. Compared to other machines in this price range, the E25 holds its own quite well- I actually think it's the best budget elliptical on the market.
In terms of performance specs, the E25 comes with a 20″ stride length and 20 lb flywheel. The 20″ stride length is long enough to comfortably fit most users, which isn't a give in this price range.
This is one of the lightest flywheels Sole uses, but it's still heavy enough to get the job done (especially for folks at beginner to moderate fitness levels).
Sole gives you 20 levels of magnetic resistance and 20 levels of power adjustable incline to play with. These options give you a lot of freedom when it comes to workout intensity.
You don't get multi-grip handles or adjustable foot pedals on this model, but you do still get the bluetooth speakers and included chest strap heart rate monitor (which is a nice surprise at this price point).
And with a 350 lb weight capacity, you can rest assured the E25 is tough enough to hold users of all sizes.
This affordable elliptical is backed by a lifetime frame warranty with 3 years on all parts and 1 year on labor.
Not only is this Sole's most budget friendly elliptical, but it's also one of their most compact. The E25 only needs a floor space of 70″ x 24″ (L x W), making it a good fit for homes with limited space.
Overall, the E25 has a lot to offer and is a great buy for the sale price. See full review.

The Sole E35
Next in the lineup is the E35, one of Sole's moderately priced options. At roughly $500 more than the E25, we see a few key performance upgrades between the models.
This elliptical comes with the same 20″ stride length we saw on the E25, however this model's frame is about a foot longer and 7″ wider, giving it a larger feel.
Sole also gave this elliptical a 25 lb flywheel, which is significantly heavier than the 20 lb one found on the E25. Recall that a heavier flywheel means a smoother ride and the potential for more overall resistance.
The E35 also comes with 20 levels of magnetic resistance and 20 levels of power incline- no big differences here.
But on this model we see the introduction of multi-grip handle bars, an underrated feature if you ask me. Multi-grip handles are great because you target specific upper body muscle groups by simply switching your grip.
Kinda like using incline level to target different lower body muscle groups.
These larger handles give you plenty of options to work with, as well as helping all users find a comfortable grip.
The pedals on the E35 are adjustable, allowing you to choose between 3 different resting positions for a more comfortable workout (also helps reduce your chances of injury).
This model weighs about 19 lb more than the E25, which is evident in the fact that this elliptical has a higher weight capacity of 375 lb.
The E35 also comes with an upgraded warranty: lifetime frame, 5 years all parts, 2 years labor.
Most console features are the same, although this model's display is about an inch larger than the E25's.
With a sale price of just under $1500, the E35 finds itself in a competitive price range, but I still think it's one of the top options out there. The E35 would work well for people looking for a tougher, more robust machine than the E25. See full review.

The Sole E55
Sole kind of broke away from their normal pattern with this model. Instead of being a pure upgrade over the E35, this model just offers a different combination of features. It's basically a combination between the E25 and E35.
The E55 is priced identically to the E35, although it comes with a lighter flywheel weighing only 20 lb. Personally, I'd expect a heavier flywheel on an elliptical in this price range, but it's obvious Sole was looking to keep this model as compact as possible.
Speaking of which, the E35 is almost as compact as the E25 with a footprint of only 71″ x 27″ (L x W).
This model still offers a 20″ stride length as well as 20 resistance levels and 20 levels of power incline. Like the E35, this model does come with multi-grip handlebars and adjustable foot pedals for added comfort.
 And with a 9″ LCD screen on the console, the E55 has the largest display we've seen so far.
But otherwise, it's very similar to the E35. It comes with the same weight capacity (375 lb) and same great warranty (lifetime frame, 5 year parts, 2 year labor).
There's no doubt this is a nice elliptical, but it's easily my least favorite of the bunch.
I just don't think it's priced effectively when compared to the rest of the lineup. It has some upgrades over the E25, but I'm not sure those upgrades are worth an extra $500 in price.
Looking back at that E25, the biggest differences are the extra 25 lb in weight capacity and extra years on parts and labor warranty (2 and 1 respectively).  You also get the multi-grip handles and adjustable pedals here.
If you're looking for a compact elliptical and don't mind giving up the few differences I just mentioned, I think it makes sense to save the money and go with the E25.
If you're looking for the best compact model in Sole's lineup however, then the E55 would be it. See full review.

The Sole E95
This is another full length model, taking up considerably more floor space than the compact E55 (roughly a foot longer).
Like most of their machines, this elliptical also comes with a 20″ stride length. But at 27 lb, the E95 has the heaviest flywheel we've seen to this point.  In fact, only the E95S has a heavier one.
With a flywheel this heavy, this elliptical is well-equipped to provide smooth operation and intense workouts. And with 20 levels of resistance and 20 levels of incline to play with, you can go as intense or light as you prefer.
This E95 has a heavy-duty frame that can hold folks weighing up to 400 lb safely, allowing it to accommodate folks of all sizes.
It also comes with  adjustable pedals (more positions available than previous models) and the same multi-grip handlebars we see on previous models.
The warranty is identical to most of the previous models as well (lifetime frame, 5 years parts, 2 year labor).
There aren't many differences in the console either- bluetooth speakers, USB charging port, and media tablet are all there.
The only difference you'll see is that the LCD screen is larger on this model- a full 10″, making it easier to see everything during your workouts.
The E95 is really quite similar to the E35. The extra $300 or so gets you the heavier flywheel, larger screen, and upgraded pedal system.
All things considered, I think the E95 is a front-runner for best overall home elliptical. For the price, it's going to be hard to find an elliptical that can offer as much and that's backed by suck a great warranty. See full review.

The Sole E95S
The biggest upgrade we see with this model is the addition of power adjustable stride length.
This isn't a feature we see very often, especially on ellipticals in this price range. With this technology, you can instantly adjust the stride length anywhere between 18″ – 24″with the push of a button on the console.
This feature allows the E95S to virtually fit any user perfectly. This feature also allows you to change your stride length mid-workout, in order to target different muscle groups (similar to using incline).
Speaking of incline, this model doesn't come with any adjustable incline settings. This was sacrificed in order for them to provide the adjustable stride length.
The stride length feature is cool enough in its own right, but the E95S also comes with a 30 lb flywheel, the second
heaviest of all the Sole models.
Heavier flywheel means tougher workouts and smoother operation.
This model comes with a tougher frame too, capable of holding folks weighing up to 400 lb safely.
By the way, this elliptical weighs a whopping 265 lb fully assembled- make sure you have plenty of help when it comes time to move it.
Otherwise, the E95S comes with the same console as the E95 with all its same features. This model is backed by the same warranty we've seen on every other model except for the E25.
The E95S would be a great option for homes with multiple users, especially if those users are different heights. The adjustable stride length is a spectacular feature, but it means losing the incline.
If you'll be the only user and you don't see yourself needing to change in stride length often, you might prefer the E95 with its adjustable incline settings. Overall though, you can't go wrong with either model. See full review.

The Sole E98
The E98 is Sole's highest-end, heaviest-duty elliptical to date. This model qualifies for light commercial use, although it's still priced effectively for home gyms with a sales price of roughly $2500.
This elliptical doesn't have the power adjustable stride length we see on the E95S. Instead, it comes with the same 20″ length found on all of the other models in Sole's lineup.
The E98 does, however, have the heaviest flywheel of the bunch.
At 32 lb, the flywheel on this machine is one of the heaviest you're going to find. With such a heavy flywheel under the hood, the E98 is well equipped to provide challenging and smooth workouts.
And with 20 levels of resistance and 20 incline settings to work with, the E98 can challenge users of all fitness levels.
This model also comes with a ridiculously heavy-duty frame, a 400 lb weight capacity, and the same amazing residential warranty found on the models above.
The E98 also comes with a light commercial warranty, making it a smart choice for small apartment complex gyms or maybe for a workout room in a firehouse.
Overall, if you're looking for a commercial grade elliptical that can handle the stress of multiple users on a daily basis, the E98 is a smart choice. See full review.

Final Thoughts
Sole has earned its reputation as one of the premiere home fitness brands in the world. Their cardio machines are designed from the ground up with heavier-duty components that will perform better and last longer than most.
The warranties they offer are top-notch and significantly longer than most of the competition as well.
These 5 ellipticals are a great example of what Sole has to offer. The differences between models can be subtle, but if you know what you're looking for, you can spot the differences and find the right fit.
The E25 is a great budget option, but also a smart choice if space is an issue.
The E35 is a moderately priced elliptical packing specs that can compete with ellipticals costing significantly more. For the price, this is one of the best deals Sole offers.
The E55 is an upgraded compact model, combining the features of the E25 and E35. If you're looking for the best compact option around, this is a smart choice.
The E95 takes the E35 and adds a heavier flywheel, larger screen, and more adjustable pedals. The result? One of the best home ellipticals on the market.
And finally, with the E95S Sole gives us power adjustable stride length, a massive 30 lb flywheel, and a weight capacity of 400 lb, making it a perfect choice for homes with multiple users.