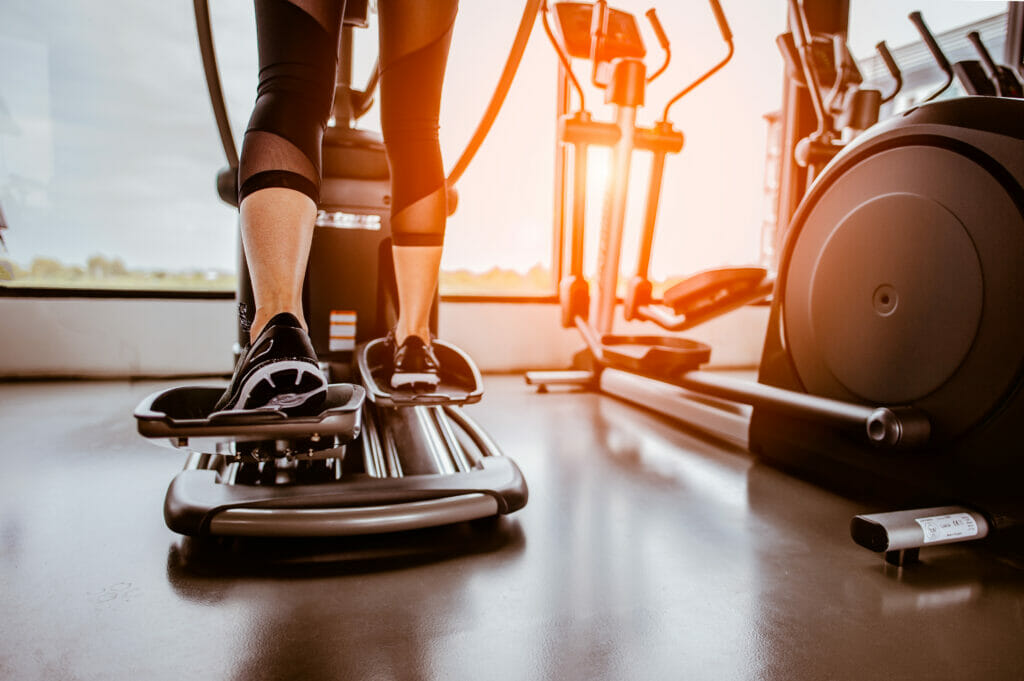 If you're looking for a commercial grade elliptical that's affordably priced, Sole's E98 should probably be on your short list.
As Sole's highest-end model to date, the E98 is a no-BS machine with a lot to be proud of.
Highlights of this elite home elliptical include a 20″ stride length, a 32 lb flywheel, and a heavy-duty steel frame that can hold users weighing up to 400 lb.
And now that Sole has updated the E98's console, it also comes with a 13.3″ touchscreen that offers built-in entertainment apps and screen mirroring from other devices.
It's also bluetooth friendly and chest strap heart rate monitor compatible.
Throw in a generous warranty and there's not much to complain about here.
Long-story-short: Sole's E98 is one of the toughest, most durable home ellipticals on the market.
If you're interested in the longer story, keep reading.
In this review, I'll go over everything the E98 does and doesn't have going for it.
After reading this article, you'll know everything you need to in order to decide whether or not this is the right elliptical for your home gym.
Off we go.
The E98 would make a great choice if you're looking for a heavy-duty elliptical with some interesting console features.
The Sole E98 Elliptical
It's no secret I'm a big fan of Sole Fitness.
I like that they're a no-thrills brand that emphasizes performance over anything else, but I also like that their products are priced fairly and backed by great warranties.
Sole actually started off as a provider of light commercial grade treadmills to hotel chains.
As their popularity grew, it only made sense that they'd branch out to the world of home fitness.
These days, they still make awesome treadmills, but they also have other quality cardio machines to choose from as well.
They offer all the basics you'd expect, like exercise bikes and ellipticals (duh).
They also have a high-end rower and a step machine that's pretty sophisticated (the CC81 Cardio Climber).
When it comes to ellipticals, they've got 6 to choose from (check out my complete Sole Elliptical Guide for more info on the other models).
The E98 is the highest-end and most expensive of the bunch and will cost ya just under $3k.
Pros
20″ stride length
32 lb flywheel
20 levels of magnetic resistance
20 levels of power incline
13.3″ touchscreen console
Built-in entertainment apps
Screen mirroring
10 workout programs
12 custom workouts
Bluetooth speakers
Large, multi-grip handles
Dual rail design
Fitness app compatible
Chest strap compatible
Wireless charging port
Tablet holder
Heavy-duty frame
400 lb weight limit
Great warranty
Cons
Assembly manual can be a little confusing
May be more elliptical than some folks need
Stride Length
When it comes to treadmills, I always start with the running surface because this spec tells you how much room you're gonna have during your workouts.
Well, for ellipticals, this spec is the stride length.
As you'd probably guess, an elliptical's stride length refers to how far apart the pedals move back and forth during use.
The stride length will vary from machine to machine, but most home ellipticals come with stride lengths between 14 – 20″.
Cheaper models tend to come with smaller stride lengths and vice-versa, although this rule isn't set in stone.
Taller folks should consider a model with a stride length closer to 20″, because it's going to feel more comfortable to use- you'll be able to stretch out further with each step.
As opposed to a smaller elliptical that makes you feel like you're jogging in place.
Sole's E98 comes with a 20″ stride length, making it a comfortable option for most users (for a more detailed discussion on stride lengths, check out this article).

So when it comes to the stride length, the E98 is right where we'd expect a high-end model to land.
And when it comes to build quality, this elliptical also scores very highly with it's heavy-duty steel frame. And when I say heavy-duty, I mean this elliptical weighs 246 lb assembled.
This is massive for a home elliptical (NordicTrack's New AirGlide 14i weighs about 200 lb, just sayin') and I mean that in the best way.
A heavier frame is going to make for a more stable base- this means less wobbling and unwanted movement during your workouts.
The weight limit for the E98 is also very high at 400 lb- another great indicator as to how well-built this machine really is.
Overall, Sole's E98 scores very highly in this category as it comes with a long stride length, a heavy-duty frame, and a high weight limit.
Resistance
Most (not all) home ellipticals utilize a weighted flywheel system to produce the resistance you work against.
In these systems, when you pedal, a perimeter weighted flywheel spins.
This flywheel is paired with a magnetic resistance system and your resistance is increased or decreased by adjusting how close or far away the magnets are from the metal flywheel.
A heavier flywheel is beneficial because it tends to provide a smoother feel as you pedal.
The extra weight builds more momentum, which helps eliminate any unwanted awkwardness between pedal strokes (the flywheel wants to keep spinning, which essentially helps you keep the pedals moving).
Heavier flywheels can provide more overall resistance as well- makes sense when you think about it, a 30 lb flywheel will take more energy to move than a 15 lb flywheel.
Personally, I consider anything over 20 lb to be a "heavy" flywheel and going with something in this price range makes for a safe bet that the pedaling motion will be smooth.
With all of this in mind, the Sole E98 comes with a 32 lb flywheel, which is very heavy for a home elliptical.

A flywheel this heavy will be able to provide a smooth pedal action as well as a substantial workout, especially when paired with 20 levels of resistance and 20 incline settings.
With this much muscle under the hood, the E98 is better equipped to provide intense workouts than most home ellipticals.
Overall, the E98 scores very highly in this department – with a flywheel this heavy, this elliptical is well-equipped to challenge users of all fitness levels.
Features
The Sole E98 comes with the following features:
13.3″ touchscreen console- Sole updated their consoles, giving many of their machines touchscreens like the one found on this elliptical. The new touchscreen console makes it easy to see all stats and make workout selections, but it also comes with some new higher-tech features.
Entertainment apps- like built-in apps that give you access to your favorite media during workouts (NetFlix, Hulu, etc).
Screen mirroring- the apps are cool, but so is having the ability to screen anything from your phone or tablet directly to the E98's console. This essentially gives you access to any entertainment or fitness app you might want to access while working out.
Workout programs- this elliptical comes with 10 standard workout profiles, as well as the option to create 12 custom user workouts as well.
Bluetooth speakers- you can listen to your workout jams wirelessly from your tablet or phone through the built-in bluetooth speakers.
App compatible- you can also use bluetooth to connect the elliptical to Sole's free fitness app for data tracking. Sole's app can also sync with other popular fitness apps.
Tablet holder- the tablet holder is located conveniently above the console, so you won't have to worry about blocking your view of your workout stats while using a tablet.
Wireless charging- there's a wireless charging port that lets you charge your phone up during workouts.
Cooling fan- there's a fan to help keep ya comfortable during your more strenuous workouts.
Water bottle holder- this one's pretty self-explanatory. There's a large area to store your beverages, as well as any other small thing you might need to store conveniently while exercising (remotes, keys, phones, etc).
Assembly
Assembling the E98 shouldn't be that challenging, although there are a lot of covers and parts that need to be attached.
And as much as I love Sole, I think they could do a better job with their assembly manuals.
I like that they include a large, to-scale image for the necessary hardware for each step, but I'd prefer if they split the steps up so that there's less going on in each step.
The way it's organized, there's only a few steps to get this elliptical up and running.
In reality, those few steps could easily be split up into 10 steps.
Especially toward the end- at first glance, this step could look a little overwhelming, with all the plastic parts that need to be attached.
My advice would be to take it one at a time and start on one end at work your way to the other.
Manual organization aside, putting the E98 together should be pretty straightforward.
Just keep in mind this is a heavy elliptical, so it might be nice to have another person around to assist.
I'd expect to spend 1 – 1.5 hrs getting this elliptical assembled.
Warranty
The Sole E98 Elliptical comes with the following residential warranty:
Lifetime frame
3 year parts
1 year labor
90 day wear items
This is a really good warranty.
You can't beat a lifetime guarantee on the frame and 3 years on parts is pretty generous considering most brands offer somewhere in the 2-3 years range.
The 1 year labor warranty is expected, as this is the industry standard.
For the sake of comparison, NordicTrack's FS14i FreeStride Trainer comes with a 10 years frame, 2 years parts, and 1 year labor warranty.
Sole also offers a light commercial warranty on the E98: lifetime frame, 2 year parts, 1 year labor.
Overall, warranties like this are one of the reasons Sole has become so popular.
Final Thoughts
That about does it for Sole's E98.
I think it's pretty safe to say this is a heavy-duty elliptical from top to bottom.
I like that it comes with such a heavy flywheel and the stride length is just where most users are going to want it.
I also like the high weight limit and I love the extended warranty.
And when it comes to quality of build, warranty, and overall heavy-dutiness (I'm not sure that's a real word), the E98 is going to be hard to beat for this price range.
I think I forgot to mention it earlier, but I also like that Sole uses a dual-rail design for the E98, giving it added stability and better overall durability.
So, I think it's safe to say the E98 is a great elliptical, but is it the right elliptical for you?
Well, if you're looking for a really heavy-duty machine that can handle multiple users day in and day out, then I would say, yes- it makes sense to invest in the E98.
But if you're simply looking for a nice elliptical for yourself to use, the E98 might be more elliptical than ya need.
You might want to save yourself some cash and consider Sole's E95–  the flywheel is a little lighter (27 lb), but it still comes with a 400 lb weight limit and the same great warranty.
Either way, I do think the E98 is an awesome machine- you really can't go wrong with a Sole.