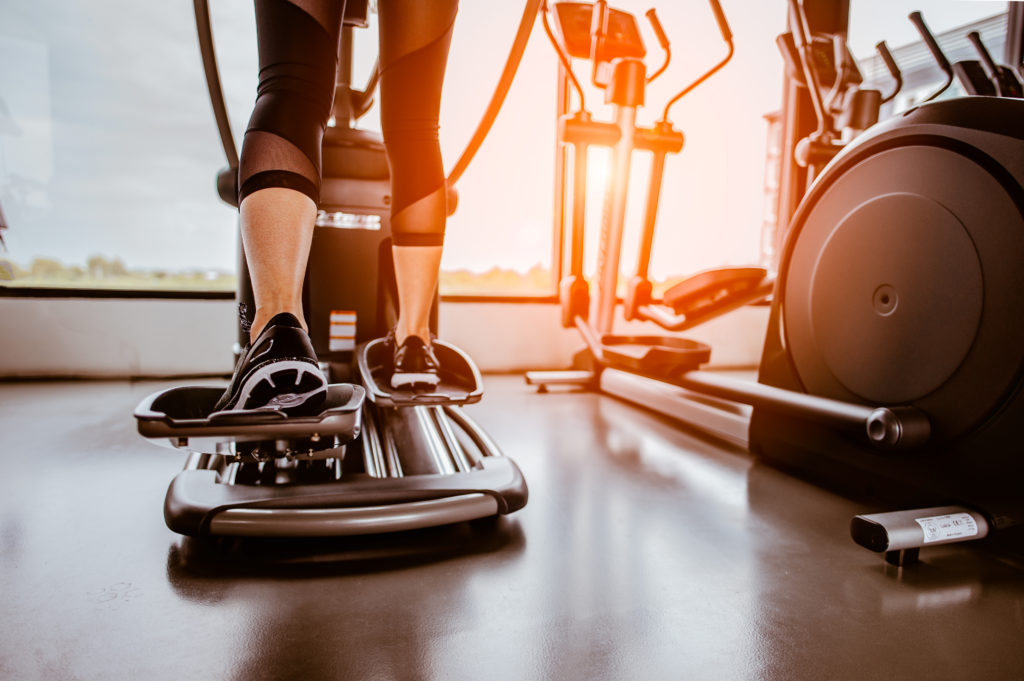 The Sole E95 is a mid-range elliptical with top tier specs and advanced features. Combine these with Sole's warranty and you have the makings for a serious contender for best in class year in and year out.
Highlights for this impressive elliptical include a 27 lb flywheel, heavy-duty steel frame, adjustable pedals, and oversized multi-grip handles.
If you're looking for a high-end elliptical that can give some commercial grade machines a run for their money, the Sole E95 might be what you're looking for.
My goal for this review is to help you figure that out.
In this review, we'll discuss all the specs and features that make this elliptical what it is. I'll also stress which specs I think are most important to consider when comparing ellipticals to help you in your search.
Alright, let's get to it.
The Sole E95 Elliptical
Sole Fitness started out making treadmills for hotel chains. Their treadmills where a big hit in the light commercial world, so I guess they decided to make the next logical step and transition to residential equipment.
The rest, as they say, is history.
Sole's reputation for making quality products grew, as did their lineup. Sole branched out and started making bikes, ellipticals, and rowers as well.
Even though Sole is probably most known for their awesome treadmills, their ellipticals are equally as impressive. They currently have 5 different ellipticals in their lineup, 3 of which are priced as mid-range units ($1000-$2000).
The E95 is the most advanced of these mid-range machines.
For more info on how the different models stack up, see my complete Sole elliptical guide.
Pros
20″ stride length
27 lb flywheel
20 levels of magnetic resistance
20 levels of power incline
400 lb weight capacity
10″ LCD monitor
Bluetooth speakers
Fitness tracking
USB charging port
Adjustable pedals
Multi-grip handles
Wireless chest strap monitor included
Great warranty
Cons
Limited workout selection
Stride Length
I like to start my elliptical reviews with the stride length. Personally, I think this is the most important spec to consider because it relates directly to how comfortable your workouts are going to be.
And let's be real- if your elliptical isn't comfortable to use, you aren't going to use it.
The stride length on an elliptical refers to how far the pedals move front to back during use. This spec is measured in inches and as you might guess, larger is better.
It's better to have more room and not need it, then to need more room and not have it. Especially for the taller folks out there.
You're also more likely to get a good workout in if you can stretch out comfortably. If the stride length is too small, you're gonna feel like you're marching in place.
I don't know about you, but I wouldn't buy an elliptical to just march in place.
How big is big enough? Depends a little on your height, but the gold standard for home ellipticals is a stride length of 20″. It's been shown that most people can comfortable use an elliptical with a stride length of this size.
The Sole E95 passes our first test and comes in with a 20″ stride length. It also has a step- up height of 14″, which is pretty standard for these machines. If you're worried about your ceiling height, check out my guide on ellipticals and low ceilings.
Besides an appropriate stride length, the E95 also comes with a heavy-duty frame. The solid steel structure can handle users weighing up to 400 lb.
Having such a high weight capacity is a good indicator of how solid this elliptical is. Speaking of solid, this thing weighs 236 lb fully assembled- solid indeed.
Overall, the E95 has a good stride length and is built like a tank.
Flywheel
Yes, ellipticals use flywheels too, just like the spin cycles. I'm not sure people are as obsessed with flywheel weight when it comes to ellipticals as they are with spin bikes, but it's an important spec to compare.
Just like spin bikes, when it comes to elliptical flywheels, heavier is also better.
And that's because the extra weight builds more momentum as the wheel spins. This reduces down time between strokes and makes for a more fluid feel.
Elliptical flywheels vary greatly. A lot of budget ellipticals come with flywheels in the 13 – 18 lb range. Higher-end models should come with flywheels over 20 lb.
This will be heavy enough to ensure a smooth feel and will more closely resemble the fluidity of the commercial grade machines.
The Sole E95 comes with a 27 lb flywheel. Not only does this easily surpasses our 20 lb cutoff, but the extra weight will increase the machines overall resistance (theoretically anyway, it will definitely make you work a little harder from a cold start).
This elliptical comes with 20 levels of magnetic resistance to give you full control over that heavy flywheel. You also have access to 20 levels of power incline, giving you the ability to make your workouts as intense as you want.
Overall, the E95 scores highly with the heavy flywheel and plenty of resistance/incline settings to fine tune your workouts. This machine is robust enough to handle even the most advanced athletes.
Features
The Sole E95 comes with the following features:
10 workout programs- Sole doesn't usually load their products up with a bunch of workout programs. This elliptical only comes with 10 total: 6 standard programs, 2 heart rate, and 2 custom.
10″ LCD monitor- this elliptical comes with one of Sole's largest displays, making it easy to select workouts and see all workout data at the same time.
Bluetooth speakers- the built-in bluetooth speakers make it easy to sync up with your phone and listen to your favorite workout tunes wire-free.
Fitness tracking- you can also use bluetooth technology to sync the E95 up to your phone for fitness tracking. You can choose to use the free Sole app, or one of the other several fitness apps this machine is compatible with.
USB charging port- you can charge your phone or tablet from the elliptical during your workout. A convenient feature to ensure your battery isn't drained from listening to music or watching a movie during your workout.
Tablet holder- they integrated tablet holder is conveniently located above the monitor, so you don't have to block your view of your stats in order to use your tablet.
Adjustable pedals- the pedals are oversized and cushioned for comfort (physical therapists apparently helped them design!), but you can also adjust the level of each pedal for a customized fit- this is their "Worm Drive".
Multi-grip handles- the large handles give you a lot of different options for your grip, both narrow and wide, to help you target specific upper body muscles. You can also control the resistance and incline settings from the handles.
Telemetry heart rate monitoring- this elliptical is compatible with chest strap heart rate monitors. Sole also includes one with purchase.
Cooling fan- the fan will help keep ya a little more comfortable during those more intense workouts.
Assembly
Putting the E95 together isn't the most challenging task, but it's not the easiest either. I like that the assembly manual includes to-scale images of the hardware used for each step, but I wish the hardware images and assembly images for each step were on the same page.
There are also written directions for each step that are pretty good, but they're on separate pages from the image.
You'll have to look at the image and then look back at the hardware sheet for reference to see which piece goes where. This isn't the biggest deal, but it could be a little easier.
There's only 4 steps to assembly, but there's a lot going on in each step (especially the last one). I think it would be a little clearer if Sole broke the instructions into more steps, with less action in each one.
All the necessary tools are included.
Overall, it's very doable to assemble this yourself if you or a family member are somewhat handy. This machine is heavy, so it would be nice to have some help getting the box to its destination in your home before assembly.
I'd expect to spend a couple hours at least on assembly. When in doubt, professional assembly is always an option.
Warranty
Sole backs the E95 up with the following warranty:
Lifetime frame
5 year parts
2 year labor
I think this is a great warranty. Lifetime on the frame is expected from an elliptical in this price range. Five years is also par for the course on parts (although you rarely see longer than 5 years).
Two years on labor is a nice surprise, most only offer a year.
Overall, I think this is a fair guarantee from a brand known for offering generous warranties.
Final Thoughts
The Sole E95 has a lot going for it. I like the 20″ stride length and the heavy, 27 lb flywheel. When the "best in class" discussion comes up, these are the 2 most important specs to be considered, with warranty being a close 3rd.
The E95 scores highly in the warranty department as well.
Personally, I'm more interested in equipment that is designed with performance specs in mind, more so than hi-tech features.
I think the Sole E95 is a home run, but again, the lack of a workout library and an HD display doesn't bother me. I'm happy with a fairly simple elliptical that is built like a tank and that should last forever.
That said, the E95 does come with a few cool tech features like bluetooth speakers and a USB charging port. The adjustable pedals are pretty cool too.
But if you are looking for a higher-tech elliptical with more workout options, the E95 shouldn't be your first choice. There are other top brands out there with a little more to offer in the tech department (like the NordicTrack Commercial 14.9).
Is the Sole E95 the best elliptical in this price range? I think so (only when the Sole E95S isn't on sale). But there's always room for debate.
One thing that's hard to debate is the fact that this is an awesome home elliptical. If you're ok with a limited workout selection, you can't go wrong here. Highly recommended.