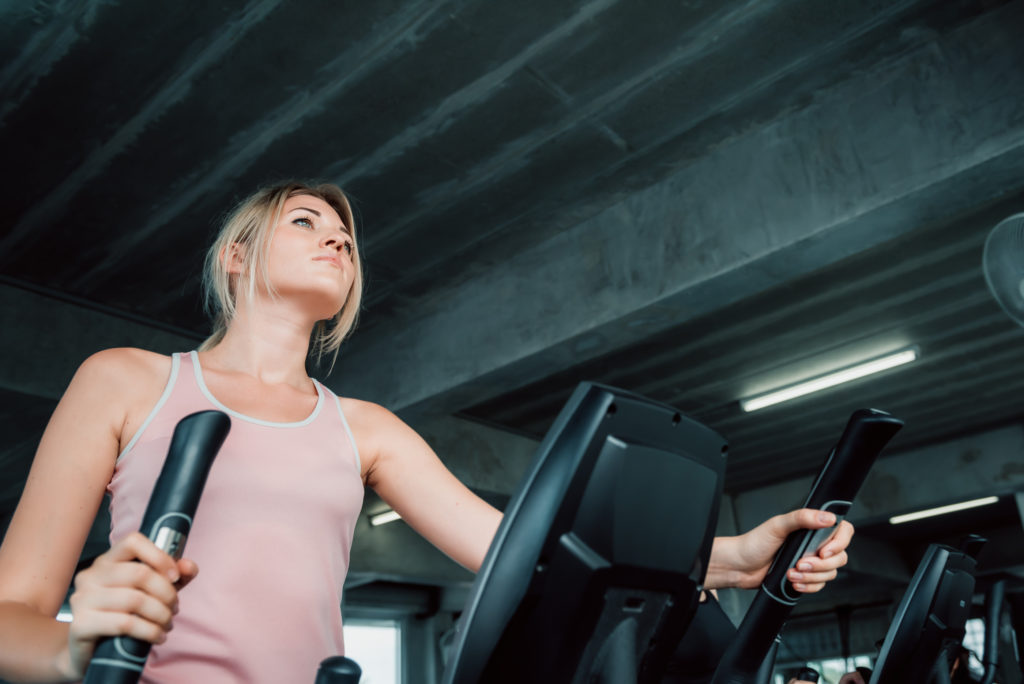 The E5 is one of Life Fitness's premiere home elliptical cross-trainers. As such, it shouldn't be a surprise that this model comes loaded with impressive performance specs and luxury features that most home ellipticals can't match.
One of the most notable features is its power adjustable stride length- with the touch of a button, you can instantly adjust the stride length from 18″ – 24″ allowing it to comfortably fit folks of any height.
And this is Life Fitness we're talking about here, so of course the E5 is designed with their patented WhisperStride technology, ensuring a smooth and quiet workout every time.
It's hard to debate the fact that this is an impressive home fitness machine. But is it really worth the hefty price tag?
Well, that's what this review is here to help you decide. In this article, we'll dissect the E5 and take a close look at everything it has to offer.
After reading this, you'll know everything you need to in order to determine whether or not this is the right elliptical for your home gym.
The Life Fitness E5 Elliptical Cross-Trainer
I'm guessing most people that come across this review are familiar with the Life Fitness brand. They're one of the most recognizable fitness equipment brands in the world and you certainly can't go into any commercial gym in the USA without running across their machines.
Even though they're known as a commercial brand, they do have a residential equipment lineup full of cardio and strength training machines intended for home use.
Life Fitness offers several different home ellipticals to choose from. Their home models, even the less advanced ones, are all high-end and fall in the luxury price range ($2000+).
The E5 is one of their mid-range models both in terms of features and price.
Pros
Adjustable stride length from 18″ – 24″
WhisperStride technology
20 levels of magnetic resistance
Choice of console
14-28 workout programs (depending on console)
2-4 user profiles (depending on console)
Stationary and moving handles
Grip heart rate monitor in both sets of handles
Chest strap monitor included
Resistance and stride length control on moving handles
10″ step-up height
400 lb weight capacity
Free assembly
Cons
No incline settings
Warranty could be better
Stride Length
Stride length is an important spec to consider when researching any elliptical. By the way, the stride length describes how far your feet will move apart with each step and is measured in inches.
This measurement is so important because it sets the stage for how comfortable (or uncomfortable) your workouts are going to be.
No matter how cushiony or spacious the pedals may be, if the stride length is too small, your workouts are going to suffer.
Small stride lengths are common on cheap ellipticals and this spec is one of the easiest ways to spot a sub-par machine a mile away (not to say all cheap ellipticals are bad, but they can't offer the same experience as an elliptical with a larger stride length).
Anyway, the point of the story is that having a comfortable stride length can make or break an elliptical for ya.
The E5 solved this issue by incorporating an adjustable stride length in its design. On this elliptical, you can adjust the stride length anywhere between 18″ and 24″ to ensure you get a comfortable fit.
Simply push a button and adjust the stride length to fit your natural gait pattern.
This unique feature gives the E5 the ability to comfortably accommodate both tall and short users. The power adjustable stride length can also be used to emphasize certain muscle groups during your workouts.
Oh, I want to point out that this elliptical has a step-up height of only 10″ (the step-up height is how high off the ground you are when you get on). At only 10″, this elliptical would work well with rooms with low ceilings.
The E5 also comes with a rock-solid frame with a max weight capacity of 400 lb. This matches all their commercial grade equipment, allowing this elliptical to safely accommodate larger users as well.
Overall, the E5 scores highly with the adjustable stride length, a feature you rarely see on home models.
Flywheel
We usually stress the importance of considering flywheel weight when talking about home elliptical machines. That's because most home ellipticals, like spin bikes, utilize a perimeter weighted flywheel to provide the resistance.
As you pedal, the flywheel spins and, when paired with the magnetic resistance system, creates your resistance.
In these setups, having a heavier flywheel is advantageous because the extra weight builds more momentum and provides a smoother ride.
However, most commercial grade ellipticals are designed without a weighted flywheel system. One could say these ellipticals have a more elegant design and are able to provide the same smooth resistance without the bulky flywheels.
The Life Fitness E5 is an example of one of these ellipticals.
The E5 isn't designed to use a heavy flywheel, so we can't really compare it to other home models that use them.
Like the commercial ellipticals you've used at your local gym, the E5 is designed with optimal gear ratios and what not to provide the same smooth feel of a heavy flywheel (without actually using one).
The E5 comes with 20 levels of magnetic resistance to give you full control over the intensity of your workouts. However, the E5 doesn't come with any adjustable incline settings (unlike the Precor EFX 447 that can reach an astounding 40° of incline).
I actually don't think any of Life Fitness's ellipticals utilize incline settings, all of them are on a flat plane. Definitely something to consider if you are looking for an elliptical with incline options.
The E5 does come with Life Fitness's WhisperStride technology though. With the use of maintenance free ball bearings, the E5 can provide an exceptionally quiet workout (which comes in handy for those working out early in the morning).
Overall, there's no need to compare flywheel weights with this model because it's designed in a way to eliminate the need for a heavy flywheel.
But I like how much control you have over the resistance and the WhisperStride technology gives it the almost noise free feel of their other commercial grade ellipticals.
Features
The Life Fitness E5 Elliptical comes with the following features:
Choice of consoles: with the E5, you get to choose between the "Go" and "Track Connect" consoles. The "Go" is the simpler version that comes with 14 total workouts and 2 saved user profiles. The "Track Connect" allows you to connect your smart phone for data tracking and also comes with more workout options (28 total) and 4 user profiles.
Activity zones- you can choose between LegSculptor or Total Body Trainer for workouts designed to concentrate on either the legs or legs and arms depending on your goals.
Cushioned pedals- the pedals on this model are enlarged and cushioned for extra comfort during use.
Stationary and moving handles- you can choose between the stationary or moving handles depending on your workout goals. Using the stationary handles makes it easier to concentrate on legs, while the moving handles offer more of a total body workout.
Heart rate monitoring- both the stationary and moving handles come with grip heart rate monitors, making it convenient to assess your heart rate during your workout. A wireless chest strap monitor is also included with purchase.
Resistance controls on handles- you can control the resistance without having to take your hands off the moving handles with the included resistance buttons. You can also conveniently control the stride length from the moving handles.
Integrated accessory tray- the large tray gives you a convenient place to store remote controls, keys, or anything else you might have to store during your workouts.
Water bottle holder- makes it convenient to store your beverages for optimal hydration during those challenging workouts.
Assembly
Life Fitness includes assembly in their delivery cost, so there's really no reason for you to have to assemble this elliptical on your own.
Although, if you live in Illinois, you can opt to pick up the elliptical from one of their warehouses and bypass the whole delivery process and assemble yourself if you want to.
If you purchase directly from Life Fitness though, you can usually use a promo code (like the one I included below) for free delivery and installation:
Free shipping and installation on your favorite Life Fitness equipment for the home.
If you had to assemble this elliptical yourself, it would be doable, but it would be a lot easier with a helper. This machine is big and heavy and you'll likely need some help holding/positioning parts during the process.
I'd recommend letting the professionals do it.
Warranty
The Life Fitness E5 comes with the following warranty:
Lifetime frame
5 year parts
3 year console
1 year labor
Overall, I think this warranty is decent, but considering the price I think it could be a little better. Lifetime on the frame is great and expected in this price range.
The parts warranty is where I think there is a little room for improvement.
Five years on parts is great for ellipticals in lower price ranges, but in this range I'd like to see 7-10 years on parts. Honestly, not many brands offer parts warranties that long, but a few do (like Precor).
One year on labor is pretty standard regardless of price range, although a lot of the more affordable ellipticals are starting to offer 2-3 years on labor.
So, again, not a bad warranty, but it would be nice if the parts guarantee was a little longer.
Final Thoughts
I think the Life Fitness E5 Elliptical has a lot to offer and the pros significantly outweigh the cons.
That said, the most impressive feature in my book is the power adjustable stride length.
You rarely see this feature on home models and it makes the E5 incredibly versatile.
Not only can you find the right fit regardless of your height, but you can use it to concentrate on different muscle groups in your legs.
I also like having the option to choose your console because it gives you the ability to save a little cash if you aren't interested in data sharing or fitness apps.
And as a Life Fitness elliptical, the E5 provides an exceptionally smooth and quiet ride.
But is it worth the asking price?
That's a tough one – it really depends on what you're looking for.
The E5 is definitely priced as a luxury model, but in the world of commercial grade ellipticals, it's actually one of the more affordable options (especially when compared to Life Fitness's Platinum Club Series model).
I think the E5 would work great for homes with multiple users because the adjustable stride length ensures a proper fit regardless of height.
It would also work great for anyone looking for a commercial grade elliptical that won't completely annihilate your budget.
If you're looking specifically for incline training, there are better options out there (recall this model has no incline settings).
Otherwise, the E5 is a great model. Easily one of the top ellipticals of the year.