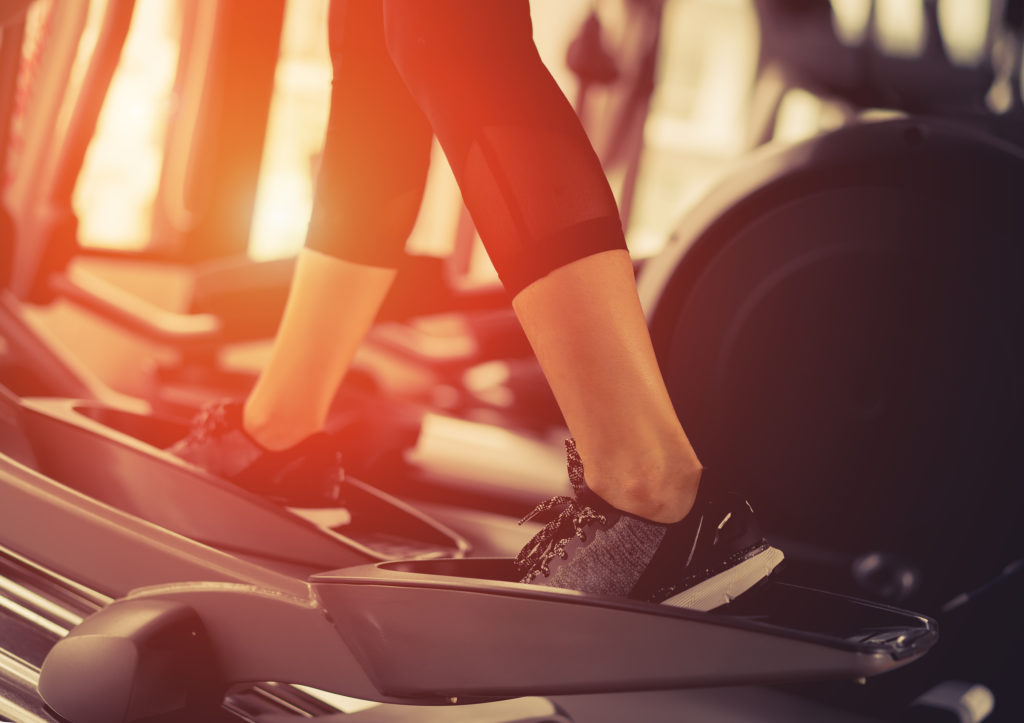 The E95S is Sole's most technologically advanced elliptical and with this model, they basically took their highly popular E95 and made it even more impressive by adding a heavier flywheel and a heavier duty frame.
Oh yea, they also added power adjustable stride length, giving you the ability to change the stride length during your workout with the push of a button.
This is a nice feature because you can tailor the stride length to fit you perfectly, regardless of your height.
And now that Sole's upgraded its console to a 13″ touchscreen with wifi and screen mirroring functions, it's even easier to make the argument that the E95S is one of the best home ellipticals on the market.
Either way, if you're looking for a reasonably-priced elliptical that can handle users of all sizes, the E95S is a smart choice – but before you decide, you have to do your homework.
And that's where I can help.
In this review, I'll go over everything this elliptical has to offer, as well as where it falls short.
After reading, you'll now everything you need to know in order to decide whether or not this is the right elliptical for your home gym.
The Sole E95S Elliptical
It's no secret I'm a huge fan of Sole Fitness.
I'm only bias because they come out with the best products.
I like that they don't waste a lot of time on frivolous features and instead, focus on the stuff that matters- performance.
Sole offers an extensive lineup up cardio equipment. They mostly focus on treadmills, ellipticals, and bikes, but they do offer a rower and even a cardio climber.
The brand is known for high-quality products that won't break the bank and common features include heavy-duty frames, robust motors, heavy flywheels, and generous warranties.
And recently, Sole started updating their consoles, giving most of their products touchscreens of various sizes that offer entertainment apps and screen mirroring from your phone.
Anyway, the E95S is their newest and most advanced elliptical trainer to date and at the time of writing this, it's selling for around $2500.
For info on how all the different Sole models compare, check out my Sole elliptical guide.
Pros
30 lb flywheel
Power adjustable stride length (18″ – 24″)
Lots of workouts
Entertainment apps
20 levels of magnetic resistance
Bluetooth speakers
Wireless charging pad
Multi-grip handlebars
Custom designed pedals for added comfort
13.3″ touchscreen  display
Integrated tablet holder
Resistance and step length buttons on moving handles
400 lb max weight capacity
Awesome warranty
Cons
No adjustable incline
Takes up a fair amount of floorspace
Stride Length
Stride length is easily the most important spec you should consider when looking at a new elliptical.
That's because this number tells you a lot about how comfortable the machine is gonna be for ya during your workouts.
To make sure we're all talking about the same thing- the stride length is how far the foot pedals move front to back during use. This distance is measured in inches.
The gold standard for quality home ellipticals is 20″. It's been shown that machines with a 20″ stride length are capable of fitting most people of average heights comfortably.
If the stride length is too short or too long for you, your workout is going to suffer.
Too short and you'll feel like you're marching in place. Too long and you'll feel like you're having to stretch too far to reach the pedals. Both situations suck.
The Sole E95S comes with an adjustable stride length, meaning you can change the stride length automatically by pushing a button on the console.
You can set the stride length between 18″ and 24″.
This is wide range.
With this much room to adjust, the E95S should be able to comfortably fit any user, especially the taller folks.
If you're under 5′ tall, the lowest setting of 18″ could be a little long. Otherwise though, this elliptical will fit all shapes and sizes.
The adjustable stride length can also be used during workouts to target different muscle groups or based on speed- longer stride lengths are usually used with higher speeds.
For more info on finding the proper stride length, check out this article.
Not only is the stride length easily adjustable, but this elliptical is rock solid too.
The frame is constructed with high-grade welded steel, allowing this elliptical to safely accommodate users weighing up to 400 lb.
The elliptical itself weighs about 275 lb fully assembled, which is heavy for a home elliptical, but that's a good thing (not when it comes to moving it) because it makes for a more sturdy base.
You won't have to worry about the E95S feeling flimsy or wobbling during use- just ain't gonna happen.
Overall, this elliptical scores very highly with a power adjustable stride length.
Few home ellipticals offer this, which is unfortunate because it's a great feature. The rock solid frame and high weight capacity are almost unmatched in this price range.
Resistance
I like to go over the resistance system next because that's another important spec to consider when it comes to the comfort and "feel" of an elliptical.
Most ellipticals use weighted flywheels to create the resistance, just like indoor cycles. And just like it is with spin bikes, heavier is usually considered better.
As you pedal, these flywheels spin and the more weight you have, the more momentum the flywheel builds up.
This momentum actually helps the pedals go around a little, thus reducing any lag or gaps in the pedal cycle.
That's why heavier flywheels usually create smoother operation. Heavier flywheels should also theoretically provide more overall resistance (after all, you're pushing against more weight).
Twenty pounds is usually considered the cutoff for high quality home ellipticals. At this weight, the flywheel is usually heavy enough to provide a smooth workout.
Keeping this in mind, the E95S comes with a 30 lb flywheel.
This is a lot of muscle under the hood.
With a flywheel this heavy, the E95S isn't going to have any problems providing a silky smooth pedal stroke.
And with 20 levels of quiet magnetic resistance at your disposal, this elliptical should be able to challenge event the most gifted athletes.
The only thing missing on the E95S is the ability to adjust the incline angle. My guess would be that Sole had to eliminate that feature to get the power adjustable stride length working appropriately.
So, no inclines, but I think it's worth it for the power adjustable stride length.
Overall, the E95S scores highly in the flywheel department too. The massive 30 lb flywheel should ensure smooth workouts as well as provide enough resistance to challenge folks at any fitness level.
Features
The Sole E95S Elliptical comes with the following features:
13.3″ touchscreen console- this is the most notable upgrade with Sole's most recent models and it's a big improvement over their older displays. This console is large, easy to use, and comes with some nice features.
Entertainment apps- the new console comes with a few built-in entertainment apps like Netflix and YouTube, as well as several news apps to let you stay in the know while you work out.
Screen mirroring- the included apps are fine, but with the screen mirroring function, you can see anything from your phone directly on the console screen. This means any entertainment or fitness app you have on your phone can be used on the console. Very cool.
Workout programs- this elliptical comes with several built-in workout profiles as well as a few included fitness tests, allowing you to gauge your progress whenever you like.
Bluetooth speakers- I'm glad to see that fitness equipment finally joined in on the bluetooth speaker frenzy. With these built-in bluetooth speakers, you can easily listen to your smart phone or tablet without having to worry about any wired connections.
Custom designed pedals- not only are the foot pedals are large and textured, but Sole patterned with a physical therapist (nice!) to help design them for optimal comfort. The pedals have a 2° inward slope to reduce chances of ankle and knee discomfort during use. To make things even better, you can adjust the position of the foot pedals for optimal comfort.
Multi-grip handlebars- the large handlebars offer several grip positions, giving you the ability to target different upper body muscles during your workouts.
Integrated tablet holder- the tablet holder is located above the console, making it easy for you to watch your tablet without blocking your view of the display.
Wireless charging port- Sole ditched their USB plug-in charging port for a newer, wireless charging pad that can charge up your devices without the need for a wire.
Cooling fan- the built-in fan will help keep ya comfortable during those more strenuous workouts.
Assembly
Putting the E95S together is a fairly straightforward ordeal. Sole does a decent job with the assembly manual, but there is some room for improvement.
I like that they provide a large image of all the hardware for each step, but they do this for all the steps before you start assembling.
It would be nice if they provided the hardware image for each step while you're on that step. Also, there's a lot going on in each step- it would be easier to follow if they had broken the procedure down into more steps with less happening in each one.
That said, if you're good at paying attention to detail, you should be able to get the job done without too much headache.
All of the necessary tools are included (couple wrenches, a screwdriver, and an Allen wrench).
Keep in mind how heavy this machine is- this bad boy weighs 265 lb fully assembled. It would be nice to have another set of hands available simply due to the weight of this unit.
Warranty
The Sole E95S Elliptical comes with the following warranty:
Lifetime frame
3 year parts
3 year electronics
1 year labor
This is a great warranty for this elliptical, no 'ifs', 'ands', or 'buts' about it.
You can't beat lifetime on the frame and 3 years is about as good as it gets when it comes to parts in this price range.
A year on labor is pretty standard operating procedure, so nothing too special there.
Overall, a grand slam in the warranty department.
Final Thoughts
There's really no debating the fact that the E95S is a nice elliptical. This machine is packing impressive numbers in all the areas that really matter.
I love the heavy flywheel and awesome warranty, but it's the power adjustable stride length that really stands out.
This is the feature that sets this elliptical apart from most of the other ellipticals on the market.
There just aren't that many ellipticals offering it and it's such a convenient feature, especially for homes with multiple users (even more so if those users aren't the same height).
The only thing missing is the adjustable incline.
To me, it's a good trade, but if you want an elliptical with this feature, the E95S isn't for you (but the Sole E95 may be).
And I like that Sole has finally decided to update their consoles.
The built-in apps are cool, but to me, it's the screen mirroring function that offers the most possibilities.
Overall, I think the E95S is probably one of the best ellipticals around. Highly recommended.