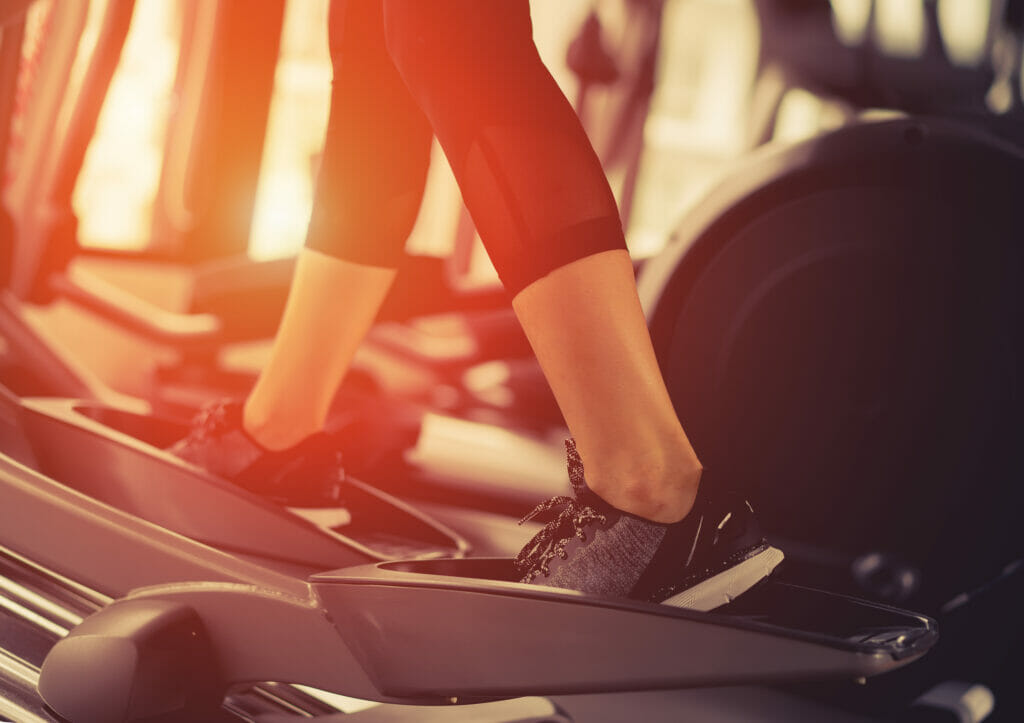 Sole's E35 and E95 are both two of the best ellipticals $2000 can get ya. With heavy flywheels, spacious stride lengths, and heavy-duty frames, both models are designed for optimal performance.
So, if you're looking for an elite elliptical in this price range, either model is a pretty safe bet.
But which is the better bet?
With such similar specs and features, does it make sense to pay a little more for the E95 or is it smarter to save a few hundred bucks and go with the E35?
Well, these are the questions I'm here to help you answer.
In this head-to-head comparison, I'll go over how these 2 ellipticals stack up to each other with regards to all the key specs and features they have to offer.
I'll also point out all the differences between them and throw in my 2 cents regarding which is the better buy.
After reading, you'll know which elliptical makes more sense for your home gym.
Let's begin.
Sole E35
Sole E95
Stride length

20"
20"
Flywheel
25 lb
27 lb
Frame
231 lb assembled weight
375 lb weight capacity
236 lb assembled weight
400 lb weight capacity
Warranty
Lifetime frame
5 year parts/electronics
2 year labor
Lifetime frame
5 year parts/electronics
2 year labor
Features
7.5" LCD screen
3 position adjustable pedals
10 workout programs
20 resistance levels
20 power incline levels
Bluetooth speakers
USB charging port
Included chest strap
Fan
Water bottle holder
10.1" LCD screen
10 position adjustable pedals
10 workout programs
20 resistance levels
20 power incline levels
Bluetooth speakers
USB charging port
Included chest strap
Fan
Water bottle holder
Price
$1499
$1799
The Sole E35 vs The E95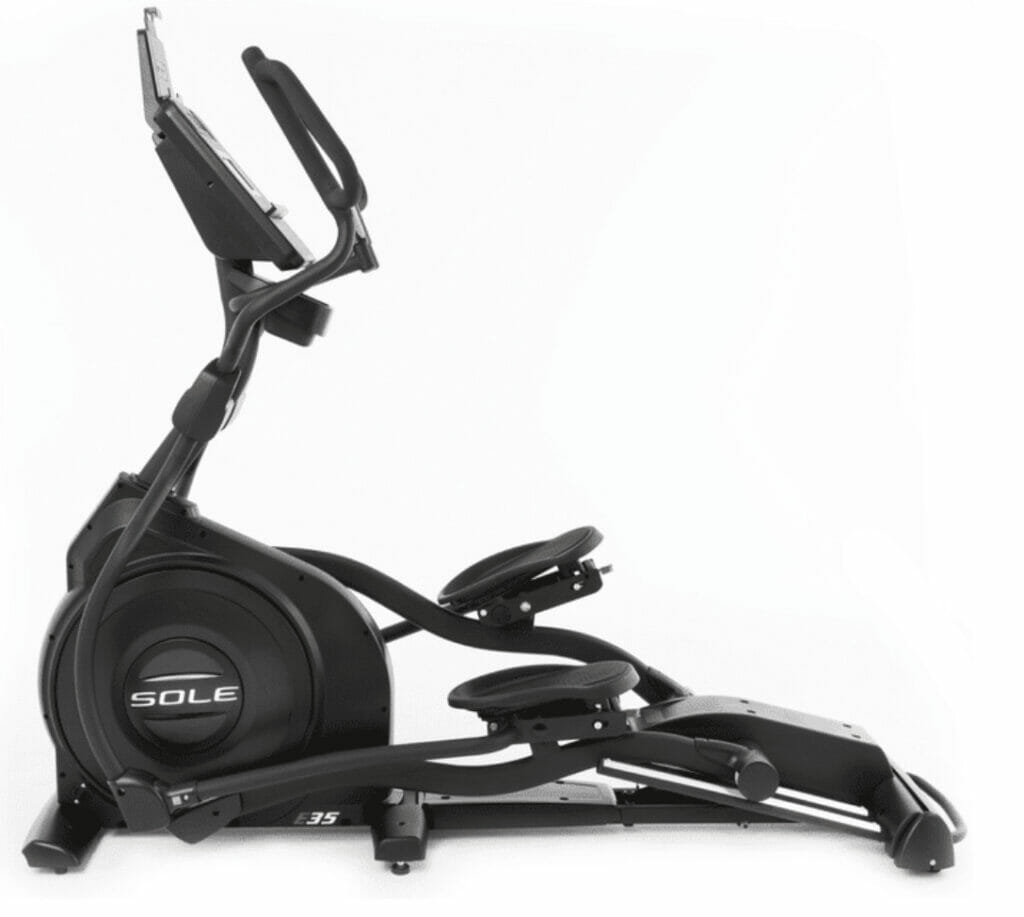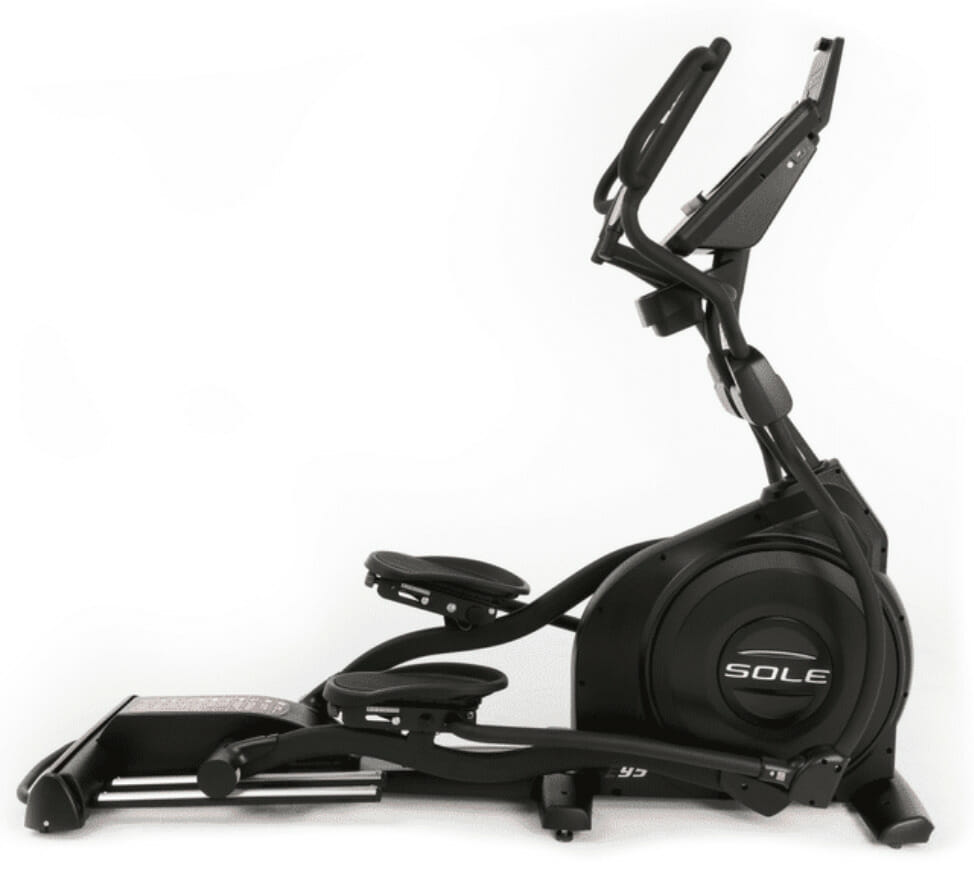 Above images courtesy of Sole Fitness
It's no secret I'm a fan of the Sole brand. If you're familiar with my site, you may know that they're one of my favorite home fitness brands.
You might also notice that Sole machines are almost always at the top of my "best of" lists for pretty much any category.
I'm not a secret employee for the company or anything, I just think they offer a great product for the money.
And I really like the generous warranties they offer.
I've received several questions from readers regarding the differences between these 2 ellipticals recently, so I figured it was time for an article to formally address it.
(I'd like to thank my readers for the motivation behind this one, it's a great topic and I appreciate you bringing it to my attention).
I think it makes sense to compare these 2 ellipticals based on the key specs you should be considering for any elliptical, so that's how I'm going to organize this post.
I also included a section going over the differences in console features, and of course a discussion on price.
At the end, I'll bring it all together and discuss which model I think is best for who and whatnot.
Let's start with the performance side of things though first.
Stride Lengths
Regardless of whether you decide to go with one of these Sole ellipticals or one from another brand, I highly encourage you to consider the stride length of your chosen elliptical before you purchase.
This simple spec will tell you how much room you have during your workouts.
It's defined as the distance the pedals move apart from each other every time you take a step and it's an important spec to consider.
Taller and shorter individuals probably need to pay more attention than your average height folks, but everyone should at least be aware of what an elliptical's stride length is.
(For more info on finding the right stride length based on your height, check out my stride length guide).
That said, the E35 and E95 both come with a 20″ stride length, so you won't have to really take this spec into consideration when comparing these 2 models.
The takeaway here is that both models come with a great stride length that will allow folks of most heights to use either comfortably.
As my gross anatomy professor used to say during our dissections- "let's appreciate and move on".
Flywheels
You hear a lot of talk about flywheel weights when talking about spin bikes, but it's an important spec to consider with an elliptical too.
And for the same reason- heavier flywheels create more momentum as they spin, which makes for a smoother feel during workouts.
The E35 comes with a 25 lb flywheel, which is impressive by any means (I consider any flywheel over 20 lb to by "heavy").
The E95 comes with a slightly heavier, 27 lb flywheel.
I just said heavier is better when it comes to flywheels, so technically, the E95 comes with an upgrade in this department, but a 2 lb difference is pretty small.
In other words, I'm not sure most users would be able to tell much of a difference between a 25 lb and a 27 lb flywheel.
And when it comes to resistance and incline levels, there aren't any other differences between the E35 and E95- both come with 20 levels of magnetic resistance and 20 power incline levels.
So, even though the E95's flywheel is a bit heavier, I don't think it's enough of a difference to make any significant difference.
Frames And Weight Capacities
The resistance systems on these ellipticals are very similar. Let's take a look at how the frames of each model stack up to each other.
I'm a proponent that when it comes to home fitness equipment, heavier is better (usually).
Even though heavier machines are more of a hassle to move, they'll feel more stable while you're using them (because they're harder to move).
I like to look at the assembled weight and the weight capacity of an elliptical to get an idea as to how "heavy-duty" it is.
Doing this, we see that the E35 weighs 231 lb assembled and has a weight limit of 375 lb- both of which are awesome for an elliptical in this price range.
The E95 weighs 236 lb and comes with a weight limit of 400 lb.
Both ellipticals have the same assembled dimensions too by the way: 82″ x 31″ x 71″ (L x W x H).
Comparing these numbers, we see that the E95 is a little bit heavier than the E35 and comes with a slightly higher weight limit.
Larger folks may want to consider this, but I don't think the smaller folks out there will notice any difference.
Overall, both ellipticals come with heavy-duty frames. The E95 is technically a little heavier-duty, but the difference is small.
Additional Features
So far, there aren't that many differences between the E95 and the E35- certainly not enough to warrant the extra cost in my book.
When it comes to the features each elliptical has to offer though, there are a couple of differences.
The most notable is the console screen- the E35 comes with a 7.5″ screen while the E95 comes with a 10.1″ screen. Both are back-lit, LCD screens and neither is HD or touchscreen.
The larger screen on the E95 improves visibility of all your workout metrics, but the E95 doesn't display anything the E35 doesn't.
Another difference is seen in the pedals- both models come with cushioned pedals with an adjustable angle, however the E95 offers more positions to choose from (10 vs 3).
Again, personally I don't see this as that big of a deal.
As far as I can tell, those are the only differences in features between these 2 ellipticals. Both ellipticals share the following features:
10 built-in workout programs
Bluetooth speakers
Bluetooth compatibility with fitness apps
Included chest strap heart rate monitor
USB charging port
Adjustable angle console
Built-in tablet holder
Multi-grip handles
Resistance/incline controls on handles
Cooling fan
Water bottle holder
Warranties
I mentioned earlier that one of my favorite things about Sole is how awesome their warranties are- it's true, they have some of the best guarantees on the market.
And the E35 and the E95 come with the same great warranty:
Lifetime frame
5 year parts/electronics
2 year labor
I don't have any complaints about these warranties.
You can't beat a lifetime guarantee on the frame and 5 years is better than what most are offering on parts (Spirit is one of the only brands that tops Sole with their 10 year parts warranties).
Two year on labor is also better than the 1 year most brands offer.
This is a great warranty on the E95, but an even better one on the E35 since it's more affordable.
Overall though, there are no differences between these 2 ellipticals when it comes to the warranty.
Price
Ok, time to talk money.
We've taken a quick look at all the key specs and features each model has to offer and there are a few small differences between the E35 and E95.
When it comes to cost, at the time of writing this (I say this, because prices may vary from time to time, so please don't hate me if these numbers aren't accurate when you read this), the sales price for each is as follows:
Sole E35: $1499
Sole E95: $1799
That's a difference of $300.
Given the performance specs and features of each, I would argue that both of these ellipticals are priced fairly (especially considering the generous warranties).
But with the differences in performance and features being minimal, is the E95 really worth an extra $300?
Ultimately that's a personal question, but if you're interested in my 2 cents, keep reading.
Final Thoughts
The differences between the E35 and E95 are quite subtle. If you don't stop and look at every little spec, you might not catch them at first glance.
To sum things up, the E95 comes with:
A flywheel that's 2 lb heavier
A frame that's 5 lb heavier
A weight capacity that's 25 lb higher
A console screen that's 2.5″ larger
Pedals that are more adjustable (10 positions vs 3)
That's it.
Otherwise, these 2 ellipticals are pretty identical.
I know the real question is whether or not these differences are worth the extra $300- my short answer would be no, probably not.
I don't think most people would be able to tell that much of a difference between these 2 ellipticals, so it would make sense to save a little cash and go with the E35.
Now here's my longer answer.
That said, I don't think Sole is trying to trick us here either- the E95 does come with upgrades over the E35, so the additional cost is warranted.
Even though the E95 is a few hundred bucks more than the E35, I would consider both models to be in the same price range.
And if you're looking for the best elliptical in this price range (under $2000), technically speaking, the E95 is a nicer elliptical (especially if you'd prefer a larger screen).
I'm not a fan of ambiguity, I prefer clear cut answers to questions, but in this case it really is a matter of personal taste.
If you don't really care about the bigger screen, I'd say save yourself some money and go with the E35, but if you want the best this price range has to offer, the E95 is your best bet.