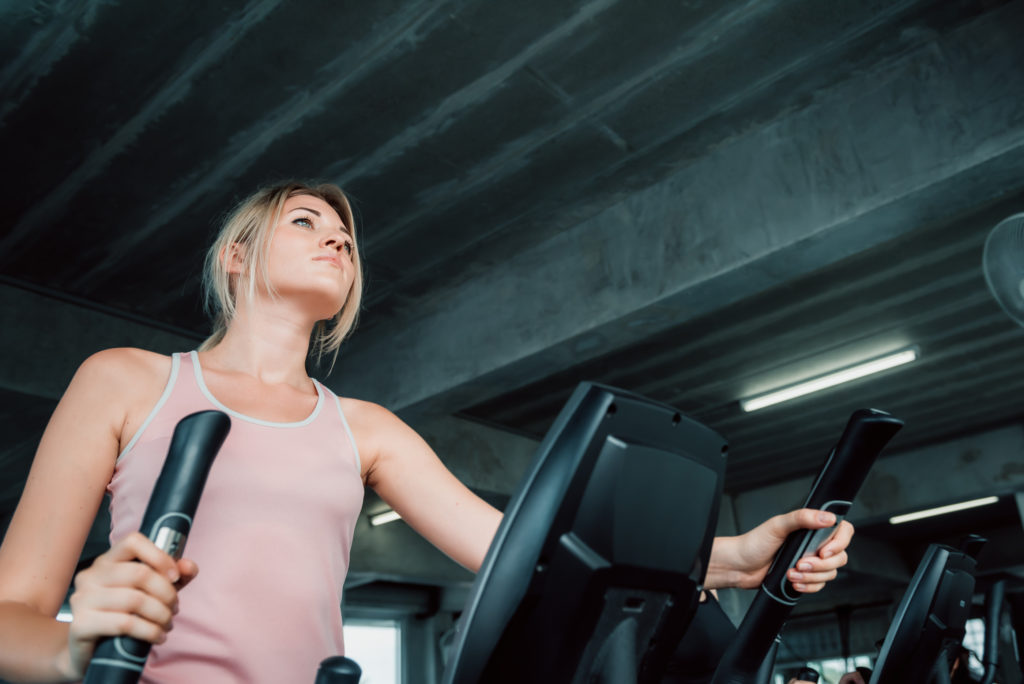 Sole's E55 combines the heavy-duty components from their higher-end models with the compact footprint of their more budget friendly model. The result is a durable machine that takes up a lot less space than most other ellipticals in its class.
Highlights of the E55 include a 20″ stride length, 20 lb flywheel, and 20 levels of power adjustable incline. But it also comes with bluetooth speakers, ergonomic foot pedals, and an included chest strap heart rate monitor.
If you're looking for a high-end elliptical that will fit in tight spaces, the Sole E55 is a solid choice. But is it the best choice?
To figure this out you'll have to keep reading.
This review will discuss everything this elliptical has going for it as well as any areas where it's a little lacking. After reading, you should have a good idea as to whether or not this is the right elliptical for your home gym.
The Sole E55 Elliptical
Sole is one of my favorite home fitness brands. I like them because their products are well built, simple to use, and backed by long warranties.
Sole specializes in treadmills, bikes, and ellipticals. The company started off designing treadmills for hotel use, but their popularity sky rocketed, leading them into the home fitness game.
There are currently 5 models in their elliptical lineup, ranging from the budget friendly E25 to their most advanced E95S (that comes with a power adjustable stride length).
The E55 falls in the middle of the pack, both in terms of price and features.
It's very similar to the E25, but comes with a heavier-duty frame and better warranty. For a comparison of all Sole ellipticals, check out this helpful guide.
Pros
Compact footprint
20″ stride length
10 workout programs
20 levels of magnetic resistance
20 levels of power adjustable incline
Custom designed foot pedals
Multi-grip handlebars
Bluetooth speakers
USB charging port
Data tracking
Chest strap heart rate monitor included
Integrated tablet holder
375 lb weight capacity
Great warranty
Cons
Flywheel a little light for this price range
Assembly can be a little confusing
Stride Length
It makes sense to think that since the E55 is a compact elliptical, it would have a smaller stride length. After all, this is true for the majority of smaller ellipticals out there. Of course, that isn't how Sole roles.
Sole was able to fit a 20″ stride length on this machine, matching the stride length of ellipticals that are literally a foot longer.
Let me back up a sec just to make sure we're all on the same page- stride length refers to how far the pedals move forward and backward during use.
It's measured in inches. It's an important spec to examine because it plays a huge role in how comfortable (or uncomfortable) you're going to be when you use said elliptical.
The gold standard for quality home ellipticals is 20″ because it's been shown that machines with a stride length this long can comfortably handle most people.
Finding your comfortable stride length depends on your height and leg length, as well as personal preference. For more info on stride lengths, check out my guide on the topic.
Anyway, the E55 has a 20″ stride length which is impressive for an elliptical with such a small footprint.
Speaking of foot print, I keep referring to how compact this elliptical is. I should probably be more specific. The E55 takes up a floor space of 27″ x 71″ (W x L).
For comparison's sake, the normal sized Sole E35 has a footprint of 31″ x 82″ (W x L)- nearly a foot longer.
The E55 is compact, yes, but that doesn't mean it gives anything up in the frame department. Quite the contrary. This elliptical is built with the same high-grade, heavy-duty steel that all Sole machines are.
So heavy-duty in fact that this elliptical weighs 214 lb fully assembled and can safely accommodate users weighing up to 375 lb.
Overall, the E55 scores highly with a 20″ stride length and compact footprint while still maintaining the rugged frame Sole is so loved for.
Flywheel
Flywheel weight is another important spec to look at when comparing ellipticals. The flywheel is attached to the pedals and spins as you exercise. It, along with the magnetic system, is responsible for creating the resistance you work against.
Most (though not all) home ellipticals utilize perimeter weighted flywheels, just like most spin bikes.
And like spin bikes, when it comes to elliptical flywheels, heavier is considered better.
That's because the extra weight builds more momentum as it spins, creating a smoother feel. As the momentum builds up, it helps the pedals keep moving between pedal strokes, reducing any unwanted lag or awkwardness.
The E55 comes with a 20 lb flywheel, which is respectable, but a little light for an elliptical in this price range.
When you look at flywheel weights, 20 lb is kind of the the cutoff for what is heavy enough to ensure a smooth ride. This rule isn't written in stone, but if you have a flywheel that weighs 20 lb or more, the odds that it's going to operate smoothly are higher.
So this elliptical does meet this criteria, but just barely.
I would like to see a 25 lb or even 30 lb flywheel on an elliptical in this price range. There are plenty of more affordable ellipticals packing more muscle.
I'm thinking Sole kept the flywheel a little lighter to make this model more mobile, easier to move. It goes hand-in-hand with the smaller frame.
The E55 does come with 20 levels of magnetic resistance and 20 incline levels though, giving you a lot of control over the intensity of your workouts.
The incline levels not only make your workouts harder, but they also allow you to target different muscle groups. This adds more variety to your workouts too, which is always a good thing.
Overall, the E55 is adequate in the flywheel department. At 20 lb, it's probably heavy enough to get the job done, but it would be nice if it was a little heavier. This elliptical scores highly with 20 levels of resistance and 20 levels of power adjustable incline.
Features
The Sole E55 comes with the following features:
10 workout programs- Sole doesn't pack their consoles with a bunch of extraneous workout programs you'll never use. Instead, they give you the basics, which is plenty to get the job done. Workouts include 6 standard options (fat burn, cardio, etc), 2 heart rate based options, and 2 custom user workouts (where you get to create and save your own).
Custom designed pedals- Sole parters with a physical therapist to help design the pedals for all of their ellipticals. The result is a large (15″) pedal with a 2° inward slope, in an attempt to reduce any unwanted discomfort in your feet and ankles. You can also adjust the resting position of each pedal for added comfort.
Multi-grip handlebars- the large handlebars allow several different grip options. This allows you to target different upper body muscles depending on your grip. It also ensures you can find a comfortable position to exercise in. You can also adjust the resistance and incline levels from the moving handlebars.
Bluetooth speakers- sync up with the built-in speakers wirelessly and enjoy your favorite music from your phone or tablet during your workouts.
USB charging port- you won't have to worry about your phone dying on you during your workout, because you can hook it up to the included USB port and keep it charged.
Data tracking via apps- if you're into fitness tracking, you can download the free Sole app and keep track of all your workout info. The E55 is also compatible with several other popular fitness apps (Fitbit, Apple Health, Record, Mapmyrun).
Chest strap heart rate monitor- this elliptical is compatible with wireless heart rate monitors and even comes with a chest strap to ensure you can get accurate readings during your workouts.
Integrated tablet holder- the built-in tablet holder is conveniently located above the console, so you won't have to worry about blocking your view of the LCD screen when watching Netflix or reading a magazine.
Cooling fan- there's a fan included in the console to help keep you comfortable during your workouts.
Assembly
I love Sole and their fitness machines are awesome, but their assembly manuals could use some work. And this goes for all their elliptical manuals because the process is pretty much the same for all of them.
The biggest problem is that they cram the whole procedure into 4 steps, with each step actually having like 8 steps within it.
The result is there's too much going on in each image (especially with the final step where you attach all of the plastic parts).
I also don't like that the written instructions and images are on separate pages. It would be more convenient if the directions and images were on the same page. You know, beside each other so you could reference the image as you read the directions.
If the manual was organized a little better I think it would make the assembly process easier. The actual process isn't that difficult, but the manual can be a little confusing.
Luckily, you can access assembly vides on youtube I believe.
All of the tools necessary for the job are included.
Overall, most folks should be able to get the job done themselves. I'd expect to spend a couple of hours getting the job done.
Warranty
The Sole E55 comes with the following warranty:
Lifetime frame
5 years parts
5 years electronics
2 years labor
This is a great warranty from head to toe. You can't beat lifetime on the frame and 5 years on all parts is equally as generous. The 2 year labor warranty is even longer than the 1 year most brands offer.
Sole offers this same awesome guarantee on all of their ellipticals, except for their most budget friendly E25 (only 3 years on parts and 1 year on labor).
Final Thoughts
I think the E55 is a nice elliptical with some impressive specs- given the Sole name, I'd expect nothing less. For a compact elliptical, it's packing a longer stride length than you'd expect as well as a sturdy frame.
At 20 lb, the flywheel is of adequate weight to provide a smooth experience, but more advanced users may prefer a heavier flywheel.
The other features, as well as the warranty are all impressive and pretty standard for Sole ellipticals.
Overall, I think the E55 is a fine machine, but I'm not sure how it really fits in with the rest of the lineup.
I say this, because as I was comparing all the specs, I noticed that the E25 is actually a little more compact than the E55 is (24″ x 70″). I also noticed that both models have the same flywheel and same number of incline levels.
The only real difference I see between the E25 and the E55 is that the E55 has a slightly higher weight limit of 375 lb (compared to 350 lb) and the better warranty.
So, the question you have to ask yourself is, is the E55 worth an extra $500 just for an extra 25 lb on weight capacity and 2 years on parts?
Personally, I'd say no.
If you're looking for a compact elliptical, I think the E25 is a better buy. If you aren't looking for a compact elliptical, it makes sense to go with the similarly priced E35 for its bigger flywheel (25 lb).
Either way, I don't see much reason to choose the E55 over these other models (unless you need a compact elliptical and weigh over 350 lb).
So, to wrap things up: the E55 is a nice compact elliptical, but for the price, there are better options within the Sole lineup.