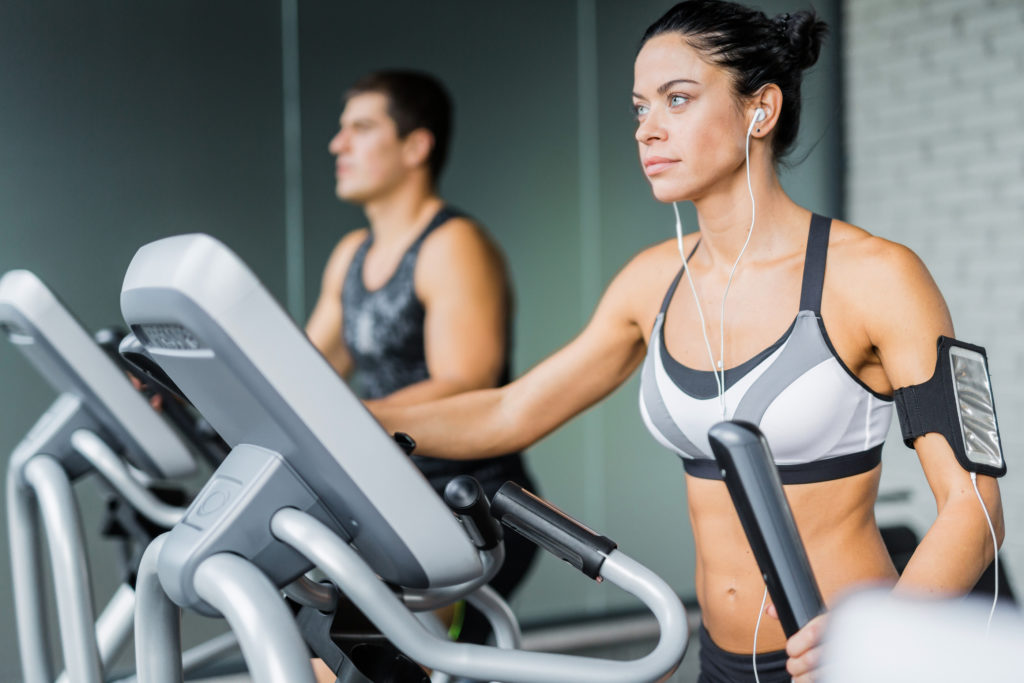 I'm doubt you're shocked to hear that all budget friendly ellipticals aren't created equal. The reality is, there's some real junk out there.
The best budget ellipticals should come with large stride lengths, heavy flywheels, and great warranties. They should also come with some more advanced features like power incline and wireless heart rate monitoring.
And yes, we're still talking about ellipticals that cost under $1000.
If you're looking for some great ellipticals that won't cost an arm and a leg, you've come to the right place. This guide will teach you how you can spot a lemon from a mile away.
We'll also discuss which features you should prioritize in your search to make sure you get the most bang for your buck. I'll also present my top picks in the budget category based on the criteria we discuss.
Without further ado, let's jump right in.
How To Choose A Budget Elliptical
The price range for home ellipticals is pretty huge. You can find tiny ellipticals that start off at around $100. You can also find plenty of commercial grade machines that cost $8000.
And there's a whole lot of stuff in between.
Believe it or not, in the world of ellipticals, anything that costs under $1000 is considered budget.
And I realize this price range is huge in itself. There's a world of different between a $300 elliptical and a $999 elliptical (or at least there should be).
But considering how expensive home fitness equipment can be, I think we're actually pretty lucky there are so many awesome models available in this budget category.
I'd even go as far to guess that most of us could get the workout experience we're looking for from a budget elliptical. But it's important that we choose the right one.
In order to find the right ones, you have to know what to look for and what to compare.
Personally, I think it's more important to have a machine that provides a smooth, comfortable ride and is durable enough to withstand years of use than to have one that has a fancy screen. But to each their own.
If you are like me and you want an elliptical that will actually work, you should concentrate on the following when comparing models:
Stride Length
I think the stride length is the first spec you should examine when researching an elliptical. To ensure we're all on the same page here, the stride length is how far the pedals move front to back during use (measured in inches).
This measurement is crucial to your comfort- if the stride length is too small, you're going to feel like you're marching in place. And that isn't the feel most people are going for with an elliptical.
The gold standard for quality home ellipticals is a stride length of at least 20 inches. At this length, most people can comfortably use the machine.
It's true that your height and leg length plays an important part in this. Shorter users can comfortably use ellipticals with smaller stride lengths, but if you're over 5'6″, you'll probably benefit from a 20″ stride length.
An easy way to spot a sub-par elliptical is to look at the stride length. Poor quality ellipticals usually have very small stride lengths. Anything smaller than 18″ is questionable.
Flywheel
The flywheel is the part of the elliptical that spins as you pedal. Just like on spin bikes, the flywheel is what creates the resistance and the "feel" of the elliptical.
When it comes to the weight of the flywheel, heavier is usually preferred.
This is because a heavier flywheel creates more momentum as it spins. This in turn provides a more even pedal stroke and smoother feel.
How heavy is heavy enough?
This isn't an exact science because smoothness also depends on the build quality and gear ratios, but most people will tell you that high-quality ellipticals should come with a flywheel that weighs at least 20 lb.
At 20 lb or heavier, these flywheels should be capable of providing a seamless feel.
Another easy way to spot a sub-par elliptical is to examine the flywheel weight. Low quality machines usually come with light flywheels, in the 12-14 lb range (it's also a bad sign if the flywheel weight isn't mentioned).
Warranty
Warranty is a crucial spec to consider regardless of what type of exercise equipment you're buying. This is your insurance on your product. And if you're gonna shell out a thousand bucks on an elliptical, you want to know it's going to last.
When it comes to warranties, longer is obviously better. But how long should we expect on budget ellipticals? High quality models will offer:
Lifetime guarantees on the frame
2-3 years on parts
1 year on labor
The above guarantees are impressive on a machine that costs under $1000. They're amazing when you look at other ellipticals in the same price range that are offering 10 years on the frame and 90 days on labor.
Short (or non-existent) warranties are a tell-tale sign of low quality ellipticals.
Features
I think you should prioritize stride length, flywheel weight, and warranty the most when comparing budget models. But you'll probably want to make sure your elliptical has a few extra features on it too.
You know, this thing should be fun to use as well.
Luckily, you can actually get quite a lot in this price range. You may be pleasantly surprised when you see some of the features you can get on the nicer budget models:
Loads of workout programs- some of the ellipticals come with 30-40 workouts built-in
Power incline- a great feature to add intensity and variety to your workouts
Bluetooth speakers- to listen to music wirelessly through the console
Heart rate monitoring- many are compatible with chest strap monitors
Apps- many have their own workout apps or are compatible with the popular ones
Again, I don't think you should base your decision solely on the features that are included, but having this stuff can make your workouts more enjoyable.
And the more enjoyable your workouts are, the more likely you are to keep doing them.
Ok, now you know how to find awesome, budget friendly ellipticals. Now, to make your job even easier, I've done the homework for you and found the best models around based on the criteria we just discussed.
The 5 Best Ellipticals For Under $1000
#1 Sole E25
It was a tough call to name an outright winner between the top 4 models here. I ultimately went with the Sole E25 because Sole's reputation for awesome budget equipment is pretty impossible to beat.
Although Sole is probably more well known for their home treadmills, their ellipticals deserve just as much recognition.
The E25 is their most budget friendly model (right under $1000 when on sale), but still comes with a great combination of specs and features.
This elliptical has a 20″ stride length and a 20 lb flywheel. Although the E25 has the lightest flywheel of the bunch here, it's still heavy enough to give us a great feel.
The E25 also comes with 20 resistance levels and 20 levels of power adjustable incline. This makes for a wicked combination when it comes to cranking up the workout intensity.
Even though this is Sole's entry level elliptical, they still build it out of high-quality materials. This is evident when we see that this machine has a weight capacity of 350 lb.
This is pretty spectacular for a budget elliptical and ensures that most folks can safely use it.
Sole backs this elliptical up with a great warranty as well: lifetime frame, 3 year parts, 1 year labor.
Additional features include bluetooth speakers, a USB charging port, and a built-in tablet holder.
Overall, the Sole E25 is a great budget elliptical with a lot to offer. It's built tough and is simple to use. If you're looking for an elliptical with a ton of workouts, this isn't the right choice for ya (only 10). But if you want one of the most durable ellipticals around, this is a smart buy. See full review.

#2 ProForm Pro 9.9
It was a hard decision to place the ProForm Pro 9.9 in the #2 spot because several of this elliptical's specs surpass those on the E25.
To me, it boiled down to 2 things: this elliptical doesn't have bluetooth speakers and I think ProForm pushes iFit too hard. Actually, if ProForm would back off on the iFit thing I would've placed the Pro 9.9 in the #1 spot.
Regardless, they're both awesome ellipticals, it just depends on what you're looking for.
The Pro 9.9 comes with an adjustable stride length that can range between 18″ and 21″. This is pretty unheard of in this price range where we're lucky to see 20″.
Having the ability to adjust the stride length makes it a lot easier to comfortably fit family members of different heights.
This elliptical is also packing a massive, 28 lb flywheel. I believe this is the heaviest flywheel of the bunch. If you're a believer that heavier is better, then the Pro 9.9 is gonna make you happy.
To control that flywheel, ProForm provides 24 levels of resistance and gives you the option to adjust the incline up to 20°. Both of which are impressive numbers for an elliptical in this price range.
This machine also has a 350 lb weight capacity and a great warranty: lifetime frame, 3 year parts, 1 year labor.
I mentioned that this model is lacking bluetooth speakers. But to make up for it, it comes with 32 built-in workout programs. This is a ton of workout variety, so in case you don't want to sign up for iFit (which you don't have to), you'll still have plenty of workout variety to choose from.
Overall, the Pro 9.9 is a great elliptical for the price (about $70 cheaper than the Sole E25). If you're looking for some extra workout variety, this is a great choice. See full review.

#3 Horizon 7.0 AE
Horizon offers several elliptical models to choose from, but I think the 7.0 AE is by far their best buy. It's the newest addition to their lineup and it comes with all the best features of their more expensive models, minus the cost.
It's also the only Horizon elliptical that comes with power incline.
The 7.0 AE also has a 20″ stride length, but I want to point out that this elliptical only has a 10″ step- up height. This is a game changer for people with low ceiling heights.
With a 23 lb flywheel, this elliptical has enough muscle under the hood to get the job done and then some. To help you control that heavy flywheel, Horizon gives you 20 resistance levels and 20 levels of power incline.
This elliptical isn't quite as robust as the first 2 models -the 7.0 AE only has a 325 lb weight capacity. Although this is still impressive and should be enough to accommodate most users.
I'm happy to say that this elliptical does have built-in bluetooth speakers (I'm not sure why this makes me so happy, but it does). It also comes with a USB charging port, tablet rack, and one-touch speed/incline buttons.
Horizon backs this elliptical up with the same warranty we've seen on the other top models (lifetime frame, 3 year parts, 1 year labor).
Overall, Horizon's 7.0 AE is a dependable, easy-to-use elliptical that is well priced. The only downside is the limited workout options, but with that many resistance and incline levels, you can easily make your own workouts. See full review.
#4 AFG Sport 5.9AE
Although the AFG brand doesn't have the same name recognition as some of the other ellipticals on this list, that shouldn't deter you from taking them seriously.
Their Sport 5.9AE elliptical is no joke. Check out the following specs and you'll see what I mean.
This elliptical also comes with a 20″ stride length and a 23 lb flywheel. Looking back, I don't think an elliptical would've made it onto this list if it didn't have at least a 20″ stride length.
The Sport 5.9AE comes with 20 levels of resistance and 20 different levels of power incline. Again, this gives you a ton of control over the intensity of your workout (which is a good thing).
Something this elliptical has that not all the other models do is multi-grip handlebars. This may sound like a small thing, but it's nice being able to target different upper body muscle groups by switching up your grip during your workout.
This machine also has a 325 lb weight capacity, which is indicative of a sturdy frame. The Sport 5.9AE is backed by the same great warranty as the other top choices here: lifetime frame, 3 year parts, and 1 year labor.
What sets this elliptical apart is the surprising number of features you get with it. This elliptical has bluetooth speakers, a USB charging port, tablet holder, quick-touch buttons and it comes with a free chest strap heart rate monitor.
Oh yea, it comes with 43 different built-in workout programs too.
Overall, I think you can see why this elliptical made it on this list. For the price, I challenge you to find more workout variety than this. Speaking of price, the Sport 5.9AE is almost $200 cheaper than the top 3 ellipticals already mentioned. See full review.

#5 Schwinn 470
Rounding out our list is the Schwinn 470. Although Schwinn is most well known for their bicycles and exercise bikes (and rightly so), a lot of their other cardio equipment is rather impressive in their own right.
The 470 is their most sophisticated home elliptical and is an upgraded version of their 430. These upgrades are rather significant and were a wise choice by Schwinn.
This elliptical too has a 20″ stride length- I doubt this is surprising to you at this point (hey, I told ya it was the most important thing to consider).
To go along with the long stride length, Schwinn includes a 20 lb flywheel with 25 resistance levels. The 470 can only incline to 10°, but for this price range, incline shouldn't be taken for granted. A lot of similarly priced ellipticals offer zero incline.
Speaking of price, the 470 is the most affordable elliptical on this list (~$800).
For that affordable price, you get a lot in terms of features. The 470 comes with 29 workout programs, a USB charging port, and bluetooth capabilities.
The only real downside (and the sole reason it was guaranteed the #5 spot on this list) is the warranty. Schwinn's warranty here is pretty weak when compared to the other machines on this list: 10 year frame, 2 year parts, 90 day labor.
But again, this is the most affordable elliptical here, so maybe it deserves some leniency.
Overall, if you're looking for an affordable elliptical with respectable specs and features, the Schwinn 470 is a smart choice. If the warranty was a little longer, it would be a home run. For the price though, still a great buy. See full review.

Final Thoughts
If nothing else, I hope this list shows you that you should expect a lot from even affordable ellipticals. A $1000 budget can (and should) get you a lot in terms of specs and features.
More specifically, you should look an elliptical with a long stride length and a heavy flywheel. I recommend you go for a 20″ stride length and at least a 20 lb flywheel to ensure a comfortable and smooth feel.
The 5 ellipticals on this list are evidence that this is possible in this price range.
Take a close look at the warranty too. The best budget ellipticals will offer lifetime guarantees on the frame and 3 years on parts. A year on labor is standard.
After that, just consider what features are most important to ya and go from there. I'm a sucker for bluetooth speakers, but you should also consider workout programs, incline settings, and bluetooth compatibility.
The ellipticals that made this list were picked based on these specs. If you have any recommendations that should've made this list but didn't, please let me know. I'll check them out for myself and see if they have what it takes.
That about does it. If you have any questions or comments please leave them below and I'll get back to ya.