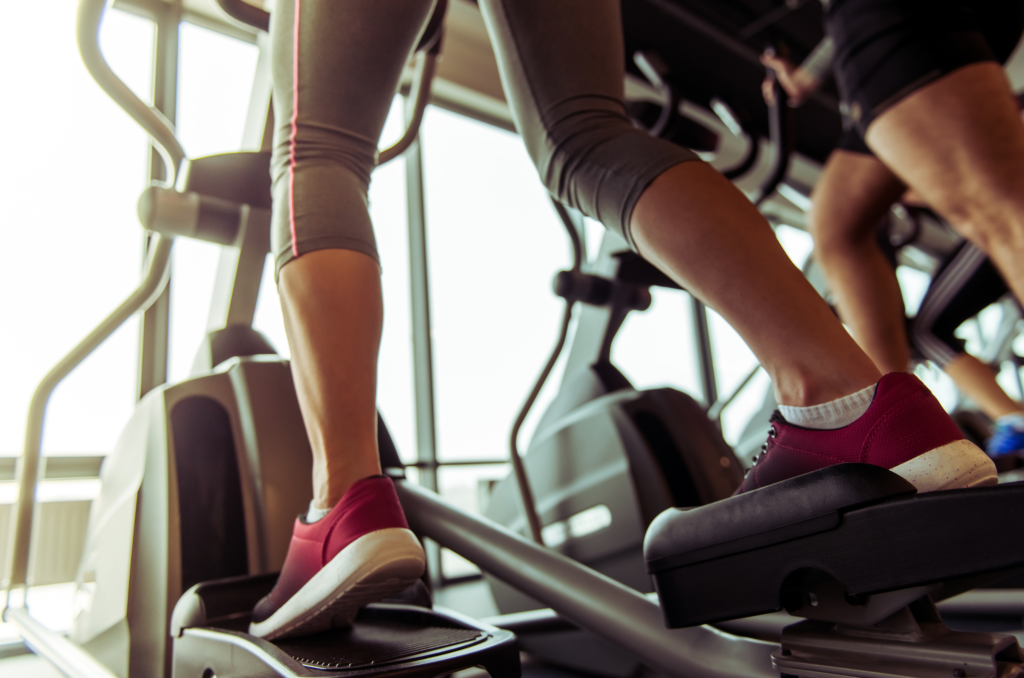 Sole's E35 is a moderately priced elliptical trainer that emphasizes performance and user comfort over anything else.
Although that said, with Sole's most recent update, the E35 does now have a 10″ touchscreen console with more workout programs, bluetooth capabilities, and a screen mirroring feature that lets you access any app from your phone.
Anyway, highlights of the E35 include a 20″ stride length, a 25 lb flywheel, and 20 levels of power adjustable incline.
It also happens to be backed by a great warranty.
Add all this together and the E35 could very well be the best elliptical in its price range, but the real question is whether or not it's the right option for you.
Well, that's what I'm here to help you figure out.
In this review we'll take a look at everything this elliptical has to offer.
After reading, you should have a better idea as to where or not this is the right choice for your home gym.
The Sole E35 Elliptical
Sole Fitness has a great reputation in the home fitness world and they're easily one of my favorite brands.
I'm not against hi-tech (I do own a Peloton after all), but I prefer machines that perform well over ones that focus on flashy features.
And that's definitely Sole's m.o.
Plus, Sole's ellipticals tend to come with heavier flywheels and better warranties than the competition.
I also like that they pair with physical therapists to design the pedals (I'm a PT in case you didn't know).
To date, Sole offers 7 different models in their elliptical lineup. They're all numerically labeled with higher numbers indicating higher-end features and a larger price tag.
Differences between the models include flywheel weight and weight capacity, with the higher end models having heavier flywheels and higher weight limits than the less expensive models.
The E35 is priced above the budget friendly E25 and below the highly popular E95.
For more info on how the different ellipticals compare, check out my Sole elliptical guide.
Pros
20″ stride length
25 lb flywheel
20 levels of magnetic resistance
20 levels of power incline
10″ touchscreen console
Screen mirroring
Wireless charger
Fitness tests
Custom designed pedals
Multi-grip handlebars
Bluetooth speakers
Bluetooth compatibility with fitness apps
Integrated tablet holder
350 lb weight capacity
Awesome warranty
Cons
Assembly can be challenging
Stride Length
I think stride length is the single most important spec to consider when researching an elliptical.
The stride length is measured in inches and refers to the distance the pedals move front to back during your workout.
This distance is critical because it will dictate how comfortable (or uncomfortable) your workouts are going to be for as long as you own said elliptical.
Finding your appropriate stride length depends on your height and leg length, but it's been shown that a stride length of 20″ will fit most users comfortably.
For this reason, 20″ has become the gold standard for quality home ellipticals.
The Sole E35 comes with a 20″ stride length, so we can check that box immediately.
Again, people of most heights should be able to use this elliptical fairly comfortably (by most heights I mean 5'3″ – 6′, see the highlighted guide above for more specific info).
Some ellipticals offer longer stride lengths in the 22″ – 24″ range, but they're pretty rare in this price range.
Others, like the awesome Sole E95S offer power adjustable stride lengths, giving you the ability to set your preferred stride length (but you'll have to pay more for this technology).
The E35, like all Sole ellipticals, comes with a heavy-duty steel frame that will provide a solid base during your workouts.
This elliptical weighs 211 lb fully assembled, so you shouldn't have to worry about it wobbling or wiggling during use.
Because of this added weight and stability, this elliptical is able to safely handle users weighing up to 350 lb.
This is impressive in any price range, considering the average is more in the 300 – 350 lb range.
Structural integrity is a key aspect to all Sole products and the E35 doesn't disappoint. With a 20″ stride length and sturdy frame, this elliptical is designed for comfort and durability.
Flywheel
Flywheel weight is another key spec you'll want to pay attention to because it relates directly to how smooth the operation of the elliptical is going to feel.
Just like in spin bikes, most home ellipticals utilize a weighted flywheel to provide the resistance.
And when it comes to flywheels, heavier is considered better. This is because the extra weight builds more momentum as the flywheel spins.
This added momentum helps the flywheel (and the pedals attached to it) spin, which reduces any lag between pedal strokes.
The result is a smoother, more fluid ride.
Heavier flywheels should provide more resistance than lighter ones too – think about it, it's more weight you're having to work against.
The resistance depends on the magnetic system as well.
Pretty much all decent home ellipticals use magnetic resistance these days. These systems work by placing magnets on either side of the metal flywheel.
Changing the distance between the magnets and the flywheel can increase or decrease the resistance you feel.
When it comes to home ellipticals, 20 lb is considered the minimum necessary to ensure a smooth ride.
This rule isn't written in stone and it doesn't mean ellipticals with lighter flywheels can't feel awesome.
It just means having a flywheel over 20 lb is preferred.
Ok, with all of that said, the E35 comes with a 25 lb flywheel.
This exceeds our 20 lb goal and should be plenty of mass to offer a smooth feel. Most users would agree with this statement based on the reviews this elliptical racks up.
The E35 comes with 20 levels of resistance and 20 power adjusted incline levels to give you plenty of control over the intensity of your workouts.
This elliptical has enough muscle under the hood to challenge even the most gifted athletes around.
Another nice thing about being able to adjust the incline is that it allows you to target different muscle groups – increasing the incline angle is going to target your glutes and hamstrings more, fyi.
Overall, the E35 scores highly in the flywheel department. For an elliptical in this price range, it's packing a lot of weight.
The combination of resistance and incline levels also gives you a lot of wiggle room to set and progress the intensity of your workouts.
Features
The Sole E35 Elliptical comes with the following features:
10.1″ touchscreen console- the updated E35 comes with a 10″ touchscreen console which makes it easy to see all your stats and choose all your workouts and it comes with some built-in apps as well.
Screen mirroring- one of the coolest features this console offers is screen mirroring, which allows you to see anything from your phone on the console. With screen mirroring, you can access any app you want from your phone and see it on the E35.
Built-in workouts- it also comes with several built-in workout profiles, including a couple fitness tests to see how you stack up.
Custom designed pedals- Sole partners with a physical therapist to design their pedals. The result is a large (15″) pedal that has a 2° inward slope in order to reduce ankle and knee discomfort. The pedals are also adjustable, giving the ability to choose between 3 different positions based on your preferences.
Multi-grip handlebars- the handlebars are also large, allowing several different grip options during your workouts. Changing grip position is a good way to target different upper body muscle groups during your workouts. You can also conveniently adjust the resistance and incline levels from the buttons located on the moving handles.
Bluetooth speakers- you can sync up with your phone or tablet and listen to music wirelessly through the built-in bluetooth speakers.
Fitness apps- you can also use bluetooth to sync up with the free Sole fitness app and other popular fitness apps (like Fitbit and Apple Health) for tracking your fitness data.
Wireless charging- Sole got rid of the USB charging port and replaced it with a newer, wireless charging pad. So now you can charge your phone without having to mess with wires.
Integrated tablet holder- there's a built-in tablet holder conveniently located above the console, so you won't have to worry about blocking the screen if you choose to watch Netflix on your pad.
Fan- there's also a cooling fan integrated into the console, might help keep ya more comfortable during those more strenuous workouts.
Assembly
Putting the E35 together can be a bit of a chore. I love the Sole brand and their products rock, but they need to work on their assembly manuals- these things are kinda hard to follow.
The biggest problem is that they include too many things in each step.
According to their manual, there's only 4 steps to assemble this elliptical. But when you get into it, you realize that each step has like 10 different steps in it.
I also wish they would put the written instructions and images on the same page. Instead, they give you the written instructions for the first 2 steps on one page, and the images for those steps on another page. And it's the same way for steps 3 and 4.
This forces you to go back and forth between pages for reference as you're putting the elliptical together.
The process itself is fairly straightforward, but having all the steps mashed together can be a little overwhelming. Luckily, they have assembly videos on youtube you can reference if necessary.
All the necessary tools are included.
Overall, the assembly process is a bit challenging, but doable. I'd expect most people to spend a few hours getting the job done. If in doubt, paying for professional assembly is always an option.
Warranty
The Sole E35 Elliptical comes with the following warranty:
Lifetime frame/flywheel
2 year parts
1 year labor
90 day cosmetic
Sole doesn't mess around with their warranties – this brand is known for offering some of the longest warranties on the market and this guarantee on the E35 is no exception.
Lifetime on the frame is obviously awesome, but 2 years on all parts and electronics is pretty good too, considering most offer 2- 3 years on parts.
A year on labor is pretty average, this is what most brands offer.
Overall, this is a wonderful warranty, especially given the price range.
Final Thoughts
This shouldn't come as a surprise at this point, but I'm a fan of the Sole E35.
What can I say, I'm a sucker for a heavy flywheel and long warranty.
In all seriousness, this elliptical has a lot going for it.
I talked a lot about the flywheel weight and long stride length, but the custom designed foot pedals are kind of a big deal too.
As a physical therapist myself, I'm a little biased, but I like that Sole consulted with a therapist to specifically design these pedals to improve comfort and reduce chances of injury during use.
After all, the more comfortable an elliptical is, the more likely you are to actually use it.
The biggest downside to the E35 in my book is putting it together – the assembly can be challenging, but I don't consider that a deal breaker.
When it comes to comps, NordicTrack's Commercial 14.9 is likely the E35's biggest competitor.
The 14.9 comes with a heavier, 32 lb flywheel and a nicer, 14″ HD touchscreen console for iFit streaming, but its stride length is only 18″, so taller users might feel a little cramped.
NordicTrack's warranty isn't quite as good either, but it's close.
Overall though, the Sole E35 is a well-priced, high-end home elliptical. If you're looking for durability and performance, you can't go wrong.
In others words, yes, I think it's a good buy.