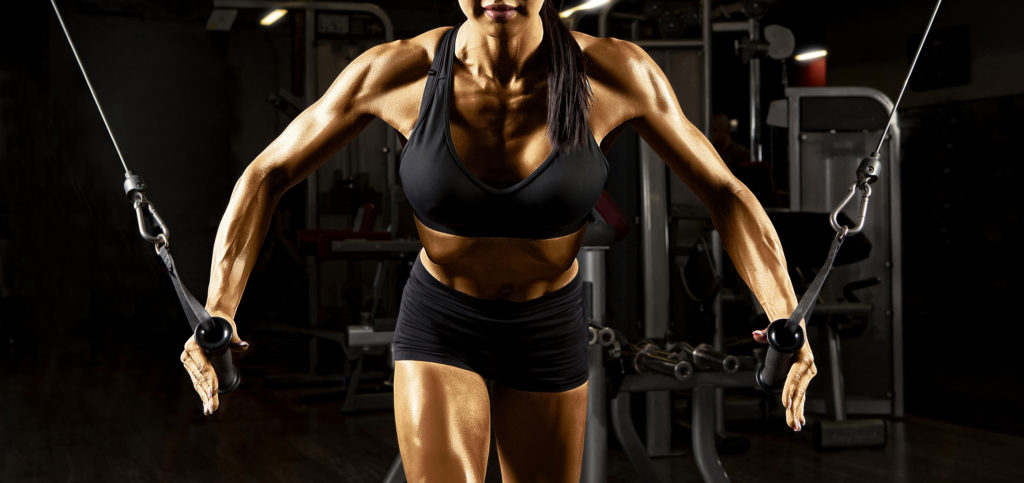 BodyCraft's HFT Functional Trainer is a dual stack cable machine designed to let you train pretty much any movement you can think of. With multiple attachments, a pull up bar, and an exercise book all included, the HFT seems to have everything you need to get started on the right foot.
But the competition in this price range is fierce.
If you've been searching recently, you may have noticed there are several home functional trainers to choose from in the $2000-$3000 range. Believe it or not, this counts as "affordable" for functional trainers, especially when high-end models can easily cost $4000 and up.
How does the HFT Functional Trainer hold up against the competition? That's what this review is here to help you figure out.
I'll walk you through all the key specs and features this gym has to offer. Then I'll compare it against some comps to help you determine whether or not the HFT is the right trainer for you.
The BodyCraft HFT Functional Trainer
BodyCraft is based out of Ohio and they've been manufacturing fitness equipment since the early '90s. They offer a ton of equipment for both residential and and commercial use.
Their HFT is one of several functional trainers the offer. It's designed for home use and doesn't come with a power rack like some of their other models.
Pros
Heavy-duty steel frame
2 fully adjustable pulleys with sealed ball bearings
Dual weight stacks
Multi-grip pull up bar
8 included attachments
Amazing warranty
Straightforward assembly
Compact foot print
Cons
Only comes with 150 lb on each stack
Construction/Features
The HFT frame is constructed out of heavy-duty steel plates and oval tubings. All pulleys are 3.5″ in diameter and utilize sealed ball bearing systems to deliver smooth action. All cables are nylon covered and aircraft rated to sustain up to 2000 lb of tensile load.
All of this basically means this gym is well-built. These are all high-end components designed to last for a long time.
The gray and black power coat finish gives it a clean look, but also serves to help keep the machine scratch and dent resistant.
This is a dual stack system, meaning it has 2 independent weight stacks. Each stack has its own pulley which can be used on its own or in tandem with the other.
The HFT comes standard with 150 lb stacks, which can be upgraded to 200 lb for an additional cost (around $200 I think). This is on the light side, considering there are similar gyms that come with 160 lb and 200 lb stacks standard.
Keep in mind, because of the 2:1 pulley effect, you're only getting half the resistance during exercise- that means a 150 lb weight stack can only offer 75 lb of real resistance.
Each pulley is fully adjustable with 31 different starting positions available. Each pulley rotates 180 deg freely, allowing you to perform exercises at any angle you prefer. Having this much freedom with the pulley positions will enable you to perform any exercise comfortably, regardless of your height.
There's a multi-grip pull up bar running across the front of the frame. I think any home gym can benefit from a pull up bar, so I like it when I see home gyms that include them. Pull up bars are pretty common on these machines, but this one is a little different.
If you look closely, you'll notice the shape of the bar- there's a "V" shaped indentation. This gives you the option of performing neutral grip pull ups, something most bars don't allow.
Overall, the HFT is built strong and well designed, everything you'd expect from a quality functional trainer.
Attachments
Having the right attachments adds to your exercise variety. Some trainers come with a bunch of handles, others don't. The HFT comes with the following:
2 single handles- used for a wide variety of exercises involving one or both pulleys
Long bar (with ball bearing ends)- connect this bar to both pulleys and use it like you would a barbell. The ball bearing ends enable them to rotate, so you don't have to worry about the cables kinking as you work through the movement
Sport stick (with bearings)- this is a shorter bar, often used for sport specific movements like mimicking a golf swing
Triceps rope- one of my favorite attachments, this handle is great for hitting the triceps, but can also be used for curls and rows
Pull up assist strap- connect this to both pulleys and you can use it to assist you coming up during pull ups, works great if you struggle with traditional pull ups (can definitely help you build up strength until you can do pull ups without it)
Ankle strap- allows you do to hip strengthening moves like hip abduction, extension, flexion, etc
2 chains- I believe these could be used to add some length to the single handles
Attached exercise book- this book is loaded with over 70 different exercises you can perform on this machine, it attaches to the frame for easy reference during your workouts
This is a generous selection of included attachments and should be pretty much everything you need to get rolling right out of the box. I think it's cool there's an attachment that can assist with pull ups. I also like the attached exercise book, reminds me of some of the Bowflex set ups.
To keep everything organized, BodyCraft included storage hooks on the frame to hang your handles when not in use.
Assembly
Putting a machine of this size together can be a daunting task. As you might imagine, there are a lot of parts here. That said, most users agree assembly on the HFT is easier than you would probably expect.
It's highly recommended you have a helper available during assembly, it's gonna make your life a lot easier.
The assembly manual provided by BodyCraft is thorough and pretty easy to follow. There are written instructions along with each illustration guiding you through the process.
To get the job done, expect to spend 2-4 hrs depending on your skill level. You'll need a socket wrench, several other wrenches, and Allen key set would be nice.
Fully assembled, the HFT has the following dimensions: 55″(W) x 40″ (L) x 82″(H).
Something that stands out to me is how narrow the frame is. 55 inches is a good 6 in or so narrower than most of the other functional trainers out there. This is great if space is an issue. I would be a little worried that it would be too narrow for a comfortable cable crossover, but users haven't complained about it.
Warranty
No matter what you're shopping for, it's always important to check those warranties. This gym comes with the following guarantee:
Lifetime frame warranty (residential)
Lifetime parts warranty (residential)
It also comes with a light commercial warranty:
10-year frame
2-year parts
This is a great warranty regardless of what price range you're in. A lifetime warranty on parts and frame is as good as it gets. This is a huge pro for me.
The Competition
Ok, we've taken a close look at what the HFT is made of. Personally, I'm impressed. But let's take a quick look at some of the comps out there and see how this gym compares.
XMark Functional Trainer
The XMark Functional Trainer is almost identically priced and looks very similar to the HFT. Both gyms come with similar attachments and both have a pull up bar. There are 2 differences I'd like to point out:
The XMark trainer comes standard with 200 lb stacks (HFT only comes with 150 lb stacks)
The XMark trainer only offers a 1 year parts warranty (HFT offers lifetime parts warranty)
So, this trainer offers a much better warranty, but the XMark comes with more resistance. Otherwise, these 2 machines are very close in every other category.
Inspire Fitness Functional Trainer (FT1)
Inspire's FT1 is another very comparable trainer. The asking price on this machine is a little higher, but this trainer comes with similar attachments and also offers lifetime warranties on frame and parts. The FT1 comes standard with 2 165 lb stacks, so just a little more resistance than the HFT.
The FT1 is a stripped down version of Inspire's amazing FT2 Functional Trainer.
Body-Solid PFT100
Body-Solid's PFT100 is an example of a significantly cheaper model. This trainer comes with dual 160 lb stacks and a straight pull up bar, but no attachments other than a single set of handles. There's really no comparison between the warranties either, the PFT100 only comes with a 10 year frame warranty and a 1 year parts warranty.
The PFT100 is a nice budget functional trainer, but it's not in the same league as the HFT.
Final Thoughts
Functional trainers have always been a popular choice for athletes and rehab centers, but with their exceptional versatility they're becoming a go to choice for home gyms now as well. This is due in part to the fact that we now have more affordable options to choose from.
The BodyCraft HFT Functional Trainer is a good example of this.
From top to bottom, the HFT is well designed. The sturdy frame and and smooth acting pulleys give the feel of a commercial grade machine. The vast selection of included attachments gives you the ability to perform any exercise you could do at the local gym from your home.
Considering it's also backed by a lifetime warranty on everything, it's easy to fall in love with this gym.
Back to my original question though: how does the HFT hold up against the competition?
Just fine if you ask me. It offers a much better warranty than the XMark and it's a couple hundred bucks cheaper than the Inspire Fitness Ft1, both of which are top names in this category.
Overall, the HFT is a quality machine offered by a respected brand. It's also easily one of the best home functional trainers currently available.