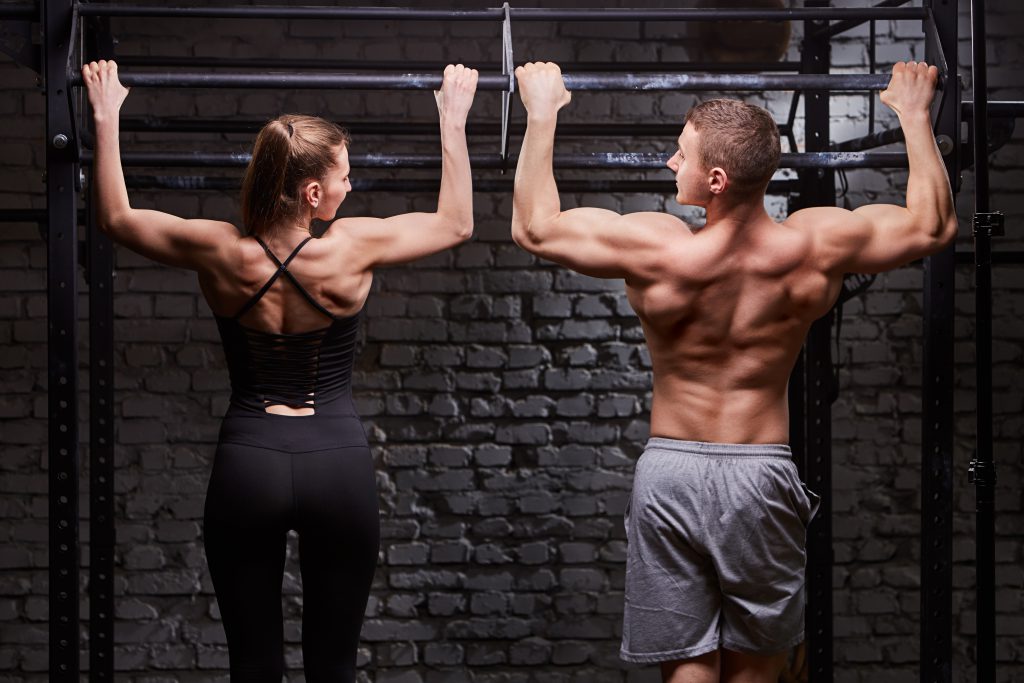 Pull ups are arguably the best upper body exercise you can do, especially from home. Luckily, they don't require a lot of equipment.
That said, finding the best pull up bars for the home can be a little tricky. Pull up bars come in many shapes and sizes. From door mounted bars to freestanding, there are options to meet any home gym's needs, but beware, not all are created equal.
But don't worry,  I'm here to help you filter through the junk and find the best bar for your home gym.
Like I mentioned earlier, there are several different types of pull up bar available for home use. Let's go over the different options first to help you figure out what kind will work best for your home.
Types Of Home Pull Up Bars
Door Mounted
We've all seen these, they are very popular because there is no installation and they are very affordable. Typically, assembly is a breeze and they mount in the doorway in seconds.  Many offer several different hand positions for different variations on your pull ups. Some of these door mounted pull up bars also double as dip stations and push up handles.
Benefits include:
Very affordable- many are under $30
Easy to assemble in minutes
Mounts in doorway in seconds without tools or hardware
Portable- you can easily take them down and travel with them
Offer multiple hand positions for added variety to your workout
Disadvantages include:
Lower weight capacity- that said, most are between 250-300 lb
Plastic parts can wear down
Wall/Ceiling Mounted
These pull up bars are more permanent because they are physically attached to either the wall or the ceiling. These bars are significantly more heavy duty than the portable door mounted bars. They also can handle a lot more weight, so these are great for larger individuals or folks that like to add extra weight to their body when doing pull ups (very impressive for those of you who are strong enough to do that!).
Wall and ceiling mounted bars can also offer different hand positions, but many are just a straight bar. Some wall mounted bars can also be mounted from the ceiling and vice versa.
Benefits include:
Heavier duty
Significantly higher weight capacity- think upwards of 500 lb
Disadvantages include:
Permanent placement, not portable- with hardware attachments to the wall or ceiling, moving bar will be more difficult
A little more expensive- $50-$100 range
Free Standing
Free standing pull up bars come in a bunch of different shapes and sizes. Some are as simple as a horizontal bar and a support base. Others are combined with power racks or squats racks. If you have the room for it, this can be a smart way to incorporate a pull up bar into your gym because you are also getting a squat rack. These pieces of equipment are very versatile because you can use them for squats, bench press, overhead press, and deadlifts to name a few.
These racks can take up a lot of space, so they may become the centerpiece of your gym. That said, with a nice power rack and a bench you can perform pretty much any strengthening exercise you can think of. Just keep in mind these exercises use barbells and plates.
Benefits include:
Many offer ability to perform barbell exercises such as squats and bench press
Heavy duty frames, very durable
Disadvantages include:
Can take up a lot of space- averaging about 4′ x 4′ (7′ high)
More expensive- $200-$400 range
Power Tower
"Power Tower" is the term of choice for a pull up/dip station. This is a great alternative if you want a free standing pull up bar without the squat rack. They also have the added benefit of offering you a place to perform dips, another one of the best upper body exercises (great for developing your triceps and chest). Most power towers have padded back and arm rests for performing hanging leg raises as well. If you aren't familiar with this core exercise, see it demonstrated here.
Benefits include:
Gives you the option to perform dips and leg raises too
Very affordable- most are in the $100-$200 range
Disadvantages include:
Takes up more space than a wall mounted or door mounted bar
Choosing A Pull Up Bar
All of the types of pull up bar mentioned above can be utilized effectively in your home gym. But picking the right style for your gym depends on a couple of important factors.
Location, Location, Location
Ok, so I'm assuming your pull up bar will be going in your home gym. But not all of us have a dedicated space just for our gym equipment. Many times our dining room or living room may be doubling as a makeshift gym. I know in my old house my dining room became my gym because we rarely ate meals in there. It was pretty sweet, we had several sets of dumbbells, yoga mats, a road bike on a bike trainer, and a pull up bar mounted on our door.
Now, I'm lucky enough to have a corner of our attic to dedicate to my home gym. It's not huge, but at least I don't have to move the dumbbells out of the room for Thanksgiving dinner. Point is, the amount of space you have will largely dictate which type of bar you go with.
If you are exercising in a shared space (like I was), you probably don't want a permanent hanging wall mounted pull up bar. You also probably wouldn't have the room for a free standing bar or power tower. In these cases, a door mounted bar works great- no hardware necessary to mount and it comes down in seconds.
If you exercise in a garage or have a larger space in your home for your gym, you may want to consider getting a free standing or power tower. Especially if you are interested in the other exercises these guys can offer you.
A wall or ceiling mounted bar would work well if you have a dedicated space for your gym, but don't want the extra exercise options. Or if your space isn't large enough.
Price
Pull up bars are pretty affordable. They're actually one of the most affordable pieces of exercise equipment you can purchase. Especially when you think of all the benefits you can get from a pull up bar. But your budget will also play a big role in your decision.
If location alone doesn't decide which type of pull up bar to purchase, price may help you decide. You get a perfectly fine door mounted pull up bar for around $30. A nice power tower or free standing bar will run you a couple hundred bucks.
Hand Positions
Some wall mounted bars will be as simple as a straight bar. Other door mounted bars might have 6 different hand positions. Do you care about having the extra options? I would argue it's always nice to have a little extra variety, especially since you really don't have to pay extra for it. But it's up to you to consider.
Some handles are padded, others aren't. Some are straight bars, some are disconnected handles. These differences might not make much difference to you, but it's something to think about when deciding on a pull up bar.
Weight Capacity
I always stress the importance of looking at weight capacities for exercise equipment. Especially for those of us that are over 200 lb. You need to make sure your bar is going to hold you safely.
This is more of a concern for the door mounted variety. These bars have the lowest weight capacities, many in the 250 – 300 lb range. But some power towers may not offer much more than this either. If you are a larger individual, be careful with these models and make sure you fit well below that max weight limit.
If you are thinking you will be adding weight to your pull ups, I wouldn't go with a door mounted bar. I would be considering a wall mounted or free standing system.
---
Best Door Mounted Pull Up Bars
#1 Iron Gym Total Upper Body Workout Bar
This is the same door mounted pull up bar I was using a few years ago when I was doing the P90x program. I bought mine at Dick's Sporting Goods for almost 2x the asking price currently on Amazon…oh well. It was still worth the money, it was a great pull up bar. I would still be using it today if I could do pull ups without injuring my elbows (I've got a little chronic medial epicondylitis on both my elbows, pull ups are really the only exercise I can't do, sometimes I have to be careful with bicep curls too).
But back to the Iron Gym pull up bar. This is the quintessential door mount system. I'm not sure where they get the "list price" for these products, but thankfully it's on sale for a more appropriate price.
This pull up bar has a durable, steel frame. I can attest to this. At first you may be a little nervous using one of these bars because it only uses leverage to remain on the door- there's no hardware attachments. But it is very stable- I'm 6'1 and was about 200 lb when I was using it and it help up fine. I was using it 2-3x/wk.
It has 3 different hand hold positions: narrow, wide, and neutral. But you can also do chin ups, so I would say you can easily do 4 different pull varieties with this bar.
This bar has a 300 lb weight limit, which is on the high end for door mounted systems. Like all fitness equipment, you want make sure you comfortably fit within the stated weight capacity. This system is designed to fit residential doorways with widths between 24-32 in wide. Most residential doorways are between 28-32 in wide, but bathroom and closet doorways may be a little more narrow. Regardless, this bar should fit in your home unless you have custom doors.
This is a great door mounted pull up bar if you are looking for just the basics, nothing fancy here. I almost forgot to mention that you can put it on the ground for push ups and dips, but I never used it for that. The only negative remark I have is that, over time, you will notice some black marks on your door frame from where the padding rubs- not a big deal, but this will be the case with all similar models.

#2 Stamina Doorway Trainer Plus
The Stamina Doorway Trainer Plus offers you a few extra hand positions. With a total of 5 handles, this bar will give a great deal of variety with your workouts. If you ask me, pull ups are really the only exercise you need for back day. But I agree, doing standard pull ups all the time can get a little boring. I like variety in my workouts. If you are like me, you will appreciate the extra 2 handles and the extra variety this pull up bar offers.


This pull up bar has nice, padded handles to keep your hands more comfortable as you exercise. This comes in handy if your hands tend to get dry and irritated when you workout. I have to use gloves when lifting or doing pull ups because my hands get really try and callused. The more padding the better if you ask me.
This doorway trainer can also be used for push ups, dips, and a foot stabilizer while performing sit ups. The extra handles will offer you some extra variety on chest door too. I love to play with hand placement while doing push ups- you can significantly change the workout and the intensity by simply changing where your hands are during push ups.
This bar can handle a max weight of 250 lb, so a little less than the Iron Gym bar above. So if your weight is close to 250 lb, keep this in mind.
The Stamina Doorway Trainer also uses leverage to keep the bar in place in your door, no tools or hardware necessary for installation. This makes it simple to take down and move to any room in the home. Also great if you need a portable pull up bar that can travel with you.
Overall, this is great pull up bar if you are looking for a little extra variety with the handles.

#3 Triple Door Gym Ultimate 3 in 1 Pull Up Bar
I had never seen a doorway system like this until I started researching for this article. I was a little skeptical at first, but the reviews are mostly positive and the amount of exercises this system provides is impressive. I had never seen a door mounted dip bar before! I like it.
So, as the name implies, this system offers 3 different pieces of workout equipment: pull up bar, dip bar, and suspension straps. Let's go over each one separately.
The pull up bar offers 3 different hand grips- narrow, wide, and neutral. It mounts on the doorway the same way the above bars do. It has a nice steel frame for added stability and strength.
The dip bars attach to the pull up bar, hang down, and have their own stabilization bar that rests on the doorway. There's one set of hand grips on the dip attachment, but there are also hand grips on the horizontal stabilization bar that could be used for horizontal pull ups.
The Triple Door Gym also comes with heavy duty suspension straps that can attach to the dip bars or the pull up bars. These are similar to the TRX straps that are so popular these days for their versatility. They are great for doing suspension push ups, pull ups, bicep curls, tricep extensions, and you name it.
This product includes all 3 of these into a convenient door mounted system. This system also fits all standard door frames and has a 300 lb weight capacity.
If you are looking for a door mounted full body workout, you should check this out. It's boasting an average user rating of 4.3/5 on Amazon currently. It's a very interesting system, click here to see it in action. If you aren't satisfied, the manufacturer offers a full refund.

#4 Ultimate Body Press XL Doorway Pull Up Bar
Long name for a pull up bar. This bar is a little different than the ones mentioned earlier. It mounts the same way, but this one has an elevated bar. When you see the picture, you will know what this means immediately. I like this feature because it will give you more head room and clearance from the door as you exercise.
This bar sits an inch above the frame and 10 inches away from the door. With standard door mounted bars, sometimes you have to be careful when using because your head is pretty close to the door. This bar takes care of that by positioning you farther away. This gives you a little more room to use during your workouts.
The other nice feature about the Ultimate Body Press XL, is it's expandable bar. This makes it adjustable to fit larger doorways. The other door mounted bars above will fit a door way up to 32 in wide, this bad boy can extend to fit doors up to 36 in wide. This is a game changer for folks with custom doors that are wider.
This bar also doubles as a set of push up handles or dip handles. You can also buy extra accessories to add to this system, such as ab straps or suspensions straps to add even more variety to your workout. We all know pull up bars are great for building upper body and back strength, but it's great to see these systems that can adapt to provide total body workouts.
The Ultimate Body Press offers a 300 lb weight capacity and 100% satisfaction guarantee. It's easy to assemble and mounts in your doorway in seconds without using any hardware.
The elevated bar offers 3 different hand grips- standard, neutral, and wide. You could also easily do chin ups and narrow grip pull ups.
This is a nice pull up bar if you are looking for a little extra wiggle room or if you have wide doors. Also great if you are looking for add on accessories.

---
Best Wall/Ceiling Mounted Pull Up Bars
#1 Ultimate Body Press Wall Mount Pull Up Bar
As the first wall mounted bar discussion, I wanted to remind you that these bars do require hardware to install. Unlike the door mounted models, these models are not meant to be moved. They are bolted into the wall for permanent placement (I mean you could move it, but you would just have a set of holes in your wall).
Ok, disclaimer out of the way. The Ultimate Body Press Pull Up Bar is a great wall mount option because it provides 4 different hand grip positions and it's designed with extra space in mind. Depending on the grip you are using, you anywhere from 14- 21 in of space between you and your wall. You will appreciate this extra space when your nose isn't pressing against the wall as you exercise.
This bar also offers an extra-long, 42in wide bar. Perfect for those of you who want to do really wide grip pull ups to crush your lats.
This pull up bar is constructed completely out of steel, so durability won't be an issue. The manufacturer has even increased the thickness of the steel by 30% recently to add extra stability to the product.
The wall mounts are 16in apart. This allows the bar to mount perfectly on wall studs for secure placement. Keep in mind you will need a few tools to install this bar properly: drill and drill bits, socket wrench, level, tape measure. That said, installation is pretty easy and the instructions are easy to follow.
If you are looking for a durable, sturdy wall mounted pull up bar, this bar should make you happy. If you are looking to add on to your pull up bar in the future, the manufacturer also makes ab straps and gymnastic rings that can anchor to this bar.

#2 Stud Bar: Ceiling Mountable Pull Up Bar
Right off the bat I love the name, "stud bar". Kidding aside, this is a nice, no thrills ceiling mounted bar. No grips or different hand holds, just a straight, good ol' fashioned durable bar made out of commercial grade material.
This bar is constructed out of steel and has a 600 lb weight capacity. This should be strong to handle anything you can throw at it, even pull ups with weighted vests or plates hanging from your body.
The Stud Bar mounts easily to your existing ceiling studs and all hardware is included. Users comment on how easy installation is, many saying they were able to easily do it by themselves.
There are 3 different sizes available based on you ceiling height: small (8 ft ceiling), normal (9 ft ceiling), and large (10 ft ceiling). Each size also has multiple hanging positions (heights) to make sure you get the right fit for your space.
This ceiling mounted bar gives you a lot more durability and a significantly higher max weight capacity. If you have the ceiling space, you may even be able to do muscle ups (not sure you would have enough space on a 10 ft ceiling). Muscle ups are very difficult, kudos to you if you are that skilled. A lot of the Crossfit athletes are masters of the muscle up.
Overall, the Stud Bar (I still like saying that) is a great ceiling mounted bar. If you are looking for a highly durable bar for your home gym, I think you will be very pleased with this option. I think this bar would work great in a garage gym, I know my ceiling is pretty low in my attic, not sure I would want a bar hanging down up there anyway.

#3 Titan Fitness Wall Mounted Pull Up Bar
This pull up bar's name says it all, this thing is a Titan! This bar is designed for durability and strength. This is another gym quality pull up bar that will fit perfectly in your home gym. This bar offers multiple mounting options, so it should be able to fit any wall easily. That said, the mounting hardware is not included, fyi.


This bar has an impressive 500 lb weight capacity. I'm sure by now you are noticing how much higher the weight capacities are on these bars than the door mounted bars. If you are looking for solid, commercial grade equipment, wall or ceiling mounted is definitely the way to go.
All though installing hardware isn't included, installation is fairly simple. You will need to pick up some bolts and washers at your local hardware store. You will also need a drill with bits. The Titan bar can be mounted on studs at 16″, 32″, or 52″ apart. You can also mount on a concrete.
The bar comes with 2 L-shaped brackets, more can be purchased if you want to set up multiple pull up bars for different users.
The bar is made of heavyweight steel with a matte black coating to ensure the bar doesn't become too slick during your workout. The last thing you want to do while you are pumping out those reps is to lose your grip.
The Titan Fitness Wall Mounted Pull Up Bar is a beast. It's designed to withstand any type of workout you can throw at it. It comes with a satisfaction guarantee and even has a 1 year warranty. If you can find a way to destroy this thing, I'll be impressed.

#4 GRONK Fitness Wall Mounted Pull Up Bar
Rob Gronkowski, the all star tight end for the Patriots, and his family have developed their own line of fitness equipment. Sometimes when athletes have their own brand of equipment you have to be a little weary. In this case, however, the GRONK pull up bar is legit. The biggest benefit of this particular wall mounted bar is it's numerous hand grips.
These handles allow you to perform the following pull up variations: narrow, wide, chin up (supinated or palms facing you), reverse grip (pronated). Or, you could get creative and mix and match- who said both hands had to be in the same position while doing pull ups?
The bar is constructed of solid steel with a powder coating to protect from rusting. Installation is a breeze with the included hardware and easy to follow instructions.
This bar has a max weight capacity of 800 lb- yeah, seriously.
All of the reviews of the GRONK pull up bar are very positive, it's averaging 4.5/5 on Amazon. Really, the only downside I can see is the price. This bar is a little more expensive than the other wall mounted bars discussed. You may be paying more for the celebrity name, but the quality is on par with any pull up bar on the market. It's built like a tank and offers more variety in hand placement than any of the other competitors.
The only complaint I could find from users was that a few had issues with installation. The pre-drilled holes didn't quite line up with their studs.
Overall, this is one of the most highly rated pull ups out there. If you are looking for the added variety of multiple hand positions, this is a great choice.

---
Best Free Standing Pull Up Bars
#1 Body Champ PBC530 Power Rack System
As the name implies, this pull up bar is attached to a power rack. Recall that a power rack is a system that allows you to do squats, bench press, shoulder press, etc with barbells and plates. These systems often include attached pull up bars and it's a great combo if you are looking for an all-in-one workout system.
This power rack includes 4 tiered peg-hook catches to ensure your barbell stays put when you park it after squats or bench press. It also has 2 Olympic weight plate holders for storing your extra plates when not in use.
The catches have a 300 lb max weight limit- so if you are a serious power lifter, you may need a more robust system to hold the extra weight.
The pull up bar is a straight bar across the top with knurled grips. No additional hand grips or anything fancy here, just a good ol' fashioned straight bar that will definitely get the job done.
For the price, it's going to be hard to find a nicer power rack. Keep in mind you have to buy any benches you want and barbells separately. As well as the plates.
This power rack will take up a little more space in your gym as well, so it's a good idea to measure out your space and make sure you have enough room- dimensions: 42″L x 62″W x 82″H.
If you are looking for an affordable free standing pull up bar, this is a great choice. If you are a heavy lifter, this may not be sturdy enough for ya.

#2 Fitness Reality 810XLT Super Max Power Cage
This power cage offers a nicer pull up bar, a higher weight capacity, and comes with an adjustable bench. This a very impressive package for the price. If you are looking for a system that can instantly transform your space into a home gym, you just found it.
This system is a little different than the power rack mentioned above. Like the name implies, this is a power cage. The difference is that there are basically 2 power racks connected by safety bars, creating a "cage" you walk in.
I like power cages a little better than power racks because they offer more safety. You can set the adjustable safety bars in position to spot you during your squats and presses- if for some reason you lose control or drop the bar, these safety bars will catch it before it hits the ground and crushes you.
The pull up bar offered here is upgraded as well. You'll notice it offers the ability to do neutral grip pull ups as well, a nice touch. Anytime you can add variety (without taking away something), I say it's a good thing.
The bench (included!) is adjustable and can even be folded down when not in use. This system can also be purchased without the bench if you already have one. Barbell and plates are not included. As well, this cage doesn't offer any storage for you weighted plates either.
Did I mention that the Super Max Power Cage has an 800 lb weight capacity? This means this system is significantly more stable than the power rack mentioned above. This cage will offer heavy lifters the ability to really load up the bar during their lifts without having to worry.
With an average rating of 4.6/5 on Amazon, it's obvious users love this product. It's affordable and strong enough to handle even the most strenuous of workouts.

#3 Cap Barbell Power Rack Exercise Stand
The Cap Power Rack is basically a free standing pull up bar with 2 catches attached to hold a barbell. I would recommend this stand more so for pull ups than for use of the power rack. If you are looking a system designed more effectively for lifting weights, I would recommend the power cage above.
The pull up bar is a straight bar across the top of the stand. No additional hand positions available. It's constructed of high quality 12 and 14 gauge steel. It has a 300 lb weight limit for both the catches and the pull up bar- BUT NOT AT THE SAME TIME. This means you can have a total of 300 lb on a squat bar or you can do pull ups, but you can't have a weighted bar on the system while you do pull ups.
Keep in mind you want to have a little wiggle room in regards to the weight limit, personally I wouldn't put any more than 250 lb on this system, but I tend to be pretty conservative.
The reviews are very positive for this system, yet they all agree this is not the most durable system out there. It works fine for smaller users or for beginner lifters.
If you are larger or looking for a rack to hold some serious weight, this is not the exercise stand for you.
It's biggest pro is it's low price. At about $100, you aren't gonna find a more affordable power rack. It also comes in a nice bundle package that includes a bench and a barbell. I actually own this bench and I can vouch for it, it's a great bench.
So if you are looking for a budget exercise stand with a decent pull up bar, this might be a good option for you. Like I mentioned earlier though, I wouldn't put a lot of weight on this system.

#4 Rep Power Rack PR1000 with Dip Attachment
This power rack offers something none of the other free standing pull up bar systems could… a dip attachment. I love dips. Easily one of the best exercises for developing your triceps. This lovely system is literally all you need to perform a full body strengthening workout.
The name calls it a power rack, but it's really more of a cage. It has 2 safety bars for spotting and you perform your exercise within the boundaries of the cage.
This bad boy offers dual pull up bars- nothing fancy, but strong steel with a 400 lb weight capacity. The bar catches have a max weight capacity of 700 lb. This should be plenty for you unless you are an Olympic lifter. The dip attachment also has a 400 lb weight limit.
Consider with this one piece of equipment, you could perform pull ups, dips, squats, bench press, shoulder press. With your barbell, you could also do rows and bicep curls to finish off your full body workout. Just remember, the barbells and bench are not included with this power rack.
Reviews are very positive. For the price, it's tough to beat the Rep Power Rack. The biggest complaints users have is that the rack is very light weight, so it's a good idea to weight it down with a couple of plates to make sure it doesn't move around on you while you are exercising.
There are also complaints that with some use, the paint can chip away from the catches. These aren't big concerns, but just something to consider. If you are worried about the light weight frame, you could upgrade to a more expensive, heavier system.
But for this price, this is a great power rack. The fact that you can do pull ups and dips with this rack sets it apart.

---
Best Power Towers
#1 Stamina 1690 Power Tower
The Stamina 1690 is definitely a budget tower, but it's light weight frame makes it incredibly portable. If you are looking for a power tower that can easily be moved, this is a great option. As a power tower, this system offers pull ups and dips of course. But it also has push up handles which is a nice surprise.
Even though it's light weight and portable, it's constructed out of a durable steel frame. It has a max weight capacity of 250 lb, so this system is appropriate for smaller users.
The Stamina 1690 comes with all the necessary hardware and can be assembled easily in about 30 min.
This power tower does not offer the padded back and arm rests that some models do, so doing hanging knee raises isn't as easy, but it is doable- you can do them while holding yourself up on the dip handles. Like I said, it's doable, but much more challenging than if it had the back rest.
If you're looking for an affordable way to do pull ups and dips, this is a pretty good option if you fall within the weight restrictions.  If you are over 6′ tall, keep in mind you will probably have to bend your knees during pull ups. But you would be doing this with a door mounted bar anyway.
With over 1,200 reviews on Amazon, the Stamina 1690 is rocking a 4.4/5 average rating. Users agree it's very durable for the price.

#2 Body Champ VKR1010 Fitness Power Tower
The Body Champ VKR1010 is more of a traditional power tower. It does include the padded back and arm rests to make vertical knee raises easier and more comfortable. It's also larger and more heavy duty to offer a more stable system for exercising.
As a traditional power tower, it has a pull up bar, dip bars, and padded back. This model also includes the push up handles at the bottom. This gives you 4 different exercises you can perform from this one piece of equipment.
The pull up bar has wide angled handles as well as close gripped handles, giving you more options on the type of pull ups you can perform. The handles are cushioned, a nice feature to reduce discomfort through your hands while you exercise. Even with cushions, I still like to use gloves, I have sensitive hands.
This power tower also has a steel frame with a 250 lb max weight capacity.  I'm a little surprised the weight limit isn't any higher than that because this tower weighs about 30 lb more than the system above.
This added weight will make this system a little more difficult to move in your home, but with a little assistance you should still be able to move if fairly easily if you have to.
Assembly is pretty easy. Most users agree it's pretty stable for smaller users. The larger users report they wish it was a little more sturdy. As long as you fall below the 250 lb weight limit, you should be fine.
Overall, if you are looking for an affordable power tower for your home gym, the Body Champ VKR1010 is a nice option. If you are a larger individual, you may want to look for a more heavy duty tower.

#3 Weider Power Tower
The Weider Power Tower is one of the most popular towers for home use. It has a lot reviews and most are pretty positive, but we will get to that in a second. The "Weider" in the name comes from Joe Weider- a publisher for Muscle and Fitness Magazine and once a trainer with Arnold. His company also produces weight benches and home gyms.
This power tower is pretty comparable to the one discussed above, but it can handle a little more weight with it's 300 lb weight capacity. This tells me that it should feel a little more sturdy- typically the higher the weight limit, the more durably (is that a word?) it's constructed. Even though I'm well under 250 and 300 lb, I like to go for the highest weight capacity I can afford.
The Weider tower offers:
A wide grip pull up bar with padded grips- adds extra comfort to your hands as you exercise
Padded back support and arm rests for performing vertical knee raises
Padded dip handles
Push up bars
So, really the biggest difference this power tower can offer is the upgraded weight capacity. That and the price, when on sale this bad buy can be purchased for under a 100 bucks.
I mentioned that the reviews are MOSTLY positive. There were quite a few negative reviews as well. The biggest complaints buyers had dealt with missing parts upon delivery. There were several complaints regarding missing bolts, lost parts, and poor packaging. If all the parts arrived and they were able to assemble it, most agreed the equipment itself is pretty solid.
If you are looking for a budget power tower this is a pretty good choice. If all of your parts aren't included you may have the hassle of dealing with customer service to get parts shipped out to ya.

#4 Fitness Reality X-Class High Capacity Multi-Function Power Tower
Another product with a really long name- do we have to include every adjective in the name of this thing? Maybe it's just me. Ok, seriously though, this power tower is pretty cool. The adjective to take notice of in the name is "multi-function". This power tower offers more than just pull ups and dips.
Along with the pull up bar and dip station, this power tower includes 2 adjustable handles with foam pads that allow you to perform a few extra exercises most power towers can't. It will make more sense when you see it, so I recommend clicking below (or on the image) to see the different exercises you can perform, but I will try to briefly describe them here as well.
With the adjustable handles, you can perform:
Incline push ups (as well as standard push ups)
Sit ups
Assisted dips
Horizontal pull ups
When you include the pull up bar (that offers wide, standard, and neutral grips), the dip station, and the vertical knee raises, you really have the ability to complete a full body workout on this system. The website boasts you can do up to 20 different exercises- I only came up with 10, but I'm not really using my imagination.
The Fitness Reality X-Class also has a more impressive weight capacity at 400 lb. This means this machine is significantly more robust than the products mentioned above. With the thick steel frame, you should feel comfortable doing some dips and pull ups with added weight if you want.
This tower also has a thicker back rest and angled arm rests for added comfort during your ab workout.
Reviews on this product are overwhelmingly positive- 4.7/5 on Amazon. Users actually commented on how awesome the packaging is too, quite the opposite from the Weider tower. The biggest complaint I could find had to do with the lack of cushioning on the pull up bar handles. Users report they can be tough on the hands, but that isn't anything a good pair of workout gloves can't fix.
If you are looking for a more sturdy power tower, this is a nice choice. It more closely resembles the feel of a commercial grade tower. The ability to perform the additional exercises is a great plus for your home gym. This tower is the most expensive of the 4, but you know what they say, you get what you pay for.

---
Final Thoughts
Pull ups are one of the best upper body strengthening exercises and the equipment required is minimal. Regardless of what your home gym setup is, there is a pull up bar that can accommodate. Knowing what style of bar you need will really help you focus your search. To summarize:
Door mounted bars are great if space is limited, budget is tight, and you need a portable option
Wall/celing mounts are great if you have a permanent space to dedicate to your bar and you are looking for a more sturdy, commercial grade bar
Free standing pull up bars are great if you are also looking for a way to add barbell exercises to your home gym, but they do take up more space
Power towers are great because they offer dip stations and the ability to perform vertical knee raises
Know your budget, know your space, and keep an eye on those weight capacities!
I hope this article was helpful. If you have any questions or comments, leave one below and I'll get back to ya.