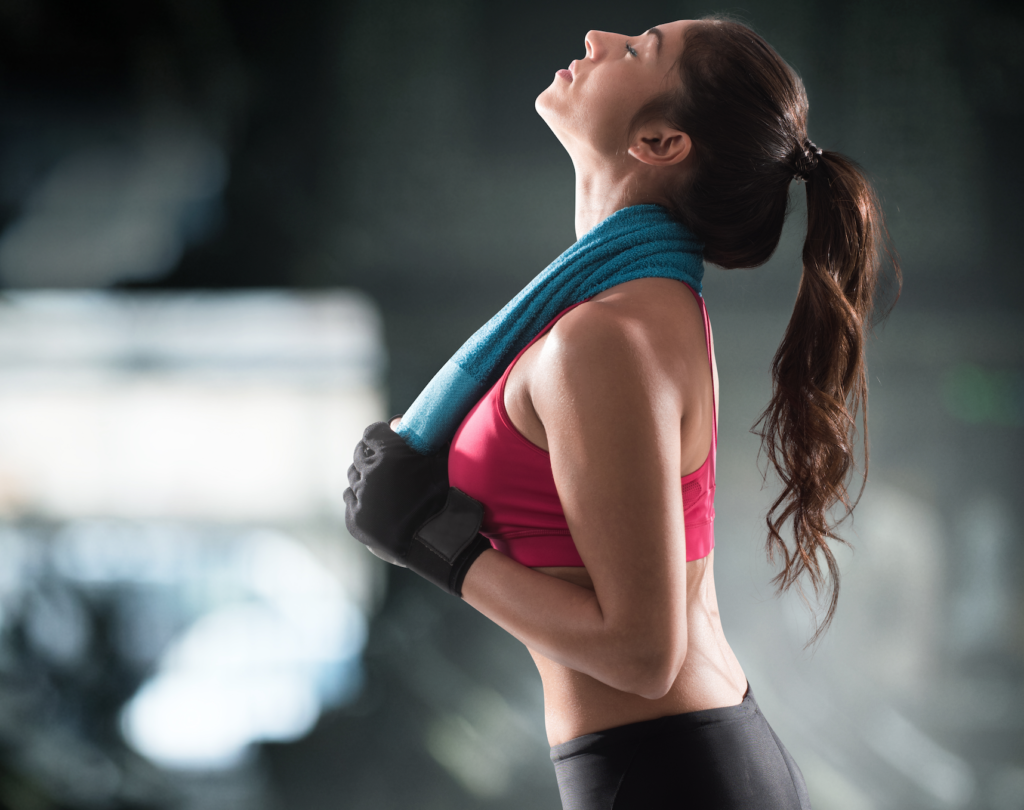 The Body-Solid Powerline Functional Trainer (PFT100) is a budget friendly home unit designed to offer the same exercise variety and flexibility as the cable machines you find at your local gym. This trainer comes pretty packed with dual weight stacks, fully adjustable pulleys, and a pull up bar.
Long-story-short: if you're looking for a functional trainer that won't force you to take out a second mortgage, the PFT100 is a pretty smart choice.
But don't just take my word for it.
This review will breakdown everything this machine has to offer in order to help you determine whether or not this is the right trainer for your home gym.
I'd like to start with a quick word on these machines to begin with. It's a good idea to have a little background info before you get too far into your search. You might find out a functional trainer isn't the right piece of equipment for you to begin with.
What Is A Functional Trainer?
"Functional trainer" sounds pretty sophisticated, but it's really just another name for the cable machines we've all seen at our local gyms.
The term comes from the rehab world where it means performing exercises that are specifically geared towards improving performance in sports or activities of daily living (ADLs). In order to get better at these specific activities, you need to practice doing the movements (in part or in whole) that make up these activities.
Cable machines became the popular machine of choice for therapists because the pulley concept gives you a lot of range of motion to play with.
You can do a lot of exercises with a cable machine (safely) that aren't as easy to do with a dumbbell or barbell system. Most notably the rotational exercises, like trunk rotations and diagonal chopping, that have become so popular for core strengthening.
These rotational exercises take place in multiple planes, as do most real world ADLs.
These cable machines also allow you to perform a lot of sport specific movements, like replicating swinging a bat or a golf club against resistance. These functional training exercises have become a staple in the sports medicine sector of rehab.
Because these cable systems are commonly used for functional exercises, they're often known as functional trainers.
While they were once reserved for rehab clinics and commercial gyms, there are several brands who manufacture home systems now.
Most functional trainers have the following characteristics in common:
Dual weight stacks (the weight of these stacks can vary)
2 adjustable pulleys
The ability to use several different handle attachments
Provide a large of variety of exercise options
Functional trainers can also be paired with Smith machines and other attachments to form a more comprehensive home gym system. But with all the different pulley positions, you can do a ton of exercises with a pure functional trainer.
The Body-Solid Powerline Functional Trainer (PFT100)
Body-Solid is a well known brand that specializes in home strength training equipment. They offer a ton of different home gyms, free weights, and cardio machines. They're known for providing well-made products that are backed by decent warranties.
They offer several functional trainers, but the PFT100 is one of their most affordable and most popular.
Pros
Sturdy, steel frame construction
Dual 160 lb weight stacks
2 fully adjustable pulleys
Pull up bar included
Straightforward assembly
Good warranty (10 year frame, 1 year parts)
Great price
Cons
Only comes with 1 set of handles
Construction/Features
Body-Solid's PFT100 has a durable steel frame. It consists of 2 independent towers that are connected through the frame in the rear and a straight pull up bar in the front. Pull up bars are pretty common on functional trainers, but not a given. Pull ups are one of the best exercises you can do, so I think a solid pull up bar is a great addition to any home gym.
Each tower has its own 160 lb weight stack with its own pulley. This means each weight stack can be used independently of the other. You can do exercises using only one pulley (tricep extensions) as well as exercises using both at the same time (cable crossovers).
Keep in mind that the pulleys gives you a mechanical advantage- meaning that 160 lb doesn't feel like 160 lb when lifted on the pulley system. It's actually at a 2:1 ratio, so 160 lb on this system is really only 80 lb of resistance.
This is common for all functional trainers.
The total weight for each stack varies on these machines. 160 lb is a little on the light side when compared to some of the other home units available. There are plenty of trainers offering 200 lb stacks, but they tend to cost significantly more. There are also more expensive machines only offering 150 lb stacks, so I guess 160 lb is pretty good for the price.
Body-Solid reports you can upgrade to 210 lb stacks by purchasing 2 additional 50 lb stacks that can be added to the existing plates.
Each pulley is fully adjustable vertically, giving you the option to choose any 1 of 20 different starting positions (the positions are spaced out 3.2″ from each other). With this many positions to choose from, you shouldn't have any problems performing any exercise comfortably, regardless of your height.
Each pulley also swivels freely with a 180° arc of motion, enabling you to perform your exercises freely at any angle you prefer.
Like all functional trainers, you don't have to worry about changing cables- you can change between exercises easily, just set your pulley position and go to work. The same can't be said for all the Bowflex gyms.
Attachments
It's a little disappointing that Body-Solid only includes one set of adjustable length nylon handles with this trainer. These are the standard handles you would use to perform a majority of the exercises, but most trainers come with several more attachments (like a tricep rope, short bar, long bar, sports bar, etc).
I guess they figured they'd skimp a little on the attachments in order to keep the price as low as possible.
At this price, you can still purchase which ever handles you need separately and still come out ahead. Expect to pay somewhere in the $20-$40 per attachment (depending on brand and handle type).
This trainer doesn't come with a bench either, so if you're looking to do bench presses and shoulder presses, you'll have to provide your own or purchase one separately.
Assembly
Most users agree putting the PFT100 together isn't that bad of an ordeal. Although it may be possible to due it by yourself (if you're especially handy), it would be a lot easier with a second set of hands. Expect to spend somewhere in the 2-4 hr range getting the job done.
The assembly manual is straightforward and easy to follow. There are detailed written instructions and large illustrations for each step.
You'll need several wrenches and Allen wrenches to get all the bolts secured.
Fully assembled, the PFT100 has the following dimensions: 62.6″(W) x 42.3″(L) x 83″(H). Make sure you know where you want to put it before putting together, because once assembled this machine weighs 477 lb (moving it would be difficult).
Warranty
Body-Solid offers the following warranties on the PFT100:
10-year frame
1-year parts
I think this is a good warranty for a functional trainer in this price range. Sure, in a perfect world we'd see a lifetime frame and 2-year parts warranties, but we should be realistic. This is one of the most budget friendly cable machines around- and with lower prices we see short warranties.
Price
I've mentioned the price several times, I should probably go into a little more detail. The PFT100 is going to cost you about $1200 if you buy through a company like Amazon (MSRP is $1550). This makes it one of the cheapest functional trainers on the market.
There are cheaper models available, but they probably don't have 2 weight stacks.
High-end functional trainers can easily run you $4000-$5000 (getting in the commercial grade realm).
For home units, the $2000-$3000 price range is where you find most of the best buys (like the XMark Functional Trainer). At $1200, you can see how the PFT100 is one of the most budget friendly machines available.
Final Thoughts
Although far from perfect, the Body-Solid Powerline Functional Trainer has a lot going for it. It's built solid and smooth acting- surprisingly so considering the price, according to users. Two facts that go a long way when it comes to cable machines.
The dual weight stacks and fully adjustable pulleys give you a ton of workout variety. The pull up bar is a great feature. It would be nice if Body-Solid included some additional attachments with purchase, but with the low asking price we probably shouldn't complain too much.
Overall, if you're looking for a budget functional trainer that actually works, the PFT100 is a smart buy. It's easily one of the best functional trainers in this price range.